How to Find WiFi Password on Windows 10 in 2022 [3 Ways]
| Workable Solutions | Step-by-step Troubleshooting |
| --- | --- |
| Method 1. Use WiFi Password Finder Software | Step 1. Launch EaseUS Key Finder on your laptop, click "WLAN" on the left pane; Step 2. Find your WiFi...Full steps |
| Method 2. Use CMD (with Admin) | Step 1: Open the Start Menu, type Command Prompt in the Windows search bar, and click Open...Full steps |
| Method 3. Use Windows Settings/Control Panel (with Admin)  | Step 1: Press Windows + R keys on your keyboard to open the Run utility. There type ncpa.cpl in the...Full steps |
How Do I Find WiFi Password on Windows 10
Back in the old days, we used to use modems to try to connect our PCs to the internet. But now, more and more current-gen laptops and computers installed with Windows 10 are requesting a WiFi network connection. As of now, connecting to a WiFi network is the primary way to access the internet on Windows 10 laptops and computers. Not only do they provide a faster connection, but they also offer greater network stability. 
Hence, it is obvious to manage and backup the WiFi password as it is the only way to access your WiFi network easily when you forget it. 
Since the default password of devices are easy and open on the internet, most users change their default WiFi password to a complicated one. And our computers can automatically log in to your WiFi network so that you don't have to type the password every time you need to connect to the network. 
Now here comes the chicken-egg problem. Weak default passwords were replaced with complicated ones, which are hard to remember. It is why most users forget their passwords with time. What will you do if you forget your WiFi network connection password? 
You don't have to worry too much about it if you're a Windows 10 user. You can follow this easy guide if you need to find a saved or unsaved WiFi password on Windows 10. This guide will help you learn three different approaches to solving your problems.
3 Ways to Find WiFi Password on Windows 10 with or without Admin 
If you've forgotten your Windows 10 PC's WiFi password, there are three tried-and-tested methods for recovering lost or unsaved WiFi passwords for all Windows 10 users.
These are the three main methods for recovering your WiFi password. If you want the simplest solution, or if you forgot to save the WiFi password on your laptop or computer, use the first method. It is the most straightforward and user-friendly method of the three we will discuss.
Methods 2 and 3 are more complicated, but they guarantee that you will be able to recover your lost WiFi password. The only drawback is that they are frantic and difficult to use. It is entirely up to you to select your preferred option and recover the WiFi password on Windows 10 computers as soon as possible.
Method 1. Find Saved/Unsaved WiFi password with WiFi Password Finder Software 
There is a variety of third-party software available to assist you in locating saved passwords on your Windows operating system. However, only a few of them are reliable and truly helpful. EaseUS Key Finder is one such software that is ideal for such scenarios.
EaseUS Key Finder can be used as a WiFi password finder software that supports all existing Windows operating systems. As the name suggests, this app is solely built for recovering saved passwords from a computer. Using its WLAN feature, Windows 10/11 and even the older Windows users can view and find their saved or unsaved WiFi passwords and accounts with just a single click. 
To do that, download EaseUS Key Finder and follow the guidelines here for help. These guidelines will guide you on how you can use EaseUS Key Finder to recover your saved/unsaved passwords from your Windows system. 
Step 1. Launch EaseUS Key Finder on your laptop, click "WLAN" on the left pane.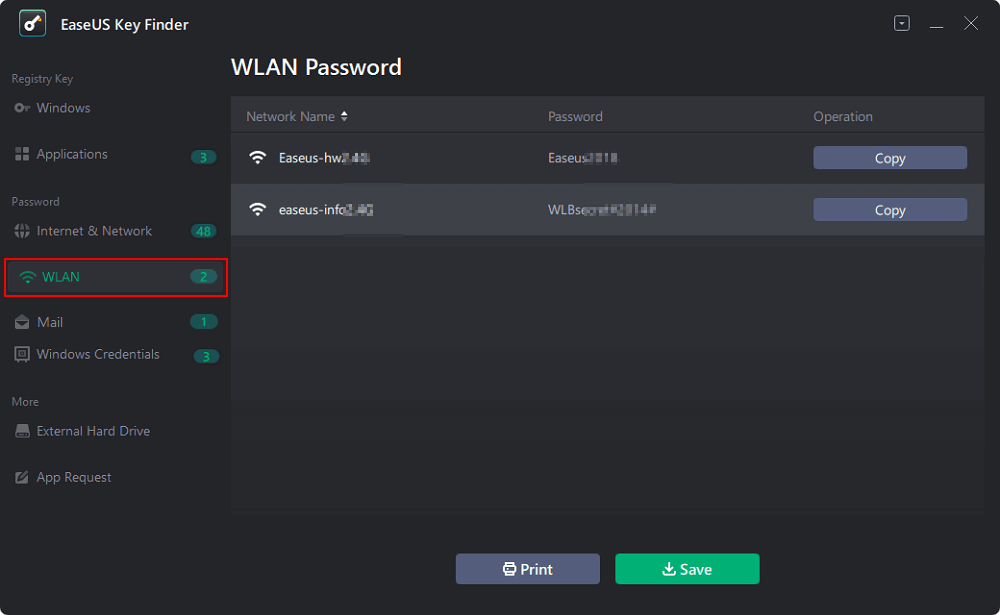 Step 2. Find your WiFi account, and you'll see the password next to your network name. 
You can directly click "Copy" to copy the WiFi password and join in your wireless network immediately.
Or, you can also, click "Print" or "Save" to back up all your WiFi networks and passwords.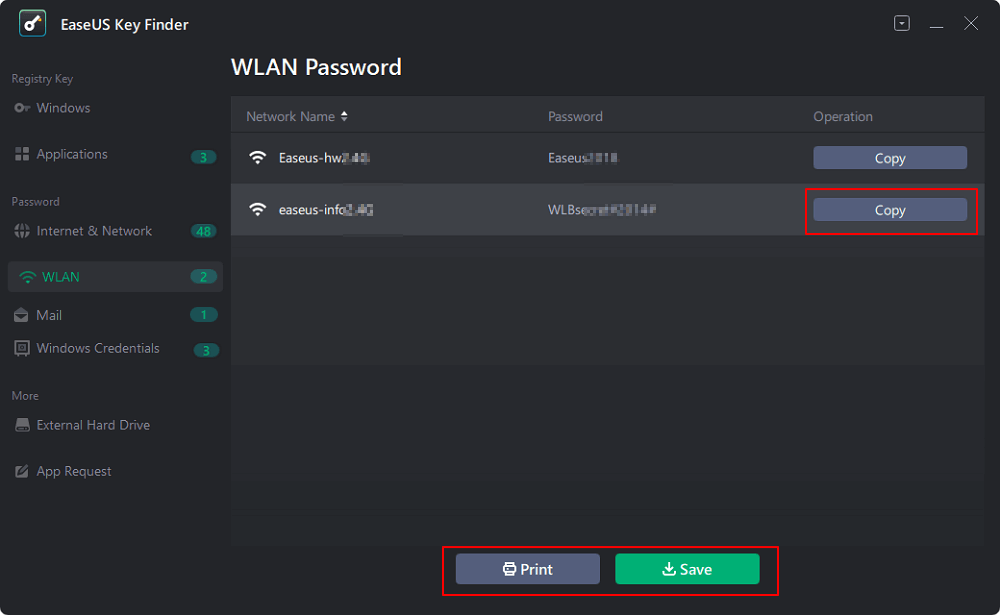 The features of EaseUS Key Finder aren't limited to finding WiFi passwords; there are a plethora of other valuable features available that could be highly beneficial to a Windows user. The most prominent features are recovering a lost Product Key, retrieving product licenses in the event of a system failure, and recovering saved passwords from web browsers such as Chrome, Edge, Firefox, and Internet Explorer.
Method 2. Find Saved WiFi Password Using CMD (with Admin)
Remember that we said earlier that there are complex methods for finding saved WiFi passwords on a laptop, and this is one of them. CMD command lines can be very useful in recovering lost passwords. Still, it would help if you exercise extreme caution when using CMD command lines to recover saved WiFi passwords on Windows 10, as one wrong step can cause you plenty. 
Here is an in-depth guide on how you can use the CMD command line to tackle this situation, but before that, be sure to log in to your computer as an Admin. The steps we are going to discuss requires administrative rights.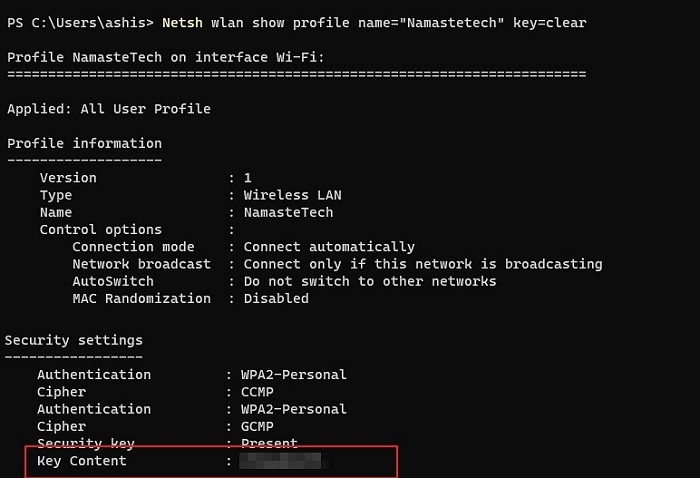 Step 1: Open the Start Menu, type Command Prompt in the Windows search bar, and click Open.
Step 2:  Now, the Command Prompt window will open, type the following command, and press Enter. 
Netsh wlan show profile name="Wi-Fi name" key=clear
Step 3: In the Security settings category, you can find the WiFi password in the Key Content section. If you wish to check all the WiFi passwords your computer has ever connected to, copy-paste the following command written below, and press the Enter key. 
for /f  "skip=9 tokens=1,2 delims=:" %i in ('netsh wlan show profiles') do @echo %j | findstr -i -v echo | netsh wlan show profiles %j key=clear
You'll find the passwords for each WiFi your device has ever connected to by running this command.
Method 3. Find Saved WiFi password Using Windows Settings/Control Panel (with Admin) 
Windows Settings or Control Panel is the last efficient and free option to help you discover connected WiFi passwords on your Windows 10 PC. We'll look at both Windows Settings and Control Panel tutorials separately so that you can have a better idea of which one to pick. 
Using the Control panel to view WiFi passwords directly 
Step 1: Press Windows + R keys on your keyboard to open the Run utility. There type ncpa.cpl in the text field. Click OK. 
Step 2: This command will directly open your network connection in the control panel. Right-click on your WiFi network and choose Status from the context menu. 
Step 3: Select Wireless Properties present in the WiFi Status window. 
Step 4: Finally, click on the Security tab and click on Show Characters to make your WiFi password visible. 
Conclusion: You Can Find WiFi Password on Windows 10 Successfully Here
Forgetting your WiFi password, especially in this day and age, is pretty standard, but it can cause significant problems if you don't remember your WiFi password. In this guide, we've gone over three methods for recovering a forgotten WiFi password in Windows 10. 
EaseUS Key Finder is the best way to recover forgotten or lost WiFi passwords for Windows 10/11 and other Windows operating systems.
As opposed to the other two separate methods, it is the simplest way to do so because you do not have to perform long and complex steps. The other two ways guarantee 100% success but aren't viable for a typical user. You can choose your preferred methods based on your comfort. 

Roxanne is one of the main contributors to EaseUS and has created multiple posts on digital devices like PCs, Mobile phones, tablets, Mac, etc. She loves to share ideas with people of the same interest.
About EaseUS Key Finder
EaseUS Key Finder offers complete solutions for you to efficiently find Windows or Windows Server product keys, discover Offce, Adobe, and other installed software serials, and find WiFi codes, etc, successfully in simple clicks.