How to Find VMware License Key: View Reliable Ways to Locate VMware Workstation
Where to Find VMware License Key
"I have windows work station 7 and would like to upgrade to 12 but cannot find my license key. Can the license key be located somewhere in one of the application files? Is there another way of providing proof to qualify for the upgrade pricing?"
VMware station will ask license key when you are trying to install software on a brand new computer or reinstall it by crash, accidental deletion, or other unknown reasons. However, locating a product key is not easy as search files on the desktop, you will need some programs. In this article, we will show you how to find VMware license key in simple steps.
Quick Navigation (5 Ways):
1 - Find VMware License Key via Third-party Product Key Finder
To easily get VMware workstation product key, we will recommend a 1-click product key finder - EaseUS Key Finder. Despite the data transfer functions, this PC transfer software now pushes its new features, product key, to help you find VMware license key in two steps. Except for VMware, you can also extract Windows, Office, and Adobe software keys. You can copy the info to any known location that you can easily find.
Download this product key finder and start to extract number:
Step 1. Click "Application" tab under "Registry Key".
Step 2. View Applications Registry Keys on the right panel. EaseUS Key Finder will show all keys of installed software. Copy the targeted serial numbers. Also, you can click "Print" or "Save".
2 - How to Find VMware License Key Registry
Taking another manual way to locate VMware license key, Registry Editor is the common way we used to seek some recorded information of this computer. Also, the Registry enables to find the serial number. Just focusing on the correct path and do not modify other data in case of a computer crash.
Step 1. Press Windows + R shortcut to wake up Run box and then input regedit and hit Enter.
Step 2. When the Registry Editor pops up, navigate to the following path:
Computer\HKEY_LOCAL_MACHINE\SOFTWARE\WOW6432Node\VMware, Inc.\VMware Workstation\License.ws.x
(X stands the version of VMware software.)
Step 3. On the right panel, you can see the Serial tab. The number behind Serial is the license key of VMware workstation. Double-click Serial and copy the serial number.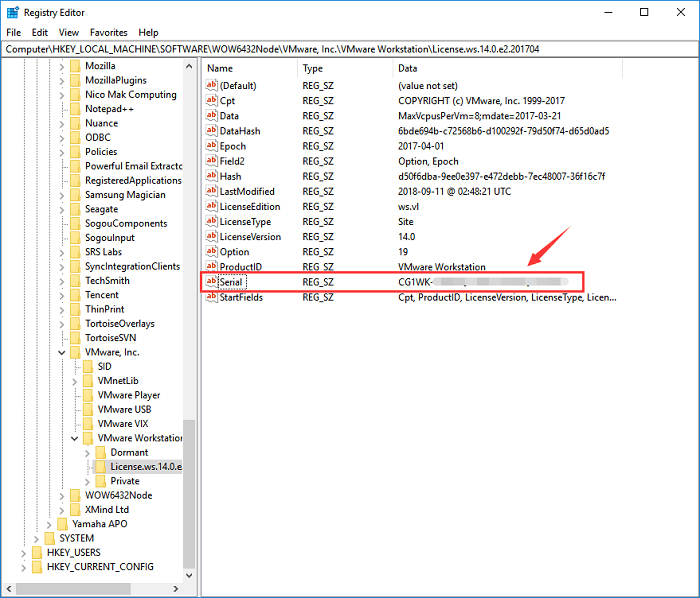 But this method does not work all the time. On the VMware forum, some users has complained that they can not locate the license key by the registry. Using the proven solution still resists uncertainty. If that happens to your device, don't fret, try another path in the next part.
3 - Check VMware License Key by My VMware
Expect a third-party product key finder and Registry Editor, you can also get a serial number from the online website if you've purchased VMware by account. Log in to the My VMware account and follow the tutorial.
Step 1. Log into My VMware.
Step 2. Go to Quick Links and click License Keys.
Step 3. Then you can see some license key folders, checking folders with license key.
4 - How to Get VMware Workstation License Key via Customer Connect
Solutions still need to log in to My VMware.
Step 1. Login into VMware Custom Connect.
Step 2. Hover mouse to the Products and Accounts tab > Select Accounts > Click Manage Licenses
Step 3. Choose the right account for finding license keys.
Step 4. Go to the search bar, choose "Search by" as Product Name, and type product name.
Step 5. Select the VMware license key to check the info.
Have you found the license key by these four methods? The last option is to rummage email for order email. Honestly, as a user, we do not want to waste time for an unknown method. You can skip the last option if you don't have enough time to prove it.
5 - Check Order Email (If Possible)
Keys can be found by WMware station order email. If you ever keep this order email, it is good to figure out number. However, this way may work for users who just bought software for a while and have not delete order confirmation emails to the trash can.
Concluding Thoughts
On this article, we listed five options to find VMware license keys. To recommend the best way, we suggest using the Product Key function of EaseUS Key Finder. Sifting the manual ways, Registry Editor is the reliable one you can choose.

Roxanne is one of the main contributors to EaseUS and has created multiple posts on digital devices like PCs, Mobile phones, tablets, Mac, etc. She loves to share ideas with people of the same interest.
About EaseUS Key Finder
EaseUS Key Finder offers complete solutions for you to efficiently find Windows or Windows Server product keys, discover Offce, Adobe, and other installed software serials, and find WiFi codes, etc, successfully in simple clicks.