How to Find Adobe Premiere Product Key? 8 Full Solutions
If you want to transfer or reinstall Adobe Premiere on a new computer but can't find the product key, this could be quite troublesome. However, you don't have to fret. As long as you have the software installed on your computer, you will have the serial number stored in your Windows Registry. Here are some ways you can consider accessing your product key on your computer.
Where to find your Adobe Premiere Pro Product Key?
The quickest and the easiest way of locating the possible locations of your Adobe Premiere Pro Product Key is to find it.
On product box – If you still have product packaging, you can look for the serial number from your product box or prepaid card. You can also find it from Adobe licensing website if you have followed all the steps to register your product.
In confirmation email – Go through your email if you purchased the product online. The chances are that you would have received a confirmation email for registering the product along with the product key. 
Prepaid card – If you purchased Adobe Premiere Pro using a prepaid card, then you can find the code beneath the scratch-off foil on the back of the card.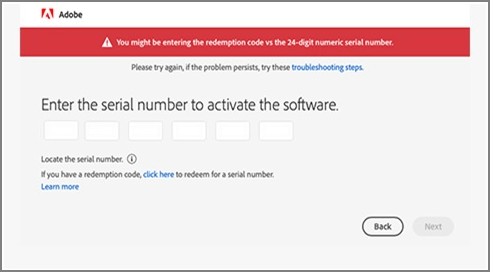 8 Ways to Find Adobe Premiere Product Key/License On Your Own
Here are all the options you can try if you need to find the product key for any version of Adobe Premiere on a Windows machine.
1. Adobe Product Key Finder
2. Check Product Page
3. Visit Adobe Licensing Site
4. Check Product Box
5. Check Order Email
6. Check Prepaid Card
7. Find in Registry
8. Contact Support Team
The easiest way to locate the product key is by checking the product box if you have kept the product packaging intact you. Else you can consider using the Adobe Product Key Finder.
1. Use Adobe Product Key Finder to Find Adobe Premiere Product Key in 1 Click
The easiest and the quickest way to find Adobe Premiere Product Key is to use a specialized product key finder program. EaseUS Key Finder is the most reliable tool you can use for finding the missing Premiere key with much ease. This simple and convenient tool is easy to use and doesn't require any prior technical knowledge. You can successfully get any key numbers you wish from health or dead computers in just a few simple clicks. This highly efficient software allows you to find product keys for Windows OS, games, Office, Adobe software, and more.  
Using the software is simple. Just follow these two simples steps for finding the product key of your installed Adobe software in just one click.
Step 1. Click "Application" tab under "Registry Key".
Step 2. View Applications Registry Keys on the right panel. EaseUS Key Finder will show all keys of installed software. Copy the targeted serial numbers. Also, you can click "Print" or "Save".
Related articles:
2. Check Product Page to Find Adobe Premiere Key
If you have downloaded your product from Adobe.com after successful registration, finding the serial number is simple. Adobe will keep track of it for you. Sign in with your Adobe ID and password to check a list of registered products and serial numbers. Click the Plans tab and then click My products in the left pane. You will gain access to a list of your registered products, and serial numbers are displayed.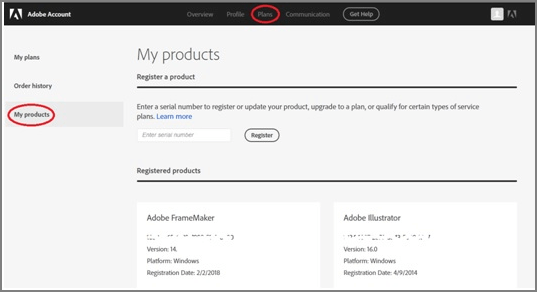 3. Visit Adobe Licensing Site to Find Product Key of Premiere
Adobe Licensing Website provides detailed account information about your Adobe Buying Programs customers. You can use it to locate serial numbers, view your purchase histories, track your orders, change or add account contacts and information, check for upgrades, merge accounts and download software. 
Step 1: Log in to the Adobe Licensing Website using your registered email address with Adobe.
Step 2: From the licenses tab, you click on the option to retrieve serial numbers to find Adobe Premiere Product Key.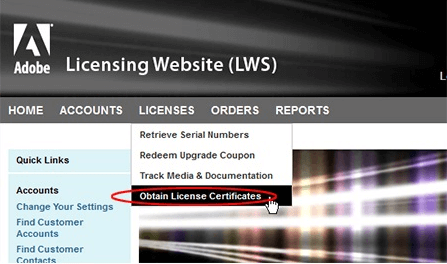 4. Check Product Box to Find Old Key of Premiere
You can find Adobe Premiere Product Key from the serial number on the disc sleeve or your product box. Your product key or serial number is a 24-digit numeric code.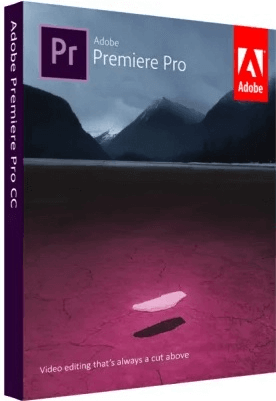 5. Check Order Email
If you have not retained your Adobe Premiere Pro product box, then you can check your order confirmation email. Whenever you purchase software through Adobe, the company sends a confirmation email to the person listed on the purchase order. It contains all the basic information, including your volume licensing details.
6. Check Prepaid Card
If you purchase your Adobe product from a retailer, reseller, or received it as a gift card, then you would have used the redemption code to start using the product. The redemption code is present under the silver scratch-off label on product cards. It is also included in an email if you did not purchase a physical product. Based on the mode you purchased the product, you will be provided a serial number for activation. The prepaid card contains a code that you can utilize for verification to obtain your serial number.  
7. Find Adobe Key for Already Installed Premiere in Registry
If you have a genuine Adobe Premiere Pro installed on your system, then the serial number would be stored in the system Registry. It is quite easy to retrieve it if you follow a few simple steps.
Step 1: The first and foremost thing you need to do is manually open Windows Registry to locate the serial number. Press the Win+R buttons to open the Run dialog box. You need to type Regedit then and click Ok.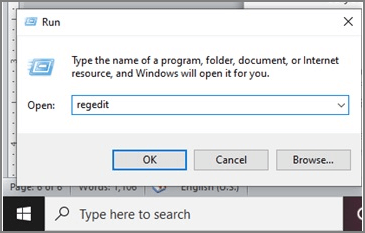 Step 2: If prompted, then you need to confirm the User Account Control.
Step 3: Once the Registry Editor opens, you need to navigate to HKEY_LOCAL_MACHINE\SOFTWARE\Wow6432Node\Adobe\Adobe Acrobat\9.0\ Registration.
Step 4: The product license key you are shown is in the form of a series of encrypted numbers. For decrypting the serial number, you will have to use any trusted product key generator software.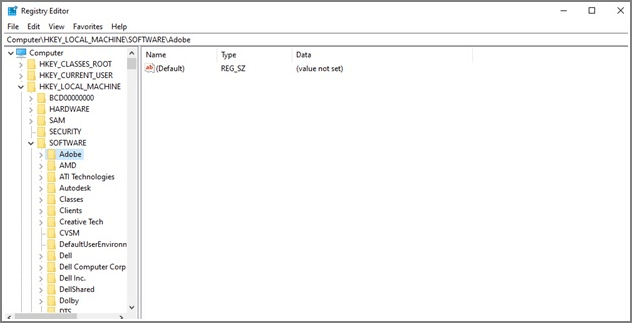 8. Contact Support Team
You can also ask the provider from whom you purchased the Adobe Premiere Pro for the serial number. If you purchased it from an online store, you would be able to locate the serial number from your email history. If none of the steps listed above assist you to recover the serial number, you can connect to the support team for help if you have made a genuine purchase. This will help you in retrieving the serial number with much ease. 
Conclusion
Retrieving the Adobe Premiere Product key doesn't have to be a hassle if you follow any of the methods mentioned in this guide. The best way of finding the key is to use the EaseUS Key Finder application. This fully-featured key finder software helps you accomplish the task in just 1 click. It can also be used for automatic check the browser account and password of Chrome, Firefox, Edge and IE, find connected WiFi code.
Besides checking for licenses or software serial numbers, you can use the tool to find serial number for other Adobe version. EaseUS Key Finder is a perfect tool you need to find Adobe premiere product key installed on your device in a hassle-free manner.     

Roxanne is one of the main contributors to EaseUS and has created multiple posts on digital devices like PCs, Mobile phones, tablets, Mac, etc. She loves to share ideas with people of the same interest.
About EaseUS Key Finder
EaseUS Key Finder offers complete solutions for you to efficiently find Windows or Windows Server product keys, discover Offce, Adobe, and other installed software serials, and find WiFi codes, etc, successfully in simple clicks.