Old iPhone Concerns Before Selling
"iPhone 6 was water damaged, I'm thinking to sell it. How can I delete the data permanently?"
"Deleted all the camera roll photos and SMS on my iPhone 11. Is it safe to give it to others now?"
"How can I make sure all my old iPhone memory has been completely deleted before selling it?"
"Tell me how to wipe iPhone data permanently and make deleted iPhone data unrecoverable by any data recovery software. I feel so nervous when think about sending it away. I have used the phone for two years, and it has so many personal information of mine. I don't want any one to see things without my allowance."
These Methods Can Help Wipe Clean Your Old iPhone SMS, Pictures, Videos, Notes, Settings And More
Usually, when your iPhone type is old fashioned but still functional, it's a good idea to put it on eBay and sell it. But selling the iPhone should be very careful, you got tons of files stored on it, and most of them are extremely important to your daily life. For example, contacts, pictures, videos, reminders, calendar events, bookmarks, notes and accounts of all apps and so on. Thus, you should learn how to permanently wipe your old iPhone data clean instead of simply deleting manually.
Method 1. Erase iPhone As Apple Support Suggests
1) If you paired an Apple Watch with your iPhone, unpair your Apple Watch.
2) Back up your iOS device.
3) Tap Settings > iCloud. Scroll down and tap Sign Out. In iOS 7 or earlier, tap Delete Account.
4) Tap Sign Out again, then tap Delete from My iPhone and enter your password.
5) Go back to Settings and tap General > Reset > Erase All Content and Settings. If you turned on Find My iPhone, you might need to enter your Apple ID and password.
6) If asked for your device passcode or Restrictions passcode, enter it. Then tap Erase [device].
7) Contact your carrier for help transferring service to a new owner. If you aren't using a SIM card with your device, you can contact them to get help transferring service to the new owner.
Method 2. Use third-party iPhone data eraser
This is another great idea to wipe iPhone data permanently. Many third-party programs are developed nowadays, which is capable of wiping data by multiple times. The more times you perform wiping, the harder data can be recovered. As far as I know, Apowersoft iPhone Data Cleaner and iPhone Data Eraser are both worth trying.
Don't Forget The Last Step: Have A Test Whether iPhone Data Has Permanently Erased
Don't act in haste, you got one more step to complete the job. Use EaseUS MobiSaver Free to have a test, whether the iPhone data has been erased permanently or not. Since deleted iPhone data can be recovered by powerful data recovery software in most cases, it's significant to double ensure that using the above two methods has wiped the data clean, and it can be never restored by professional data recovery tool such as EaseUS MobiSaver. Let's start right now.
Step 1. Connect your iPhone to a Windows PC or Mac. Launch EaseUS MobiSaver for iOS, and choose "Recover from iOS device".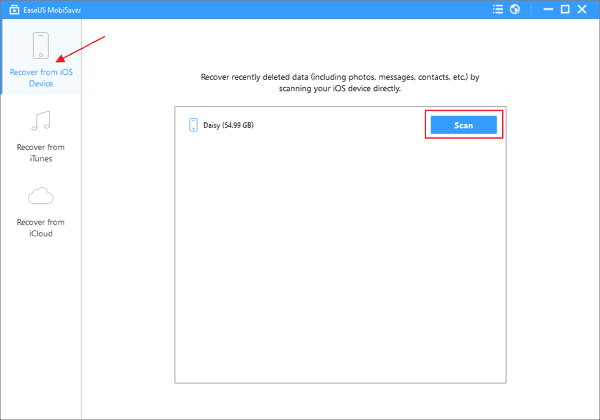 Step 2. Click "Scan". The software will start scanning all the wiped data on your iPhone.
Step 3. After the scan is complete, you can check the results. If nothing's displayed, it turns out the method of wiping data permanently is in success.