
Table of Contents

Reviews and Awards

Fast Video Downloader
Solved: iPhone Deletes Photos by Itself
Summary
Does your iPhone delete photos by itself? How to stop iPhone from deleting cameral roll pictures automatically? Here, a few tips are for you to solve the problem without losing all your valuable photo images.
Are you confused to see your iPhone deleting photos by itself? From what we observed, the incident of iPhone photos deleting themselves widely occur in the three scenarios.
1. There is not enough iPhone storage to keep new photos, so the old photos were automatically deleted due to some unknown iOS settings.
2. Some hardware related issues happened, like water damaged, causing a random deletion.
3. New iOS system bugs are introduced. Many devices keep restarting and then photos, music, and videos disappeared mysteriously.
4. The option "Optimize iPhone Storage" is enabled.
How to Stop iPhone from Deleting Photos by Itself?
In fact, owners of the iPhone 6 series are the largest group who have been experiencing the uncontrollable removal of their photos in the Camera Roll as well as in the Photo Stream. In order to send the problem to a permanent fix, you must be aware that iPhone photo recovery should come prior to any possible troubleshooting.
Step 1. Use EaseUS MobiSaver to Recover Deleted Photos on iPhone/iPad
Download EaseUS MobiSaver, an all-in-one iPhone data backup and recovery program for both Windows and Mac OS X versions, which enables its users to recover permanently deleted photos from iPhone or iPad in three places, including the phone's memory, iCloud backup, and iTunes backup.
1_Connect iPhone to your PC or Mac.
2_Select an appropriate recovery mode from Recover from iOS Device, Recover from iTunes and Recover from iCloud. Sign in with your Apple ID account if you chose to recover from the cloud.
3_Let the software scan your selected location.
4_Under the Photos/Videos tab on the left pane, select the photos that were automatically deleted and click the Recover button to get them back.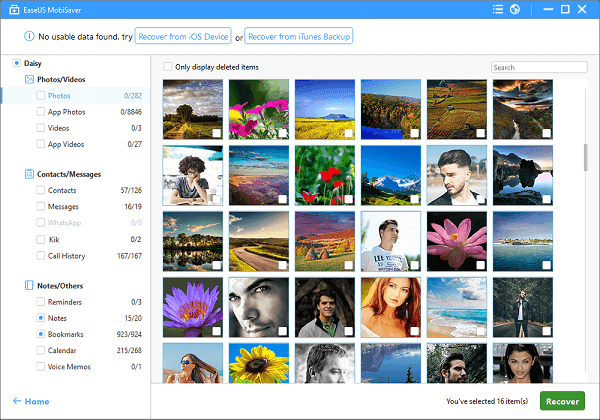 Step 2. Pick Up One or More Solutions to Fix the Automatic Photo Deletion Problem on your iPhone/iPad
Now it's time to face the iPhone photo issue seriously. First of all, we suggest you refer to the first part where we presumed four scenarios that might make the trouble. Next, you can find the corresponding workaround for each obstacle.
Method 1. Increase iPhone memory
1-Go to Settings > General > About, and scroll down to Available.
2_Check how much storage you have left and head to the iTunes store.
3_Search for a film which is bigger than the space left on your iPhone. Then click Rent at the top of the page.
4_You will receive an error message saying that you have not enough available storage to download the film. Click OK.
5_Head back to the settings and check the available storage again. It should have increased.
That's a little trick we found on the internet. It's quite useful!
Method 2. Turn off the Optimize iPhone Storage option
This is where you can access this option and turn it off.
iOS 8.3 -10.3.3: Settings > Photos & Camera
iOS 11 and later: Settings > Photos
Method 3. Reinstall a new iOS software
1_Connect your device to a computer and open iTunes.
2_While your device is connected, force it to restart. Press and hold the Sleep/Wake and Home buttons at the same time. Don't release when you see the Apple logo. Keep holding until you see the Recovery mode screen.
3_When you get the option to restore or update, choose Update. iTunes will try to reinstall iOS without erasing your data.
Method 4. Fix iPhone hardware issues
iPhone hardware issues are complex to examine and troubleshoot, especially when you apparently sensed a slow performance and unresponsive screen on your iPhone. Don't do it yourself to disassemble the phone, instead, take it to the Apple store and ask them to replace the problematic device with a brand new one completely.
All in all, all those solutions to fix your iPhone deleting photos problem should come later after you did the backup or recovery of all your precious photos with the help of EaseUS MobiSaver.