As a Mac user, you might have come across various formats of document files. And if that includes a .msg file, you might find it tricky to open it on your device. MSG files will not open on Mac because it doesn't support that format. 
MSG files are created on a Windows PC by Microsoft Outlook. These files are launched only by specific applications. 
But no need to worry. These files could be opened using various other methods. Below, we will discuss MSG files and how to open MSG files on Mac in detail.
What is MSG File on Mac?
Wondering what MSG files are? MSG files stand for Microsoft Outlook Item. As mentioned, the MSG files are not created on a Mac system. You can open these files only through MS Outlook on a Windows PC. The files ending in the .msg file extension are used for an Outlook Mail Message file. 
Further, these files might contain an email, a task, and other similar Outlook items saved in a file. A Mac version of the Outlook software is available, but that doesn't solve the issue of opening MSG files on Mac.
From this, it is clear that Mac cannot recognize the MSG format. Let us further find out how to open these files on your device. 
How to Open MSG File on Mac? [6 Ways]
Below mentioned are 6 different ways in which MSG files open on Mac : 
Method 1. Run Outlook for Windows on Your Mac
For this method, you should have an Intel Mac and install Windows on your Mac. Using the Boot Camp utility makes it easy to install Windows on Mac. Further, a Windows installation drive is also needed. 
After installing Windows on your Mac, hold down the Option key. This step will lead you to choose between running Windows or macOS. You can install Microsoft Outlook when Windows has booted. And finally, you can read and open those MSG files. 
On a side note, this solution is comparatively expensive and time-consuming. It's only applicable if you want regular access to Outlook for Windows. Moreover, this method cannot be carried out with the new Apple Silicone Macs. 
Method 2. Install an MSG Viewer
You can also install a third-party MSG viewer application that can quickly open Outlook messages on Mac. These apps convert the MSG contacts into VCF format.
One such app that you can use is MSG Viewer for Outlook. The app can be assessed from the official website for $17.99 and can be freely downloaded from the Mac App Store with in-app purchases.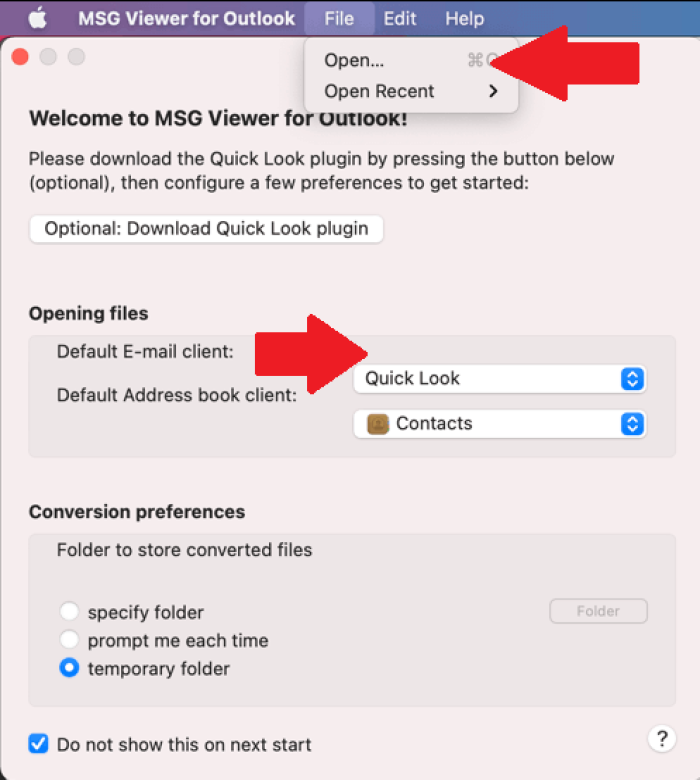 The free version of the app will only convert certain parts of the file, so upgrading to the full version is necessary. The full version allows batch processing and complete conversion of the files. 
Once installed, the MSG Viewer will enable you to open the .msg file, similar to using Microsoft Outlook on your Mac.
Method 3. Install an MSG Converter
Like using an MSG Viewer to open and use an MSG file, MSG Converters display these files in a format that can be used and is similar to Outlook. These apps come in free versions as well as in paid versions, especially for upgrades. 
MailRaider, msg-extractor, and SysInfo MAC MSG Converter are some prominent examples. MailRaider helps to extract plain text from the MSG files. It can be purchased from the Mac App store for $1.99 or downloaded as a free trial version from the official website. Advanced users mostly use msg-extractor, which extracts the file's entire contents. 
You can check the Apple app store for information on available apps and download them for your device.
Method 4. Try Changing the File Extension
Changing the file extension can also allow you to open the MSG file in another application, especially if the file was created by a program other than Outlook. The two extensions that you can use to open MSG files are .txt and .eml. 
1. Changing MSG to a Text File
Changing the file extension to TXT is helpful if you want to view the file's content. This extension will not open if there is any attachment with the mail. 
Step 1. After locating your MSG file, right-click on it to bring up the context menu. 
Step 2. Select Open With and click on TextEdit.app. You can select Open With and click on Other if this option is unavailable. This option will help you find the text editor in the list and will open the MSG file, and you can scroll through the contents to see the information required. Further, you can also view the sender of the email and recipient details. 
2. Changing MSG to an EML File
This method is one of the easiest and most used by your Mac's mail application.
Step 1. Right-click on the file to bring up the context menu and select the option Rename. 
Step 2. Type .eml at the end of your file name. 
Step 3. You will be asked to give access to the file extension change. After it is changed, try to open the file to check the contents.
Method 5. Send it to an Outlook.com Account
Another easy solution, especially if you have an Outlook account. You can email the MSG file to that account as an attachment. When you receive the mail in your Outlook account, you can try opening the file by double-clicking on the attachment.
If you don't have an Outlook account, you can make a new one by visiting the site Outlook.com. 
Method 6. Use a Virtual Machine
Virtual Machine or Windows VM helps to read or access documents created in Windows. If you have a version of Windows on your Mac desktop, you can run Outlook.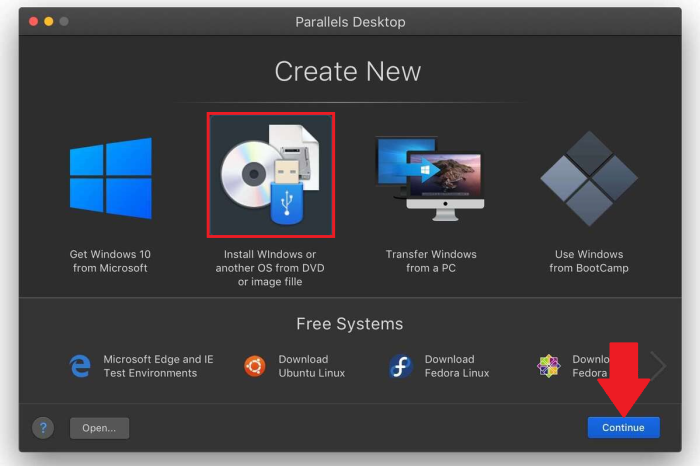 VMWare, Virtual box, and Parallels are a few options that help to run VMs on your Mac. You can get more details on them on their official website. Installing Windows is straightforward and once that's done, you can view your .msg files.
Final Words
It is clear that though it might seem complicated to open MSG files on your Mac, the methods discussed above can help you access them. Plus, it's better to stick with more straightforward solutions as they help you access your files faster.
The bottom line is that there are methods that allow you to access .msg files on Macs. So, next time you encounter an MSG file, there is no need to worry as you can look back to this article and access them on your Mac.
MSG File FAQs
Let's discuss a few common questions regarding MSG files in this session.
1. What browser should I use to view MSG files?
You can use any browser to open and read an MSG file. However, MSG files get opened only with Outlook or Microsoft-compatible software. You can also rely on a third-party application such as an MSG Viewer or Converter. 
2. How to format MSG files on Windows?
All MSG files have an Outlook-based format, and if you want to open it on Windows, then there should be an Outlook desktop app on your device. The MSG file format will be based on Outlook if your device has Outlook installed and set up. Further, you can change the extension of your file to open the contents.
3. Best MSG file viewer recommend
Many MSG viewer applications are available that help you open and read your MSG file's contents. While most of them need to be purchased, there are also free trial versions available for you to try.
The best MSG file viewer is the one that provides many features at an affordable price and good quality. Some of the best available in the market are MSG Viewer for Outlook, SysInfo MSG Viewer, MessageViewer Online, MsgViewer, Klammer, etc. 
EaseUS Data Recovery Services
EaseUS data recovery experts have uneaqualed expertise to repair disks/systems and salvage data from all devices like RAID, HDD, SSD, USB, etc.