Copy and Paste not working, help!
Case 1. Copy and Paste failed to work
"Hey there, do you know how to copy or move files to another drive or location as a backup when Copy & Paste fails to work? I tried to copy and paste wanted files to an external hard drive so to backup the file, but I cannot paste the files to the destination drive.
I tried Ctrl+C/Ctrl+V and right-click selected files with Copy and Paste, nothing worked.Still I got no copied files in the new drive. Do you know how to fix the problem?"
Case 2. Copy, Cut and Paste won't respond
"I upgraded Windows 8 to Windows 10, and now here is the problem that I cannot copy, cut and paste any files or folders on my PC. Do you know how to repair and make copy, cut and paste work again? If you do know any methods or fixes, please let me know."
If you are having the above mentioned error with Copy, Cut and Paste, in Windows 10, 8 or 7 PCs, don't worry and continue reading to find solutions right here now.
Cannot backup files by copying and pasting in PC, fix it now!
Usually, copy and paste feature in Windows system is designed for helping users to create a copy file or backup for the original file into a new location or storage device. So what can you do to copy or create backup files when Copy & Paste not working in PC? 
Professional backup and recovery software from EaseUS can help you fix this issue. This software supports you to create backup images for important files and data in Windows PC with simple clicks. And the backup files will even take smaller space than the original file. You can simply free download and install it to create file backup or images for important data and files on Windows PCs now:
* The following backup procedure requires another working computer to create an emergency disk of EaseUS Todo Backup. You'll need to boot your unbootable computer through this emergency disk to make a full backup.
Step 1. To make an EaseUS Todo Backup emergency disk, you need a USB flash drive and connect it to a working computer. Launch EaseUS Todo Backup, click "Tools" and then click "Create Emergency Disk".
Step 2. Switch to the USB option when choose a boot disk location, and then click Create.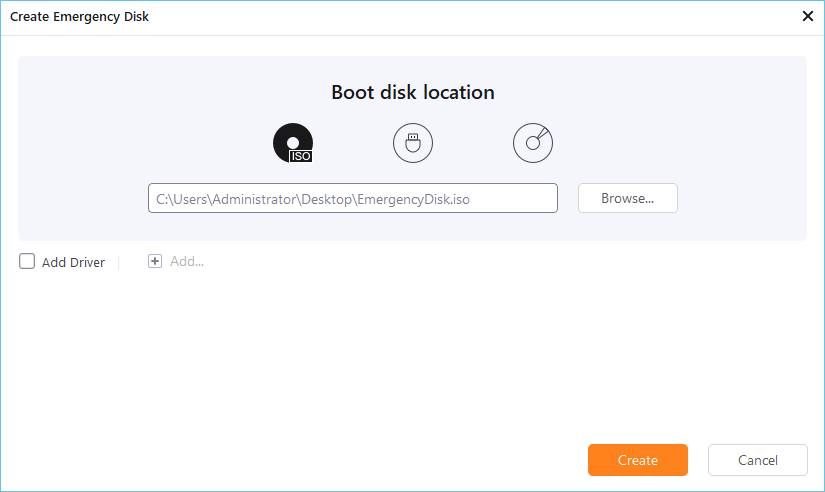 Step 3. When it's done, insert this emergency disk to the computer that needs backing up. Restart the PC, and Press F2/DEL to enter BIOS. Change the boot sequence, and then start the computer and run EaseUS backup software from the bootable disk.
Step 4. Access the option of Select backup contents and then choose the Disk backup mode. Here, select the computer hard drive(s) to make a full backup.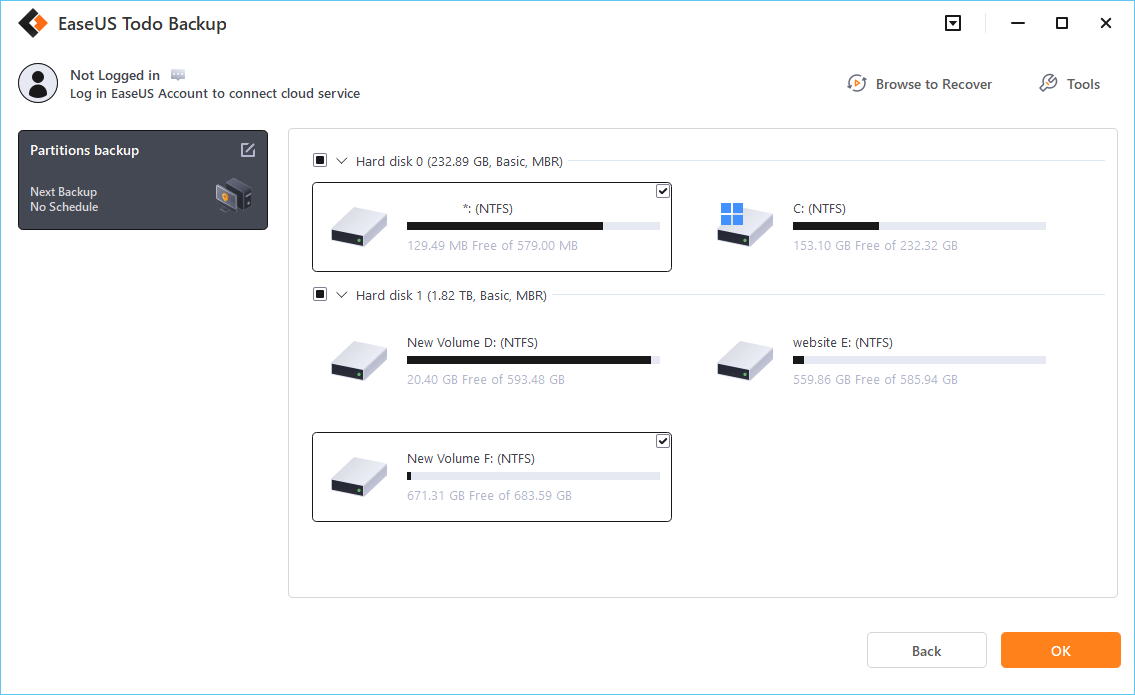 Step 5. Select a destination to save your backup file. It's recommended to save the backup file to external storage media.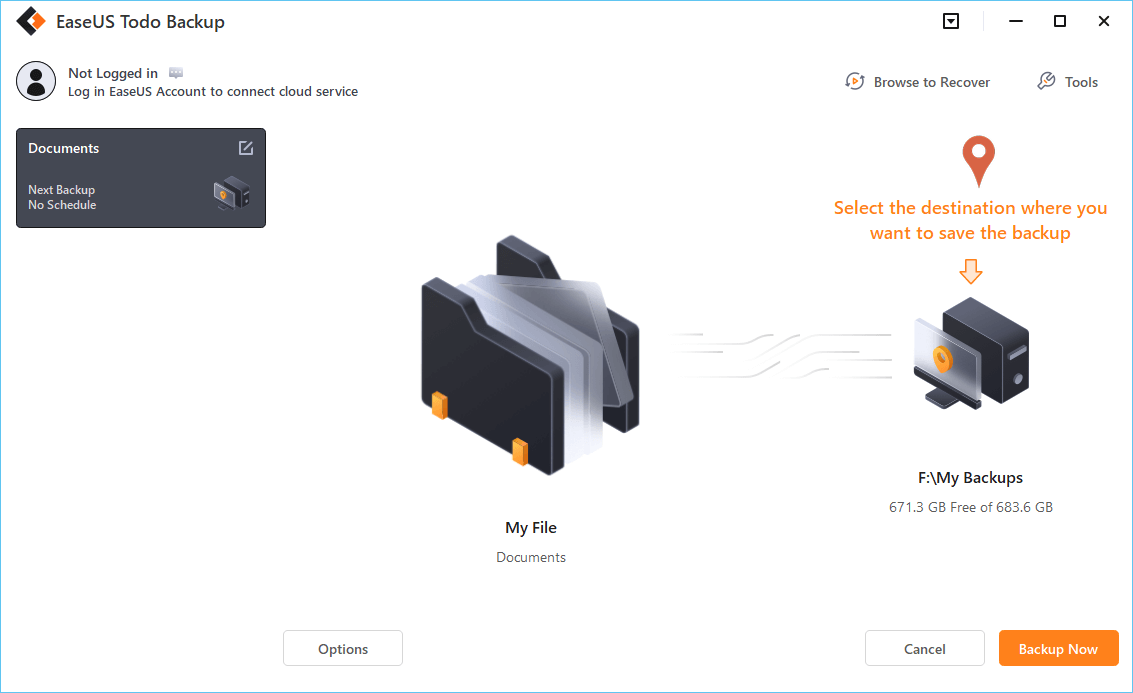 Step 5. Click "Backup Now" to execute your operation.
3. Click Proceed to backup wanted files now.
Quick Fix 1. Fix copy and paste not working error by uninstalling Adobe Reader
Sometimes, newly installed Adobe Reader may affect other applications or programs, stopping them from working properly. So when you cannot use Copy and Paste feature to copy or move files in PC, you can try to uninstall Adobe Reader in Windows PC to see if this help or not:
1. Right-click on "Start" > Select "Programs and Features".
2. Find "Adobe Reader" and right-click it, select "Uninstall".
3. Uninstall Adobe Reader and restart PC.
After rebooting PC, you can then try to check out whether Copy & Paste feature work or not. If not, try Quick Fix 2 to get your problem solved now.
Quick Fix 2. Run SFC and uninstall/reinstall keyboard drivers to fix Copy & Paste not working issue
1. Press Win + R keys to open Run dialog and type: cmd to bring up Command Prompt by hitting Enter.
2. Type: sfc /scannow and hit Enter.
Let the SFC command to check and repair corrupted files on your PC and then check out whether copy and paste feature work or not.
3. If SFC command doesn't work, type: dism /online /cleanup-image /restorehealth and hit Enter.
After this, you can reboot PC and then try to copy, cut and paste files or data into another location then.
If it still not works, try to enter Device Manager and uninstall and reinstall the keyboard driver to see whether copy and paste work or not:
1. Right-click on "This PC/My Computer" > Select "Manage".
2. Select Device Manager, expand "Keyboards" section > Right-click the keyboard that you want to repair and select "Uninstall".
3. Then click the Windows Start button and click "Restart".
4. Windows will reboot and automatically detect your keyboard and reinstall the keyboard drivers.
If these two quick fixes don't solve your case, you can follow below 3 solutions to make copy, cut and paste feature work in Windows 10/8/7 again.
Method 1. Repair damaged Internet Explorer that cause Copy/Cut/Paste won't work
1. Click "Start" > "Settings" > "Control Panel".
2. Double click "Add/Remove Programs" > "Microsoft Internet Explorer" > "Change/Remove".
3. Click "Repair Internet Explorer "in the Internet Explorer and Internet Tolls dialog > Click "OK".
If Copy and Paste feature still doesn't work, try to restore the previous Windows configuration:
1. Click "Start" > "Settings" > "Control Panel".
2. Double click "Add/Remove Programs" > "Microsoft Internet Explorer".
3. Click "Restore the previous Windows configuration" and select "OK".
4. Follow the on-screen guidelines to complete the process.
Then you can check and try to coy, cut, and paste files to a new location.
Method 2. Fix Copy/Cut/Paste not working error with Registry editor
1. Follow the below path: C:\Windows\System\ and click IEMIGRAT.DLL > On the File menu, click "Rename".
2. Rename the file as lemigrat.dlx and close Windows Explorer.
3. Click Start > Run > type: regedit and click OK.
4. In Registry Editor, click "My Computer" > Click "Export Registry File" on the Registry menu.
5. Select a safe location to save the exported file;
6. In the File name box, type the name for new file and click "Save".
7. Click: HKEY_LOCAL_MACHINE/Software/Microsoft/Windows/CurrentVersion/Setup/Migration in Registry Editor > find and click the 100 key in the right pane.
8. Click "Delete" on the Edit menu > Click "Close" on the File menu and then close all programs.
9. Restart PC and insert Windows Millennium Edition installation CD-ROM and follow the installation instructions to complete the process.
After this, Windows Explorer and Copy/Cut/Paste, etc., features and apps can all work properly then.
EaseUS Data Recovery Services
EaseUS data recovery experts have uneaqualed expertise to repair disks/systems and salvage data from all devices like RAID, HDD, SSD, USB, etc.