"After the Windows 7 build 7601 update, my computer screen suddenly turns black with program icons still visible. At the same time, an error message displays as this copy of Windows is not genuine. I restart the computer, nothing's changed but a dark black background. Tried to change the background by going to system properties, but no avail. How do I remove this copy of Windows is not genuine error permanently? I need your professional advice."
If your Windows OS is not genuine, then you probably encounter "this copy of Windows is not genuine" error about one month later since you installed the Windows genuine crack. It's less likely that the report occurs due to Windows update bugs, computer malware or virus. As we've heard that a horde of Windows 7 users had the problem after build 7601 KB971033 update.
Tip: Don't buy windows OS from third-party e-commerce stores.
Next, we're going to teach you how to escape from getting "this copy of Windows is not genuine" error and black screen trouble on your PC. Both Windows 7 32 bit and 64 bit can apply the methods below. But I have to mention that don't buy Windows OS from any other third-party eCommerce stores, in case you had problems, you have to contact your vendor. Microsoft support only helps you resolve the issue when you buy Windows OS from Microsoft store.
Permanent Fix Methods for This Copy of Windows Is Not Genuine Build 7601
NOTE that the methods given below are used to fix black screen caused by Windows genuine crack copy, it won't help convert a pirate copy of Windows to a genuine one. So, to use all features of Windows 7, you have to buy a genuine piece and use verified activation code.
Method 1. Uninstall update
Perhaps your current Windows OS ran without any trouble until you installed Windows 7 KB971033 update (if you don't see any update on your PC, move on to the next method). That's because the update file can detect your Windows OS. Once it finds out the copy of Windows is not genuine, it sends the error message and leaves your desktop in dark. To move the error is easy, just uninstall the Windows update.
Open control panel.
Go to windows update section.
Click on view installed updates.
After loading all installed updates, check for update "KB971033" and uninstall.
Restart your PC.
Caution: This method tends to be a little risky. Uninstalling update files might result in malfunction of other program files or unexpected data loss on the computer. To make the procedure safe, you'd better use EaseUS free backup software to back up the computer before erasing the update file.
 Tip

You'd better create the backup file on an external disk or on the cloud in case the local backup gets corrupted or destroyed.
Step 1: Launch EaseUS Todo Backup software and then choose "File Backup", "Disk/partition Backup" or "System Backup" for different backup purpose.
Step 2: Choose the system, disk partition, files or apps that you want to back up. Then select a destination where you want to store the backup file.
Step 3: Click "Proceed" to start the data backup process.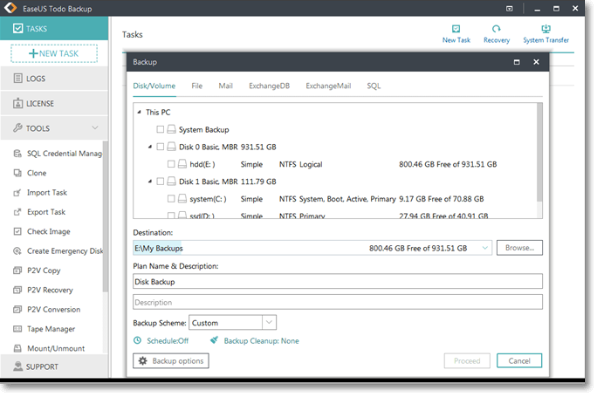 Method 2. Use SLMGR -REARM Command
Click on start menu.
Type cmd in search field.
Right-click on cmd file and click on Run as Administrator. It is must to run the command prompt with administrator privileges.
Type SLMGR -REARM (SLMGR is Windows software licensing management tool. REARM command will reset the licensing status of the machine) and press enter.
Now you will see a confirmation window, click on OK.
Restart your PC.
Method 3. Use rsop.msc Command
Press Windows button and R button from the keyboard.
Type rsop.msc there and press Enter button.
Go to Windows settings> security system> system services, then look for the plug and the play services, then right click on it and then start looking for the Startup and then click on the Automatic.
Press Windows button and R button as you did at the first step.
Paste a command gpupdate/force into the run box.
Hit Enter button.
Restart your PC.
Method 4. Turn off Updates
As we've mentioned that update file can easily detect your Windows is genuine or not, so make sure you won't install any update in the future. Follow the steps to switch off all Windows automatic updates.
Open control panel.
Go to windows update.
Click on "Install updates automatically(Recommended)".
Select "never check for updates(Not recommended)".
100% of people found this article helpful.
Frequently Asked Questions
Why choose EaseUS Todo Backup?

"The easiest way to protect your data and system files." —techradar

"EaseUS Todo Backup Free is one of the most popular free data backup applications available. This software offers a myriad of features and is extremely user-friendly. It provides a full system backup, meaning you can back up your entire operating system." —TopTenReviews

"EaseUS ToDo Backup Home is a great backup program, well suited to the home and SMB space." —PCWorld
What is the difference between Clone and Backup? In what cases should I use Clone?

Clone will copy one disk to another or one partition to another (unallocated space is also supported). Usually, this option is used to upgrade the current disk by creating an identical copy. Backup will generate a .PBD image file containing the selected files or system that can be restored from the .PBD image if needed.
What is the difference between System Backup and Disk Backup?

System Backup will auto-select the system boot related partition(s) as the backup source to make sure the system image can be restored properly. Disk/Partition Backup will allow you to manually select a whole disk or speficy a certain partition as the backup source. You will get the same backup result as System Backup if you manually select the system and boot partitions with the Disk/Partition Backup option.
As a computer newbie, what features should I use to protect my computer?

You can use System Backup to back up the system and boot partitions, use Disk/Partition backup to back up the data partition and add plans to run an automatic backup. If you use the computer frequently or have software that may cause boot failure of the computer, we would suggest you back up the computer every 1 to 2 days. For other situations, you can backup the computer once a week. In addition, you can schedule File Backup to back up the files which are changed frequently.
What kind of storage service should I use to save my backup images?

EaseUS Todo Backup can save backup images to internal disks, external disks, network drives, or free cloud(Google Drive, Dropbox, and OneDrive) and CD/DVD. It is suggested to save the images to the internal/external/network drives to save time as those kinds of disks have a better read-write speed. It is suggested NOT to save the image on the source disk, because once the disk is damaged, all the files on the disk will become unavailable and you will be unable to restore the image.
As a company network administrator, what features should I use to protect our internal computers?

It is recommended that you use the SQL Backup feature to back up your company's SQL server and Exchange Backup feature to back up the Exchange server. In addition, you can execute System Backup to back up the system and boot partitions on every computer and set a plan to execute the backup once a day or twice a week to ensure that the computer can be restored timely when it has boot issues. File Backup feature can be used to back up important user data. If there are a large quantity of computers, you can purchase EaseUS Backup Center to manage the backups on the client computers centrally.
About EaseUS Todo Backup
Be it a file, system, partition, or disk, EaseUS Todo Backup will help you back up or clone the item and provide you with multiple backup plans.