Is Bricked Phone Data Recovery Possible?
"I think I've bricked my device (Huawei G330, U8225-1). I was adb pushing while I received a "push failed: no space left on device". The phone boots in recovery, I've root but the bootloader is locked. If I try to push an update to SDCARD/dload it says "no such file or directory", if I try to adb shell it says "exec '/system/bin/sh' failed: Permission denied (13) -. How do you guys deal with a dead or bricked smartphone, I hope I could retrieve data from bricked Android, is it possible?"
There are two types of bricking; soft brick and hard brick. Soft bricking happens due to some software errors and hard bricking of Android phone is caused due to hardware malfunctioning. To be specific, most Android devices get bricked or dead due to falling hard, getting dropped, a custom ROM incompatible with the device type, Google apps vanish after a custom ROM is installed, custom ROM does not match with the installed kernel, some error from the full data wipe/ factory restore/ cache wipe after flashing with a custom ROM.
How to Recover Data from Dead Phone Which is Not Actually Bricked?
Notice

The term of "brick" suggests your Android phone won't turn on in any way, shape or form, and there is nothing you can do to fix it. In the case that your device stuck in a boot loop or recovery mode is not actually bricked, fortunately, you still have a few options to make it work in normal again, with nothing to lose.
Follow the instruction below, and recover data from a seemingly dead but not actually bricked phone all by yourself.
Step 1. Connect your Android phone to computer
Install and run EaseUS MobiSaver for Android and connect your Android phone to the computer with USB cable. Then click "Start" button to make the software recognize and connect your device.
NOTE: As the software can only access the rooted Android device, you need to make sure that your phone has been rooted before recovery.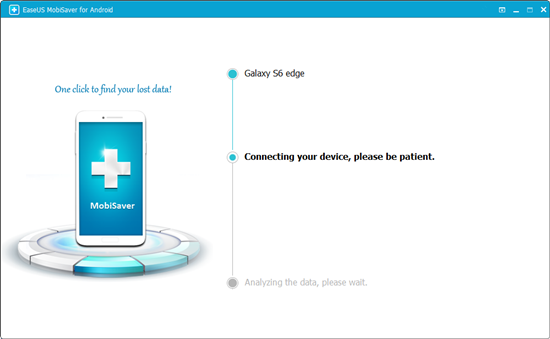 Step 2. Scan Android phone to find the lost data
After connected your Android phone, the software will quickly scan the device to find all the existing and lost data. You can easily find the lost files you want by choosing the correct file types.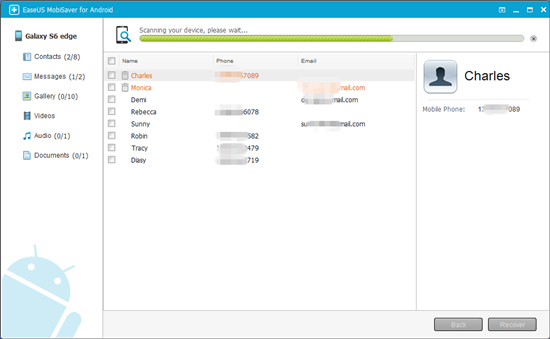 Step 3. Preview and recover data from Android phone
Preview all the recoverable files one by one and then you can select out those you want quickly. Here you can turn on "Only displayed deleted items" option to list the deleted files only. Finally, you can click "Recover" button to get the selected files back once.