
Table of Contents

About the Author

Related Posts
AVI Video Repair: Fix Corrupted AVI File Online Free
What Is AVI Format
Microsoft introduced AVI, the common abbreviation of Audio Video Interleave files, to support multiple OS platforms. This video file format is used to share audio and video files through the internet and other mediums. Users around the globe extensively use AVI to store their video data.
Like any other video file format, you may face issues with your AVI videos. Issues like your AVI video playing without sound, or you cannot play it on any media player no matter how many times you try.
How do I know If my AVI file is corrupted?
"My AVI file is not playing on my media player. What should I do? Should I try another media player, or is my AVI file corrupted?" one of the people's common queries regarding their AVI video file. So how do they identify if their file is corrupted? Here are some traits that a corrupted video file would show:
Sluggish, flickering, or patchy video.         
You can only hear the audio but no video
Your video appears in a blurry quality
No audio or very distorted audio plays in your video.
The video stops playing even when there is some remaining time left
Once you see any of these common traits in your AVI video, this means your video file is corrupted and can not be played. Now you need to find a solution to this issue, but before that, you need to understand the reasons
Some Common Causes of AVI Video Corruption
Your AVI video file can get corrupted due to some of these reasons:
Your hard drive containing bad sectors
Video stopper due to sudden power failure
Interference while transferring your video.
Malware or virus attack on your video.
The storage device where your video is stored may have gotten corrupted.
We know how frustrating it gets to get your necessary AVI video file corrupted, no matter the reasons. To help you save from the frustration of losing your videos and recover them, we have mentioned below some straightforward solutions to fix your AVI videos.
Repair Corrupted AVI Video Files with Online Free Repair Software
As we have mentioned above, the reasons which make your file gets corrupted. The good news is that you can recover all your corrupted AVI video files using the EaseUS RepairVideo tool. This tool is a professional video repair tool recommended by professionals.
With the EaseUS RepairVideo tool, you can repair your video and resolve all your logical issues related to it. You need to follow a simple click-through process, and your video will be repaired without any hassle. Along with being free, this tool offers some other prominent features such as:
Repair videos on any device, including fix corrupted videos from Android or iPhone
You can repair your videos on cameras, dashboards, USB devices, CCTV, corrupted drives, and much more
No other software is needed to install as this software can work almost anywhere using your browser
Almost all popular video formats can be recovered using the EaseUS RepairVideo tool    
Below is the step by step guide to fix the AVI video through EaseUS Video Repair tool:
Step 1. Click Upload Video or drag and drop your AVI video to the uploading zone.
Step 2. Enter a valid email address. Once the video repair is complete, a notification and download code will be sent to your email. Then click Start Repairing to upload the damaged AVI video.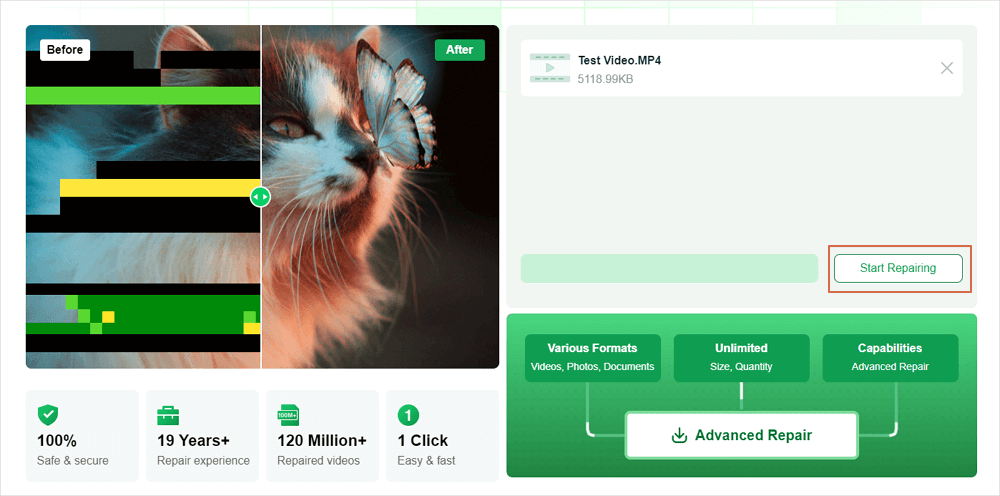 Step 3. Wait until the uploading process is finished. You can leave the page. The time required for the repair process depends on the size of the video. Once it is finished, you will receive an email, with the download code and a preview link attached.
Step 4. Check the download code in your email. Click Download Video and enter the code to get your repaired AVI video.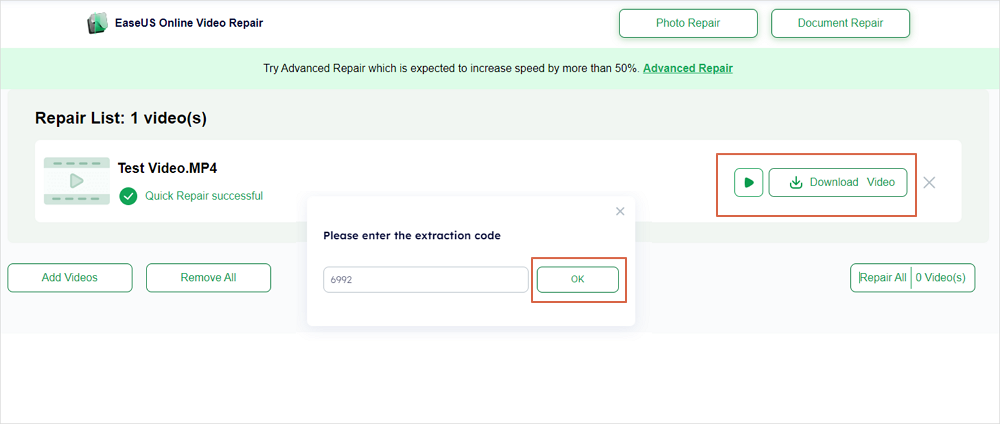 Manual Ways to Fix Corrupted AVI Video Files 
Apart from using a video repair tool, you can also use some simple tricks that may not be as effective but can work for you in repairing your damaged AVI videos manually.
Try Downloading the Video File Again
While downloading the video, your video may have been interrupted by a power shutdown or an unexpected laptop shutdown. It can cause your video to be unavailable or have some audio and video sync issues. The simplest way to recover any such video is by downloading that video again.
Use VLC Media Player to Play Corrupted Video Files
Try using the VLC Media Player, as it has built-in video repair features to repair any corrupted videos. Also, by changing your media player, you can judge if your video was not compatible with the previous media player.
Verify the Codecs of Your AVI Video Files
If your AVI video file doesn't play or shows a missing component, you can verify the codec by using any codec identification tool. Below is a tool suggested to repair video by verifying the codecs of your AVI.
Step 1. Go to https://mediaarea.net/en/MediaInfo and download the Mediainfo codec identification tool.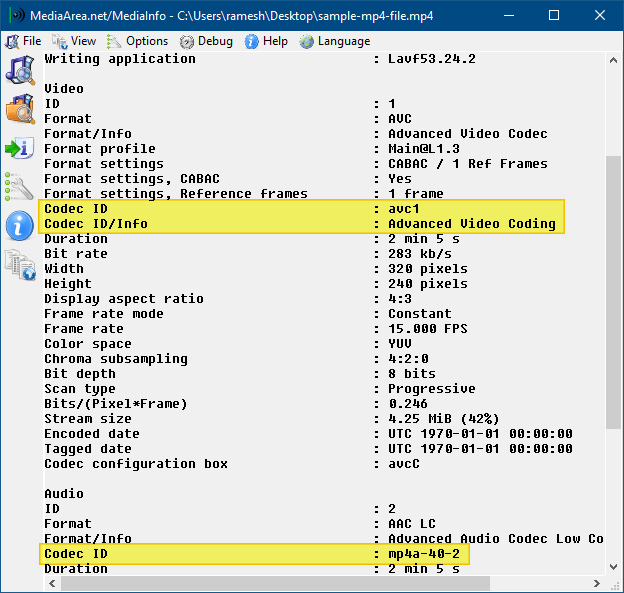 Step 2. This tool allows you to switch between text, HTML, tree, JSON, and other view formats. it will identify and fix the AVI video. It supports MP4, MKV video formats. 
Closing Thoughts
Though these manual solutions might be effective in repairing AVI video files, you can switch to using the EaseUS RepairVideo tool if you fail even after using these methods.
This tool, with its professional qualities, repairs your videos in a go. It can solve all your audio video syncing issues, common playback issues, improper download issues, or any other issue that is stopping your AVI video from playing without any charges.
About the Author

Cedric Grantham is one of the senior editors of EaseUS who lives and works in Chengdu, China. He mainly writes articles about data recovery tutorials on PC and Mac and how-to tips for partition management. He always keeps an eye on new releases and loves various electronic products.