Summary
The error "C:\Windows\system32\config\systemprofile\Desktop is unavailable" could be on a computer hard drive or on a network. This tutorial describes possible error causes and provides you with three effective troubleshooting solutions. In addition, use EaseUS Data Recovery Wizard to recover lost/empty desktop folders or other relevant data if necessary.
Error Details and Explanation
Sometimes when your PC's system crashes, you'll log into an empty desktop when you start your computer. Your application and folder icons will be nowhere to be found and you'll be hit with an error that begins with "C:\windows\system32\config\systemprofile\desktop refers to a location that is unavailable".
If this happens, your system files have been damaged or corrupted in some way. The system crash can occasionally occur while the computer is shutting down or during a Windows update, so you will be completely baffled when you first encounter this error. The full error reads as follows:
"C:\Windows\system32\config\systemprofile\Desktop refers to a location that is unavailable. It could be on a hard drive on this computer, or on a network. Check to make sure that the disk is properly inserted, or that you are connected to the Internet or your network, and then try again. If it still cannot be located, the information might have been moved to a different location."
To solve C:\windows\system32\config\systemprofile\desktop refers to a location that is unavailable you must reset the path that your computer defaults to on startup. This can be done by moving your desktop to C:\windows\system32\config\systemprofile\ so the path that is taken reaches your user desktop. Alternatively, you can restore to the default path, or manually enter the correct path for the system to take to your desktop.
Before jumping into editing the path to correct the 'desktop refers to a location that is unavailable error', you should create a system restore point that you can go back to if anything happens to go wrong. Editing the system comes with risk, and the best way to avoid doing lasting damage to your system, is to create a system backup.
Create a System Restore Point
The simplest and most organized way to create a system backup is with EaseUS Todo Backup. It is completely free to create and restore system backups using the PC version of this professional software. There are paid versions, but those are not necessary for this task: the system backup features are the exact same in the free version.
The user interface is very intuitive and approachable. We will demonstrate here how to create a system backup now.
Download EaseUS Todo Backup Free for PC
Step 1: Launch EaseUS Todo Backup & Start a Task
In the left-side panel, select System Backup.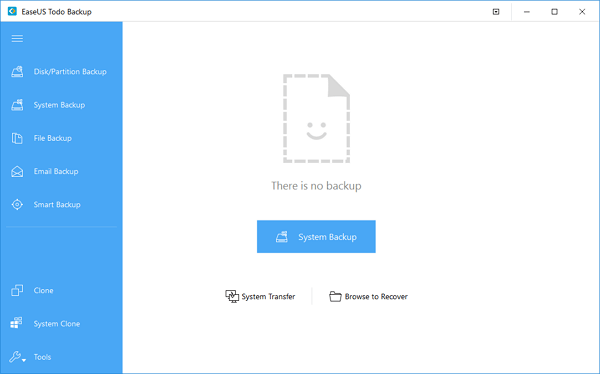 Step 2: Initiate System Backup
Select your system, choose the destination for the backup file, and click Proceed.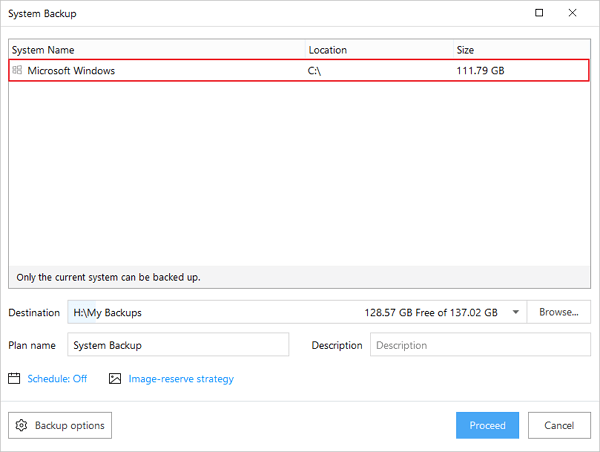 There are customizable backup schedules that you can configure before clicking Proceed. If you only need this single restore point, then no other operations are needed.
Now with the safeguard in place, lets tackle the 'system32\config\systemprofile\desktop refers to a location that is unavailable' error. It is more technical than creating a system backup, but we'll guide you through the process.
How to Fix Desktop Refers to A Location That Is Unavailable Error
Solution 1. Copy the Desktop folder path under Users to the target location
Since the error prompts an incorrect and unavailable desktop location, simply find the desktop folder under Users, and then copy this necessary folder to the path: C:\Windows\system32\config\systemprofile so your system will pick up on your desktop.
Step 1: Launch File Explorer in Windows 10/8.1/8/7. Go to the C drive, click into "Users" folder and then your username. Find the "Desktop" folder there.
Step 2: Leave the first File Explorer window open, and open another. Navigate to: C:\Windows\system32\config\systemprofile either by clicking into folders in this order or by typing this path into the bar at the top. (For Windows 10 - capitalize System32).
Step 3: Drag and drop the Desktop folder from Step 1 into the systemprofile folder. Now the path is complete. You can click into your Desktop folder and will see the path revealed as C:\Windows\System32\config\systemprofile\Desktop.
Step 4: Restart your PC and see if the desktop location can be accessed on startup.
Solution 2. Restore the Default Path
Step 1: Launch File Explorer. Go to the C drive, click into the "Users folder" and then your username.
Step 2: Find the "Desktop" folder, right-click it, and select "Properties".
Step 3: Switch to the "Location tab". Click "Restore Default". Click "Apply", then "OK".
Step 4: Restart your PC and check if your problem is fixed on startup.
Solution 3. Change Desktop Location through Registry Editor
If resetting default Desktop location or changing the path of your Desktop to C:\Windows\system32\config\systemprofile\Desktop (where your system was searching) both didn't work, you can manually reset the path taken by the system to your Desktop folder. This is done through the Registry editor.
Step 1: Press the "Windows + R" keys simultaneously to pull up "Run", type: regedit and press enter.
Step 2: Navigate to Computer\HKEY_CURRENT_USER\Software\Microsoft\Windows\CurrentVersion\Explorer\User Shell Folders either by clicking the folders in this order or by copy & pasting this path into the bar at the top.
Step 3: In the "User Shell Folders" section, double-click "Desktop". Make sure under Value data that the value is either %USERPROFILE$\Desktop or C:\Users\%USERNAME%\Desktop. Click "OK" then close the registry editor.
Step 4: Restart your system and check if the problem is fixed.
Additional Solution - Data Recovery
If none of these solutions worked, the issue must not be only the path setting, but that your Desktop folder is missing or damaged. If this is the case, you might need to check further and try other solutions, including to create a new user account, fix a corrupted user profile, go back to a previous Windows build, or repair Windows system with an in-place upgrade.
If losing data during the troubleshooting course, you can use EaseUS Data Recovery Software to recover lost system files from your hard drive. This version is completely free for recovery under 2GB, so it is worth scanning to see if it picks up on any critical files. Use the software and look for your Desktop Folder or other relevant data.
Once you have this data back, retry the solutions listed here if you still get the 'C:\Windows\system32\config\systemprofile\Desktop refers to a location that is unavailable' error on startup.
100% of people found this article helpful.
Frequently Asked Questions
1. Why choose EaseUS Data Recovery Wizard?

"EaseUS Data Recovery Wizard is the best we've seen. It's far from perfect, partly because today's advanced disk technology makes data-recovery more difficult than it was with the simpler technology of the past, but it's fast and efficient..." —PCMag

"The first thing you'll notice about EaseUS Data Recovery Wizard Pro is that its interface is very clear and uncluttered, with only a small collection of self-explanatory controls. You won't find lots of extra options hidden in a system of hidden menus, either; what you see really is what you get." —techradar

"Recover lost files, even after deleting a partition or formatting your drive." —Macworld
2. Why cannot I recover 2GB data for free?

It is recommended to check the version installed is Free or Trial because they are different versions.

Trial has data preview function but cannot save any files, while the Free version enables to recover 2 GB files. The default free space is 500 MB and you may share the product on social media to get another 1.5 GB.
3. Why cannot the recovered files be opened?

A file is saved as 2 parts on the storage device: directory info (which is comprised by file name, time stamp and size info, etc.) and data content.

If the files with original file names and folder structures cannot be opened, one possible reason is the corrupted directory info. There is still a chance to recover the data content with the RAW Recovery method in our software.
4. Why isn't it suggested to recover the files back to the original drive?

The storage structure of the lost files would be altered or damaged by any changes on the drive. If you save the recovered files back to the same drive, the original data structures and data content would be corrupted or overwritten, which causes permanent data loss. So you should prepare another disk to save the files.
5. How can I check whether my data is recoverable or not before purchase?

The Free version helps you save 2GB files to better verify the recovery quality of our product before purchase.
6. How long does it take to scan the drive?

It strongly depends on the capacity of your hard drive and the performance of your computer. As reference,most drive recoveries can be completed in around 10 to 12 hours for a 1-TB healthy hard drive in general conditions.
About Data Recovery Wizard
It's super easy to recover 250+ types of files after deletion, disk formatting and virus infection. Click the links and compare the difference of each version.