USB file transfer speed is extremely slow/low, how to make it faster?
"Does anyone know how to fix low data transfer speed from a USB flash drive? I got an extremely slow USB transfer speed when I tried to transfer files from my computer to the USB drive.
It was about 2GB of files, and I've got some data saved on the USB drive. Then I connected the USB drive (about 20GB of free space left) to my computer and started transferring files to USB. I waited for 2hours, but the transferring process was still at 15%. This was too slow.
So I stopped the progress and tried again. Still, the same transferring speed on the USB drive. So how to make the file transferring speed faster? If you know the way, please let me know. Thank you."
Fixed: Improve Slow USB Transfer Speed without Formatting or Losing Data
As far as we know that sometimes formatting USB or external hard drive to wipe all data on the device can improve the transfer speed on USB. But this may remove or erase all your saved data. So is there a way to improve slow USB transfer speed without formatting or losing data?
If you are having the same problem, just relax and follow steps here below to speed up your USB 3.0/2.0 for file transfer now:
Note: If you've got important data saved in your USB 2.0 or USB 3.0 flash drive, please refer to Step 1 and extract data to a secure device first. Then you may follow Step 2 and Step 3 to make your USB drive faster.
# 1. Extract and backup USB files to a safe location or storage device
To avoid unnecessary or unexpected data loss issue, it's highly recommended for all of you to extract and backup current files and data on your USB drive to another safe location or storage device.
Here we'd like to recommend you try EaseUS data recovery software - Data Recovery Wizard which supports you to thoroughly scan and find all existing and even lost files on the USB and extract to another safe location by simple clicks:
 Notice:

Please stop using your USB flash drive once you lose files on it, in case newly produced data overwrite entries to the lost files.
Step 1. Connect USB to your PC and run USB data recovery software.
Connect the USB flash drive on which your files to your computer and launch EaseUS USB data recovery software - Data Recovery Wizard on your PC.
Select your USB drive under External Devices and click Scan to start finding your lost files.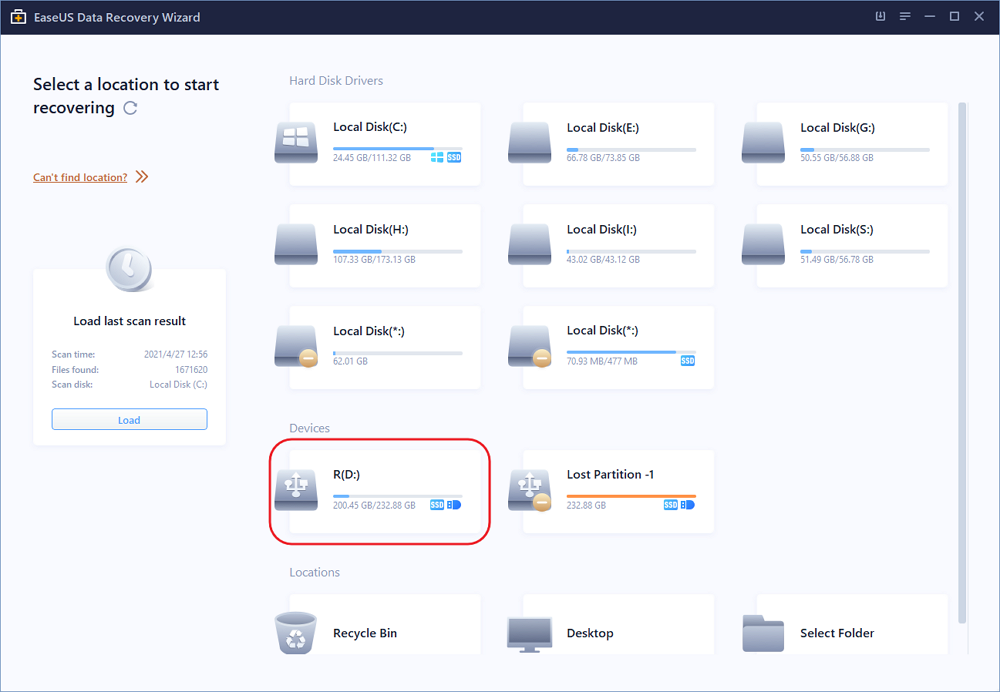 Step 2. Scan to find all lost files from USB.
EaseUS Data Recovery Wizard will thoroughly scan your USB flash drive and find all your lost data on it.
Step 3. Restore all lost files from USB.
After the scanning process, you can check and preview found USB files in this program.
"Deleted Files" is for you to find deleted files. And "Lost Partition Files" is quick access to find formatted data.
Double-click the files to preview and choose available ones, click "Recover" to save them to a secure location on your PC or other external storage devices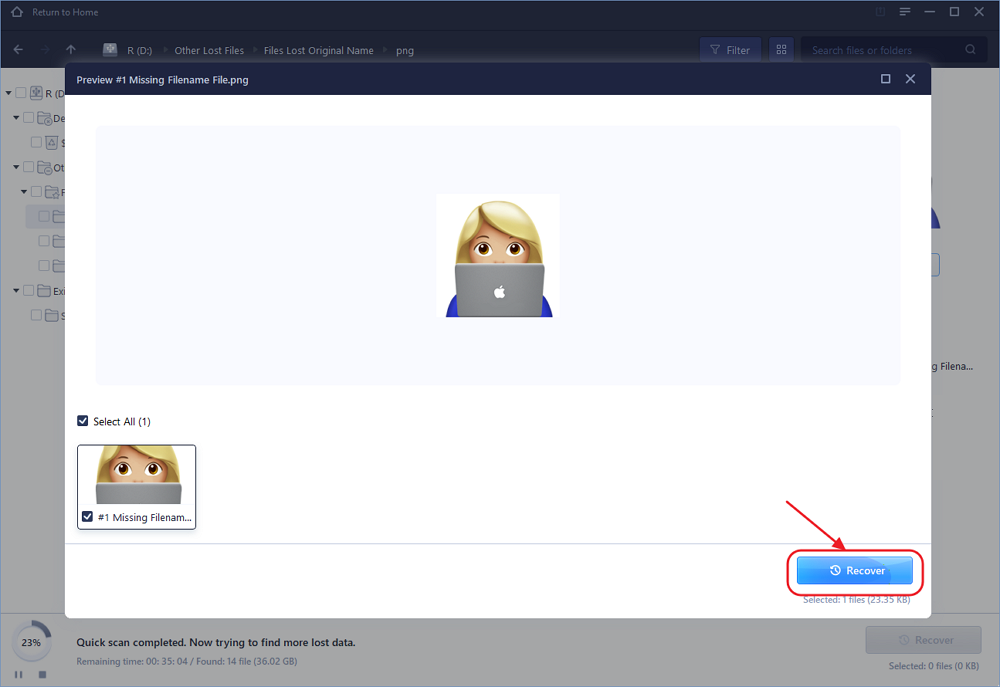 # 2. Convert USB from FAT32 to NTFS
Compared with FAT32 and NTFS file systems, it seems that devices with NTFS works faster and more efficient for file and transferring.
So if your USB drive is FAT32 now, please follow the below tips to convert USB from FAT32 to NTFS with a free partition manager software - EaseUS Partition Master.
Or you can also follow the below tips to convert USB from FAT32 to NTFS with CMD command line:
1. Right-click on "Start" and select "Command Prompt (Admin)".
2. Sign in with your Administrator account if necessary.
3. Type: convert E: /fs:ntfs and hit Enter. (Replace E: with the drive letter of your USB drive.)
Wait for the process to complete and then you can with Step 3 to optimize USB performance and get a faster transfer speed.
# 3. Optimize USB performance to Get A Faster Transfer Speed
1. Right-click on the Windows icon and select Device Manager.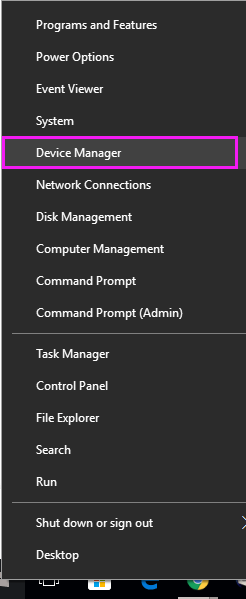 2. Expand Disk Drivers in Device Manager and find your USB device, right-click on your USB device and choose Properties.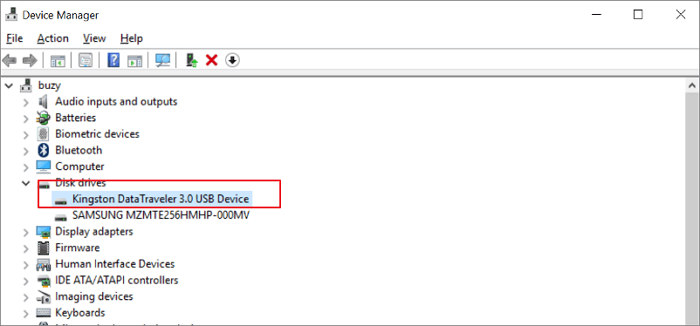 3. Go to Policies tab and select Better performance, click OK to confirm that you want to optimize and improve your USB transfer speed.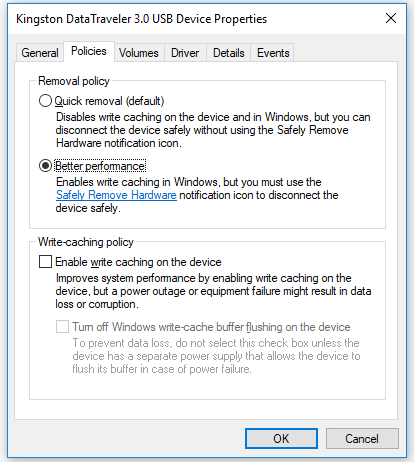 After this, you can reboot your computer and then you should be able to use your USB drive and get a faster transfer speed by then.
Extra Tip: Format USB Drive to Fix Slow USB Transfer Speed Error
If you don't have any valuable data saved on your USB flash drive, you can directly format the USB flash drive to gain a faster transfer speed with the below tip:
1. Connect USB to your PC and open "This PC/My Computer" - Windows Explorer.
2. Locate and right-click on USB flash drive, select "Format".
3. Reset the file system to "NTFS" and click "Start", click "OK" to complete the format process after the formatting.
After this, you'll get a fast and efficient USB flash drive for saving data by transferring from PC/USB/SD to your USB now.