Problem
Your external USB hard drive disk works slowly than ever before, especially when copy or transfer files. How to increase transfer speed of external hard drive or improve the hard drive transfer speed in Windows 10/8/7?
Solutions
Pick up some useful information in the old posts:
1. How to recover data from a slow hard drive?
2. How to solve the problem of hard drive very slow suddenly?
3. How to fix a slow WD external hard drive without losing data?
Continue with the unique solutions on this page:
Fix 1. Convert FAT32 to NTFS
The file system of an external USB hard disk drive will significantly affect the file transfer speed. Compared with FAT32 and NTFS, it seems that storage devices with NTFS work faster and more efficient for file copy and file transfer.
To convert FAT32 to NTFS without losing data, download EaseUS free partition software and let's begin.
Step 1. Right-click on the external hard drive and choose "Convert to NTFS".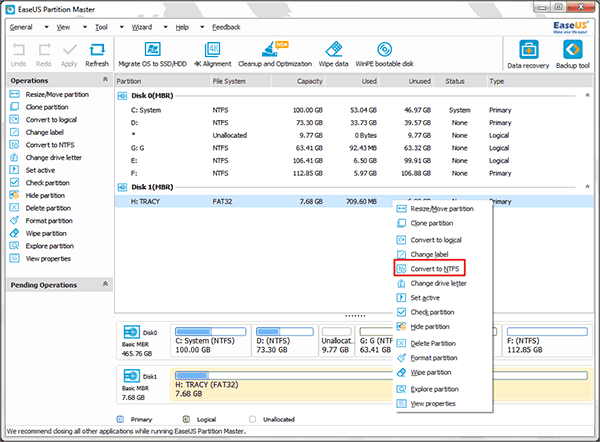 Step 2. The pop-up dialog box will show the source and destination file system, click "OK" to continue.
Step 3. Click "Apply" to execute the operation.
Fix 2. Change default hardware settings for better performance
Aside from changing the file system could help accelerate the transfer speed of an external storage device, you need to modify the default hardware settings on your Windows computer.
Step 1. Open Windows File Explorer and locate your external hard drive. Right-click the external drive icon and choose "Properties" from the drop-down menu.
Step 2. Choose "Hardware" tab, which will display the list of all disks mounted on the particular computer. Select the desired disk you want to improve its transfer performance and click "Properties" at the bottom of the window.
Step 3. In device properties window select "Change settings".
Step 4. A disk window will pop up. Click the "Policies" tab and select "Optimize for performance".
Step 5. Be alert. You must disconnect the device safely. Right-click the tray icon and click "Safely remove USB Mass Storage Device".