Your Mac runs slow like a snail and is not as fresh as it used to. Like a car, phone, or anything regularly taken care of will greatly extend the lifetime of it by years. You can do lots of things to make your Mac run like a new one. The easiest one is to clean up your Mac. If you don't feel like spending hours cleaning your Mac manually, you can use powerful cleaning tools to find and remove all the clutter your Mac contains. 
Fortunately, there are a wealth of tools available to easily clean up your Mac. We gather together five best Mac cleaning software. The effectiveness, price, ease of use and support are all taken into account.
PS: Recently, we have reviewed the best Mac data recovery software in 2022. If you are in search of a tool to recover lost files on your Mac computer, you should give this posts a look.
CleanMyMac features a fantastic one-button cleaning system, which automatically decides which parts of your Mac need to be optimized and which are fine as they are. It is easy for inexperienced users.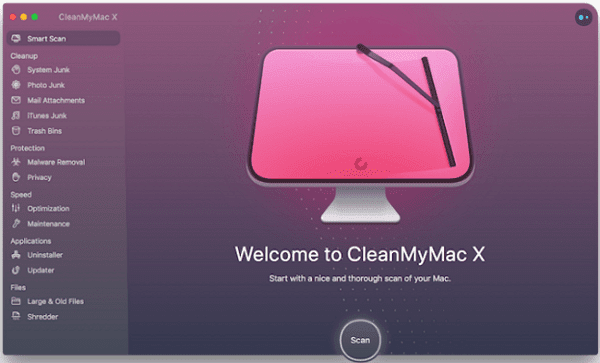 Pros:
Beautiful interface.
Simple and safe cleaning.
A full range of cleaning options and advanced tools like an uninstaller, general maintenance, online privacy functions, etc.
You will be notified of important files before cleaning.
Runs very quickly, often taking 2 minutes or less to perform its tasks.
Cons:
A little expensive - $39.95 for one Mac
Drive Genius was originally developed to keep your Mac hard drive clean and safe from disk errors. The newest edition combines data recovery, virus scanning, and an efficient cleanup process. If you use your Mac to make money and store valuable information, you can consider Drive Genius.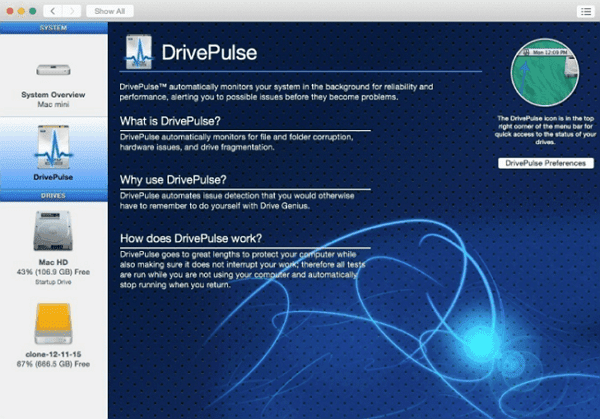 Pros:
Simple interface with a good collection of tools.
Safe cleaning.
Offers data recovery option except for cleaning options.
Proactively scans for problems and warns you in advance.
Cons:
Costs a lot - $79 for one Mac
Scans take a lot of time.
Scan results could include more information.
EaseUS CleanGenius for Mac is a good optimizing software that helps you clean up your Mac and run it faster. In only one click, this Mac cleaner speeds up the slow Mac and boosts Mac performance. If you are looking for a simple cleanup tool, this is the one you need.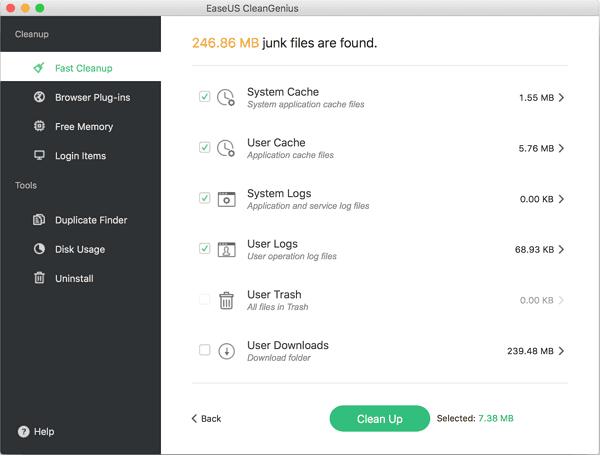 Pros:
New user interface with redesigned interaction process.
Safe cleaning.
Able to clean up browser plug-ins to speed up web browsing, and able to check duplicated files and optimize Mac performance.
Runs quickly.
Only costs $29.95
Cons:
Doesn't have other options except for cleanup.
MacBooster is a multi-functional program providing an entire collection of helpful utilities for your Mac's maintenance including releasing disk space and preserving the system's security. It is very similar to CleanMyMac X, but not so friendly to new Mac users.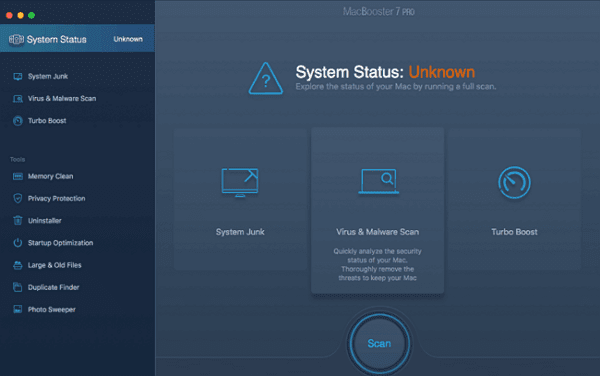 Pros:
Safe cleaning.
not only offers the standard disk clean-up features like removing duplicates, scanning for large files, claiming back memory, and general performance enhancing duties, but also includes Virus and Malware scans to keep your Mac free from malicious software.   
Cons:
Interface looks complicated
A little bit expensive - $39.95 for single Mac license or $59.95 for three Macs. 
For new Mac users who are not yet familiar with all Mac technical peculiarities, the all-in-one MacBooster may be too difficult. 
Deep scan takes longer 
Developed by Software Ambience Corp, DaisyDisk is an app that shows up scanning results in a pie chart. Upon launching, the app asks you to select a disk and scans it. It also gives you a clear disk usage figures when you click on specific colors. Further, the app comes up with files that are occupying this space and you can delete these files directly through the software. At a small price, this is the best choice.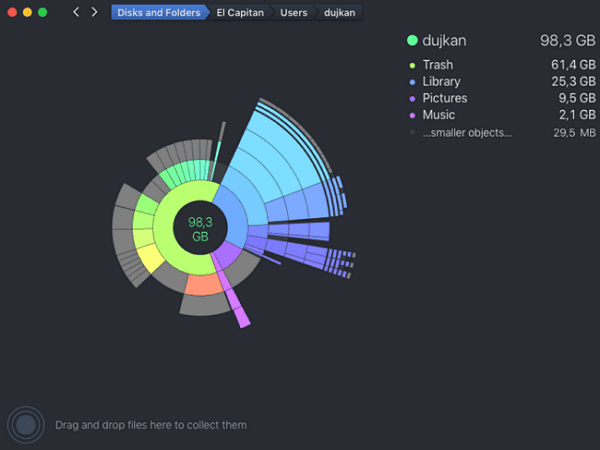 Pros:
Beautiful interface.
Simple to use.
Preview what you wish to get rid of.
Fast scanning speed.
Only takes $9.9.
Cons:
Only has the cleanup feature.
The app lacks display of a few key file elements including date created and date last viewed. 
Summary
For your convenience, here is a list to be used for direct comparison.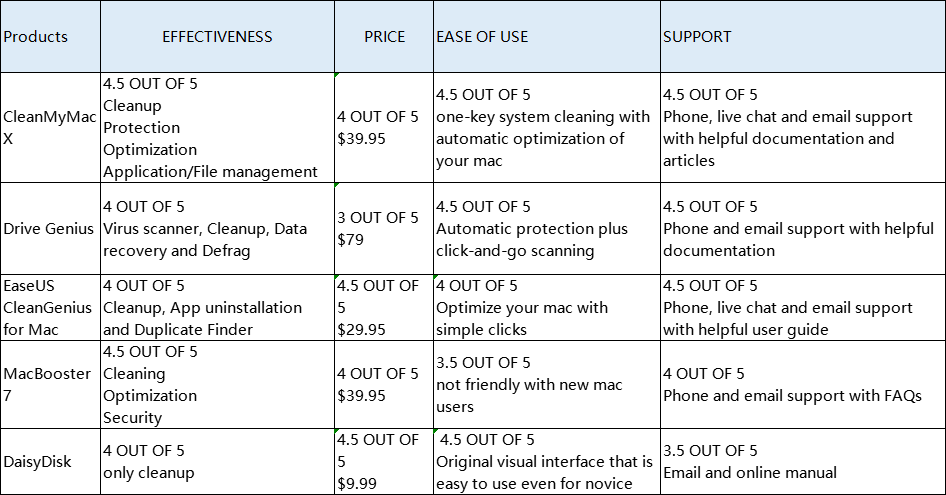 In conclusion, CleanMyMac X is the perfect mac maintenance tool that is available simply because it provides interactive features together with a good interface that depicts beauty and quality.