Windows 10 has built-in Windows background wallpapers so that you can set them according to your need and which one you like. There is another option that you can add images other than built-in images to your desktop background. This article will let you know how to change the desktop background on Windows 10. And you will also learn how to download high-resolution wallpapers from the best wallpaper websites to change your desktop background wallpaper.
Part 1. How to Change Wallpaper on Windows 10
Some people might not be aware that Microsoft includes several vibrant wallpapers with its operating systems and never try changing the default background. In this article, we'll discuss how to change the wallpaper on Windows 10 because we've never used the default one. Continue reading to find out how to alter your desktop background.
The desktop background is an image called wallpaper. Additionally known as the desktop background. You can change the wallpaper in Windows 10. There are several pre-installed wallpapers available, as well as the choice to use your own. Following is the explanation of how to change the wallpaper on Windows 10.
Method 1. How to change your background on Windows 10 from the settings option
You can change the background on Windows 10, by using the settings option. There are only a few simple steps to add built-in wallpaper from Windows 10, or you can also use your image that can be set on your desktop background. Following are a few steps to set your desktop background.
Step 1. Click the "Windows" icon on the bottom left corner and then click "Settings."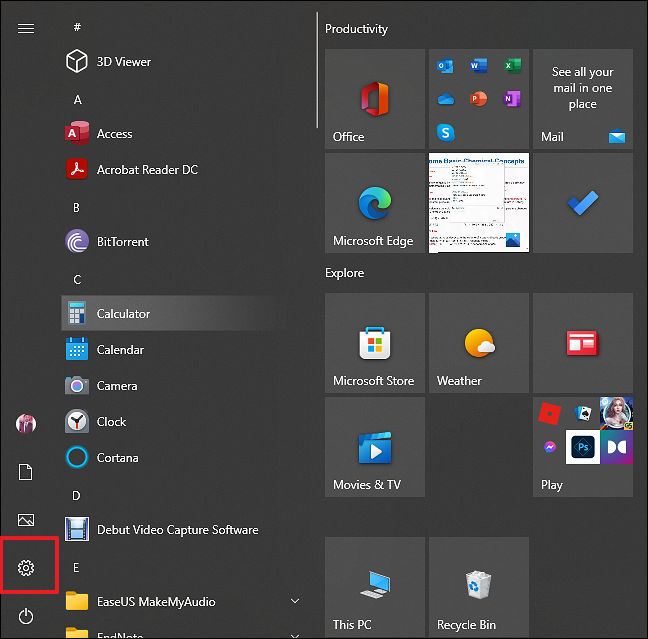 Step 2.  Click on "Personalization."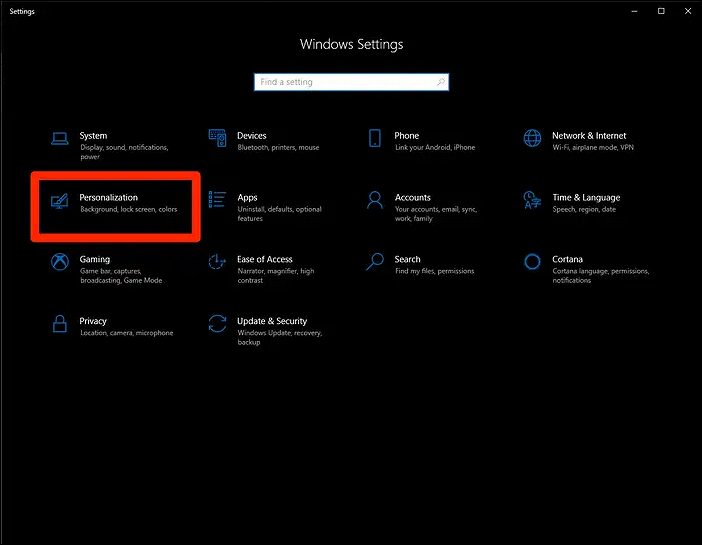 Step 3. Then head to "Background" and choose your new background by clicking "Browse" to browse the images on your PC.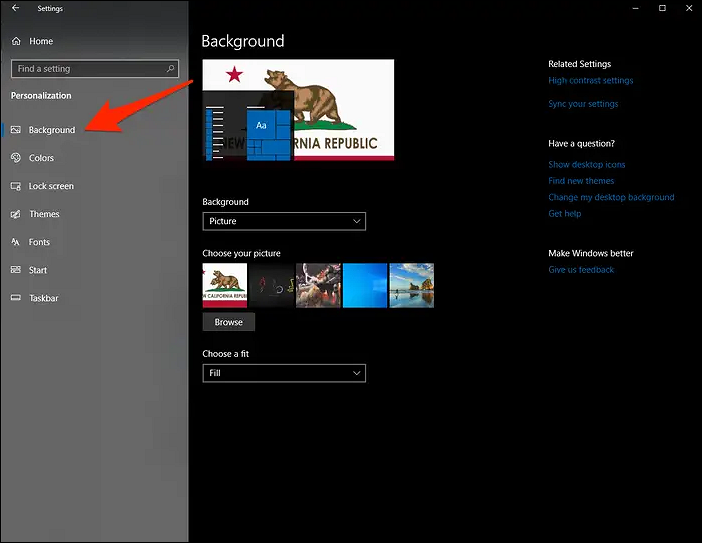 Step 4. Choose the "photo" you want for your new background, and it should go live.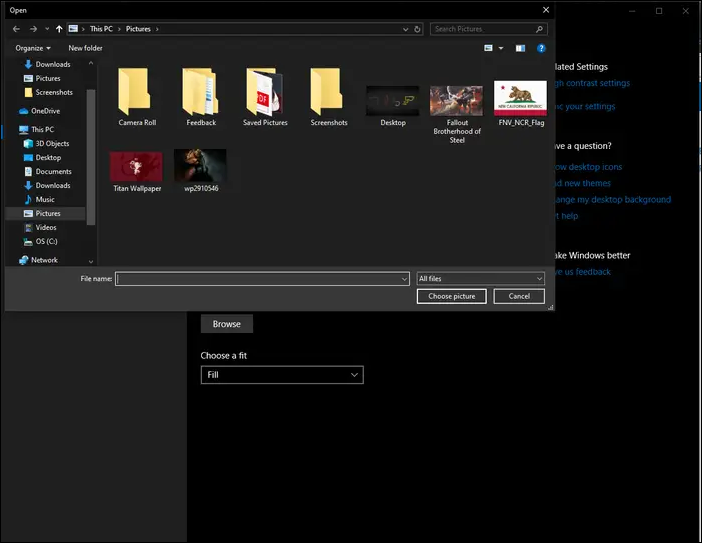 Method 2. How to change your background on Windows 10 with a shortcut
You can use the built-in File Explorer utility or a shortcut to set any image on your computer or external storage as the desktop background. Here are the following simple steps to change the wallpaper on Windows 10.
If you already know what you want to set as your computer background, locate the image file on your computer (likely saved in one of your folders or on your desktop). 
Step 1. Find the image you want to set as the wallpaper on Windows 10. 
Step 2. Right-click the photo and click "Set as desktop background."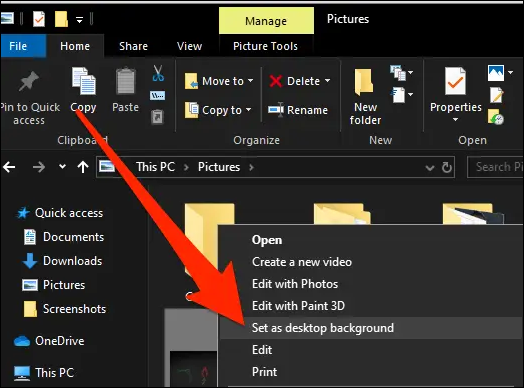 Method 3. How to change the desktop wallpaper in Windows 10 by setting a new Theme
A theme is a collection of backgrounds, window colors, music, and screensavers put together by Microsoft. The best method to begin personalizing your desktop is by selecting one of those. There are several wallpaper options for each theme. You can choose to keep just one or let them play continuously. If you want your desktop background to be set by a theme you like, here's how to do it.
Step 1. Open the "Settings app" and navigate to "Personalization". Then, select "Themes" on the left side of the window.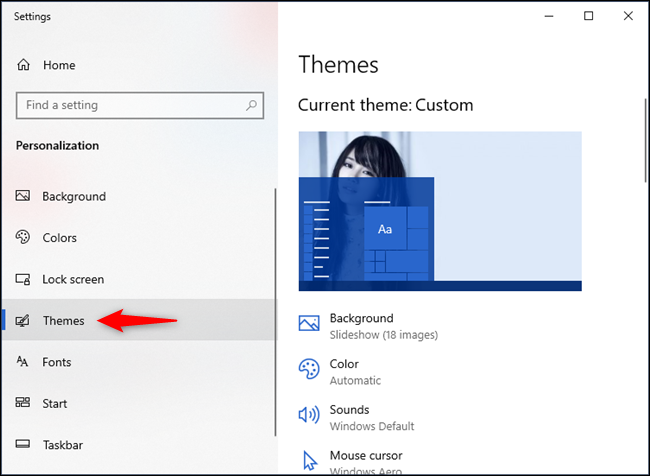 Step 2. Scroll down to see which themes are available on your PC or device and click or tap on a "theme" that appeals to you. When you do that, Windows 10 changes your wallpapers, screen colors, sounds, and mouse cursors to those included in that theme.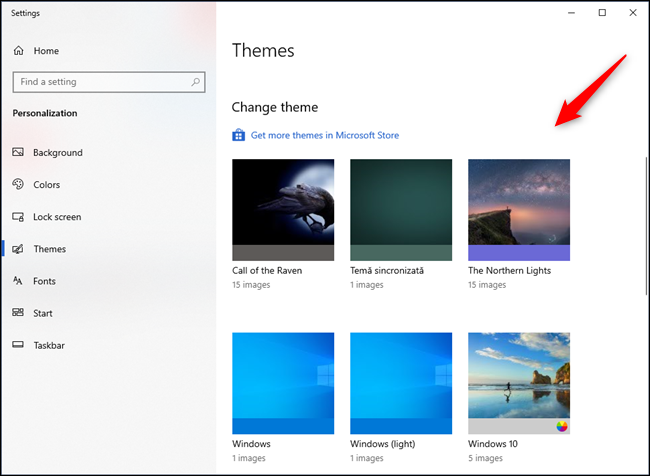 Step 3. Play around with the available choices as much as you like. If none of the built-in themes pleases you, Microsoft has an outstanding collection that you can access. Click on the "Get more themes in Microsoft Store" link found at the beginning of the Themes list.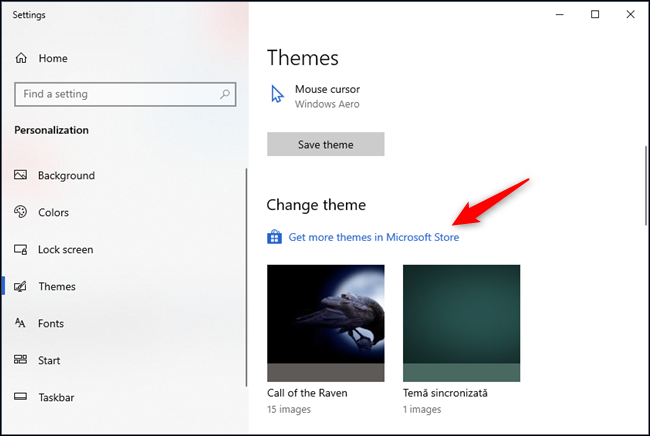 Step 4. Following the "Get more themes in Microsoft Store" link takes you to the Microsoft Store app, where you can download any theme you like.
That is all about how to change the wallpaper on Windows 10. If your wallpaper is missing, you can download it again or try to restore the background image.
Part 2. Best Sites to Download HD Wallpaper for PC (H2)
Anyone who spends enough time on computer desires to have stunning desktop wallpaper. Whether you have a MacBook, a Windows desktop, a personal computer (PC), or a laptop, keeping your desktop wallpaper fresh and cool add bonus points to your coolness in front of your friends and family. Here are the different best websites from which you can download high-resolution wallpapers.
1. DeviantArt Wallpapers
Professional wallpaper designers host their wallpapers on DeviantArt. DeviantArt is a comprehensive graphics resource rather than just a collection of wallpapers that were collected from various sources. I've noticed that many of the wallpapers published here are the standard for different Linux operating systems (Distributions). Many Windows PC manufacturers have also utilized them for advertising purposes. Various wallpaper collections created on other specialized wallpaper websites also feature the original content that is hosted here. Here, you may get in touch with the wallpaper designer directly and express your appreciation for their work or offer any other form of feedback.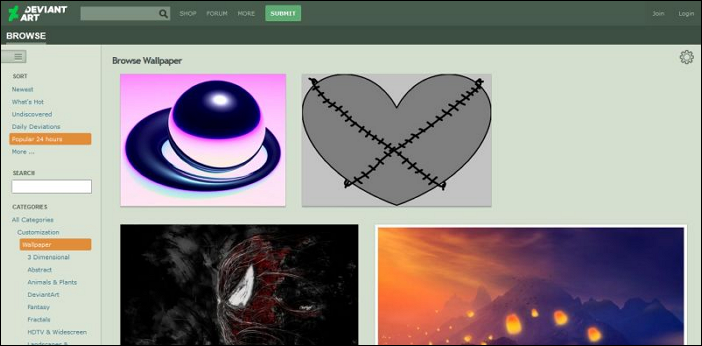 2. Alpha Coders
The next website on this list that has gorgeous high-resolution wallpapers is Alpha Coders. You can browse Alpha Coders' wallpaper collection in three different ways in addition to the Search bar: Popular, Categories, and Resolutions. A variety of popular wallpaper search phrases, including HD wallpapers, UltraHD 4k wallpapers, Retina 5k wallpapers, and UltraHD 8k wallpapers, are combined under the Popular category. Search criteria like the Most Viewed, Highest Rated, etc. are available. Additionally, you can search by Tag and Color. The Categories tab employs a more traditional methodology. Search terms like "Anime," "Celebrity," "Earth," etc. are available here. You can search using the image resolution or image dimensions on the Resolutions tab. There is a tonne of wallpaper resolution options listed.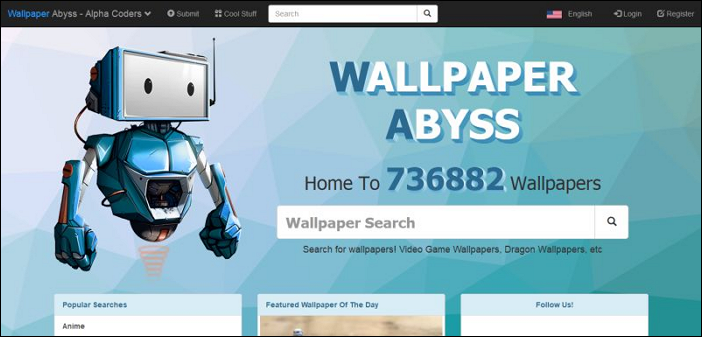 3. WallpapersCraft
An extensive assortment of gorgeous wallpapers for various uses and screen sizes can be found on the comprehensive wallpaper website WallpapersCraft. At WallapersCraft, there are numerous ways to locate your favorite wallpapers. You can sort the wallpapers by Date, Downloads, or Rating using the Sort Wallpaper By button. The website's left sidebar features a long list of Tags you may use to locate wallpapers in a specific category easily. You can choose the resolution for your photographs for Fullscreen, Widescreen, Mobile, or Apple using the Resolution right-sidebar. To see the available resolutions, expand these four choices. Additionally, you may look for wallpapers by entering the keyword in the search bar.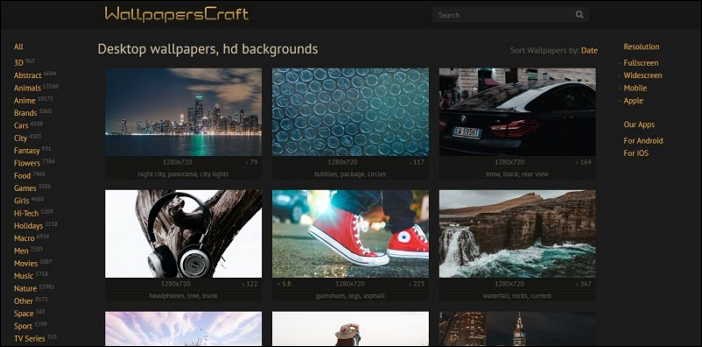 4. Unsplash Wallpapers
An online stock photo source called Unsplash provides a tonne of lovely high-resolution wallpapers. Visit the website's address provided here to reach the specialized Wallpapers area of Unsplash rather than the home page. Users get access to four wallpaper collections: 4k Wallpaper, iPhone wallpaper, Android wallpaper, and Desktop wallpaper. Additionally, a top bar on the website features a list of Tags. Each wallpaper includes information such as the name of the artist, the location of the wallpaper, and an information button.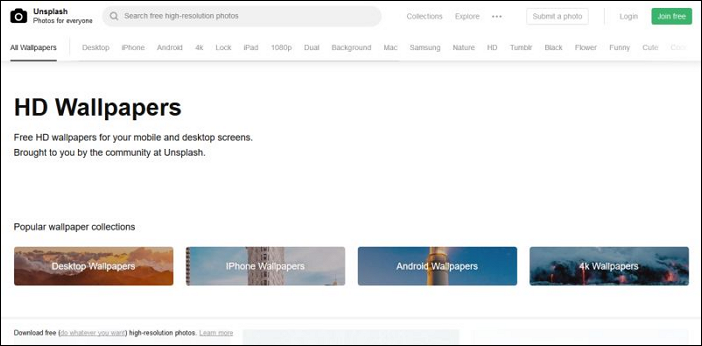 5. Flickr Wallpapers
The best pictures on the Internet are housed on Flickr. For photographers, it is an excellent online backup system. Using Flickr's Wallpaper groups, you can find some gorgeous wallpapers. For instance, Wallpapers (1024*768 minimum) is Flickr's most visited wallpaper group. You may find more wallpaper groups on Flickr by visiting those pages.
You can download the image that best matches your device's screen from Flickr's collection of many versions (resolutions) of each photograph. The most comprehensive information regarding a photograph may be found on Flickr under the headings of Artist, Camera, Camera Settings, Copyrights, Tags, Location, and Additional info.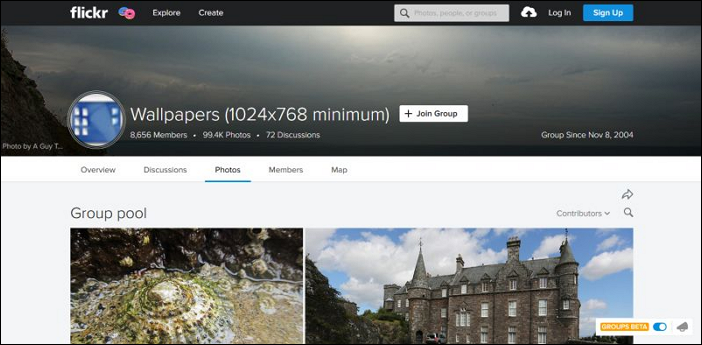 6. HDWallpapers (hdwallpapers.in)
HDWallpapers is a well-known resource for discovering and downloading HD wallpaper images that are available in a variety of resolutions, including Ultra HD 4K wallpapers.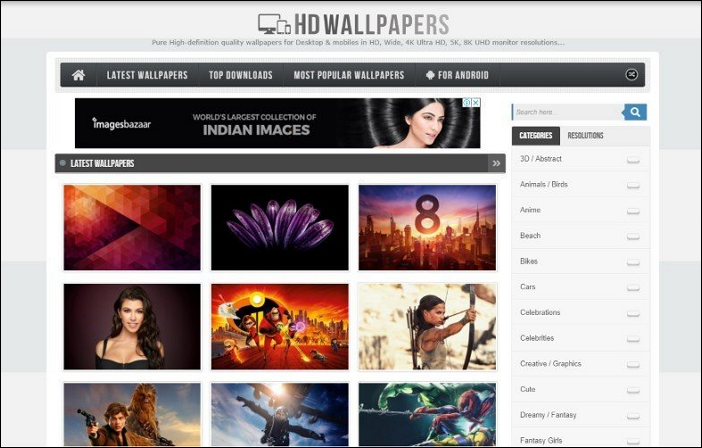 7. WallpaperUP
Popular HD wallpapers from WallperUP are available for download on WallpaperUP and are compatible with tablets, smartphones, desktop computers, and mobile devices. The website prominently displays the most well-liked wallpapers on the front page and offers the option to do a more targeted search within several of its categories, resolutions, and aspect ratios. Additionally, this website offers a search function for CC-0 public domain photos.