How to See Saved Password in Outlook 365/2016
| Workable Solutions | Step-by-step Troubleshooting |
| --- | --- |
| Option 1. Use Outlook 365 Client to See Saved Email Password | Step 1. Run your outlook app, hit the File tab, and then right-click on the info; Step 2. Now, hit the...Full steps |
| Option 2. Use Outlook 2016 Client to Locate Saved Password | Step 1. Launch Microsoft Outlook from the left-hand side of the Outlook window, and select...Full steps |
| Option 3. Use A Third-party Mail Password Finder | Step 1. Run EaseUS Key Finder, and click "Mail" on the left pane; Step 2. View the Outlook Mail...Full steps |
| Option 4. Use Registry to Check Password in Outlook 365/2016 | Step 1. Click on the Win+R key and enter Regedit; Step 2. When the registry editor has started...Full steps |
Introduction
You will lose your Microsoft Outlook password at a particular time. An average computer user has to record multiple passwords, and MS Outlook is generally an overlooked password in the inventory. These online tools and outlook password viewer can help you recover your forgotten password.
Among the most widely used email services is Microsoft Outlook, and it is consistently ranked among the best email services, only surpassed by Apple's inbuilt mail system and Gmail. Most individuals use Outlook at some point in their lives, whether for their job, education, or other reasons.
Considering the number of customers, it's likely that someone would forget their Outlook password.
You'll need a solution to restore an Outlook password while keeping your information protected in those situations. Fortunately, Outlook password recovery software is available, and you can also use some other ways to recover your password within no time. Here is how: 
How to See Saved Password in Outlook 365/2016
Option 1. Use Outlook 365 Client to See Saved Email Password
Step 1. Run your outlook app, hit the File tab, and then right-click on the info.
Step 2. Now, hit the Account Settings>Account Settings.
Step 3. Now, navigate to the email window, click on the account you want to retrieve, and hit repair.
Step 4. Follow all the upcoming instructions and prompts, then again click on Repair.
Step 5. You will now come across your account details. Click on the eye button right beside the password to see your password.
Option 2. Use Outlook 2016 Client to Locate Saved Password
For efficient unencrypted operations from Outlook, resetting the Microsoft Outlook login password requires a few additional changes to alter the password and meet the physical requirements. Here is how you can do it:
Step 1. Launch Microsoft Outlook from the left-hand side of the Outlook window, and select the "File" Tab.
Step 2. Now click on Info> Account Settings> Manage Profiles.
Step 3. Click on email accounts at the top right corner from the next window. 
Step 4. A window will now be opened to show you the details of all the accounts you have used to log in to MS outlook 2016; click on the email button, select the email account you want to retrieve, and then hit the change button.
Step 5. The "Change Account" window is the next stage in the process.
Step 6. Add a password in the password field of the "Change Account" dialogue box and click "Next".
Outlook verifies the identity and, if necessary, resets the password.
Option 3. Run A Third-party Mail Password Finder
If you are a non-techy person, recovering the outlook password might become a big challenge. Its manual steps are not easy to follow, and you can feel lost in between. Therefore, to avoid all this hassle, we suggest you use a third-party outlook password viewer that will automatically scan and find the password for you.
The best third-party mail password finder is the EaseUS Key Finder. EaseUS Key Finder is a highly user-friendly tool that helps you get back your password within seconds, and it scans your system registry and finds the password for you within a few seconds.
Step 1. Run EaseUS Key Finder, and click "Mail" on the left pane.
Step 2. View the Outlook Mail account and password.
Click "Copy" to save, or click "Save" to export to PDF or print directly.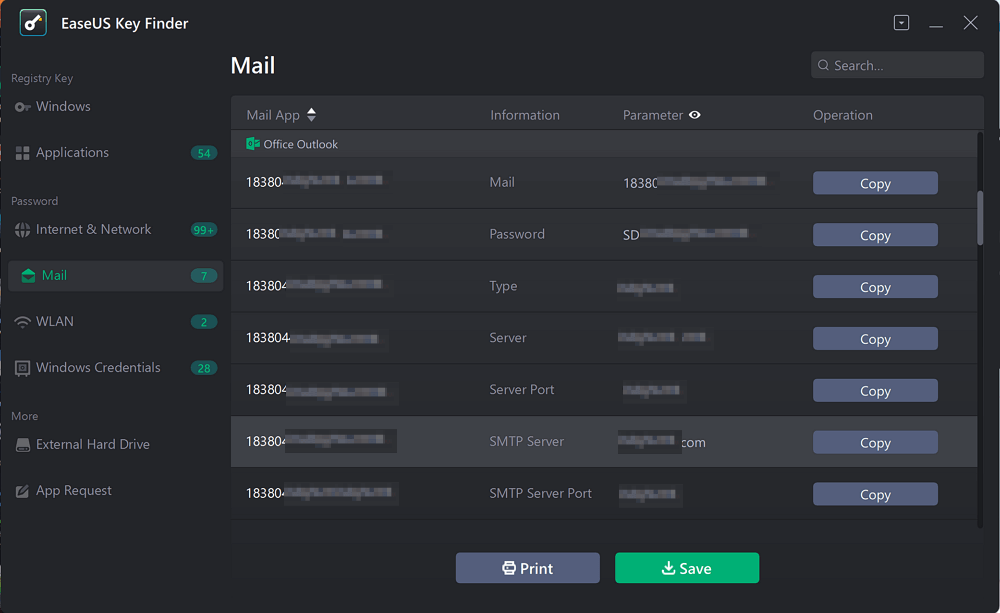 Moreover, EaseUS Key Finder can help you retrieve the passwords of more than 10,000 software. Therefore, the utility of EaseUS Key Finder is not just limited to outlook; you can also recover lost key on Windows through it.
Just in case you ever encounter any problem while using this online tool, the technical support team of EaseUS Key Finder is at your service 24/7 to assist you with every step. You can call upon them if you can't understand the features or interface of the tool.
The best part about EaseUS Key Finder is that you can have a free trial before buying the premium version. So, you will know what you are getting into before buying it.
Option 4. Check Password in Outlook 365/2016 from Registry
After the 2010 version of Microsoft Outlook, it saves all your account details in the registry editor of Windows, and you can easily retrieve them if you know how to do it. Here is how you can also do the same:
Step 1. Click on the Win+R key and enter Regedit.
Step 2. When the registry editor has started, follow these steps: 
HKEY_CURRENT_USER\Software\Microsoft\Windows NT\Version\Windows Messaging Subsystem\Profiles
The password is seen in the data records when the account is linked to Exchange Server.
Final Words
Microsoft Outlook is the essential software, and losing its password might be a piece of hectic news for you. However, there is no need to panic because you can use Outlook password viewer or multiple ways to see saved passwords in Outlook.
So, if you have lost your Microsoft Outlook password and can not find a way out, the best and easiest way to recover your password is to use the EaseUS Key Finder tool. It is easy to use, and you can have a free trial to check how it works. It will only take a few minutes to recover your password by using this software.
Daisy is the Senior editor of the writing team for EaseUS. She has been working in EaseUS for over ten years, starting from a technical writer to a team leader of the content group. As a professional author for over 10 years, she writes a lot to help people overcome their tech troubles.

Roxanne is one of the main contributors to EaseUS and has created multiple posts on digital devices like PCs, Mobile phones, tablets, Mac, etc. She loves to share ideas with people of the same interest.
About EaseUS Key Finder
EaseUS Key Finder offers complete solutions for you to efficiently find Windows or Windows Server product keys, discover Offce, Adobe, and other installed software serials, and find WiFi codes, etc, successfully in simple clicks.