Top 7 Best Product Key Extractor for Windows 11/10
"I bought a Win10 laptop and had a major crash a couple of years ago. I had lost the paper where I wrote down my product key, and can no longer find the whole thing. The repair center kept the old install in a partition. I was recently able to recover part of my original product key. Is there any way to recover the rest of it and have my legit copy of Win10 again?"
Do you need a product key tractor? Smooth using experience may be stuck when you can not find your license key in the occasional situation. Whenever you want a stunning product key finder, this article will be in line with your appetite. Join us to see some extractor tools.
1. EaseUS Key Finder
EaseUS Key Finder is a paid and robust product key extractor to easily extract Windows, Office, Adobe software in one click. To view the lost product key, you can run the program, click the "Scan" button, and the software will automatically list all your key numbers on the window. Directly copy or click the "Copy" button. Besides Windows product keys, you can also run this tool for scanning all installed applications' serial numbers.
Advantages:
Support Windows 11.
Fast to extractor Windows, Office, Adobe serial number.
Enjoy extra functions like finding saved accounts and passwords in browsers.
Find Windows Credentials passwords in 1 click.
Disadvantages:
Paid for Pro version to check full key number.
Only support Windows OS.
Get a Free Download of EaseUS Key Finder:
How to Run Product Key Feature of EaseUS Key Finder:
Step 1. Click "Application" tab under "Registry Key".
Step 2. View Applications Registry Keys on the right panel. EaseUS Key Finder will show all keys of installed software. Copy the targeted serial numbers. Also, you can click "Print" or "Save".
Other Features You May Like:
2. Belarc Advisor
Belarc Advisor ranks top three of the best product key extractor. Entering basic information and getting a quick file download, then you can receive a detailed report of installed software. This tool will show scan results as an HTML file automatically displayed by the browser. Except for the software license section, network inventory, missing security updates, antivirus status, security benchmarks will be presented on your PC profile.
Pros:
Support Windows 11.
Provide detailed apps information
Show all keys of any software.
Totally free.
Cons:
Downloading apps from the website will remind you of insecurity info.
Personal home use only.
How to Launch Belarc Advisor:
Step 1. Navigate to the official website (https://www.belarc.com/products_belarc_advisor) and download the program.
Step 2. Wait for analytic and see a report of installed software on the browser. Go to the "Software Licenses" part and check what you want. Copy your existing license code.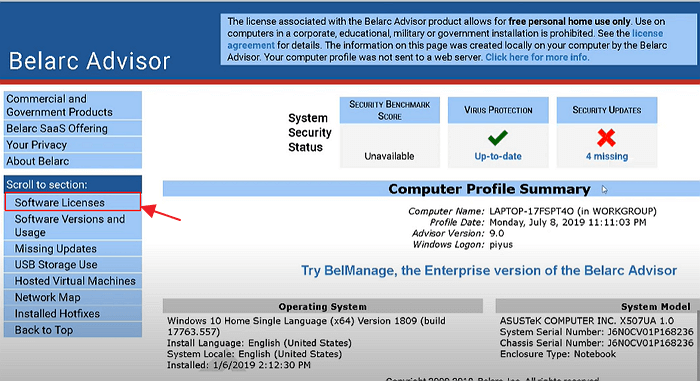 3. LicenseCrawler
LicenseCrawler is a portable app that can be installed on any portable drive, installing LicenseCrawler on a USB stick and running it on multiple PCs. This programs scan the Windows Registry and display the product key you need. It is free for personal use.
Advantages:
Portable app.
Enable to find a serial number of installed apps.
Disadvantages:
Contains Ads during the download process.
How to launch LicenseCrawler:
Step 1. Download (http://www.klinzmann.name/licensecrawler_download.htm)and open LicenseCrawler.
Step 2. Click the drop-down triangle icon, and then select HEKY_LOCAL_MACHINE and hit Search. (If the path is not compatible with your Windows computer, go to Registry Editor and check again.)
Step 3. Click the File tab to save the product key.
4. Product KeyFinder
This Product KeyFinder is named Magical Jelly Bean Keyfinder. This utility performs to extract the number of supported programs. No matter how your computer goes on, even no-bootable it is, this product key extractor can recover lost product keys automatically.
Pros:
Portable and small utility.
Support to scan non-bootable Windows.
Support sort of programs.
Cons:
Portable USB version available on another utility - Recover Keys (Insecurity for download.)
Steps to run Product KeyFinder:
Step 1. Download Magical Jelly Bean Keyfinder from links. (https://www.magicaljellybean.com/keyfinder/)
Step 2. Install and open product key finder.
On the left panel, check installed software.
On the right panel, see CD keys and other extra details.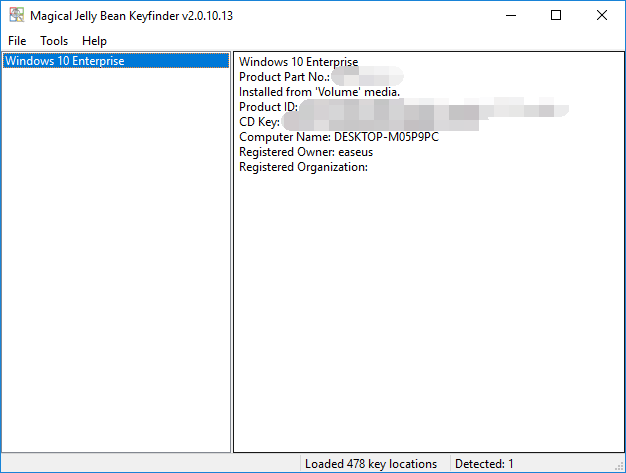 5. Free PC Audit
Free PC Audit is another portable software that extracts all details of the existing systems and installed software. Like Belarc Advisor, it can run from a portable drive. It is compatible with Windows NT up to Windows 10.
Advantages:
Easy to use.
Free.
Portable utility.
Disadvantages:
Only support to find Windows key.
Step by step to extract Windows key:
Step 1. Download and start Free PC Audit.
Step 2. Go to the System tab and locate Windows product ID and Windows product key line.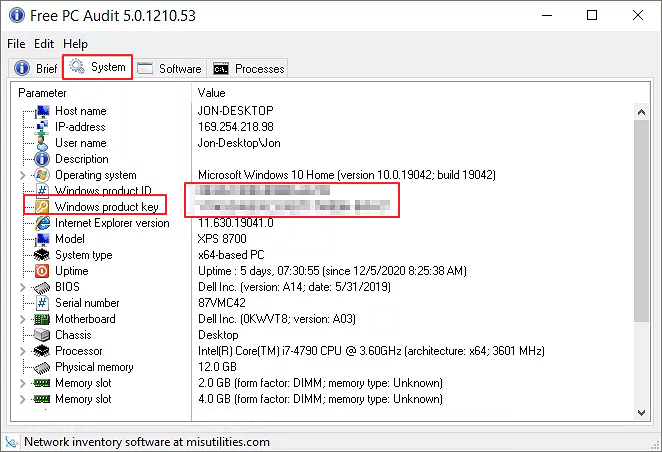 6. Product Key Explorer
Product Key Viewer is a free program to display all product keys of installed software. Its salient feature performs to recover +10000 product keys.
Pros:
Clear interface
Intuitive operation
Cons:
Register and then see the full key.
Not support Windows 11.
How to Use Product Key Explorer:
Step 1. Download software (http://www.nsauditor.com/product_key_finder.html) and complete install.
Step 2. Choose Authorization mode and then click Find Product Keys.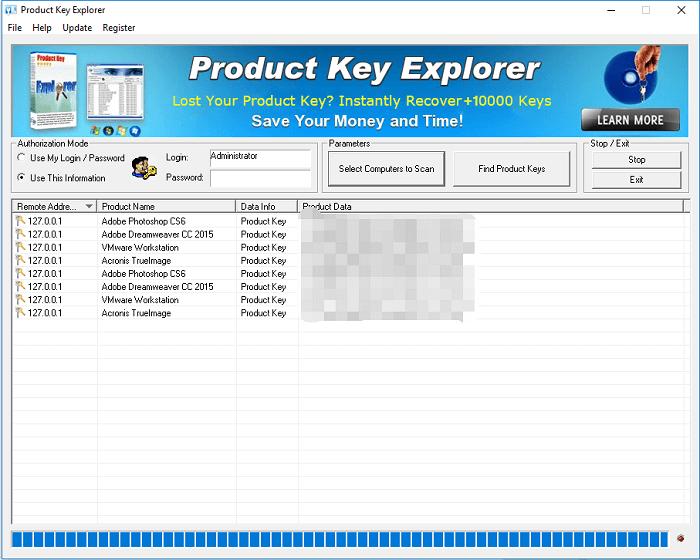 7. Windows Built-in Tool - CMD
One of the easiest programs to find product keys is to use the "Command Prompt". If you want to know a built-in tool instead of downloading any software above, a wise choice it is.
Pros:
Cons:
Only support for Windows.
Input command line in a manual way.
How to recover Windows product key:
Step 1. Open CMD and right-click it to run as administrator.
Step 2. Then, copy and paste the following command line, then press Enter.
Command line: wmic path softwarelicensingservice get OA3xOriginalProductKey 

Final Words
In this article, you can get seven methods to find your product key. For smooth use, I will recommend EaseUS Key Finder, Belarc Advisor, and Product Key Explorer. If you want to search for a portable utility, LicenseCrawler, Product KeyFinder, and Free PC Audit can help you.
Daisy is the Senior editor of the writing team for EaseUS. She has been working in EaseUS for over ten years, starting from a technical writer to a team leader of the content group. As a professional author for over 10 years, she writes a lot to help people overcome their tech troubles.

Roxanne is one of the main contributors to EaseUS and has created multiple posts on digital devices like PCs, Mobile phones, tablets, Mac, etc. She loves to share ideas with people of the same interest.
About EaseUS Key Finder
EaseUS Key Finder offers complete solutions for you to efficiently find Windows or Windows Server product keys, discover Offce, Adobe, and other installed software serials, and find WiFi codes, etc, successfully in simple clicks.