Find Windows XP Product Key/License with 4 Practical Solutions
Microsoft's new Windows Product Activation poses dozens of new, unexpected hurdles for support technicians, such as the requirement for a valid product key to install or reinstall Windows XP on PCs. But what if you can not find the CD that has the original key for the system you're working on?
This article will explain why you need a product key and how you can get one. It will also guide you through four different methods for finding the Windows XP product key. 
Quick Navigation:
Why Do Windows XP Users Need to Find the Right Product Key?
How to Find Windows XP Product Key - 4 Reliable Solutions
Why Do Windows XP Users Need to Find the Right Product Key?
Microsoft has been cautious about copyright and piracy concerns surrounding its products over the years, and with good reason. It devised the notion of Windows Product Activation to counteract this issue. During Setup, users must input a unique registration code from the original Windows XP CD when installing Windows XP on a workstation.
The setup analyzes this data, combines it with data gleaned from the workstation's hardware settings, and generates a code that it transmits to Microsoft to confirm the installation process.
Because each product activation key can only be used once, this might pose issues for support technicians. Unless you are using a Volume. 
With the licensed version of Windows XP, you probably wouldn't be able to use the key on any other workstation once it's been activated. As a result, each Windows XP workstation in your company has a unique product activation key.
You can't just borrow a product key or CD from some other workstation if you need to reinstall Windows XP and do not have your original product key or CD; there are other ways so you don't need to worry. Typically, you'd need to get a new product key, which would require a new Windows XP purchase. You already have a copy of Windows XP so you don't have to purchase it. You have only required a valid key that came with the computer.
Some of the basic reasons why you would need to recover or find the Windows XP product key include:
1. Lost product key.
2. You need a product key to reactivate the operating system.
3. You have reinstalled Windows XP, and you need a product key to activate it. 
4. Your PC is not accepting the original product key.
How to Find Windows XP Product Key - 4 Reliable Solutions
The following are four practical solutions that Windows users can use. In addition, it will explain the most accessible method to find the Window XP license code.
1. Windows Product Key Finder - EaseUS Key Finder
2. Use CMD
3. Use Registry
4. Use Windows XP Installation CD
Of all the available options, We recommend EaseUS Key Finder as it is the best and most reliable solution for windows XP users. Here's why:
The software is both ads and virus-free. It is a one-click and easy process to find a product key. It helps see product keys on Windows XP and later versions: Windows 11, 10, 8, and 7.
The software is excellent for transporting different games, files, and programs to your new PC or drive. You can also get product keys of software such as Adobe or Office. You can unlock all these features by one-time activation only.
The detail of these 4 solutions with detailed steps is given below: 
Method 1: Click to Find Windows XP Product Key with Windows Product Key Finder
There are numerous Windows product key finders, but EaseUS Key Finder is the most accessible and reliable one out of all that.
EaseUS Key Finder, often known as product key finder, has an excellent capability for locating product keys for Windows OS and installed products. The software is there to help people find and locate the software license keys and codes, serial numbers, recover lost code, and even product keys in Windows effectively in only one click.
You can use EaseUS Key Finder by opening and running the program on your PC and selecting the option "Windows" available on the left side. Then check key number of Windows. Copy or save the key you need. This key is ready to use. 
Step 1. Click "Windows" tab under the Registry Key.
Step 2. Check Windows product key on the right side. Click "Copy" to paste. Or select other two options:
"Save" - Save to local as a PDF file.
"Print" - Click to print key file.
Method 2. Check Windows XP Product Key Using CMD
Turning to a privileged command prompt in Windows and running a command that obtains the software licensing product key is the most accessible approach to find the Microsoft Windows Product Key license.
Step 1: Start a new Administrator Command Prompt tab on Windows (or you can press the Windows key and X simultaneously) and then type the following format:
wmic path softwarelicensingservice get OA3xOriginalProductKey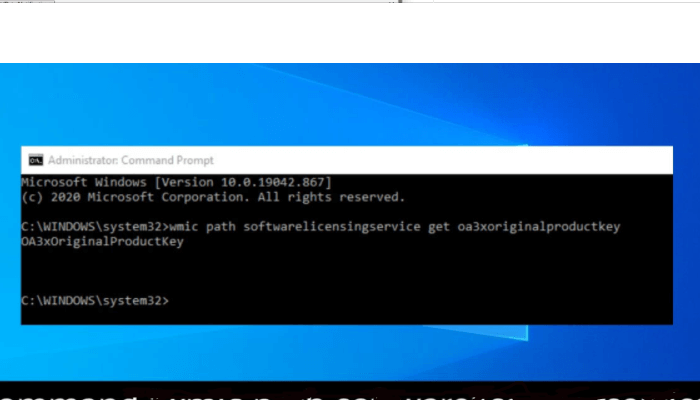 Step 2: To see the Windows product key, press Enter / Return. It is a 25-character alphanumeric string in the combination of 5 letters separated by a "-." For example:
AAAAA-AAAAA-AAAAA-AAAAA-AAAAA
That is all there is to it. This approach may be used to obtain the Windows product key on almost any Windows System.
Method 3: Find Product Key of Windows XP Using Registry 
Only some OEM CDs are compatible with the approach discussed in method 3. If you can't find your product key on the CD or the installation CD isn't working, this option should come in handy! You may use Product Key Finder to decrypt the Windows XP product key saved in the Windows registry.
To find the product key of Windows XP using registry below is a step-by-step guide to follow. 
Step 1: Click "Run" from the start menu.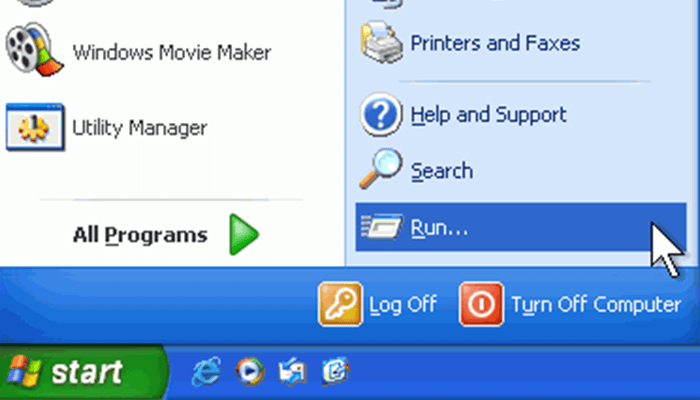 Step 2: Launch registry editor by typing "regedit" inside the box.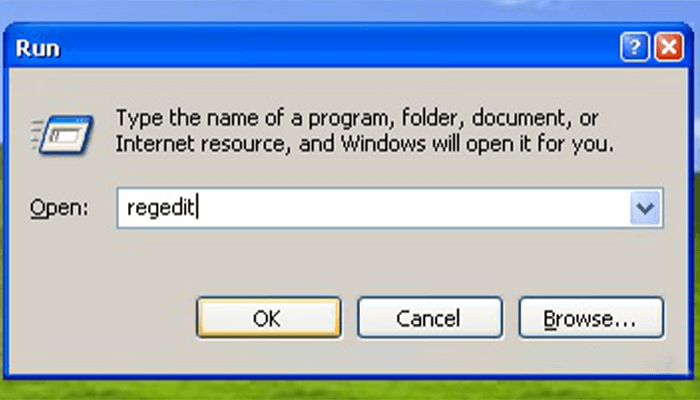 Step 3: It will be able to make several modifications to all of our programs and the operating system using this registry editor. You may harm your computer in here, so please don't touch anything until you're instructed to. To proceed, follow this path: 
HKEY_LOCAL_MACHINE\SOFTWARE\Microsoft\Windows NT\CurrentVersion
 By following the keypath, you will land on the current version Window. From the current version, look for and then open "DigitalProductID."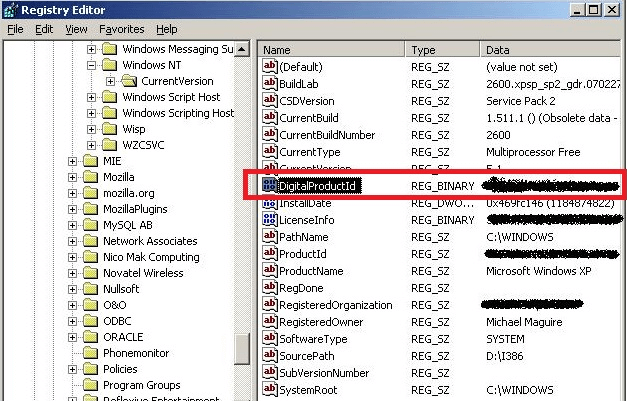 Step 4: The key is embedded in the shown box, down below.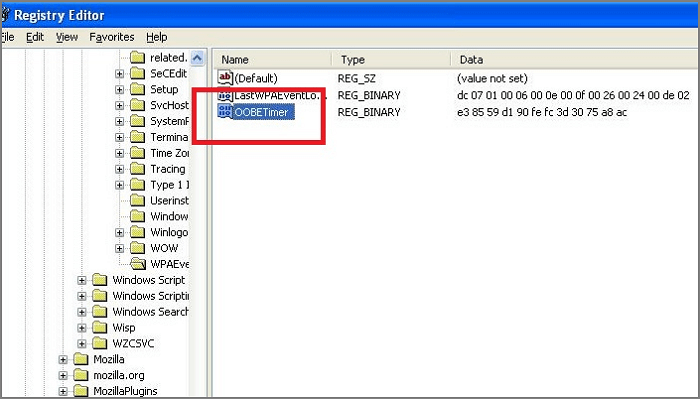 Step 5: Here's a cheat sheet to help you remember which numbers to jot down. Begin from the top and record all of the digits. You'll have to enter them in again. You will now have your 30 numbers.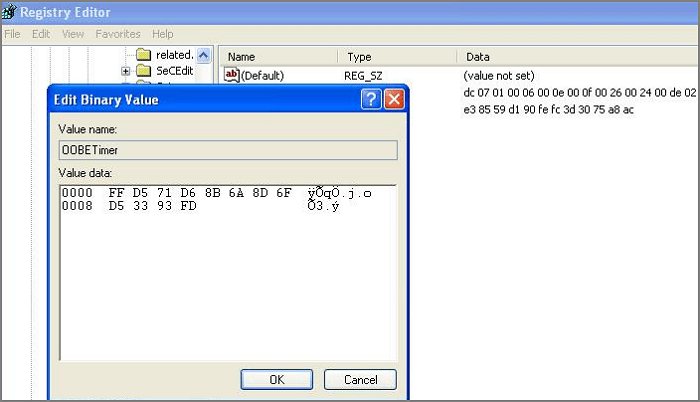 Step 6: There are various windows XP decrypter tools available online. Use them to decrypt this 30 digit code, and you'll have your product key.
Method 4: Use Windows Installation CD to Find Lost Windows XP Product Key
If you can easily find your old Windows XP original installation CD, below are the steps you can follow to recover and obtain your missing product key. 
Step 1: From "My computer," select the "CD or the DVD drive" from devices with removable storage.
Step 2: Find the folder named "1386". Open the folder named "1386".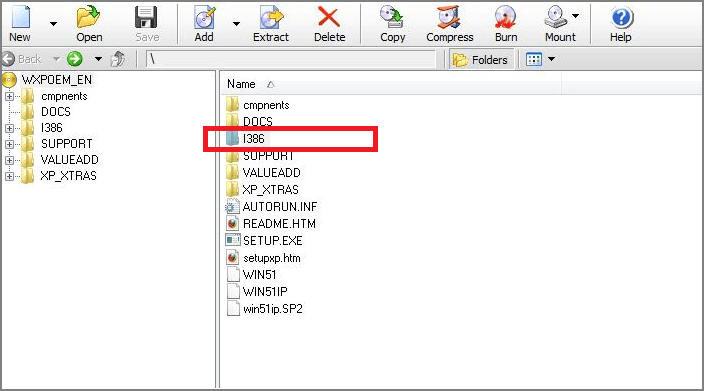 Step 3: Continue by scrolling down and finding the "UNATTEND.txt" file, as shown below. By opening the "UNATTEND.txt" file will direct you to this new text window.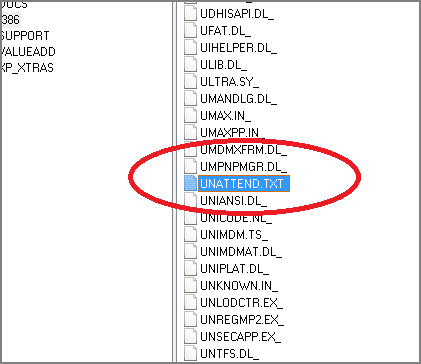 Step 4: Scroll down, and you will find your product key, as shown below. 
Conclusion
This comprehensive guide includes all the best and reliable methods for you to help recover the Windows activation product key. 
We suggest EaseUS Key Finder because it is the most acceptable and most dependable solution for Windows XP users out of all the choices available above. This is because the program is ad-free and virus-free. Finding the product key is a simple one-click operation. Download and try it for yourself.
But if you find other solutions easier for you and are thinking of going with them, be very careful as with the accessible solutions, there is a chance you might expose your system to viruses.
Updated by Tracy King 
Tracy joined in EaseUS in 2013 and has been working with EaseUS content team for over 7 years. Being enthusiastic in computing and technology, she writes tech how-to articles and share technical solutions about Windows & Mac data recovery, file/system backup and recovery, partition management and iOS/Android data recovery.

Roxanne is one of the main contributors to EaseUS and has created multiple posts on digital devices like PCs, Mobile phones, tablets, Mac, etc. She loves to share ideas with people of the same interest.
About EaseUS Key Finder
EaseUS Key Finder offers complete solutions for you to efficiently find Windows or Windows Server product keys, discover Offce, Adobe, and other installed software serials, and find WiFi codes, etc, successfully in simple clicks.