How to Find Saved Passwords on Chrome [Windows & Mac]
| Workable Solutions | Step-by-step Troubleshooting |
| --- | --- |
| EaseUS Key Finder | Step 1. Click "Internet & Network" under Password; Step 2. Check Browser Accounts & Passwords...Full steps |
| Chrome Settings | Step 1. Launch Google Chrome. Then click on the three dots placed in the upper-right side corner...Full steps |
Want to log in to a website from a different browser or new system but can't remember your username and login passwords? If yes, then no need to worry! Google Chrome can help you to get your password. Chrome usually saves usernames and passwords, and you can quickly get all the saved passwords from the Chrome settings.
This post will guide you with detailed steps on how to find saved passwords on Chrome on both Windows and Mac systems, so read the post till the end to understand things in a better way. 
How To Find Saved Passwords on Chrome [Windows & Mac]
When it comes to finding saved passwords on Chrome, you can undoubtedly get it via two methods. You can either use third-party software to export passwords from any browser or application. The second method is to look into the Password section of Chrome Settings.
Let's know the exact steps you have to follow to find saved passwords on Chrome via these two methods. 
Method 1. Instantly Find Saved Password via Software
If you have no technical knowledge and want to find saved passwords on Chrome, we recommend using the best and most reliable third-party tool, the EaseUS Key Finder.
EaseUS Key Finder is an advanced tool that can quickly provide you with saved usernames and passwords on your Chrome and other applications. Let's know more details about this highly rated and recommend the tool. 
Step 1. Click "Internet & Network" under Password.
Step 2. Check Browser Accounts & Passwords of Chrome, Edge, Firefox, and IE.
"Copy" - Click it, then directly paste.
"Save" - Save as a PDF file.
"Print" -  Connect Printer to print.
Features and functions 
1. Recover Saved Passwords from Web Browser:  Smart utility EaseUS Key Finder can easily reveal the accounts and passwords stored in different web browsers like Chrome, Edge, Firefox, and Internet Explorer.
2. Retrieve Windows system product keys: EaseUS Key Finder can easily recover your product key for Windows (11/10/8/7) and SQL servers with no specific requirements. 
3. Recover Windows Credential: EaseUS Key Finder tool can easily back up your Windows account credential along with the associated app settings. It will help you recover your info on any new device whenever you require it and avoid being locked out or creating new accounts. 
4. Recover Wi-Fi Passwords: If you want to connect any new Windows system on your Wi-Fi network, it asks for a username and password, and in such cases, most of us usually forget the login details. In such circumstances, EaseUS Key Finder can easily unveil the Wi-Fi network password on any Windows computer quickly.   
5. Recover Office, Adobe, and more than 100 Software activation keys: EaseUS Key Finder can easily find out your Microsoft Office, Adobe product keys. This tool can quickly recover activation keys of more than 1000 most reputed software. 
Overall, this is a handy and effective tool in recovering product keys and login details, and that's why many professionals highly recommend this tool.     
Whether you are looking for activation keys, saved browser passwords, or Wi-Fi passwords, EaseUS Key Finder is the one-stop solution for you. 
However, if you cannot find the app, you can always make a request, and the app support can be rolled out in future updates.
Method 2: See Saved Passwords on Chrome-by-Chrome Settings
As we have already mentioned, you can easily see saved passwords on Chrome. Now let's know the exact steps you have to follow to see those saved passwords on your Windows system.
Step 1: Launch Google Chrome. Then click on the three dots placed in the upper-right side corner of the browser window.     
Step 2: Now select Settings from the drop-down menu. You can also access Chrome's Settings by entering chrome://settings in the address bar.
Step 3: Now select Passwords under the Autofill section to open the Google Chrome password manager. 
Step 4: Now, you will see a list of saved passwords accompanied by their corresponding website and username. These fields show a series of dots by default. To view a specific login password, you have to select and click on the eye icon next to it. 
Step 5: You will need to enter your Windows OS username and password for verification here. Once you have verified, the password you have chosen will be shown in cleartext. If you want to hide the password again, you have to select the eye icon for the second time. 
Bonus Tips: View Chrome Saved Password on Mac (H2)
If you use a Mac system and view, Google Chrome saved passwords, follow the steps below.
Step 1: After you have signed in on Google Chrome on your Mac system, select the three dots icon in the right corner. It will open a drop-down menu for you. Select Settings in this drop-down menu. It will open a new tab with settings options.
Step 2: Scroll down these options and press Advanced. It is usually located way down the bottom. Here you have to find Passwords and forms in this list. Keep scrolling until you get this section.
Step 3: Once you get this section, click on Manage passwords. It is usually directly under Passwords and forms. It comprises a detailed list of all your previously saved usernames and passwords. Here you have to press the three dots next to any selected username. 
Step 4: Select the Details on the drop-down menu that opens. It opens a new tab to get the site, a username, and the chosen account password. Usually, you will find your password hidden here. To view your login password, select the eye icon. Here you will have to verify your account every time you do this.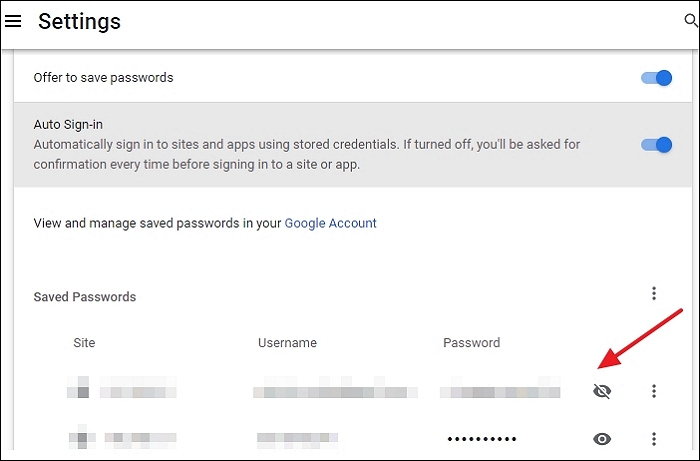 Step 5: Enter the username and password, click on the OK button. It will verify or authenticate your identity and allow you to see the password. To hide it again, you have to click on the eye icon again for the second time.     
Final Words 
Here we have given you two highly effective methods to help you find saved passwords on Chrome (On both Windows and Mac systems). If you want to easily access to your passwords, we recommend you use the first method to quickly discover your passwords with the help of the best third-party tool EaseUS Key Finder. Otherwise, you can also use the manual process by finding saved passwords on the Chrome-by-Chrome setting method.   

Roxanne is one of the main contributors to EaseUS and has created multiple posts on digital devices like PCs, Mobile phones, tablets, Mac, etc. She loves to share ideas with people of the same interest.
About EaseUS Key Finder
EaseUS Key Finder offers complete solutions for you to efficiently find Windows or Windows Server product keys, discover Offce, Adobe, and other installed software serials, and find WiFi codes, etc, successfully in simple clicks.