How to Find 3ds Max Serial Mumber and Product Key
Have you misplaced your Autodesk 3ds Max product key? Well, we have a solution for you in this article. Autodesk 3ds max is one of the most widely used software in 3D modeling, gfx designing, game development, and many other fields where 3D modeling and rendering are required. There are definite reasons for such huge popularity of this software, the primary ones being the wide range of features and tasks that Autodesk 3ds max can perform. Also, Autodesk has been one of the top software developers for more than two decades now. As a result, Autodesk products are most commonly used in the industry, and you can sync your data with other Autodesk software very well.
A 1-year license of Autodesk 3Ds Max costs more than $1500, and the product key to such an expensive software is not something you might want to lose. Still, there can be instances where you misplace the product key, and now want to register the product on your newly purchased computer or any other device. While you can regain access to the product key via Autodesk's support team, the process for sure is a hectic one, and you need to write several emails and provide several proofs of purchase before you can finally get it back. This process can take several weeks.
But wait, that's the whole point of this article, we are here to save your time. So in this article, we will discuss some of the easiest ways to find Autodesk 3Ds Max serial numbers and product keys. Please make sure you read this article until the end to understand better. So without further ado, let's jump straight in!
Get 3ds Max Serial Number And Product Key By Manual Way
There are a few methods on the internet that help you find the product key for 3Ds max, but these methods are time-consuming, and you need to have a little expertise to perform them, to say the least, below given are some of the easiest manual methods to find 3Ds max serial number and product key:
1. Use Autodesk Account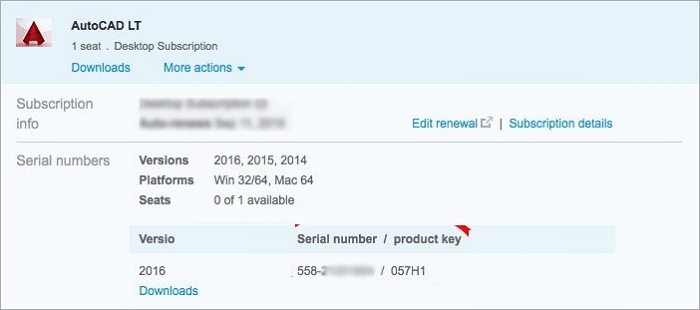 If you have an Autodesk account linked to your Autodesk 3Ds max product key and license, then you have just got lucky because you can use your Autodesk account to find Autodesk 3Ds max product key:
Login to your Autodesk account by going to the Autodesk website and opening the login menu from the top right corner.
Once you are logged in to your Autodesk account, click on the management tab. 
Under the Management tab, refer to the products and services section and find the Autodesk 3Ds max product linked to your account.
When you click the product, you will see all the details like the validity, product key, serial number, and other purchase-related information.
2. Using Installation Media Or Download Folder
If you have installed Autodesk 3Ds max with the help of an installation media like (USB key, DVD, or any other) or a download folder, then it is easy to retrieve the product key and serial number, follow these steps to do so:
Step 1. Open the file folder on your installation media or download folder and look for the setup.exe file for Autodesk 3Ds Max.
Step 2. In the same folder, try to locate the file with the word MID in it. The file should have the .txt extension.
Step 3. Open the MID file in a text editor like Notepad. You can do so by right-clicking on the file and selecting Notepad from the list of options in the open with menu.
Step 4. Upon opening the file in Notepad, try to find the Part Number from the text that appears on the screen, the first five characters of the part number are also the product key for Autodesk 3Ds Max.
While these methods might seem easier to you, there is simply a much easier, more productive, and more useful way you can find your Autodesk 3Ds max product key, let's tell you about that as well.
Find 3Ds Max Product Key Via Key Finder
What about software that can solve the problem of lost product keys, once and for all? Well, the EaseUS key finder is the one you want for that. It can help you retrieve the product keys for practically every software out there, and even different OS like Windows, SQL Server, and others.
To find the 3DS Max serial number, open the application, and go to Applications. Once you find the product, click on the Save or Show Full Key button to view the key.
Step 1. Click "Application" tab under "Registry Key".
Step 2. View Applications Registry Keys on the right panel. EaseUS Key Finder will show all keys of installed software. Copy the targeted serial numbers. Also, you can click "Print" or "Save".
The software support all Adobe products. You can also retrieve the product key for Microsoft Windows (8, 8.1, 10, 10.1, 11) and SQL server (2006, 2008, 2012, 2014). You can also find the product key for Microsoft Office. The software works flawlessly with every popular software, and obviously, we can't list them all.
On top of all this, you can also find the lost password to a Wi-fi. You can also access the stored passwords and usernames on Google chrome, Microsoft Edge, Mozilla Firefox, Opera, and other Chromium-based browsers.
Conclusion
Losing essential things is a part of human nature. We cannot help to change that, but we tried to repair the damage caused by such nature in this article. We highly recommend using the EaseUS key finder as it is easy, very affordable, reliable, flexible, and easy to use. We hope you liked this article. Please make sure you share this article with everyone who might find it helpful.

Roxanne is one of the main contributors to EaseUS and has created multiple posts on digital devices like PCs, Mobile phones, tablets, Mac, etc. She loves to share ideas with people of the same interest.
Written by Tracy King 
Tracy joined in EaseUS in 2013 and has been working with EaseUS content team for over 7 years. Being enthusiastic in computing and technology, she writes tech how-to articles and share technical solutions about Windows & Mac data recovery, file/system backup and recovery, partition management and iOS/Android data recovery.
About EaseUS Key Finder
EaseUS Key Finder offers complete solutions for you to efficiently find Windows or Windows Server product keys, discover Offce, Adobe, and other installed software serials, and find WiFi codes, etc, successfully in simple clicks.