
Table of Contents

Reviews and Awards

Best iPhone Data Recovery Software
See Deleted Messages on WhatsApp Without Any App
Summary
This article will explore a few essential and effective ways to recover or see the lost WhatsApp messages. In these essential ways, we'll be talking about various ways a user can recover accidentally or deliberately deleted WhatsApp messages.
How to See Deleted Messages on WhatsApp Without Any App
Many people wish to learn how to see deleted messages on WhatsApp without any application. Today, many apps claim to provide you with the essentials to recover or find deleted messages. However, most of them are ad-filled scams. Therefore, today we'll be looking at the ways to restore deleted WhatsApp messages without backup. In other words, even if you haven't backed up your messages, we'll analyze a few ways to recover them throughout this article.
Workable Solutions
Step-by-step Troubleshooting
See Deleted Messages on iPhone

Method 1. Via iCloud Backup...Full steps

Method 2. Via iTunes Backup...Full steps

See Deleted Messages on Android

Method 1. Via Notification Log...Full steps

Method 2. Via Google Backup...Full steps

Restore Deleted WhatsApp Messages on iPhone
Connect iPhone to Your PC and Launch EaseUS MobiSaver. Scan iPhone and Find...Full steps
Everything About WhatsApp Deleting Feature
WhatsApp is a remarkable communication tool, and around two billion smartphone users depend on it for everyday communication. However, a couple of years ago, WhatsApp introduced a message-deleting feature.
This feature has become a convenience for many, but a lot of people end up losing vital information and data. That's why people are looking for solutions that could help them recover such lost messages. As mentioned before, many apps claim to do it.
However, most of them turn out to be applications that do not recover any messages. Instead, they help you recover nothing. So, let's talk about the actual way of recovering deleted messages.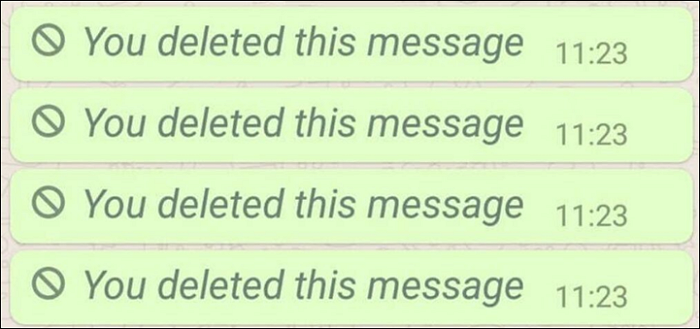 See Deleted Messages on WhatsApp without Any App on iPhone
WhatsApp is one of the leading tools, so there's no surprise it's also a leading app on iPhones – or other Apple devices. So, if you're a user of one of these devices and wish to find out your messages, then you can try two methods.
One method is through iCloud, which is cloud storage for Apple devices. The other is iTunes backup, which is an extensive feature of iTunes by Apple. Now, these two are the best ways you can regain your messages on WhatsApp on iOS devices.
Method 1. See Deleted Messages in WhatsApp Without Any App via iCloud
The good thing about iCloud is that it's available on every iPhone today. Sometimes, it saves messages by default, but you can deny it by creating backups. However, if you don't know about this tool, you haven't touched that section of the settings yet.
But, this tool is available on iOS 7 or above only, so make sure you check your iOS version before you follow these steps. Once you're sure, here's what you need to do.
Step 1. Open "WhatsApp" and head to "Settings".
Step 2. Touch "Chat Backup", then you'll see this.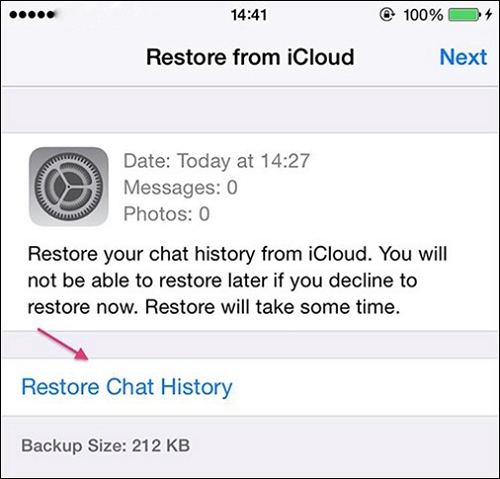 Step 3. Touch "Restore Chat History".
Step 4. Wait for "Restoring…" to disappear.
This should help you regain your deleted messages, and you can find them on your WhatsApp if you follow these steps properly.
Method 2. See Deleted Messages in WhatsApp Without Any App via iTunes
The other option you have is with iTunes. It's a remarkable utility for every iPhone user, which allows them to connect their phones to their computer, Apple's cloud, and various other services. It's a necessity, and it can help you recover deleted messages on WhatsApp.
Here's how you can do it.
Step 1. Download & install the iTunes app on your computer.
Step 2. Start the iTunes application from Start Menu.
Step 3. Connect your device to the computer.
Step 4. Once your iPhone connects, click on it in the iTunes app.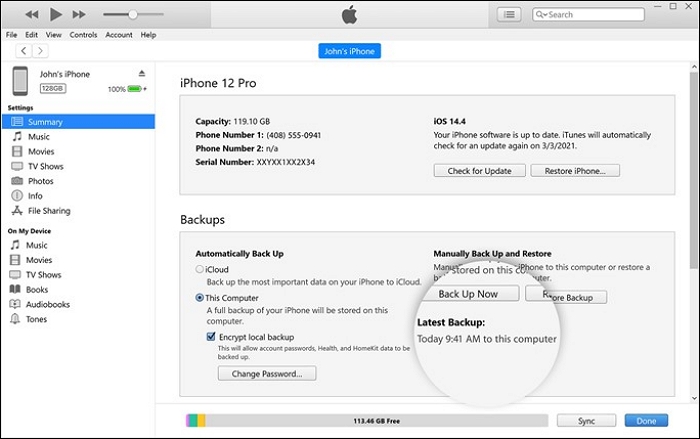 Step 5. Navigate down to Backups.
Step 6. Look for "Manually Back Up and Restore".
Step 7. Click on "Restore Backup…".
Once you follow these steps, click on Done in the bottom-right corner and head back to your phone again. Run WhatsApp, and you should be able to see your deleted messages.
See Deleted Messages on WhatsApp without Any App on Android
You can check your deleted WhatsApp messages much more conveniently on any Android device. Since android is much more user-friendly, you can easily access its backlogs or find your deleted WhatsApp messages without needing any third-party app.
So, how exactly do you do that? Here are the two most suitable ways.
Method 1. Read Deleted Messages on WhatsApp by Notification Log
The first method is to access your notifications through an in-built program. A notification Log is something every Android phone has. They keep track of all the notifications that you can find in the top bar.
Therefore, to access the bygone messages, all you need to do is follow these steps.
Step 1. Touch & press on a space on your home screen.
Step 2. Press Widgets & scroll down.
Step 3. Look for the Settings widget, then place it on your home screen.
Step 4. Open the "Settings shortcut" from your home screen.
Step 5. Press "Notification Log".
Step 6. Browse until you find WhatsApp messages/notifications.
Though you can only access messages like this through notifications from around a few days ago. This is one of the easiest ways you can recover lost messages and read them again.
Method 2. Deleted Messages on WhatsApp without Any App via Google Backup
Google backup is a highly convenient in-built option you have in every android phone. It can help you keep your images, data, and most importantly, your WhatsApp messages. Therefore, if you've set up your backup, you can quickly recover WhatsApp messages like this.
Step 1. Install & run WhatsApp on your phone.
Step 2. Verify your number through OTP.
Step 3. Tap "Restore" when the messenger prompts you.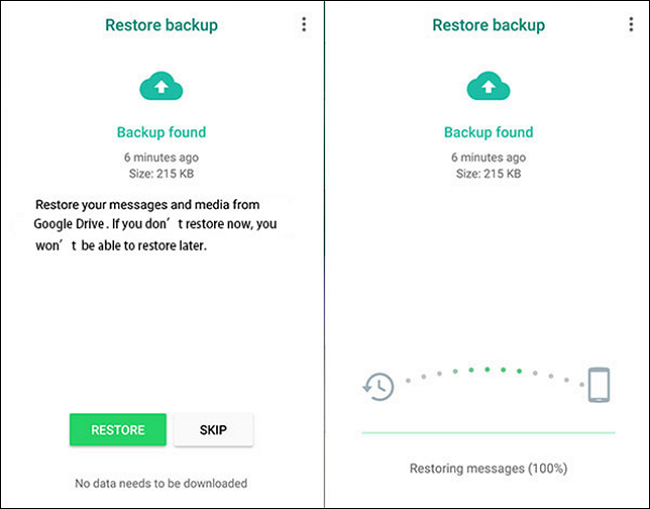 Step 4. Press Next once the download finishes.
Step 5. Check your messages in your WhatsApp messenger.
Now, to ensure that you keep your messages secure for future references, here's how to set up your WhatsApp backup.
Step 1. Open WhatsApp messenger on your phone.
Step 2. Head to the drop-down menu & press Settings.
Step 3. Press "Chats".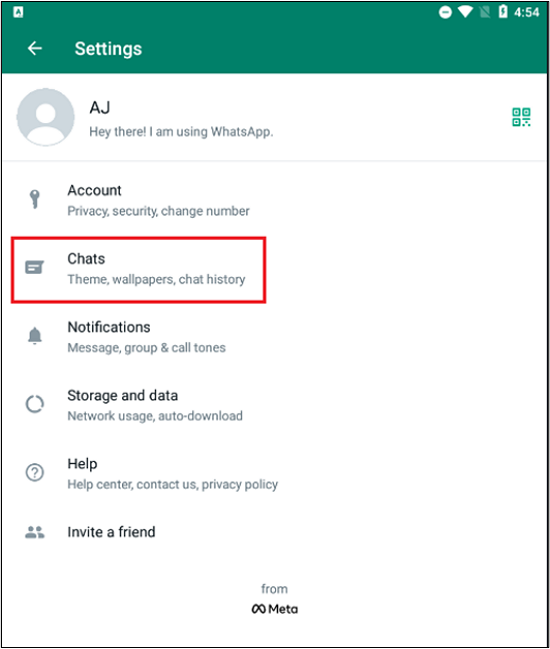 Step 4. Press "Chat backup".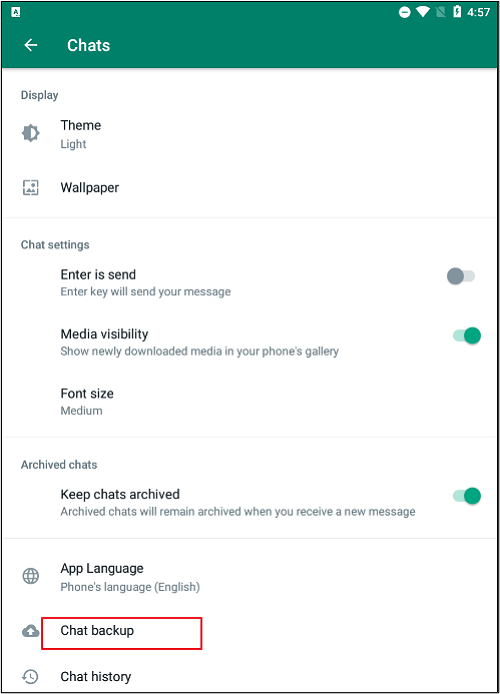 Step 5. Press "Back Up" to ensure keeping your messages safe.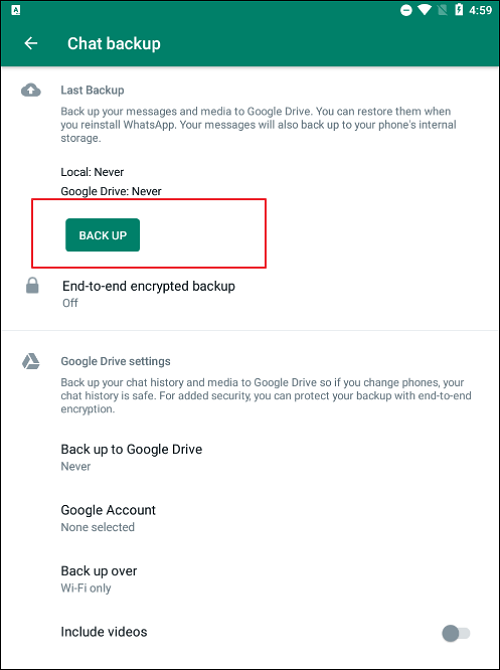 And, done. Once you follow these steps, you won't only recover lost messages but also set up a new backup for future requirements.
How to Restore Deleted WhatsApp Messages on iPhone
One of the most common problems iPhone users face with WhatsApp is the accidental deletion of important messages. However, instead of going through all the hassle, they can simply use EaseUS MobiSaver to restore data from their devices - without even needing a backup.
This tool allows them to conduct iOS data recovery without the added trouble that we've talked about so far. Besides WhatsApp messages, this tool can help them recover important media on any Apple products, i.e., iPhones or iPads. How is that?
Step 1. Connect iPhone to PC
Launch EaseUS MobiSaver, choose the  "WhatsApp" button, and select "Device Storage".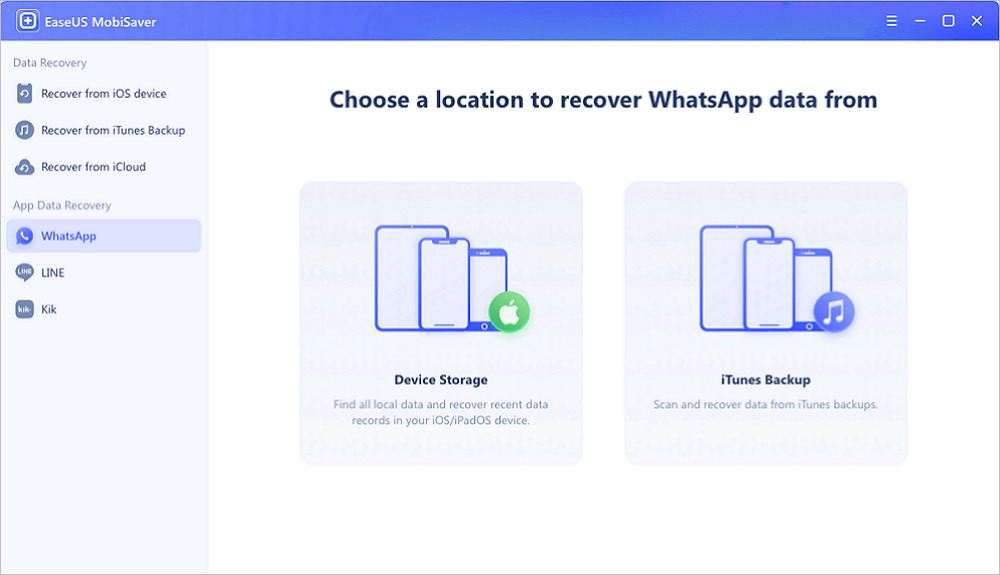 Step 2. Make Sure Your Device Is Connected
If WhatsApp is not installed on iPhone, EaseUS MobiSaver cannot find your data.
Step 3. Scan iPhone and Find Important Data
EaseUS Mobisaver will automatically scan iPhone 13/12/11/X/XR/XS/8/7/6/5/4 to find lost WhatsApp chats, history, photos, videos, and other files. This process may take few minutes, wait patiently.
Step 4. Preview and Restore WhatsApp Data
Tap the "WhatsApp" button on the left and the missing WhatsApp data will be displayed. Just preview and select the data you want to recover. Then, click "Recover to PC" or "Recover to Device" to get the data back.
Besides that, you can recover selective data, such as WhatsApp messages, including the deleted ones. Moreover, it can help protect from virus attacks, prevent jailbreak failures, and recover data from factory reset as well.
Final Words
That's how you recover your important data, folks. While you can take the complicated steps mentioned throughout this article, we suggest you use EaseUS MobiSaver to ensure the proper recovery of your deleted WhatsApp messages.