Macrium Reflect's main service is for computer backup, it aims to protect computer systems, applications, data and hard drives by creating a backup image. In addition, it's also one of the top five hard drive cloning software that allows users to copy, clone and replicate an entire hard disk or a select partition with only a few clicks.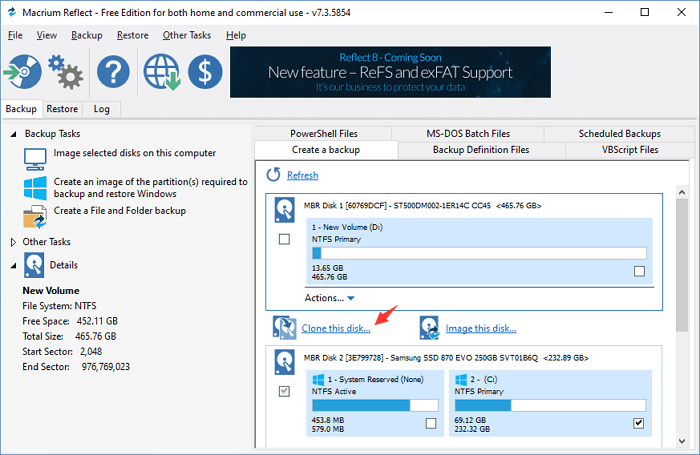 There are a couple of common error messages people may encounter in cloning a hard drive with Marium Reflect. Some are with error explanations while others aren't. So far the cloned failed errors are as follows.
Macrium Reflect clone failed disk not found
Macrium Reflect clone failed error 0 unable to match partition
Macrium Reflect clone failed to boot
Macrium Reflect clone failed error 8 write failed 55
Macrium Reflect clone failed error 9 cyclic redundancy check
What Causes Macrium Reflect Clone Failed
Macrium Reflect clone failed, usually followed by an error 0, 6, 8, or 9 seems to be a hot issue among its customers. Reasons behind such a clone failed error are basically identified like those:
Poor/bad connection of two hard drives
The hard drive has too many bad sectors
Antivirus software prevention
How to Fix Macrium Reflect Clone Failed Error
If you're a licensed user of Macrium Reflect, try to contact its customer support for help. Make sure that you use an authenticated Macrium Reflect copy instead of some pirated software. Otherwise, the Macrium professionals will reject your submission. But if you're interested in manual troubleshooting, try to [1] disable all antivirus services on your PC, [2] check if the hard drive connection cable is loose or the USB port is working properly. and [3] check and repair bad sectors on your hard drive.
Nevertheless, one of the most efficient ways to fix the Macrium Reflect clone failed error is to use its alternative - EaseUS Disk Copy, which ensures the smoothest cloning experience for users. EaseUS Disk Copy, as the product name suggests, it is specialized to copy a hard disk, along with all its data, system, games, applications, settings and configurations file by file, sector by sector and bit by bit. It receives many positive reviews from authoritative IT websites and real users.
How to Use Macrium Reflect Disk Cloning Alternative
Besides looking for a solution to fixing the Macrium Reflect cloning issue, EaseUS Disk Copy should always be your prior choice when you are in the following need.
Upgrade a hard drive with a bigger or faster SSD
Replace a failing hard drive without losing data
Migrate Windows OS from one computer to another without a clean install
Clone a hard drive for a backup
Prior Notice:
The "Sector by sector copy" asks the size of your destination disk to be at least equal to or larger than that of the source disk. Leave this feature unchecked if you wish to clone a larger hard disk to a smaller hard disk.
All data on the destination disk will be completely erased, so take care.
Step 1. To start copying/cloning an entire disk to another, choose this disk as the source disk under "Disk Mode" and click "Next".
Step 2. Choose the other disk as the destination disk.
Step 3. Check the disk layout of the two disks. You can manage the disk layout of the destination disk by selecting "Autofit the disk", "Copy as the source" or "Edit disk layout". 
"Autofit the disk" makes some changes by default on the destination disk layout so that it can work at its best status.
"Copy as the source"does not change anything on destination disk and the layout is the same as source disk.
"Edit disk layout" allows you to manually resize/move partition layout on this destination disk.
Tick the "Check the option if the target is SSD" option to put your SSD in its best performance.
A message now appears, warning you that data will be lost. Please confirm this message by clicking "OK" and then click "Next".
Step 4. Click "Proceed" to officially execute the task.
Was this page helpful? Your supoport is truly important to us!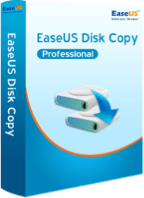 EaseUS Disk Copy
EaseUS Disk Copy is a well designed and very easy-to-use HDD/SSD cloning and migration tool, a tool which should be ideal for anyone wanting to quickly and easily migrate an existing system disk to a new disk (or newly installed SSD drive) with the minimal of configuration required.
Updated by

Jean is recognized as one of the most professional writers in EaseUS. She has kept improving her writing skills over the past 10 years and helped millions of her readers solve their tech problems on PC, Mac, and iOS devices. …

Read full bio