Green check marks on desktop icons represent or indicate that your data is backed up on OneDrive. The files and folders you marked for backing are uploaded to the drive and available for you, which is why you see the marks. They do not mean any harm to your system. Let us know in detail about the types of Marks available and how to remove green check mark on desktop icons.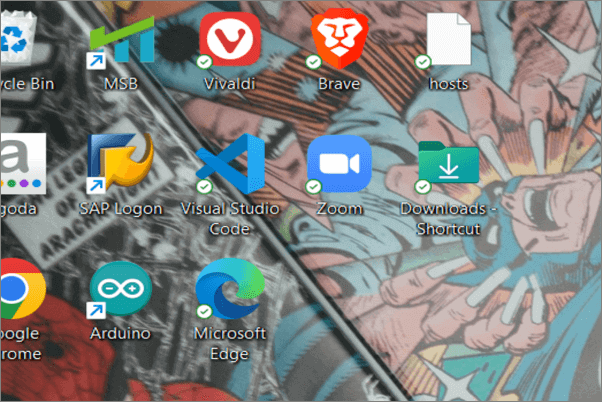 The cloud space for any tech giant helps its users to bring them under one environment irrespective of the devices or place they are using. OneDrive is one such initiative of Microsoft, such that people can back their data on the cloud and access it from everywhere. If any of your desktop icons have green marks, they are backed up online.
The Green dot generally indicates being online on social media and other work organizations. The same goes for OneDrive too.
Why Do Desktop Icons Have Check Marks
The check marks on the desktop icons imply the same as files and folders. Marks mean the app or file is backed up on the OneDrive Cloud. The advantage of cloud storage is that we can access the data from anywhere, and it also allows us to port our information to other PCs without manually configuring our new PCs.
The check marks are of 4 types associated with OneDrive, signifying different kinds of backing up:
Green Outline checkmark: It means that the desktop icon is an online file. It is not available offline, but it can be downloaded when required.
Solid Green Checkmark: This checkmark implies you can access the file offline and can be downloaded offline. It might occupy space on your device.
Blue Mark: Blue checkmark indicates downloading or uploading. If any files have a blue mark, the files are uploaded to OneDrive.
Red Mark: Red Mark indicates a problem with OneDrive when you are trying to upload. This happens due to poor internet, improper synchronization, or syncing.
If you want to know whether we can remove green check mark on desktop icons, the answer is YES. Let us look at the ways to remove them.
Get Rid of the Checkmark on My Desktop Icons
We have discussed four ways to remove the green checkmark on desktop icons:
Disable OneDrive on your Device
You can disable OneDrive to overcome this problem. The only reason the checkmarks are on icons is due to OneDrive. This way, you can avoid the whole situation.
 Notice:

If you disable OneDrive, it stops uploading your files to the cloud.
Step 1. Open the system tray and click on the OneDrive icon.
Step 2. Navigate to settings.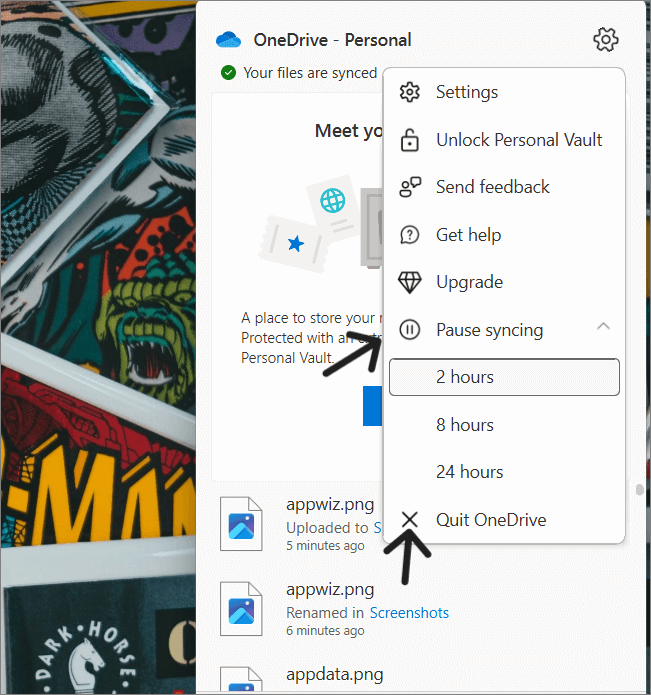 Step 3. Click on Quit Drive to disable the feature.
Stop the OneDrive sync
For OneDrive to upload your data onto the cloud, it syncs with your device to upload the files. We can stop this action by disabling the sync feature of OneDrive.
Step 1. Locate OneDrive on your system and open it.
Step 2. Navigate to settings.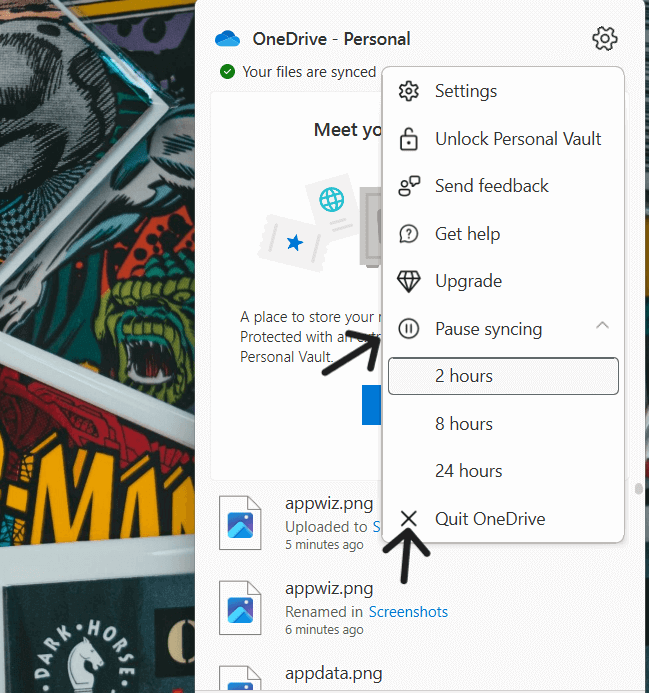 Step 3. Check "Pause Syncing" and select a timeframe.
Rebuild New Icon Cache
If you can still see the green check marks on the desktop icons even after performing the above fixes, then rebuilding a new icon cache can help. Windows OS keeps copies of every desktop icon in an icon cache.
Steps to build new icon cache:
Step 1. Search for the command prompt and open it. Do not forget to "Run it as administrator."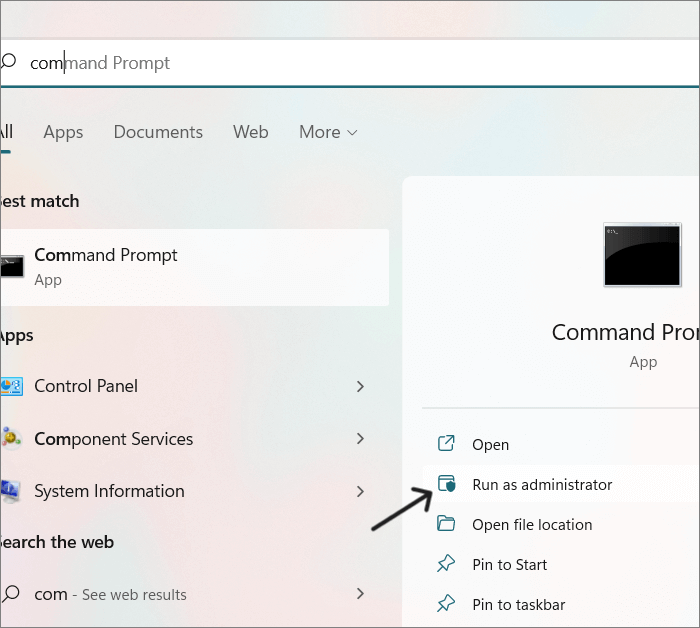 Step 2. Type the below commands in the same order as given and press "Enter" after each.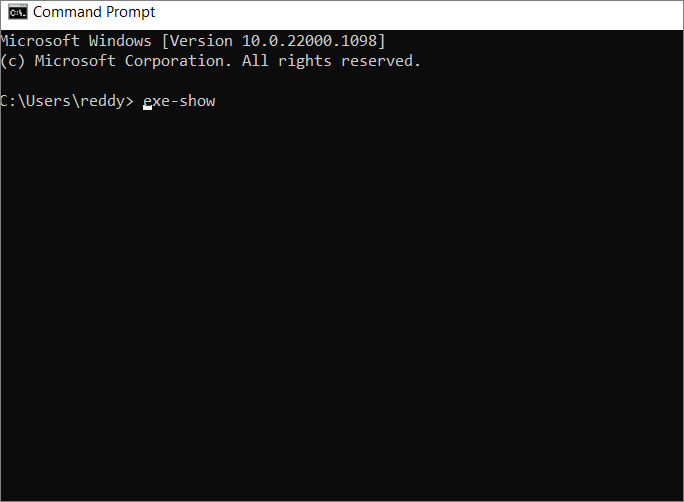 exe-show
taskkill /IM explorer.exe /F  (note:- your desktop will go blank)
DEL /A /Q "%localappdata%\IconCache.db"
DEL /A /F /Q "%localappdata%\Microsoft\Windows\Explorer\iconcache*"
Shutdown /p
Step 3. Your PC will automatically shut down and restart again after a few seconds.
Use Free up Space Feature
OneDrive offers a "Free Up Space" feature to clean the copied files on OneDrive. After using this feature, you can see green marks disappear from desktop icons. You can even try removing the files from the desktop, it won't affect the parent files, but you will have to search and open them every time you use them manually.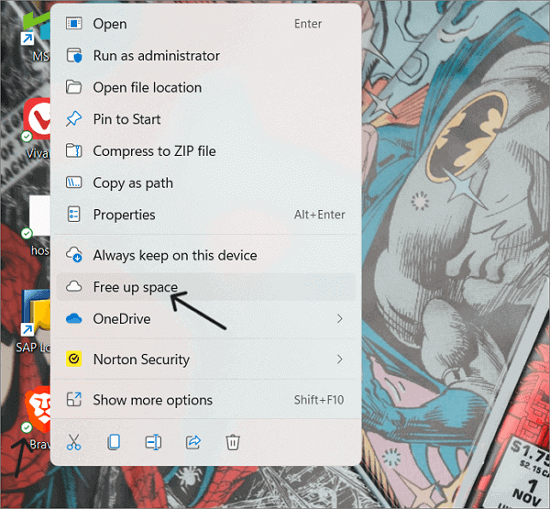 To use this feature, right-click on the icon with a green check mark and choose the "Free Up Space" option. Repeat the process for every icon with a green mark.
Green check marks on your PC are not a severe problem. It is a simple indication of data backup by OneDrive. If the problem persists even after trying all the solutions, refer to this chain of solutions by Microsoft Community to look for more answers.  
Final Verdict
Green check marks indicate that the files are uploaded to OneDrive. They are not malware or virus anonymously affecting our device. We have to manage our OneDrive settings to remove green check mark on desktop icons. If the issue persists, you can try rebuilding the icon cache on your device to remove them.
If you find this article helpful, share it with your friends. Leave a comment to let me know about it. If you have any queries regarding the article or topics you wish us to cover in the future, leave a comment in the comment box.
EaseUS Data Recovery Services
EaseUS data recovery experts have uneaqualed expertise to repair disks/systems and salvage data from all devices like RAID, HDD, SSD, USB, etc.