How do I cancel the Windows 10 updates once it has started?
"I'm so tired of receiving each Windows 10 update because it downloads the update files on your computer without getting any permission, and then the downloaded update starts installing itself when the computer shuts down immediately. I don't want to disable all the automatic updates, but really need your help to remove some of the unwanted updates even they've been downloaded. That's it. I'm thinking there might be a way to cancel Windows updates once started."
Can You Disable an Automatic Windows 10 Update on Your PC/Laptop
Beforehand, it's good to know how Microsoft pushes the Windows updates for you and how the updates were installed on your computer. 
Here's the overall process:
A new Windows 10 update comes out -> Microsoft pushes the update to its insiders -> by default, the update will be downloaded in the background -> When the download finishes, it will prompt you to install the update now or install updates and shut down.
Where Can You Interrupt the Ongoing Update
There are three stages that allow people to cancel an unwanted update, and the given link gives the corresponding solutions.
Stage 1. Completely disable Windows 10 automatic updates that are available to each Windows Edition, such as Home, Professional, Enterprise, or Education. It's a permanent move so think twice whether you make sure that you don't necessarily receive all the updates in the future.
Stage 2. You've been informed to have the latest Windows 10 update downloaded successfully on your computer, and the Shut Down button in Start Menu has been replaced by the Install Updates and Shut Down button. At this moment, you can still stop the Windows 10 update in progress.
Stage 3. Be aware of this stage! Once the update is officially launched after the computer shutting down, there is no 100% secure way to make it stop. That's where the trouble came. When the update starts installing, it usually takes some time or perhaps the update takes forever, and many people would lose patience. Finally, they just force a shut down to abort the updating process.
What happens if you force stop the windows update while updating?
Any interruption would bring damage to your operating system. In general, we list some well-known disasters caused by an abrupt shutdown of a computer that is updating.
Computer hard drive won't boot, displaying an entirely black screen with or without a cursor on it.
Blue screen of death with error messages appearing to say your operating system is not found or system files have been corrupted.
Best Way to Cancel a Windows 10 Update Once It Has Started
As you can tell, we can not underestimate the risk of canceling an update while it's installing. To avoid the risk of your computer being bricked or dead, we have some better ideas for you.
This is how you should put this idea into effect.
Regularly backup Windows 10 operating system with EaseUS Todo Backup. It's reliable backup software for disk/partition backup, file backup, and system backup. Place the system backup image to some external storage devices such as a USB drive, or some cloud storage.
When a Windows 10 update is trying to install on your PC without your permission, wait patiently until the update gets over. Restore your computer to an earlier system state from the backup via EaseUS Todo Backup.
* To perform system recovery on a none-bootable machine, try to boot the computer through the EaseUS Todo Backup emergency disk.
Step 1. Launch EaseUS Todo Backup, click "Browse to Recover".
Step 2. Guide to your backup destination, choose the system backup file you need. (The backup file created by EaseUS Todo Backup is a pbd file.)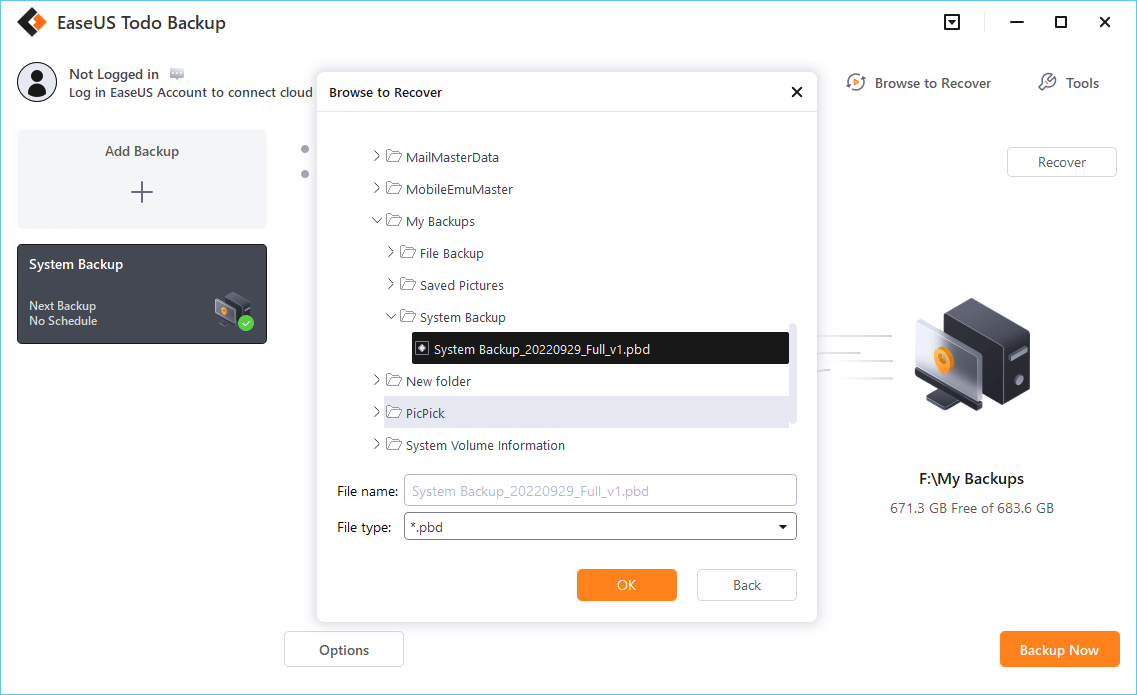 Step 3. Choose the recovery disk. Make sure that the partition style of the source disk and the recovery disk are the same.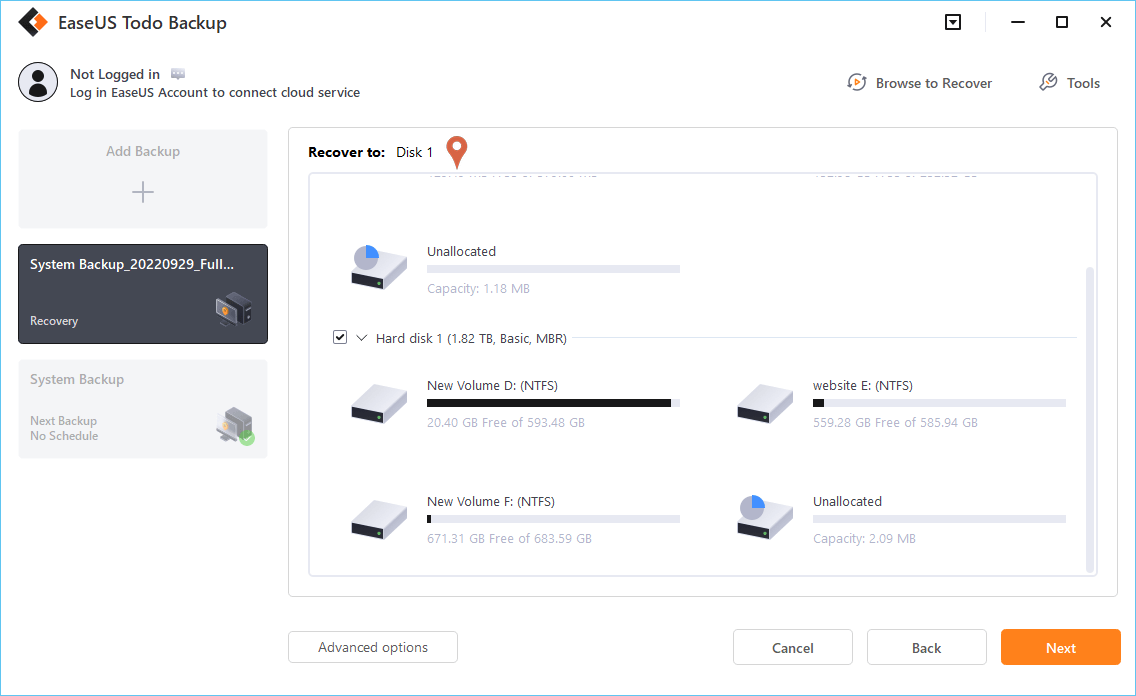 Step 4. You can customize the disk layout according to your needs. Then click "Proceed" to start system backup recovery.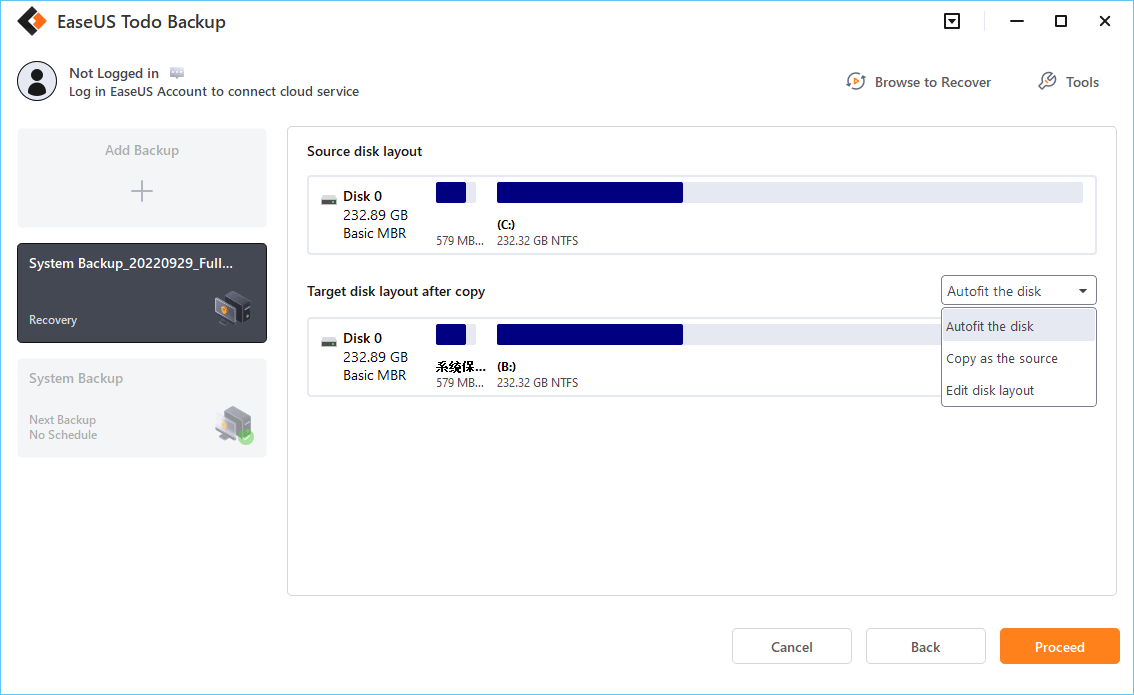 EaseUS Data Recovery Services
EaseUS data recovery experts have uneaqualed expertise to repair disks/systems and salvage data from all devices like RAID, HDD, SSD, USB, etc.