System Restore Is Initializing
Windows 10 System Restore is a valuable repair and recovery tool for many Windows users. With the help of System Restore, users can restore system files, registries, drivers, and other software to a previous state and settings. This feature of System Restore can help users solve many problems they encounter when they use their computers. 
While most of the time, System Restore is efficient and convenient, it does become a massive pain at times. Sometimes, when users run System Restore to return everything, System Restore has been running for more than 2 hours and is not progressing. Then the screen will show the message "Please wait while your Windows files and settings are being restored. System Restore is initializing…". This is a common and confusing problem that confuses many Windows users. We are talking about this critical error of Windows System Restore - System Restore is initializing.
Dealing with this error is not an easy task. If you are encountering this problem, don't worry. Today, we will provide six effective and easy-to-follow methods for you to fix System Restore is initializing.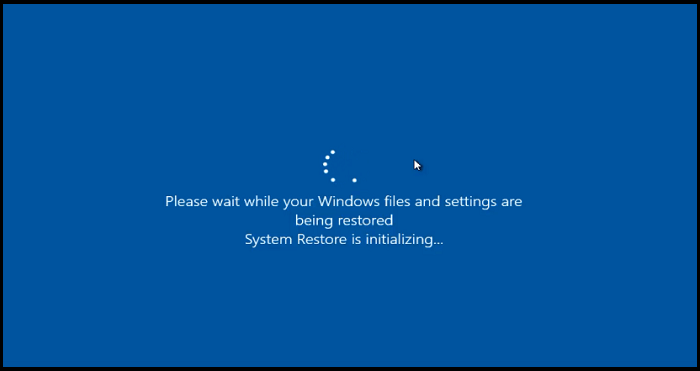 Why Does System Restore Stuck On Initializing
There may be some reasons why System Restore gets stuck, and System Restore is initializing. Damaged system files may cause problems with system recovery services, issues with bad sectors of disks, or conflicts between Windows 10 system recovery and other applications or software.
Damaged System Files
A system file plays an essential role in the Operating System, and when it gets damaged and cannot complete its function, it may be called corrupt. Corrupted files in Windows 11/10 may bring the System to a halt, and you can't perform the System Restore usually, so it's imperative to repair them as soon as possible.
Bad Sectors
Sometimes, when one or more bad sectors come upon a hard disk, the disk will go wrong. When this happens, the critical data in the bad sectors may get lost, but the data on the other disk will not be influenced, and the disk is still entirely usable. When you use System Restore to back up files on a disk, there is a considerable possibility of a failure or error due to data loss. You must consider how to repair bad sectors appropriately and efficiently.
Problematic Restore Point
System restore points can help you to roll back to the previous Windows state when the operating system is crashed or other accidents happen. When Windows users want to perform System Restore, they accidentally find that system restore points are gone or missing. Once the restore point is somehow damaged or corrupted, the System Restore may get stuck and appear with the error "System Restore is initializing".
Temporary Issues with Your Disk
Sometimes, your lack of disk space will also lead to this problem of System Restore is initializing. System Restore needs a certain amount of disk space. If the size of the old restore points exceeds the value you set, they will be automatically deleted to make room for the new restore points. To ideal disk usage for keeping the restore points is about five percent of the pointed backup drive's capacity, which will guarantee the normal function of System Restore.
Whatever the reason, there are a few methods you can try to fix the problem so that you can rerun System Restore on your computer to restore your files. Let's look at them in detail, and we'll provide each solution step by step with screenshots.
6 Ways to Fix System Restore Is Initializing Windows 11/10
When you get an error message like "System Restore is initializing", we recommend waiting for some time patiently first. As there are a lot of data and files on your computer, it indeed takes a relatively long time. However, if your computer still shows this error message, you must consider trying the following methods to save your laptop. 
Method 1. Boot System into Safe Mode
If your Windows continues to show the screen of System Restore is initializing, you can boot your system into Safe Mode. In preparation, you need installation media.
Step 1. After inserting your Windows installation media, then restart your computer.
Step 2. On the "Install Windows" screen, click "Repair your computer".
Step 3. On the "Choose an option" screen, select Troubleshoot. Next select "Advanced options", click "Startup Settings," and "Restart" subsequently.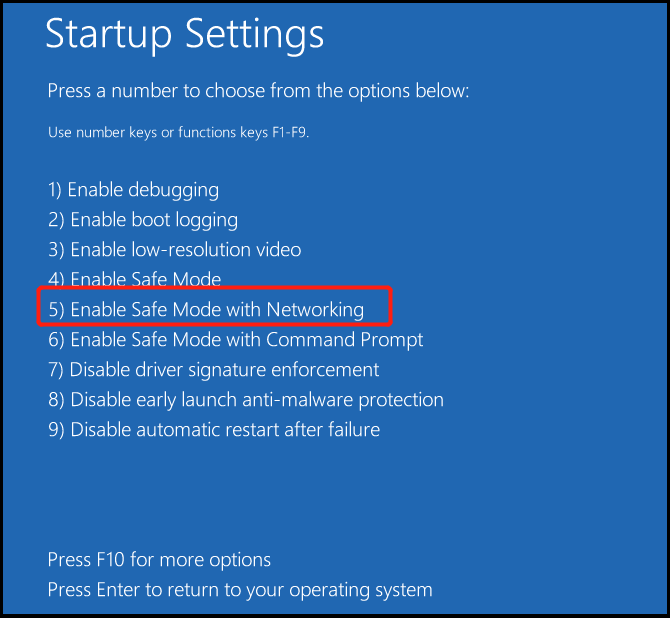 Step 4. When your computer restarts, you can press F5 to restart your PC in Safe Mode.
Method 2. Run System Restore Through Command Prompt
This method may be more effective in fixing the issue of Windows 10 System Restore stuck. You can try it:
Step 1. Boot your computer from installation media as mentioned above.
Step 2. On the "Install Windows" screen, select Repair your computer.
Step 3. On the "Choose an option" screen, select "Troubleshoot" > "Advanced options" > "Startup Settings" > "Restart" subsequently.
Step 4. After your PC restarts, press six or F6 to restart your PC in Safe Mode with Command Prompt.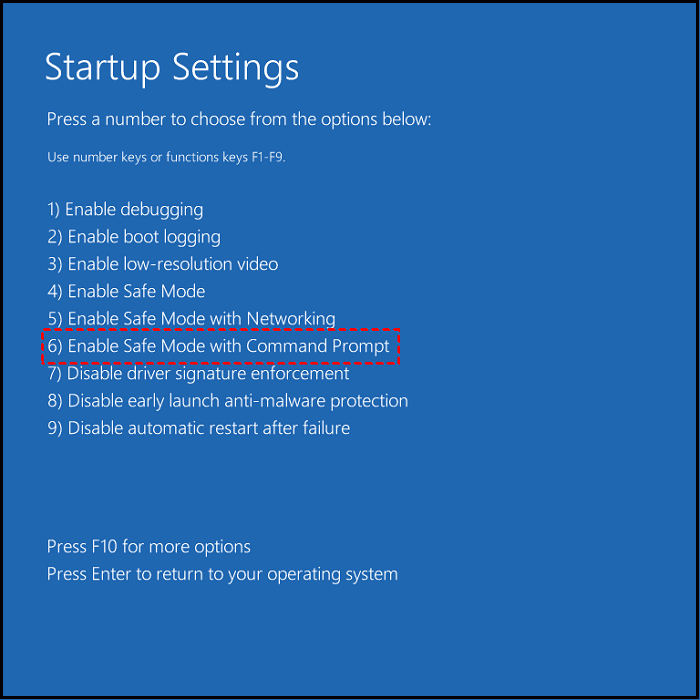 Step 5. When your computer boots again, tap the search button in the taskbar and type cmd. Right-click on the cmd and select "Run as administrator".
Step 6. In Command Prompt, type rstrui.exe, and press Enter. Then, follow the System Restore wizard to restore your computer by choosing an available restore point from the list.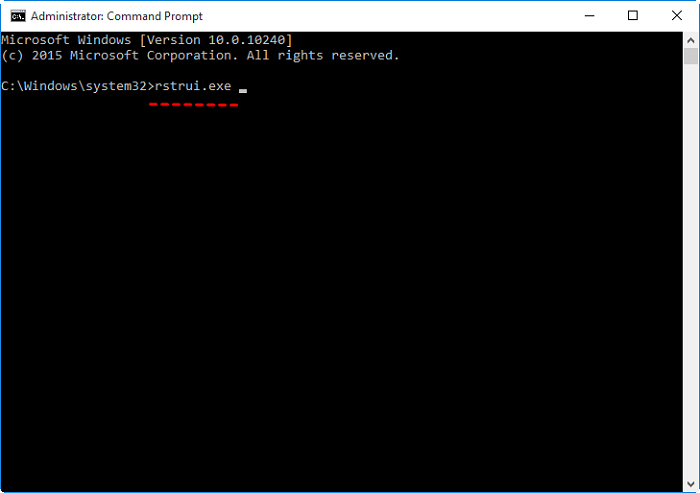 Method 3. Run Startup Repair to Fix System Restore Stuck
This method applies to the case where the computer typically runs after a forced shutdown but gets stuck due to trying to recover the System again. One of the possible reasons for the system recovery stuck is that the boot manager is damaged. You can fix this problem by "Starting Repair".
Step 1. Restart your System; you will see the "Choose an option" screen.
Step 2. From the "Choose an option", choose "Troubleshoot".
Step 3. Select "Advanced options" and click "Startup repair" to run the startup repair automatically.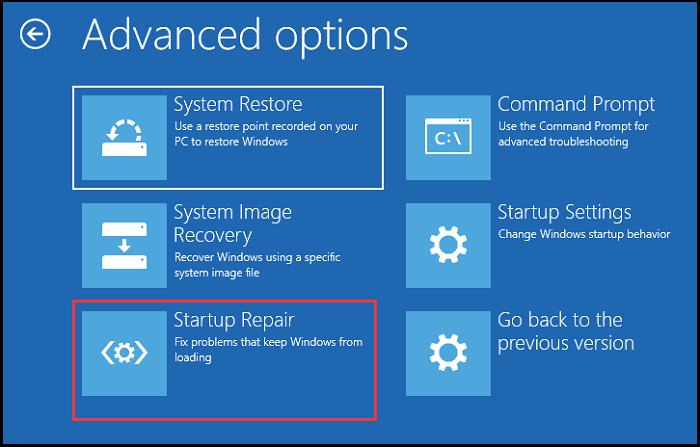 Method 4. Use the System File Checker (SFC)
The System File Checker(SFC) is a valuable tool for users to solve their system file problems. This method will play an essential role in solving the corrupted system files. You can follow the steps to adopt this method:
Step 1. Open a Command Prompt window as Administrator. To do this, press "Windows key + R" together to open the Run dialog box. Then, type cmd and press Enter.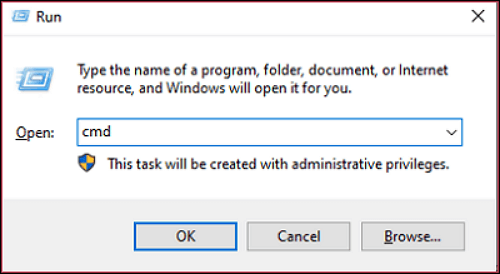 Step 2. In the Command Prompt, type SFC /scannow, then press Enter.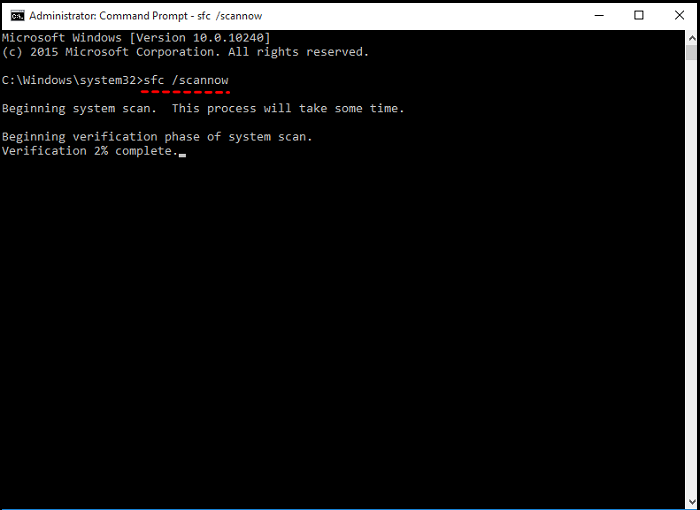 Step 3. Then it will scan your System to find the corrupted files and repair them. After it is finished, try to rerun System Restore.
Method 5. Perform a Clean Boot
You can boot your Windows with a few drivers and startup programs by performing a clean boot. To do a clean boot, follow the guide:
Step 1. Open the Run dialog box again (Windows key + R) and type "MSConfig".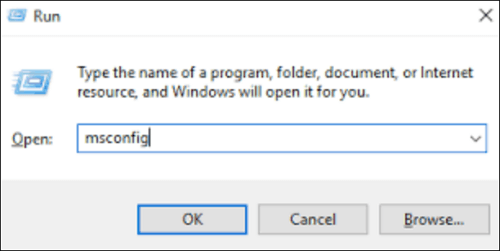 Step 2. Choose the "Services" tab and check the "Hide all Microsoft services" box. This will disable all Microsoft services, so they don't interfere with System Restore.
Step 3. Click on the "Disable all" button to disable all other non-Microsoft services.
Step 4. Go to the "Startup" option and tap on the "Open Task Manager" button.
Step 5. In the Task Manager, go to the "Startup" tab, and disable all startup items.
Step 6. Close Task Manager and finally click on the "OK" button.
Step 7. Restart your computer and try using System Restore again.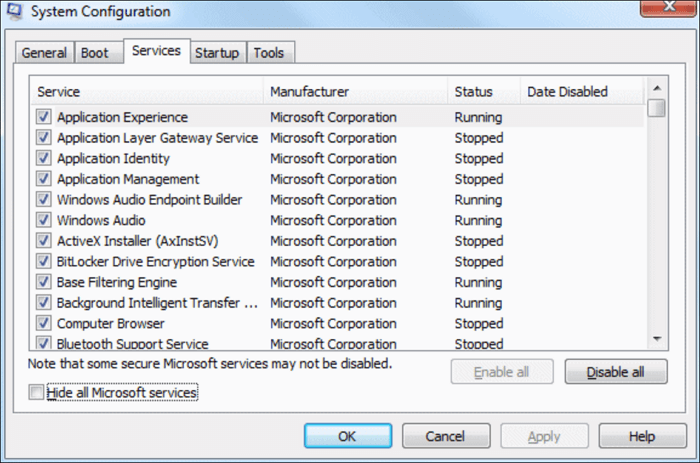 Method 6. Try Another Restore Point
When your System Restore is stuck on the page "System Restore is initializing", you can select another restore point for your System Restore and follow the next steps:
Step 1. Open the "Control Panel", and go to the "System and Security".
Step 2. Click "System" and select "System Protection" from the left-hand side menu.

Step 3. Tap on the "System Restore" button, and then follow the instructions on the screen to restore your computer.
Step 4. After you go to the "Select a restore point" page, select a different restore point from the list and check if that works.
Conclusion
To sum up, System Restore is initializing is not a big problem. Instead, it is an issue that most Windows users will encounter when they use the system restore to recover their files and system.
If you want to try some more accessible ways to fix this problem, you can follow the above 6 methods. However, these methods do not an extended solution for protecting your computer. You must frequently back up Windows 10/11 and your essential files and data.
 System Restore Is Initializing FAQs
Here we also connected some other hot questions that are related to System Restore is initializing, and if you have the same doubts, follow and find the answers:
1. How long should System Restore initializing take?
Usually, it takes us half an hour to an hour to start the System Restore, so if you find that 45 minutes have passed and it's not complete, the program may be frozen, and the System is probably stuck. In this situation, you need to adopt some measures to fix this problem.
2. What happens if I interrupt System Restore Windows 10?
If you interrupt System Restore Windows 10, the consequences are unimaginable. Because you perform the System Restore, it will suggest you not interrupt System Restore manually. The system files or registry backup restore will be incomplete if you interrupt it. Moreover, your System Restore will get stuck and can't boot for a long time.
3. What happens if System Restore is stuck?
If you've been waiting a long time and need to stop the System restore operation, you can force the System to restart, but this may cause the System to fail to start. If it fails to start, interrupt the boot process three times, and Windows 10 will begin to fix it automatically.
4. How to fix System Restore is restoring the registry?
Windows users may encounter a situation when they are using System Restore, and It has been stuck on "System Restore is restoring the registry" for a long time. There are some measures you can take to fix System Restore is restoring the Registry:
1. Perform System Restore to An Errorless Point
2. Update the Drivers in Safe Mode
3. Run Some Commands to Perform Advanced Troubleshooting
EaseUS Data Recovery Services
EaseUS data recovery experts have uneaqualed expertise to repair disks/systems and salvage data from all devices like RAID, HDD, SSD, USB, etc.