Any issues with Microsoft DirectX may lead to D3dcompiler 43.dll errors. The DirectX software collection includes numerous files, including the d3dcompiler_43.dll file. By the way, you need to know how to unzip files ahead of your practice. Since most Windows-based games and high-end graphics programs use DirectX, issues relating to this file usually show up only when using these programs.
So, what should you do if you face the error d3dcompiler_43.dll is missing, or d3dcompiler_43.dll was not found when your games or graphics apps crash? Read on to find out.
What Is D3dcompiler_43.dll?
D3dcompiler_43.dll is a dynamic link library file that is part of the Microsoft DirectX technology. It provides support for programming and rendering tasks related to DirectX, a collection of APIs designed to help developers create games and other high-performance multimedia applications on Microsoft platforms. The d3dcompiler_43.dll file is typically located in the System32 folder on a Microsoft Windows PC.
How to Fix D3dcompiler_43.dll Not Found?
Any Program using DirectX, such as MonoGame, AutoDesk 3ds Max, etc., may experience the d3dcompiler 43.dll error. What should you do if the error d3dcompiler 43.dll is missing appears? Following are some solutions.
Fix 1. Download d3dcompiler_43.Dll and Copy It to the System Directory
First, check the system type of your PC. Right-click on your taskbar and choose System. In the system window, look for the System type and tell if your computer is a 32 or 64-bit operating system. So, let us see how to download d3dcompiler_43.Dll and copy it to the System Directory.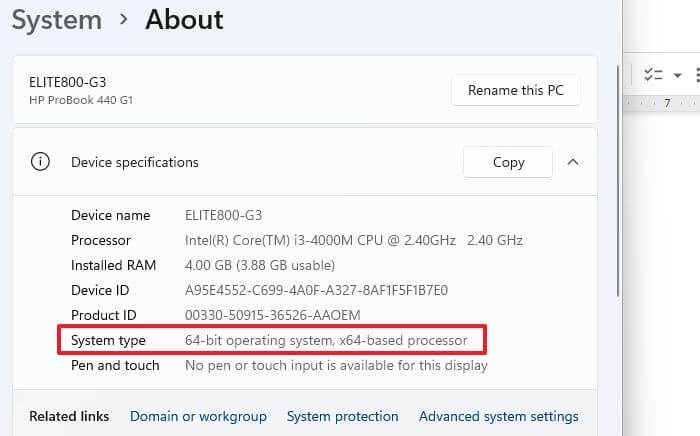 Step 1. Click on this link to open the DLL-files.com page. Scroll down and click Download beside the 64 or 32-bit d3dcompiler_43.dll file version.
Step 2. The file saves as a ZIP file, which you can open in File Explorer and extract. Open the ZIP file and click on "Extract To." 
Step 3. In the Extraction path and options window, choose the Destination path where you want to save the d3dcompiler_43.dll file and click "OK."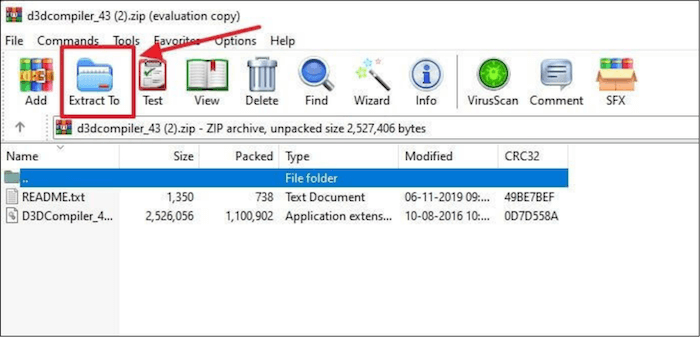 Step 4. Go to the location where d3dcompiler_43.dll was saved and copy and paste it to the system directory.
Note: The 64-bit system will put the 64-bit file into Local Disk (C:) > Windows > System32 folder and the 32-bit file into Windows > SysWOW64 folder. For 32-bit systems, put the files in the Windows > System32 folder.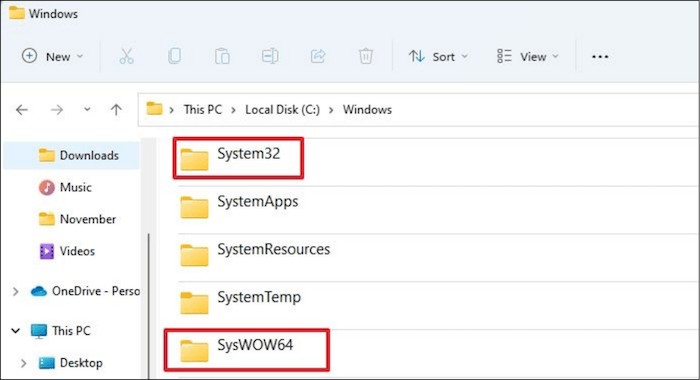 Step 5. Restart your PC.
Step 6. Right-click the "Start" button and choose "Windows Terminal" (Admin).
Step 7. Copy and paste the following command on the Windows Powershell window and press Enter.
regsvr32 d3dcompiler_43.dll
There are other options if you do not want to trust a website to download the DLL file. You can copy it from a working PC, bring it back to the PC where it is not working, and register it again. 
Fix 2. Use DirectX End-User Runtime
If you do not want to use someone else's PC or a website, then another way is to reinstall DirectX on your PC, and it should replace and register whatever is missing from the DLL library.
The following method to solve the error is by installing DirectX End-User Runtime. Here is how to go about it:
Step 1. Go to the Microsoft Download Center to download DirectX End-User Runtime.
Step 2. Click on the downloaded Direct X file, click on the "I accept the agreement" radio button, and press the Next button.
Step 3. If you do not require the Bing Bar browser toolbar, uncheck the Install the Bing Bar check box and click the Next button to install DirectX components. Follow the on-screen instructions to complete the download process.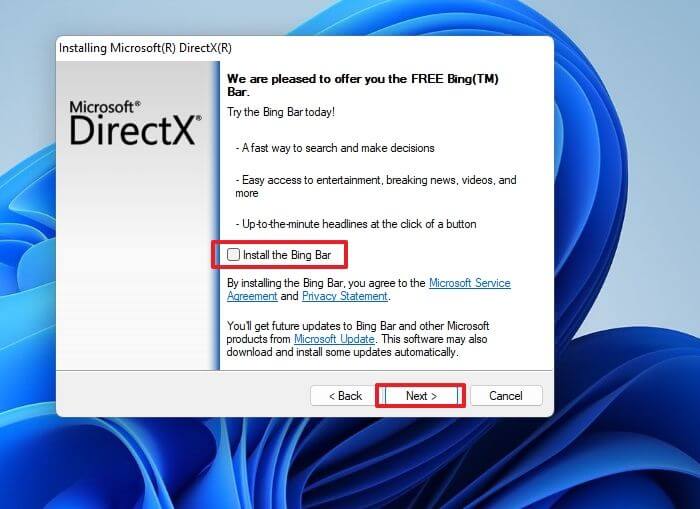 Since Microsoft DirectX includes d3dcompiler_43.dll, upgrading or reinstalling DirectX may resolve the d3dcompiler 43.dll missing error. If necessary, the DirectX End-User Runtime Web Installer replaces out-of-date DirectX versions and recovers lost DX files.
Fix 3. Reinstall The System
You can reinstall Windows on your PC by using the Reset this PC option available in Windows Settings. This method may help to remove the D3dcompiler_43.dll not found error. The Reset this PC option is a convenient method to resolve issues when the device is not launching or functioning correctly or has issues with applications. So given below are the steps to reinstall the system without losing any data.
Step 1. Press the Windows key + I to open Settings. Click on "Systems" from the left pane, scroll down and select the "Recovery" option from the right side.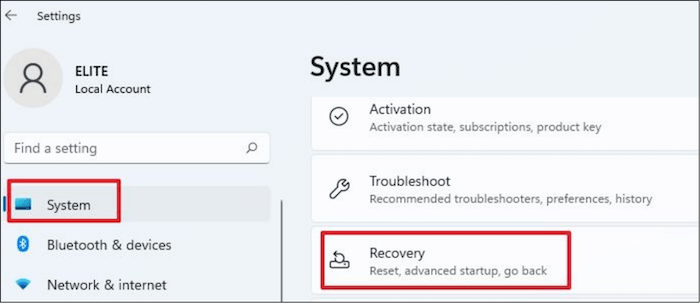 Step 2. Click on the "Reset this PC" button.

Step 3. Click the "Keep my files" option on the Reset this PC window.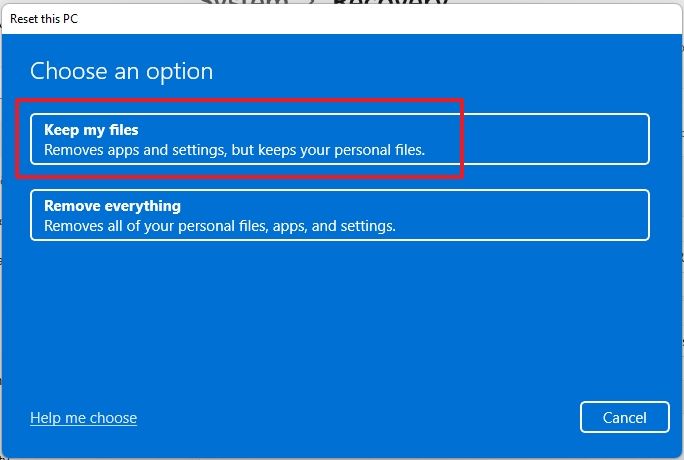 Step 4. Follow the screen instructions to reinstall your system. 
Back into Windows, you will need to create accounts and reinstall programs. Be aware that this is the last resort, i.e. when nothing else works. Make sure to keep a backup of all your essential files.
Related reading: How to Reinstall Windows 11 Without Losing Data [4 Ways]
Conclusion 
Therefore, if d3dcompiler 43.dll is missing or corrupted, you won't be able to utilize many Windows programs and apps. It is a crucial component needed by DirectX. If d3dcompiler_43.dll is mistakenly deleted, if the DirectX files are out-of-date, or if there is a general corruption error, applications and programs may behave strangely when you try to execute them. 
You can try the possible solutions mentioned in the article, like downloading d3dcompiler_43.Dll and copying it to the System Directory, using DirectX End-User Runtime, and reinstalling the system. You can choose which method suits the best to fix the error. I hope this article helps!
EaseUS Data Recovery Services
EaseUS data recovery experts have uneaqualed expertise to repair disks/systems and salvage data from all devices like RAID, HDD, SSD, USB, etc.