Does exFAT Work on Mac and PC? Yes, It does. Sometimes we need to transfer files or data between two computers with an incompatible operating system and don't know how to achieve it. In this case, we need software or tool compatible with Mac and PC to make it, and I will introduce these tools and the relevant information you need to know in the following article.
Why Some File Systems Are Incompatible
As we all know, Windows mainly use NTFS, while Mac OS mainly uses HFS, they are incompatible, and transferring data directly between them is impossible. It is commonplace that many file systems are incompatible with each other; to solve this problem, we need to understand different types of file systems first.
What Is exFAT
The full name of exFAT is Extended File Allocation Table, a file system mainly used to format flash drives such as USB and SD cards. exFAT is a new file format created by Microsoft to replace the FAT32 file format. It can support a maximum file size of 1EB, which is ideal for storing large files; an essential feature of exFAT is that it supports many operating systems, including Mac OS, Windows, Linux, and some android systems.
exFat VS FAT VS NTFS
It is said that exFAT is a compromise between FAT and NTFS; the predecessor of exFAT is FAT, and NTFS is a more advanced version of FAT and exFAT. We have learned that exFAT can support different operating systems, and converting file formats to exFAT can make it compatible with almost every operating system. We need to understand the difference between these file systems and how to convert them.
Here is a comparison table of the three file systems.
Comparison
exFat
FAT
NTFS

Pros

It can work with different operating systems

It supports a maximum file size of 16 EB
Its compatibility is the best of all file systems, and almost all operating systems can use it

1. It almost has no file size storage limit

2. It has a built-in logging function

Cons

It has no logging function and is prone to data loss due to interruptions

exFAT is not as compatible as FAT

1. It only supports a maximum single file size capacity of 4GB

2. It partitions up to 32GB
Incompatible with a different operating system.
As you can see from the table above, you can transform your file system from NTFS to exFAT so that you can freely transfer data between Mac and Windows PC.
It would help if you had some tools to complete this process; we usually use external devices such as portable hard drives, SD cards, or USB flash drives; Formatting these tools on your computer and then changing NTFS to exFAT in the drop-down list. After that, you can transfer data by these tools.
Guide To Convert NTFS File Systems to exFAT
First, we must prepare a tool like a USB flash drive or an external hard drive, etc., and then start our formatting.
Here is a tip, if you have important files and data on your external drive, please copy the data for backup before formatting.
Here is the guide:
Step1. Insert the drive into the USB port of your computer, open File Explorer and right-click on the drive, choose Format.
Step2. In the file system drop-down list, choose exFAT. You may get NTFS or FAT32.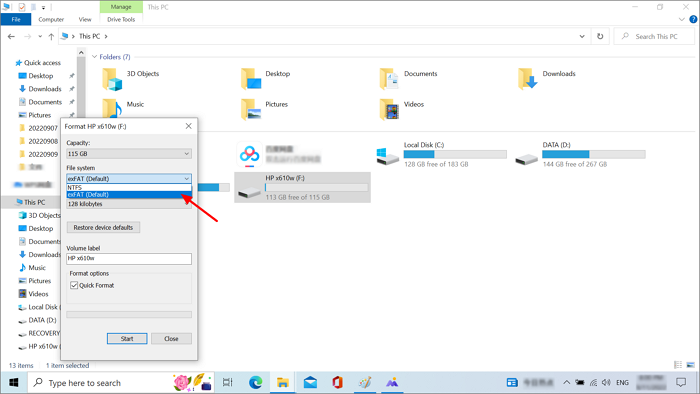 Step3. Click Start when you are done, and close this window.
Q&A: All Queries About Making exFAT Work on Mac and Windows PC
Is exFAT the Same as FAT32 Format?
No. FAT32 and exFAT are the two main file system options for external drives, and FAT32 can do almost everything exFAT can do; however, the biggest drawback of FAT32 is that it only supports files up to 4GB, and FAT32 only works with partitions of 8TB or less. This can be a problem unless your drive is large enough.
In contrast, exFAT is an updated version of the old FAT32 file system, and we can consider it a compromise between FAT32 and the more advanced NTFS file system, which overcomes all the shortcomings of FAT32, has no capacity limits and has faster read and write speeds.
Is exFAT Cross Compatible?
Yes, exFAT is compatible with all Windows and modern versions of macOS. But please note these aspects: exFAT is not compatible or recommended for use with built-in backup tools, and if you wish to use one of them, you should format the drive as the local file system of the computer running the tool. Also, exFAT is not a logging file system, which means it is more prone to data corruption after an error.
Is exFAT a Good Format?
If you use Windows and Mac computers frequently and need to transfer data across platforms, then exFAT is a good choice. Using exFAT to transfer files between the two operating systems is convenient because you don't have to back up and reformat each time constantly. exFAT is also supported in some versions of Linux, but only if the applicable software conversion is installed.
EaseUS Data Recovery Services
EaseUS data recovery experts have uneaqualed expertise to repair disks/systems and salvage data from all devices like RAID, HDD, SSD, USB, etc.