If you've been using Mac Mini for years, you've undoubtedly gathered tons of files and applications. They could be the files that you've created and the photos, music, software downloads, application support files and more. There are free programs that can help you figure out what's on your Mac Mini hard disk and clean what you don't need any more.
How to clean up my Mac Mini?
The first places to check for unnecessary files that may be taking up a lot of space. Check your Users/username/Documents and Users/username/Downloads for disk images for programs that you have installed or any other files that you may no longer need. If you want to keep any disk images, archive them to one of your external disks.
After you've searched the obvious places, you can find other files and directories that are using a lot of disk space. There are several programs, such as EaseUS CleanGenius, which will scan your hard drive and give you a potentially unwanted files list, you can drill down in those directories consuming large amount of disk space and evaluate which files you can archive or delete.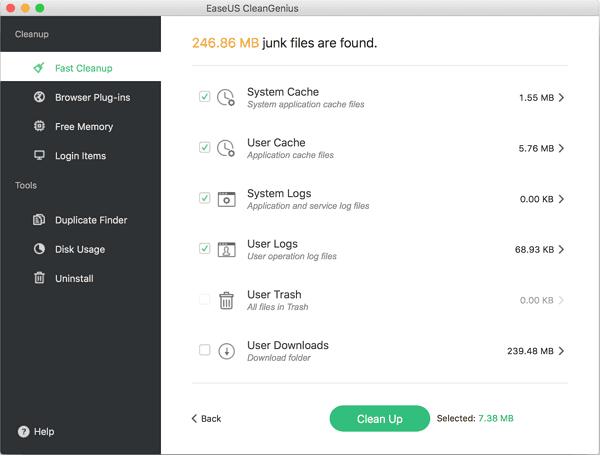 Next you should look at the applications installed on your hard drive and if you no longer use the application it should be deleted safely to free up some disk space. Most programs not only place the application into the Applications directory, but also create other files (Application Support files) in other directories. The easiest way to delete an application is to simply drag it to the Trash, however that would not delete any of the related files.
To do a complete uninstall of any application you will need to use an uninstaller. EaseUS CleanGenius is one of such thing, and it can help you remove the application very simply.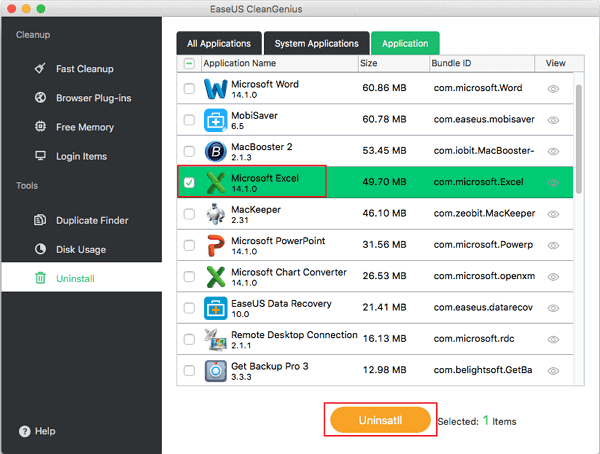 By doing periodic maintenance and house-cleaning you can ensure that your Mac doesn't get blogged down with unneeded files, programs, support files or other clutter that consumes your valuable disk space.
Clean up Mac fast: You can free more space on your Mac disk keeping your Mac healthy at all times. With a simple click from the utility, all junk files (System Caches, User Caches, System Logs, User Logs, User Downloads, Trash, Safari Internet Cache and more) will be removed in just a matter of seconds.
Monitor disk space: It will show you the disk space available and will alert you in advance if the disk space is already running low. You can clean or move files to free up disk space to ensure that your Mac is running smoothly.
Disk ejector: Using this one will allow you to eject the mounted drives, such as external storage disks, CD and DVD disks, SuperDrive, network storage and disk images.
Mac Uninstaller: "Uninstall Applications" safely and completely remove applications and their components, preferences, log files, etc. Select an application, just one click, the application and its additional components will be removed.
Duplicates Finder: Duplicate files have the identical contents and waste the precious disk space. CleanGenius can easily find and remove duplicate files to reclaim the wasted disk space.
Disk Usage: Visualize the size of your files & folders and remove the unwanted large files to free up more disk space.
Free Memory: When the free memory of your Mac is insufficient, you can easily use CleanGenius to free memory and speed up your Mac for better performance.
Set Login Items: Unneeded applications may auto run every time when you start Mac. This will reduce your Mac performance. If you don't want an application to start every time you launch your Mac, just open CleanGenius and disable the startup items you find annoying.
Browser Plug-ins Cleanup: Support to clean up and remove browsers such as Safari, Chrome or Firefox plug-ins, cache and cookies. Your browsing histories, bookmarks and downloaded files won't be cleaned.