All devices on the Internet are prone to viruses and scams. One such scam is the Microsoft windows defender security warning, where randomly, you will see a Window pops up with a phone number to contact to resolve the issue. This phishing attack takes hold of your PC to steal personal data. The good thing is that you can quickly get rid of this malware attack and avoid more scams. The article discusses why people see such windows defender security center warnings and how to fix them.
What Is the Windows Defender Security Warning
The  Windows Defender Security Warning is a type of Phishing scam to lure people into infecting the device or stealing personal information.
The popup looks like a legit warning from Microsoft, telling you about the malware infection in your device, most probably Trojan_Spyware, and redirecting you to a page to help you solve the security problems. Due to this, many users blindly click on this and fall prey to the malware.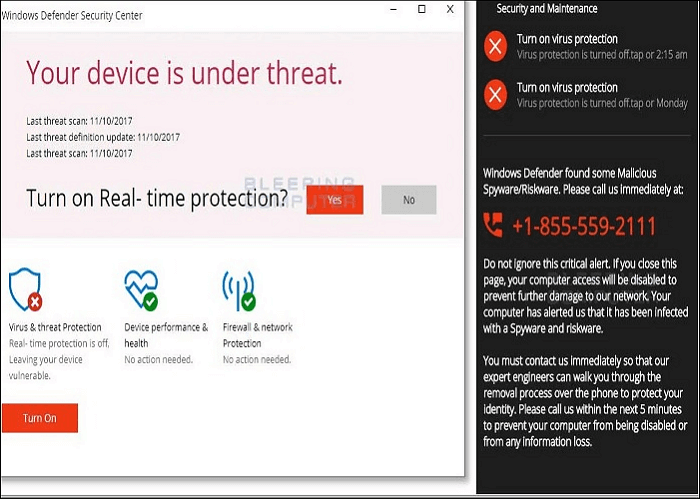 The page displays the error message and asks you to contact customer support using a number to fix the problem. The contact number connects you with a scam agent, who will infect the device or ask you for money to rectify the issue.
A legitimate security warning from Microsoft will not ask for your details, and the sent address will be from Microsoft itself.
Why Am I Getting This Windows Defender Security Warning
Is Windows Defender good enough for their PC? Many users want to know the answer. There could be multiple reasons why you see the windows defender security center warning. Let us look at a few to understand the reasons:
If you have visited a compromised website, it will redirect you to the scam window.
Suspicious or Fake ads can cause the attack.
If you have malicious hardware installed on your device.
There are many other ways you could be prone to the scam, depending on the various things like the external devices you have used for sharing or something.
When you try to ignore or close the Window on your screen, you cannot just do it or switch to other apps. Sometimes the popup comes back on the screen again.
The following sections discuss fixes to remove the Defender Security Warning Scam to get your computer rid of this phishing scam.
How to Remove Windows Defender Security Warning Scam
Most probably, the reason why you are facing the fake defender warnings is due to the browser. We need to fix the issues with the browser to resolve the issue. The fixes you can try are:
Force Close Your Browser and Reopen It
If you are unable to close the window by clicking on the close icon, you need to force your browser to stop. Follow the steps below to close the windows defender security center warning window:
Step 1. Right-click on the "Windows symbol" and navigate to "Task Manager."
Step 2. If you are using windows 10, click on "show more" to see more options.
Step 3. Select the process you want to close, right-click on it and choose "End Task."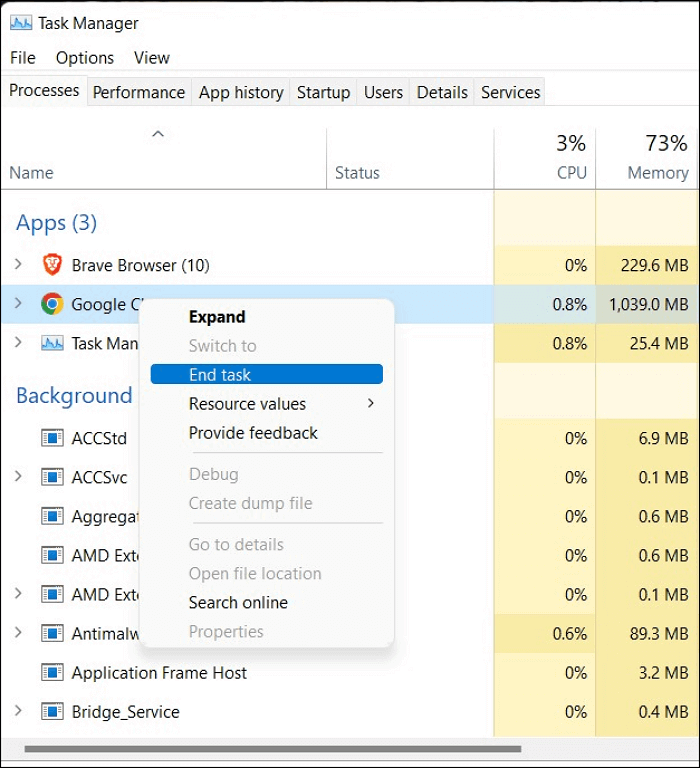 Step 4. Restart the computer.
If the issue persists, you can try resetting your browser settings to default to eliminate the scam.
Reset the Browser Settings to Default
Let us discuss the steps to reset the browser settings to default for different browsers.
For Google Chrome:
Step 1. Open Google Chrome and click on the 3 dots in the top-right corner of the screen.
Step 2. Navigate to "Settings" and click on "Advanced Settings."
Step 3. Click on "Reset and clean up" and choose "Restore settings" to their original defaults from the right panel.
Step 4. Click on "Reset Settings" in the windows to complete the process.
For Microsoft Edge:
Step 1. Open Microsoft Edge and click on the 3 dots in the top-right corner of the screen.
Step 2. Go to "Settings" and choose "Reset Settings" on the right menu.
Step 3. Click on "Restore settings" to default values.
Step 4. Click on "Reset" in the popup windows to complete the process.
Reinstall the Web Browser
A faulty browser could also lead to such security issues. You can uninstall and reinstall your browser to see if things are better. Many users got rid of it by using this method. The steps of uninstalling a program on your computer might differ based on your OS.
Steps to Uninstall a program on Windows 11:
Step 1. Press "Windows + R" to open the "Run" app.
Step 2. Enter appwiz.cpl and click "OK."
Step 3. Choose the browser, right-click on it and click "Uninstall."
Well, these fixes will solve your issues. If the issue is still occurring, you can use a professional third-party antivirus like Norton or Avast to detect the malicious program on your device. You can also opt for the inbuilt Windows Security to scan and find the solution.
How to Avoid Scams like Windows Defender Security Warning
Not every day, you encounter such problems, but sometimes they can be harmful if you have personal data on your device. Here are some precautionary measures to avoid such scams:
1. Make sure to keep your OS and applications up to date
2. Use an antivirus to scan your computer frequently
3. Do not click on Suspicious links
4. Only download applications from authentic sites
5. Be careful while surfing the Internet
Final Verdict
Microsoft windows defender security warning is a phishing scam used to get into the device and threaten users to steal data or money. It seems legitimate but dangerous malware, so do not call or click on any link from it. We can quickly eliminate it by resetting the browser settings or using an antivirus.
For it to not occur again, try to maintain internet hygiene to protect yourself from scams. Perform frequent scans and use antimalware tools to prevent it before happening.
If you find this article helpful, share it with your friends and leave a comment about it. If you have any queries regarding the topic, feel free to ask them in the comment box, and do let me know of the future issues you wish to see articles from us.