A Brief Introduction to Hard Drive Partition
Before we talk about primary vs. extended partition, we should know what the hard drive partition is. Hard disk partitioning refers to dividing the overall storage space of the hard disk into multiple independent areas called primary and extended partitions. When we use the hard drive partition, we always consider the difference between primary and extended partition, their respective functions, and if you can convert primary to extended partition. Computer users who know little about computers are always confused about primary and extended partitions. Therefore, this article will discuss primary vs. extended partition, hoping to help computer novices understand and apply them better.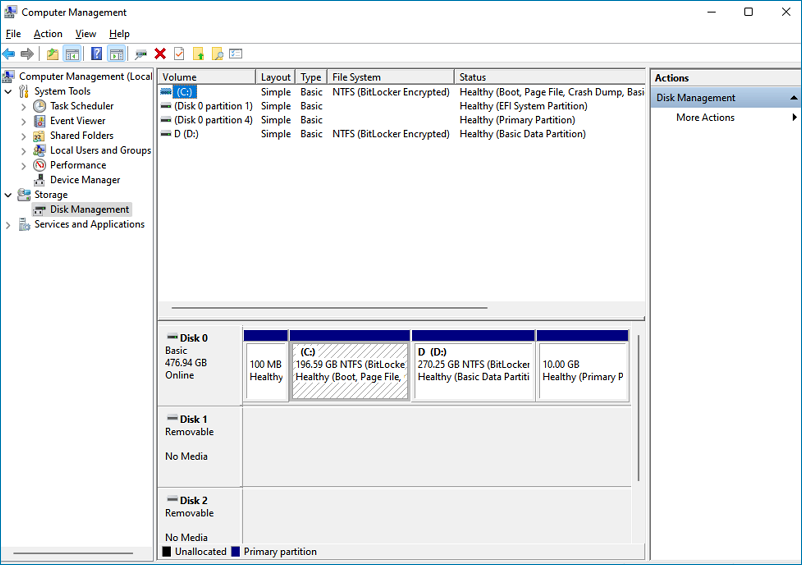 Primary Partition: A must-have Partition for System Boot
When it comes to primary vs. extended partitions, first, look at what primary partitions are. The primary partition can also be called the leader partition, which the operating system and the motherboard will recognize as the first partition of the hard disk.
The primary partition is a relatively simple partition, usually located in the frontmost area of ​​the hard disk, and constitutes a logical C disk. The primary boot program is a part of it. We can use this program to detect the correctness of the hard disk partition, determine the active partition, and be responsible for transferring the boot right to the DOS or other operating systems. If this program is damaged, it will not be able to boot from the hard disk, but the hard disk can be read and written after booting from the floppy drive or CD-ROM.
After dividing one primary partition, we can divide the rest into extended partitions. The quantity of the primary partition is not fixed; you can split it into two primary partitions. But a disk drive can contain up to four primary or three primary partitions and a single extended partition. We can also call the primary partition the boot partition because the operating system and motherboard recognize it as the boot partition of the hard disk.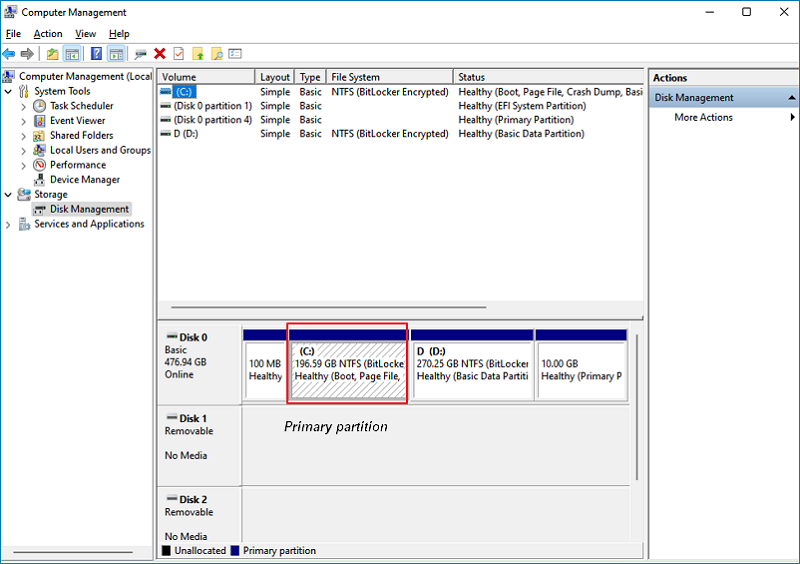 Know All Information About Extended Partition
After talking about the primary partition, we will say what is extended partition and how many we can have. A hard disk can contain only one extended partition. But an extended partition can be subdivided into several partitions called logical partitions.
Extended partitions act as containers for logical partitions. People also describe the structure of an extended partition (regarding the logical partitions contained in the extended partition) in the Extended Boot Record (EBR). They will become visible when we format the logical partitions in the extended with the appropriate file system. We can use extended partitions to store user data. This method will protect the data from operating system crashes or corruption.
We cannot use the extended partition directly. It is used as a logical partition to divide the extended partition into several logical partitions. Their relationship is a containment relationship, and all logical partitions are part of an extended partition.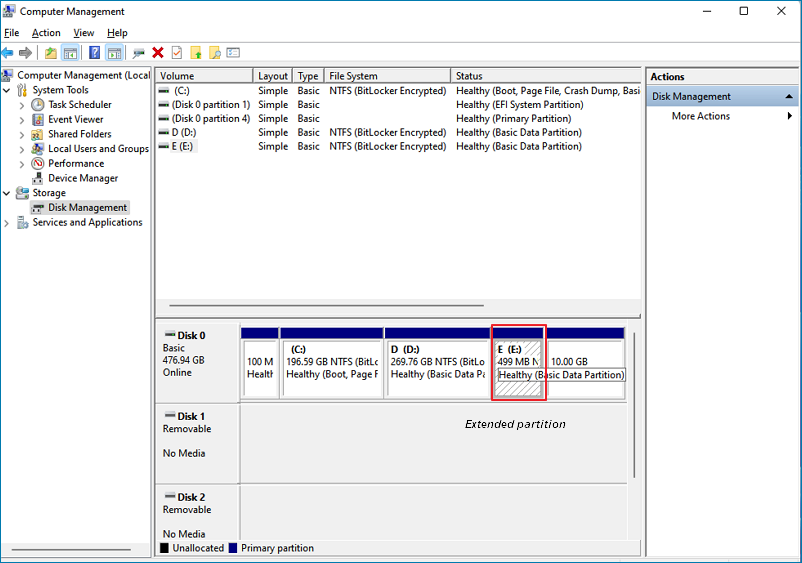 Primary vs. Extended Partition | What's the Difference and Which Is Better
| Difference | Primary partition | Extended partition |
| --- | --- | --- |
| Quantity | At least 1 and a maximum of 4. | Cannot use extended partition directly. It is used as a logical partition so that the extended partition consists of several logical partitions. |
| Bootable | The primary partition is bootable, and it contains the operating system/s of the computer. | The extended partition is a partition that is not bootable.  |
| Applicable scenarios | We can use it to boot the operating system, establish one to four primary partitions and install multiple operating systems without interfering. | Extended partitions do not store files directly but create logical partitions to store general data, audio, pictures, and files. |
| Naming example | Primary partitions are assigned the first letters in the alphabet as drive letters (such as C, D). |  Logical drives in the extended partition get the other letters (such as E, F, G). |
Primary and Extended partition Q&A
1. How to Create a Primary Partition?
Step 1. Right-click 【This PC】 and click【 Manage】 to open 【Disk Management】.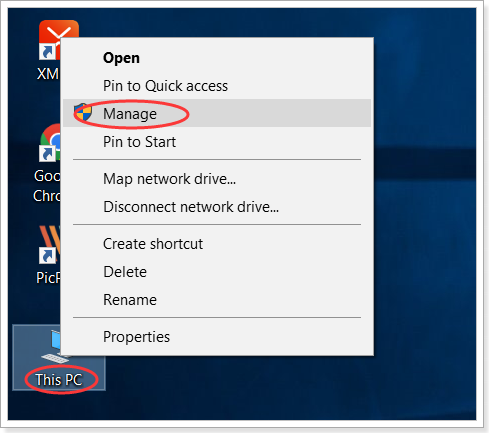 Step 2. Check the number of primary partitions on the disk. If there are already 4, we cannot build a new primary partition. If it is less than 4, we can create a new one.
Step 3. Select free space to create a primary partition.
Step 4. Select the available space, then right-click【New Simple Volume】to build a new primary partition.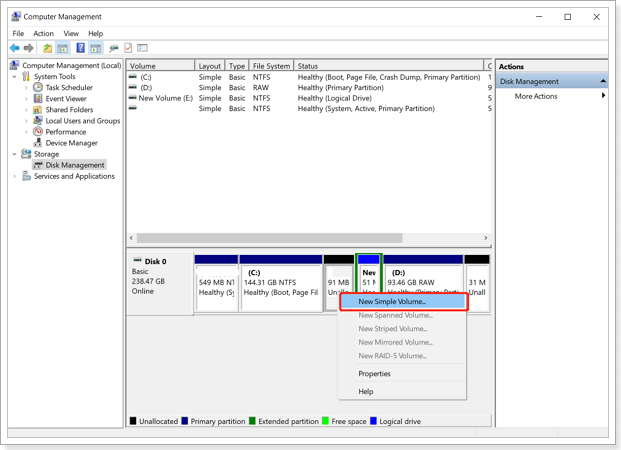 2. How to convert primary to logical partition?
Search and get a disk partition tool or software like EaseUS Partition Master. You can allocate the extra space of the logical partition to the system partition without system corruption and loss of essential files.
Step 1. Download and install EaseUS Partition Master Suite.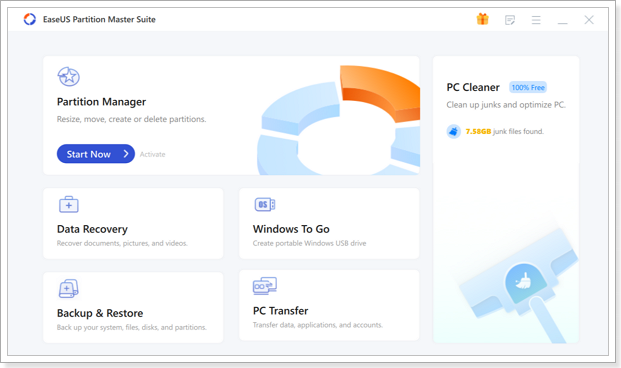 Step 2. Choose primary partition and click [convert primary to logical partition].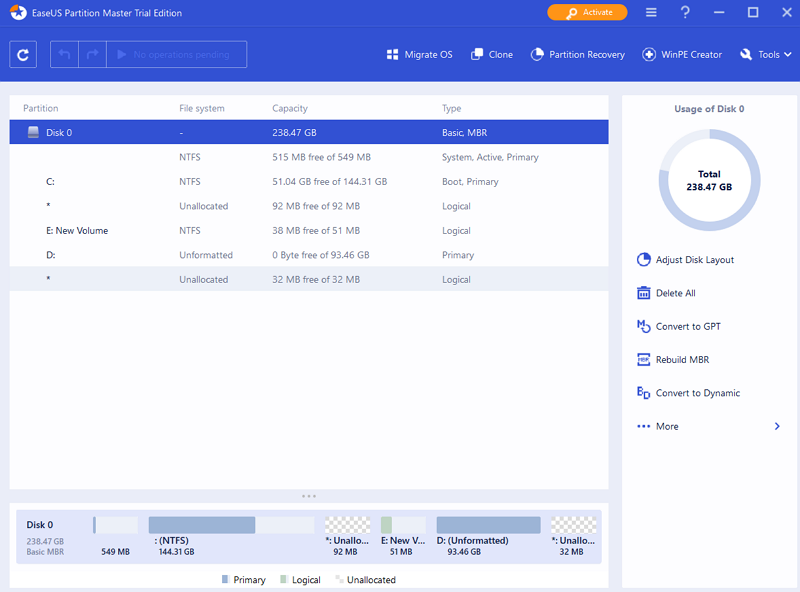 Conclusion:
After reading this article, I believe you understand the primary and extended partitions. You can make the right choice when partitioning a new disk.