Data backup is the main way for most users to store their data which is valuable and critical. And here in the following, we will discuss two types of data backup: hot backup and cold backup. All the details will be provided. Read here.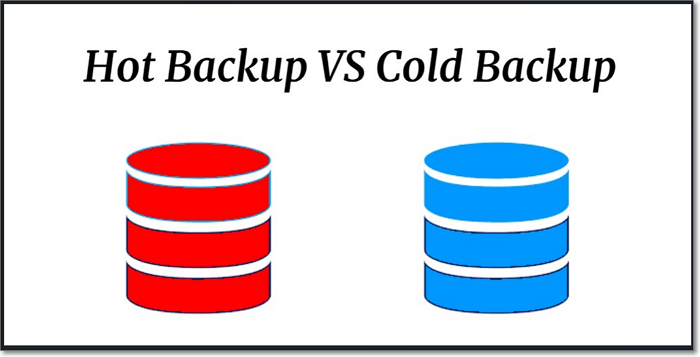 Hot Backup vs Cold Backup—Definition
Hot Backup
Hot backup is also called online or dynamic backup, and it is performed nearly 24 hours every day as long as the system is still running. Meanwhile, new data will be generated ceaselessly and the users can have access to the database without too much effort. Only if the user gives permission, a new version of the backup will replace the old one.
A large amount of storage space is needed for hot backups. Hot backup requires that the database must be in the ARCHIVELOG mode which can improve the recoverability of the Oracle database. Before the hot backup process, the ARCHIVELOG mode must be set in the database.
Cold Backup
Corresponding to hot backup, cold backup refers to offline and static backup, which is a safe and great method for database backup. This backup process works only when the database is offline and all the updates are stopped. Otherwise, users cannot have access to the database when the backup process starts because it is offline.
Compared to hot backup, the cold backup takes up fewer resources. If there is no new data added to the database, the backup will be performed only once. In addition, a secondary storage location is required for cold backup. An external hard drive or a USB drive connected to the server of your computer can be used as a secondary storage location for cold backup.
Hot Backup and Cold Backup—Pros & Cons
Now that you have known the definitions of hot back and cold backup, then their advantages and disadvantages will be shown in the following. Continue to read, and determine which one is suitable for you.
Pros and Cons of Hot Backup
| Pros | Cons |
| --- | --- |
| Since hot backup is performed online, users have access to the database during the whole backup process. | Users must be badly careful during deployment for it is rather high to maintain hot backups. |
| Users can store and restore all the database entities through hot backup. | Once a hot backup fails, the backed-up data cannot be accessible to achieve point-level recovery. |
| It is very fast to achieve database file-level backup. | Without fault tolerance, any tiny error can cause a critical malfunction to hot backup. |
| Even if the database is still working, fast recovery can be realized. |   |
Pros and Cons of Cold Backup
| Pros | Cons |
| --- | --- |
| As cold backup is only performed offline or in a shutdown mode, users cannot have access to the database in the backup process. Thus, data security can be improved. | Without enough storage space, users can copy data and files only to an external storage device. At the same time, the backup speed is badly slow. |
| Data corruption, deletion, and mutation can be avoided through cold backup as it can deal with kinds of sticky problems. | The database is not accessible when the backup process begins. It will disrupt the work rhythm of users as they can do nothing but wait. |
| The original information and consistency of the backed-up data and files can be maintained without any operation during the backup process. | If the cold backup is used alone, the recovery of data can be realized only based on a single time point. |
| The cost of maintenance is relatively low compared to hot backup. |   |
Conclusion
To sum up, you must know that both hot backup and cold backup have merits and setbacks. So, it is unnecessary to think too much about which one is the best. If you want to save up the maintenance cost, you can choose the cold backup. Or if you want to get a fast recovery, you should select the hot backup. When you need to back up your data or files, you should decide which one to choose according to different cases. That is the right thing you should do.