5 Best 2022 Office Key Finder Free Download with Full Guide - EaseUS
I'm sure most of us never bother to look at the sticker with the product key on the bottom of our laptop, or sometimes it is just worn out. Having your product key may not be something that you may be using daily. But it is generally required if you want to reinstall windows or to upgrade it. A product key is primarily given to all the commercial software to prevent any fraud or theft. So, in this article, I will tell you the 5 best office key finders and the process to download them in 2022.
| | |
| --- | --- |
| CMD Command | Press Windows+R on your keyboard...Full steps |
| EaseUS Key Finder | Launch and run EaseUS Key Finder on the PC, and choose "Product Key"...Full steps |
| Produkey | Click on the run option by double-clicking the software...Full steps |
| Lazesoft Office Key Finder | Look for the Windows Key Finder Tab...Full steps |
| Jellybean | Let the software scan all your installations to find product key...Full steps |
How Can I Find My Office Product Key in Office 2022/2019/2016?
Before you dive deep into the topic, here are some quick tips for you to follow to find the missing Office Key.
Check Microsoft Account
Check Office Package Box or the serial key card
Check the confirmation email
If you find your product key in any one of the three cases, then you can stop searching for your product key. But if you didn't find your product key or if you want to confirm further the product key you find, then you can rely on using third-party software. This is one of the easiest ways to find your office product key as it saves you a lot of time in searching.
What Is the Best Office Key Finder? 5 Best Office Key Finder Free Download
There are many office key finders. Here are the top 5 best office key finders. All of them are free software. Due to the Office key protection mechanism, the 5 recommended Office key finder tools can't find serial keys for all but most Office editions. Let us look at each of them thoroughly. Let us look at each of them thoroughly. This article will provide you complete details and the downloading process of all 5 software.
CMD Command
CMD Command is a command-line interpreter for various operating systems such as eComStation, ArcaOS, and Microsoft Windows. It has various features, such as Quick Edit Mode, which allows you to consciously select text to edit. It enables Ctrl shortcuts so that you save time. It also enables line wrapping selection, making it easy to copy and paste the text. So, these are some of its features.
Here is how to find the office product key using the CMD command:
Type Windows+R on your keyboard.
Then a popup box would appear, type cmd in the dialogue box and then tap on the OK option.
Or you can search for a prompt in your PC through which a command prompt window opens.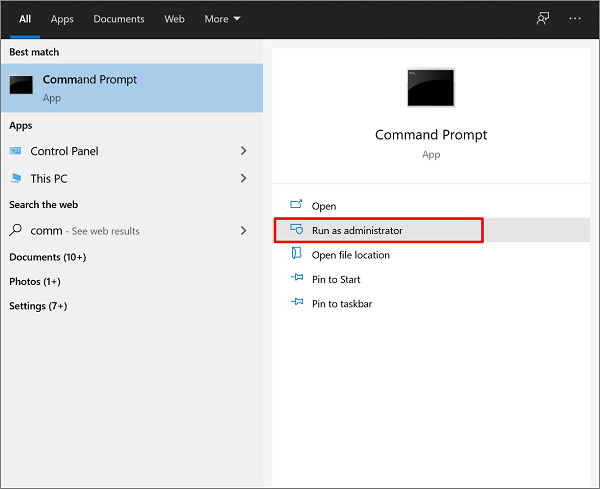 Now type cscript "C:\Program Files\Microsoft Office\Office16\ospp.vbs" /dstatus in the command prompt window.
Then tap on the Enter button. This will display the Product key.

The command prompt will contain all the last 5-digits required. Contact Microsoft for serial key code.
By this, the process is completed. It may take a bit of time for you to understand this software. But, you will find it a lot easier once you have mastered using it.
EaseUS Key Finder
EaseUS Key Finder is a multiple data transfer software that has various uses. Along with transferring data between 2 PCs, it also recovers programs and files from a dead computer. With these applications, you don't have to worry about reinstalling programs or various applications. All you can do is directly transfer all the files without reinstalling them again and again. Its Product Key feature supports finding multiple keys for installed programs, including Office, Windows, Adobe software, games, WiFi code, and browser account and password.
Step 1. Click "Application" tab under "Registry Key".
Step 2. View Applications Registry Keys on the right panel. EaseUS Key Finder will show all keys of installed software. Copy the targeted serial numbers. Also, you can click "Print" or "Save".
It is an easy-to-use software that you can learn in just a few hours. They also give you 24/7 support to help you anytime you want. It also works for various Windows systems including the latest Windows. Along with a user-friendly interface, this software displays all the detailed information of every application. EaseUS Key Finder Pro License Code makes information exploration much easier and fast. So, you can pick the exact document you need without much interference.
Produkey
Produkey is the third office key finder. It enables the product key of Microsoft Office,  Windows (Including Windows 8/7/Vista), Exchange Server, and SQL Server installed product key and ID. It is not available for old Office versions. One of the primary features of Produkey is to access quickly. It's simple interface allows all of us to access it without much effort. It also gives us access to various product keys. It also offers various sources of support to read the product key. Along with it, it is free and lightweight software. This software always keeps on updating with various versions. Lastly, it displays almost all the essential information of every application.
Download link: https://www.majorgeeks.com/files/details/produkey.html
To use Produkey to find the Office Product Key, first download this software using the download link above.
After you have completed downloading the software, launch and run the program now. Follow this simple process to find an office key using Produkey.
Click on the run option by double-clicking on the downloaded software.
Tap on the ProduKey.exe option from all 4 options available.
The product key will be displayed on its interface once you open this software as shown in the below picture.
Once you have copied the product key, the whole process is completed.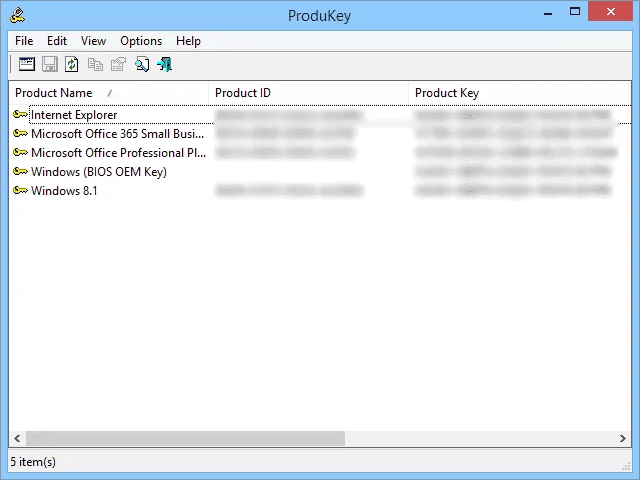 Lazesoft Office Key Finder
Lasesoft Office Key Finder is free software that helps you recover your data and also repair your system. It primarily concentrates on password, data, and windows recovery. It also helps you backup or restores your hardware. It also has easy-to-understand software for all of us. 
Along with providing the Product key of all the versions of Microsoft Office, it also allows us to find, copy to the clipboard, and print the product keys of Windows 2000, XP, 2003, Vista, 2008, 2012, or 7. You can check their website if you have any queries as they have all queries answered on their page.
Download Link: https://www.lazesoft.com/office-key-finder/microsoft-office-key-finder.html
To use Lazesoft Office Key Finder to find the Office Product Key, first, download this software using the download link above.
After you have completed downloading the software, launch the program now.
Look for the Windows Key Finder Tab.
Once you have found it, you can find your office product key under this tab.
This software will allow you to save and print the Office Product key.
Jellybean
The Magical Jelly Bean is our fifth software that has been updated recently. It is completely Key Finder software that recovers product keys for various applications. It supports 300+ programs and works with 64-bit systems. It also scans non-bootable windows and recovers serials for Windows 7/8 and Office 2010. They also have an advanced product key finder which is not free. But it is not too expensive if you want to buy it.
It's command line options- /save/save csv/close/hive/file
Download link: https://www.magicaljellybean.com/keyfinder/
To use Jelly Bean to find the Office Product Key, first, download this software using the download link above.
Once you have downloaded the software, then launch and run the program.
Wait for a while until the software scans all your installations and finds the product key of all various programs present.
Then once the scanning process is completed, a window with different entries will pop up.
Tap on your version to find out the key.
You can find the product key under the 'CD key'. Don't confuse it with the Product ID. Once you find the key, then copy it as it will not work if the key isn't typed exactly.
With this, the whole process is completed.
Conclusion
These are all the top 5 office key finders. CMD deserves a try though it's a bit complex. Office users can turn to the easiest Office key finder - EaseUS Key Finder for help. It is simple to understand too. You can understand this software within a few hours of practice. It helps us find product keys for most of the Windows, including the latest versions. So, you will not have a problem even when you shift between different versions of Windows.  Again it's your choice. You can go with anything you like, or you can try all of them and go with the software you finally want to.

Roxanne is one of the main contributors to EaseUS and has created multiple posts on digital devices like PCs, Mobile phones, tablets, Mac, etc. She loves to share ideas with people of the same interest.
Written by Tracy King 
Tracy joined in EaseUS in 2013 and has been working with EaseUS content team for over 7 years. Being enthusiastic in computing and technology, she writes tech how-to articles and share technical solutions about Windows & Mac data recovery, file/system backup and recovery, partition management and iOS/Android data recovery.
About EaseUS Key Finder
EaseUS Key Finder offers complete solutions for you to efficiently find Windows or Windows Server product keys, discover Offce, Adobe, and other installed software serials, and find WiFi codes, etc, successfully in simple clicks.