Nowadays, it is common to receive a prompt saying, I'm not a robot while browsing your favorite content. Google has offered a free-of-cost service called reCAPTCHA that assists with mitigating automatic attacks on websites. 
Recently, many users have been facing trouble with reCAPTCHA, which fades away without the website's opening. Instead, you may see a warning on the screen that says that the PC is sending queries in automation, and for the protection of other users, it cannot process the request. The issue arises because of outdated browser versions, IP addresses, interruption by VPN, corrupted browser profiles, etc.
We can help you to resolve reCAPTCHA not working in any browser with our helpful solutions.
Solution 1: Checking for Malware Issues
Whenever you unknowingly download any malicious or infected app/file using the internet, you let the Malware infect your system. You may also receive them via emails while tapping on suspicious links and images, or they get hidden by browsers. So, it is better to go ahead with scanning the PC for Malware and make a way to resolve reCAPTCHA not working in any browser. In addition, Microsoft provides free antivirus in the form of Windows Security.
Steps to Use:
Step 1: Fetch your system tray and tap on the icon for "Windows Security." If you cannot find it, you can check for it under the option of "Show Hidden Icons." As an alternate option, you can also go ahead by tapping on the logo key of Windows. Then type "Windows Security" and tap on the "Enter" option.
Step 2: Tap on the option for Virus and threat protection and then move ahead by tapping on the "Quick Scan." You will notice a scan being initiated to check the Malware. If you want more options for scanning the PC, tap on "Scan Options." Then choose the one you want to run.
Once the scanning is done, the threats are quarantined for analysis and removed from the PC. 
Solution 2: Updating Your Browser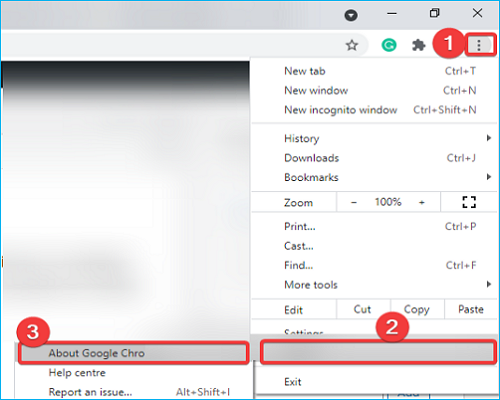 Keeping your Firefox/Chrome/Opera/Microsoft Edge updated can resolve reCAPTCHA not working in any browser. It helps in enhancing the browser security along with fixing the bugs and resulting in improvement of functionalities.
Steps to Use:
Step 1: Launch your browser- Google Chrome/ Mozilla Firefox/ Microsoft Edge. Then to display the browser settings, tap on the icon with a three-dot menu or three lines from the top corner on the right.
Step 2: Now select "Help" and tap on "About Google Chrome/ About Firefox" to open the page. 
Step 3: Your browser will check for any new updates. Once they are found, they will be downloaded and installed automatically.
Step 4: Once the updates are installed, you have to relaunch the browser. Then it would be best if you tried to access the website where the reCAPTCHA issue occurred. 
In case the issue still needs to be resolved, try another solution.
Solution 3: Resetting the IP Address
If you want to resolve reCAPTCHA not working in any browser, you may receive an indication of the issue in the form of a network error. However, resetting your IP address can assist in resolving the problem.
Steps to Use:
Step 1: Start by opening the elevated command prompt by pressing the "Win + R" keys. Then go ahead by typing "CMD" into the dialog box for "Run." Then tap on the "Enter + Shift + Ctrl" keys to execute the shortcut.  
Step 2: Now you will see a window for the Command prompt wherein you have to paste or type out the given command lines. Do this one after the other and press the "Enter" key. 
netsh Winsock reset
netsh int ip reset
ipconfig /release
ipconfig /renew
Step 3: As soon as you successfully execute all the commands, open any browser and see if the issue is resolved.
Solution 4: Disabling the VPN Service
As a novice user, you may need to be made aware that while using a proxy or VPN, you may face the reCATCHA issue. It may happen as the VPN service hinders the functionality of reCAPTCHA. However, disabling the VPN service can help you to resolve reCAPTCHA not working in any browser. You can temporarily disable this service to determine if the issue is resolved. 
Talking to your service provider can help you further if you are using paid VPN service. 
Solution 5: Disabling the Extensions
Quite a several times, you may face issues with the reCAPTCHA due to the web browser extensions installed on your device. However, you can resolve reCAPTCHA not working in any browser by disabling the extensions in Chrome, Firefox, Edge, or any other browser you use. 
If you find that after following this step, your issue gets resolved, identify the extension causing the problem. Start enabling the extension one by one and test for the issue popping up. Once you recognize the browser causing the issue, remove it and find an alternative to keep your work going. 
Conclusion
To prevent the bot from using your sensitive information, Google has provided a reCAPTCHA option. It provides security from automated tools that are malicious and also helps in preventing spam attacks. However, sometimes, it may fail to perform well due to various issues, and you get an error message. 
We hope we resolve reCAPTCHA not working in any browser issue you were facing while browsing. Use the above solutions to see if your problem gets fixed. You can also talk to an expert if you are a beginner and need help executing the solutions.
EaseUS Data Recovery Services
EaseUS data recovery experts have uneaqualed expertise to repair disks/systems and salvage data from all devices like RAID, HDD, SSD, USB, etc.