Say you have just set up your new computer, transferring your data, settings, and accounts from the old one. Instead of a regular old static image on your background screen, you can now change your wallpaper to a cool picture or set a moving video or animation as your desktop background. 
High-definition images of cats or your favorite football team are nice, but after a while, they start to get old. With live wallpapers, you get a background that pops and shifts the visual display from bland to interesting. You would be adding an instant extra touch of ownership to your computer. 
What's not to love?
How to Set Live Wallpaper on Windows 10
Let's get down to business. The options below will allow you to set live wallpapers on your Windows 10 computer.
Desktop Live Wallpaper
The Desktop Live Wallpaper app allows you to use any video file on your PC as a live wallpaper. Available in the Microsoft Store, the free app will let you use Windows Media Viewer (WMV) video files as the live wallpaper. 
To use any other type of video file or have more control over your playback options, you would have to upgrade to the Desktop Live Wallpapers Pro for $3.99. 
Step 1. Once installed, the Desktop Live Wallpaper will appear as an icon in the notification portion of your taskbar or the Start Menu. Open the app.
Step 2. Click "Make New Folder".
Any folder you add will be automatically monitored for video files to add to the playback.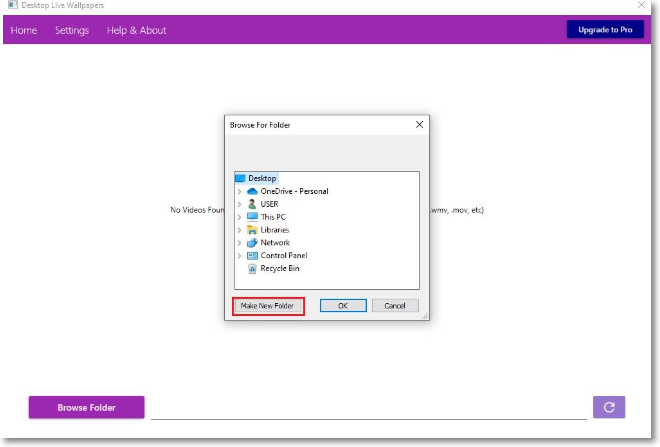 Step 3. Select a folder to monitor in the Browse Folder window, then click "OK" to add it to the list.
Videos in the selected folder will appear in the main videos list and play automatically as your desktop wallpaper.
To change playback settings, click on the "Settings" tab. You can change the launch options, preferred video player, and sound settings. 
To stop the video playback anytime, right-click the icon in your taskbar and click "Pause/Play live wallpaper". Alternatively, exit to leave the app completely and make your wallpaper static once more. 
VLC media player 
Available on all operating systems, the open-source VLC media player can play any video format available. It is one of the fastest methods to change your regular wallpaper to live wallpaper, albeit temporarily. You can only use the live wallpaper as long as VLC is open.
Step 1. Open the VLC media player and play the video you want to use as your live wallpaper.
Step 2. Right-click while the video is playing and select "Video" > "Set as Wallpaper" from the dropdown menu.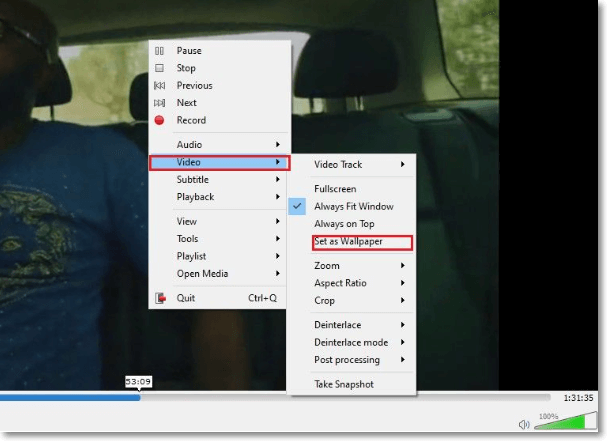 Although the VLC method sets a video as your wallpaper, some icons may be missing from your screen. It functions more as a modified full-screen mode than a live wallpaper. 
Push Video Wallpaper 
If you're leaning toward using video wallpapers more permanently, a third-party app like Push Video wallpapers is a suitable method. Push Video Wallpapers has sample videos and GIFs for you to experiment with when you first install the app, but you can use your videos, GIFs, or YouTube videos. 
It also allows you to create playlists, loop between different media types, or set a single video to loop. 
Step 1. Download and install Push Video Wallpaper. As soon as it's installed, Push will run a live wallpaper as a demo.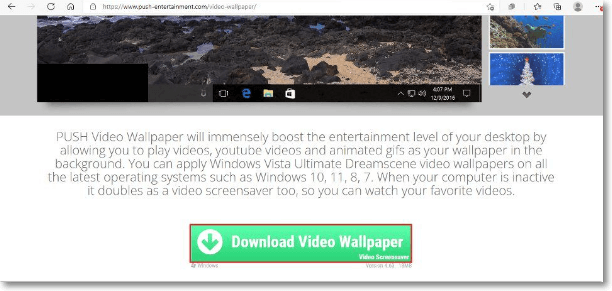 Step 2. Open the app and create a new playlist by clicking the "Playlist" icon and selecting "New" from the dropdown menu.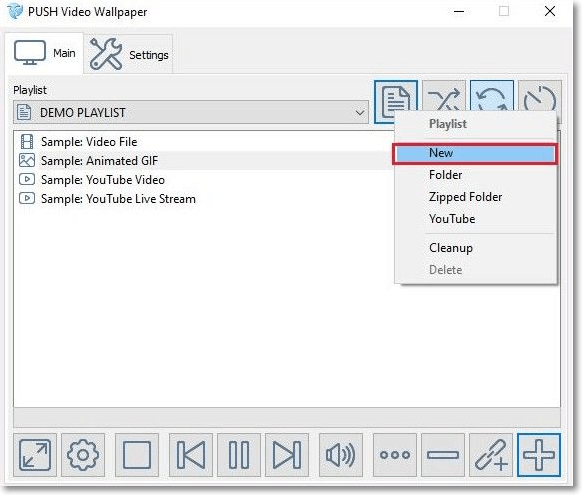 Step 3. When the new playlist is created, type in a name for your playlist and click "OK" to save.
Step 4. To add a new clip, click the "+" icon at the bottom of the window.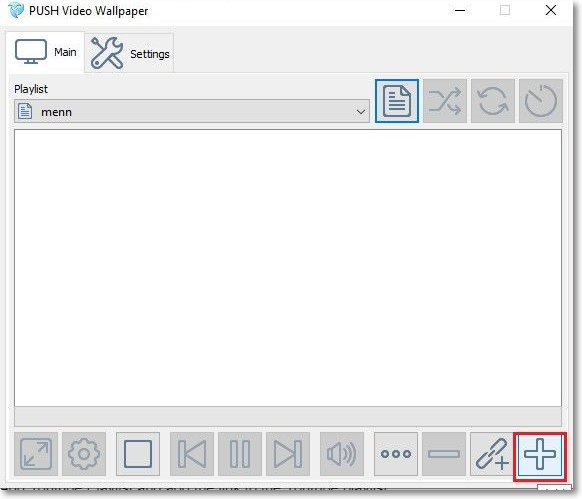 Step 5. Select your video clips, images, or GIFs to add to the playlist. If you do not want to create a playlist but instead use one clip-on loop, only select the video you want to play.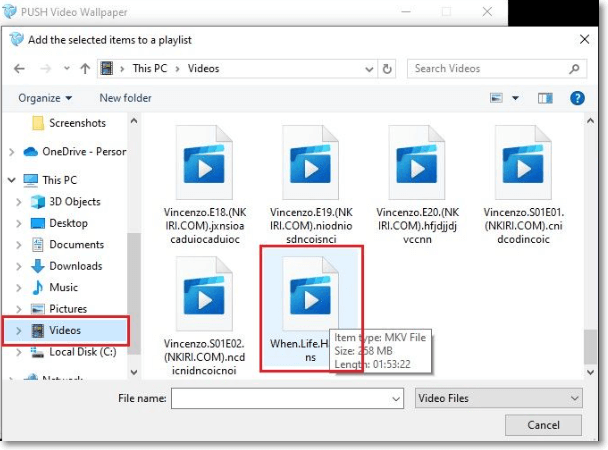 Step 6. If you want to add a Youtube video or an internet video, click the "Add URL" icon in the bottom-right corner of the screen.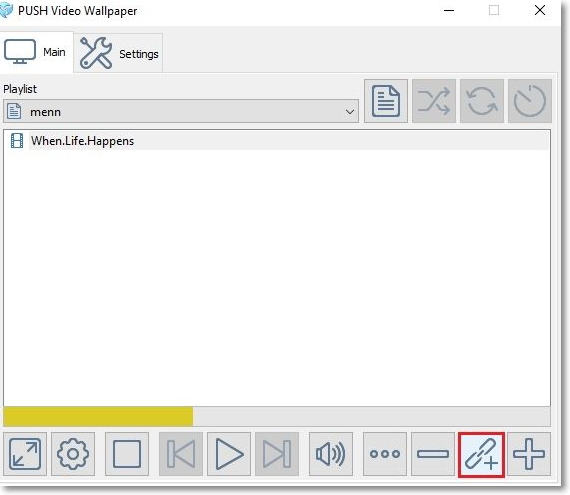 Step 7. Paste the link into the Add URL dialogue box, then click "Paste from Clipboard" to add it to your playlist.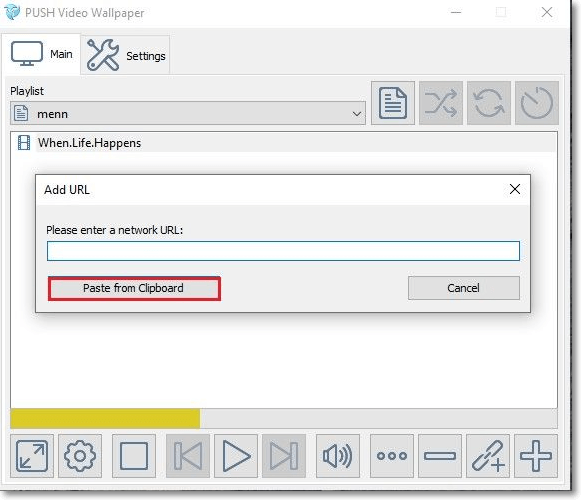 Step 8. If you'd rather have a YouTube playlist as your live wallpaper when you click the Playlist icon on the top-right corner, select "YouTube" from the drop-down menu.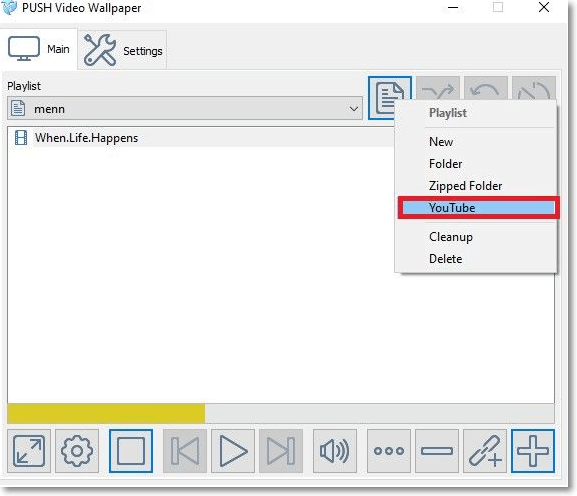 Step 9. To add the videos from the playlist to your personal Push Video Wallpaper playlist, click "Add YouTube Playlist" and add the link to the YouTube playlist.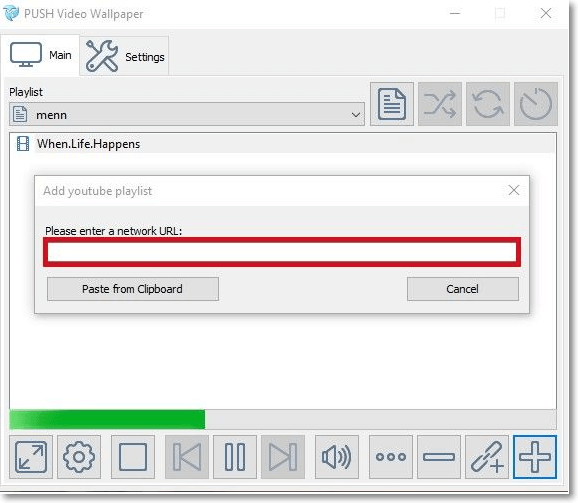 You can minimize your Push Video Wallpapers window to make it invisible. Selecting "Settings" > "Basic" > "System Tray Icon" will convert it to a system tray icon, hiding it from the taskbar's notifications area. Additional functionality includes a shuffle button, the ability to alter the video intervals, and a volume/mute button. These settings help control audio volume whenever you'd prefer to be working. Push Video wallpapers are one of the most common methods of getting live wallpapers on your Windows 10. Although it costs $10 to upgrade to more controls, the free version is suitable for most users.
Lively Wallpapers 
Another method to get live wallpapers on your Windows 10 is by using Lively Wallpapers. You can get this app from its website or the Microsoft Store. 
Step 1. Once installed, open the app and right-click on any of the live wallpaper samples available.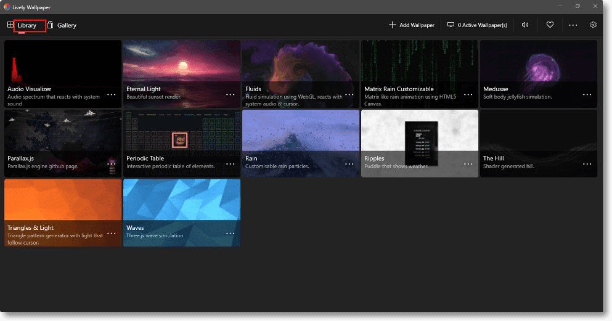 Step 2. To customize a wallpaper, right-click on the image and select Customise on the drop-down menu that appears. Here, you can edit parameters such as animation speed and the wallpaper image. 
Step 3. After you download a wallpaper, click "Add Wallpaper" at the top right corner to set it up. 
Step 4. Click on "Browse" and select the file from your Downloads. If you're using a video from the internet, paste the link into the URL dialogue box.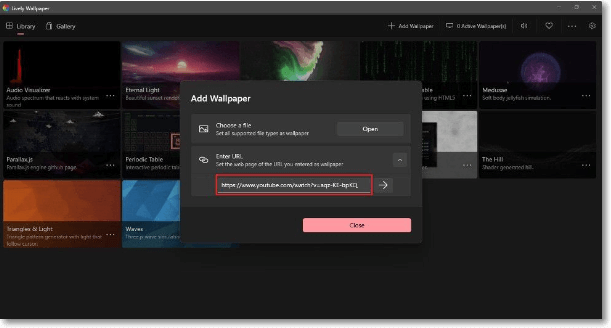 Drawbacks of Using Live Wallpaper on PC 
As fun as it is to have an animated wallpaper, there are certain disadvantages to having live wallpapers. Live wallpapers drain battery life faster on a computer that is not plugged into a power source. The images in constant motion on your screen depend on your PC's CPU for rendering, which in turn, causes your battery life to reduce. Luckily, the battery drain is not as significant on newer model computers as on older ones. Live wallpapers also slow down your PC. However, this depends on the specifications of your PC; for lower configuration PCs with little RAM, live wallpapers put additional demand on the processors and slow it down. 
EaseUS Data Recovery Services
EaseUS data recovery experts have uneaqualed expertise to repair disks/systems and salvage data from all devices like RAID, HDD, SSD, USB, etc.