Do you know how to transfer Android data to PC? Help!
"So do you have any clues to transfer Android data to PC? Why is that? Recently, Samsung S7 has aboard the world market and it looks really hot! I want to change my phone with this new phone.
And here is my problem that I don't have any Cloud account and I cannot backup all my personal data to Cloud. So can it be possible for me to transfer Android data to PC? My present phone is Google Nexus 5 and I was wondering whether I can do a backup in my computer. When I get the Samsung S7, I can import my Android data into the new phone. So if you do know how to transfer Android data to PC, please help me out. Thanks!"
What is the best Android file transfer? EaseUS can help.
If you are looking for a secure way to backup your personal data from Android phone to PC or migrate Android files to PC, you are highly recommended to find a secure Android file transfer tool. It has to be risk-free and no virus.
If you Google "Android file transfer", you may not get wanted result. Overwhelmed ads and confusing information may mislead you. Here EaseUS software, as a responsible data recovery software producer, will offer you its best Android file transfer software so to effortlessly extract wanted Android data to PC. You can easily find it online by searching EaseUS MobiSaver for Android. This software is fully compatible with all Android systems including the latest Marshmallow. You can now free download this software and follow next steps to see how to transfer or move Android data to PC.
Tutorial: transfer Android data to PC step by step
Step 1. Connect Android phone or device with PC and launch EaseUS MobiSaver for Android.
Click Start to allow the software recognize and analyze your Android device.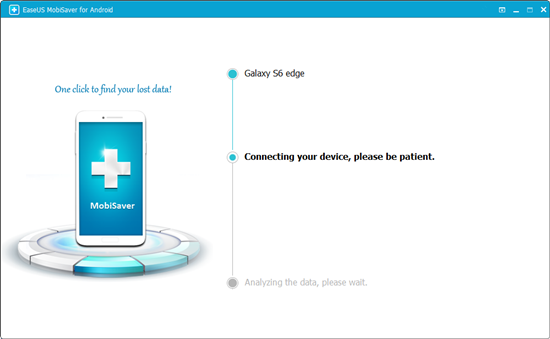 Step 2. Let EaseUS MobiSaver for Android scan your Android phone and find all your present data.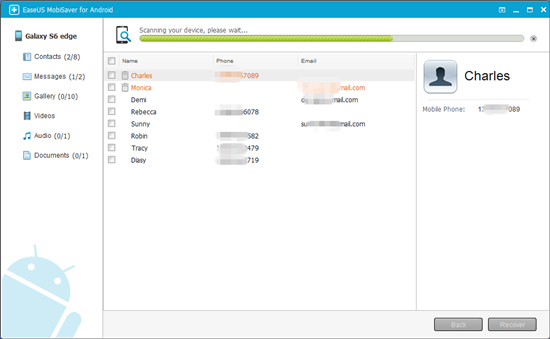 Step 3. Preview and selectively choose wanted data to transfer from your Android phone to PC.
To specify a secure spot to transfer Android data is quite necessary.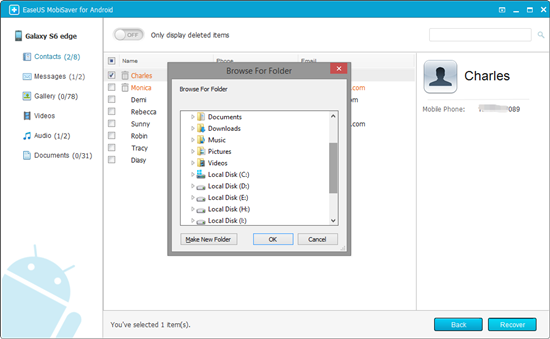 If you need to restore lost android data or move private personal files from your Android phone or Pad, EaseUS MobiSaver for Android can really help!