
Table of Contents

About the Author

Reviews and Awards

Best Data Recovery Software
| Workable Solutions | Step-by-step Troubleshooting |
| --- | --- |
| Fix 1. Clear System Storage on Mac by Emptying the Trash | For those files you don't want to be in the trash, dragging them into the trash bin...Full steps |
| Fix 2. Delete Mac System Data by Clear Time Machine Snapshots | If you're wondering how to delete Mac system data, clear time machine snapshots...Full steps |
| Fix 3. Remove Unnecessary iOS Backups to Clear System Storage on Mac | If you have iPhone backups on your Mac, you may discover them in the Finder or...Full steps |
| Fix 4. Delete Cache Files in the Library to Clear System Storage Data | Cache files are mainly created while using apps on Mac. Even though they can...Full steps |
| Fix 5. Update macOS Version to Delete Mac System Data | This is another way to clear system storage on Mac. So, remember to update your...Full steps |
Why Need to Delete Mac System Data
Are you worried about what's causing excessive space on your Mac? But you should know that you can quickly clear system storage on Mac without any hassle! You must be grappling with lower storage issues and trying to vacate more space on the Mac. So, you can go to the General menu and find Storage settings to look at the details about what's lowering the space on your macOS Ventura.
If you're wondering why you should delete Mac system data, let us inform you that it's crucial to eliminate outdated iOS backups as this is another hogger, which takes up redundant spaces on your Mac. However, let's discover the top 5 ways to clear system storage on Mac without delay.
Besides the 5 methods, we will also offer an enlightening video to users on how to clear system storage on Mac. So, here are the leading points to consider:
00:18 Clean hidden files on Mac
00:38 Use iCloud to optimize storage
02:58 Contact Apple Support
Fix 1. Clear System Storage on Mac by Emptying the Trash
For those files you don't want to be in the trash, dragging them into the trash bin doesn't indicate complete deletion from your Mac. But if you choose to empty Trash on Mac, it will delete all the system storage.
Users often need to remember the files to delete from the trash bin, which leads to easy accumulation. It's one of the biggest reasons for being a more significant part of the system storage. Therefore, it's highly recommended to delete Mac system data regularly with the below-mentioned steps:
Step 1. Hit the Trash icon and keep holding it on the Dock.
Step 2. You will see the pop-up message "empty trash." So, go for it!
Step 3. You may vacate the trash bin by pressing the Command + Shift by commencing Finder.
Step 4. Select "Delete." Opt for Finder if you're willing to empty the trash bin automatically. For this, you need to select Preferences and choose Advanced. After that, don't forget to select "Eliminate items from the trash after 30 days."
By the way, you can also empty the Trash by using the move to Trash shortcut on Mac.
Fix 2. Delete Mac System Data by Clear Time Machine Snapshots
If you're wondering how to delete Mac system data, clearing time machine snapshots is the best way. Your MacBook keeps a functional replica of the Mac Time Machine backup if the external drive is not available. So, here are the steps below to clear the system data manually:
Step 1. Launch Terminal through Launchpad or Spotlight. (Check this link if you don't know how to open Terminal on Mac.)
Step 2. Hit the "Return" key on the keyboard after typing in tmutil listlocalsnapshotdates, and you will quickly find a wide array of backups completed by dates.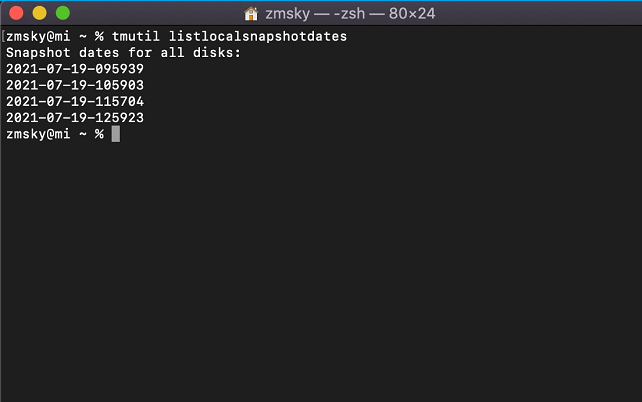 Step 3. In order to delete a backup, it's recommended to type tmutil deletelocalsnapshots "xxxxxxx" into the Mac Terminal. After that, provide the correct password for the user account in case you're asked to enter, and hit Return.
[N.B: Here, xxxxxxx implies the backup data you're willing to eliminate.]
Fix 3. Remove Unnecessary iOS Backups to Clear System Storage
Do you have iPhone backups on your Mac? If yes, you may discover them in the Finder or the outdated versions of macOS utilized by iTunes. Follow the steps below:
Step 1. Launch the Finder.
Step 2. From the left-hand menu, choose your iPhone.
Step 3. Opt for "Manage backups."
Step 4. Highlight those backups which you don't need anymore.
Step 5. Hit the "Delete backup" option after confirming your preference.
In case you can't find your device, it means you don't have any backup on the Mac. Hence, it would be best to back up your iPhone using iCloud.
Are you using macOS Mojave or any older version? If so, you will require to utilize the now-defunct iTunes. Follow the steps below:
Step 1. Launch iTunes.
Step 2. Opt for iTunes from the top left side; after that, hit "Preferences."
Step 3. Select the Devices tab from the window that pops up.
Step 4. Highlight those backups which aren't needed anymore.
Step 5. Hit "Delete backup."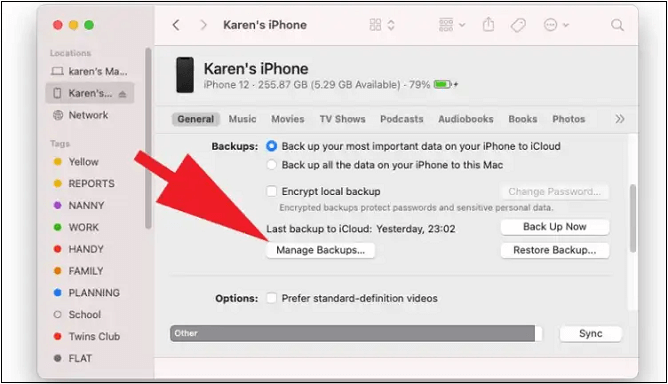 Fix 4. Delete Cache Files in the Library to Clear System Storage Data
Cache files are mainly created while using apps on Mac. Even though they can reduce the time, it takes for websites and applications to load when reopened them. The memory will suffer if there are too many old caches. Since you want to expunge more space on Mac, you might opt for deleting futile files or renaming the temporary files:
Step 1. Launch Finder, and choose "Go to Folder".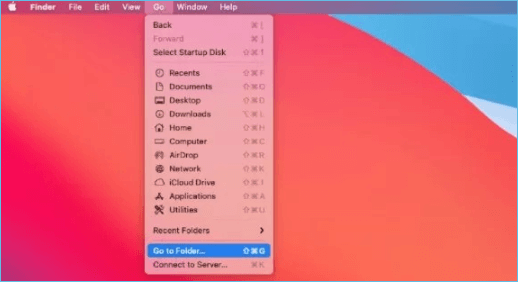 Step 2. Enter ~/Library/Caches/, and once done, click "Go".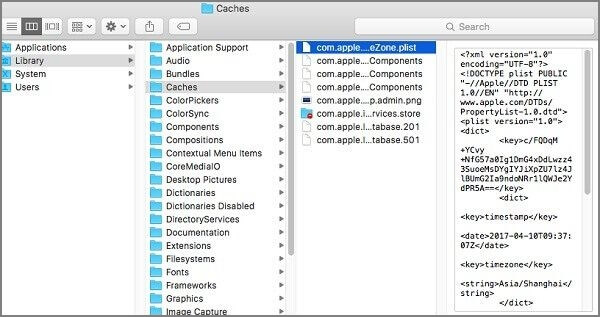 Opt for the necessary cache files to eliminate once Mac's caches folder appears.
Related reading: Mac Cache Recovery: How to Recover Deleted Cache Files on Mac
Fix 5. Update macOS Version to Delete Mac System Data
This is another way to clear system storage on Mac. So, remember to finish the latest macOS update. It might use up a significant amount of system capacity on your hard drive if you install an upgrade for your Mac but don't execute it. System storage on your Mac may be cleared by upgrading. A macOS issue can also consume a lot of disk space. Your Mac may receive a patch for this problem as well.
Recover Deleted System Data on Mac with Recovery Software
Have your data been lost accidentally? Do you want to recover them all? It's now possible to retrieve the deleted system data on your MacBook with the professional software EaseUS Data Recovery Wizard for Mac.
Such a top-notch recovery tool can recover deleted files Mac of all sizes, including a single Office Word document and a large number of images that you save on your Mac, from various data loss circumstances. These are the leading data loss scenarios from where you can retrieve the files due to formatting, repartition, system crash, deleting partition loss, and virus attack.
On the other hand, this professional tool is considered the best mac data retrieval software, which can recover any amount of lost data following an accidentally deleted file, like Mac Trash recovery, with three effortless actions.
Step 1. Search for lost files
Select the disk location to search for lost files (it can be an internal HDD/SSD or a removable storage device) on macOS Sierra, High Sierra, Mojave, Catalina, Big Sur, Monterey and the latest Ventura. Click the "Search for lost files" button.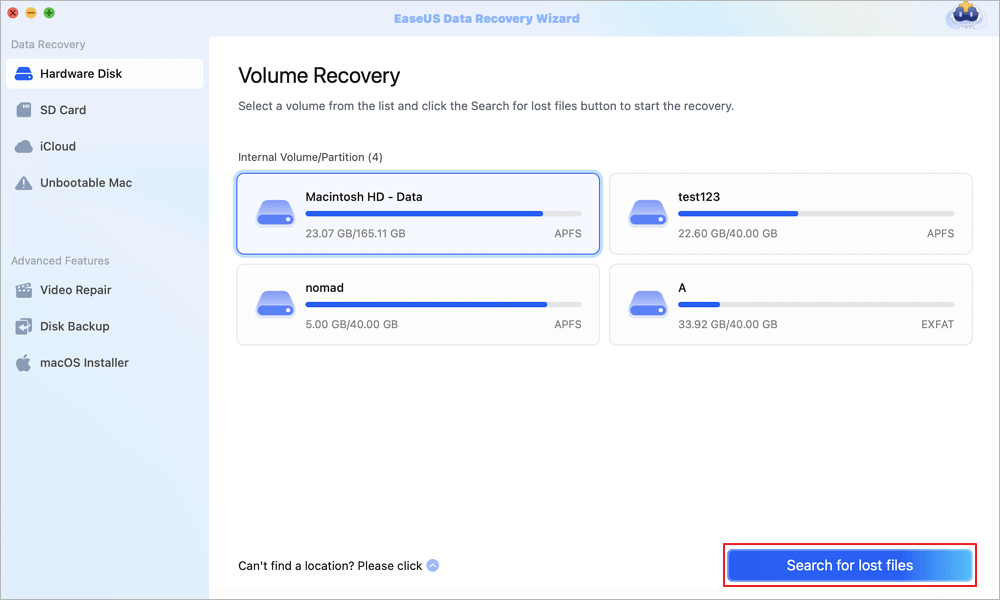 Step 2. Go through the scanning results
EaseUS Data Recovery Wizard for Mac will immediately scan your selected disk volume and display the scanning results.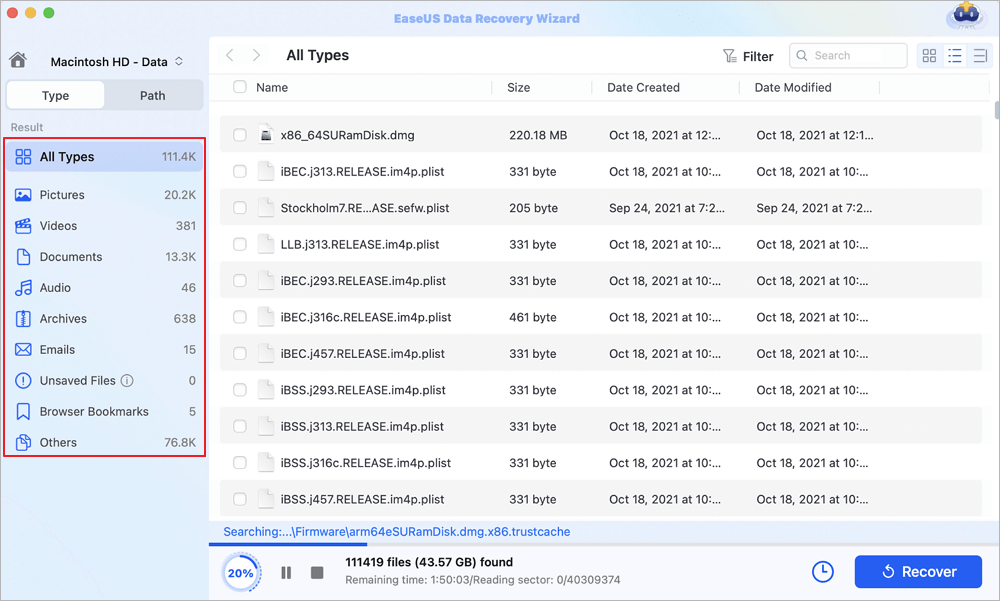 Step 3. Select the file(s) and recover
In the scan results, select the file(s) to preview and click the "Recover" button to have them back.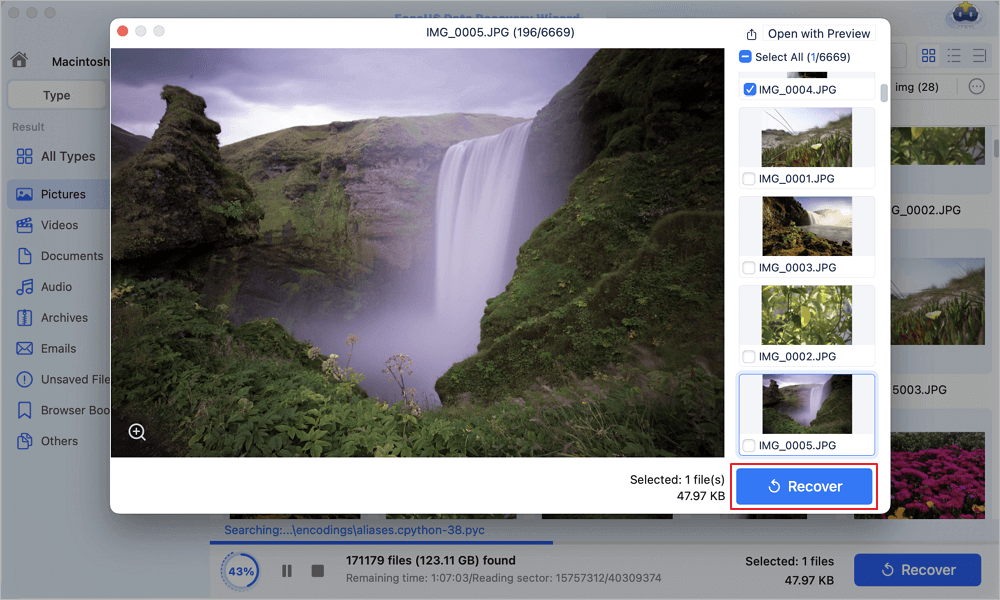 Summary
This article concludes by defining why you need to delete system storage on Mac and outlining 5 different ways to do so. The easiest and most efficient option is to use a specialized Mac cleaning like EaseUS Data Recovery Wizard for Mac. Dozens of gigabytes of storage capacity on your Mac might be consumed by cache files and Time Machine backups in System Information storage.
macOS should handle it so you never run out of disk space. However, give EaseUS Data Recovery Wizard for Mac a try if you want to perform a System Data cleanup or remove unnecessary space on your Mac. The amount of room you regain after that could amaze you.
Delete Mac System Data FAQs
The detailed FAQs are given below if you need a better understanding of this topic:
1. Why is my Mac full of system data?
The daily local snapshots created by Time Machine are one of the critical causes of the System eating up space. Although you may believe that Apple only generates regional snapshots on your startup storage, Time Machine backups are also kept locally.
2. How to free up the Mac startup disk?
Follow the steps below to free up space on Macintosh HD:
1. Get rid of the trash and downloads folders
2. Eliminate the time machine snapshots
3. Remove outdated iPadOS and iOS backups
4. Uninstall the apps which aren't in use
5. Send your most extensive files over or export them
6. Spot and eliminate the duplicate files
7. Eliminate unused system files
3. How do I clear my Mac system cache and junk?
Follow the steps below to eliminate system junk and cache on a Mac:
1. Launch the Finder
2. Hold the button Command+Shift+G
3. Hit Return after typing /Library/Caches into the path section
4. You may notice the cache files right after the window pops up
5. Only the contents of each folder should be removed as you go through each one
4. How to clear Mas system data without the software?
Follow the steps below once you have agreed on deleting:
1. Select the Go option, and choose Go to Folder from the menu bar after clicking on the Finder.
2. You need to type ~/Library/Caches into the search box and hit enter.
3. On your smartphone, delete the folders connected to any apps you no more need.
4. For other directories, you wish to remove, follow the same procedure.
5. Finally, after eliminating the useless files, remember to clear the Trash.

Dany is an editor of EaseUS who lives and works in Chengdu, China. She focuses on writing articles about data recovery on Mac devices and PCs. She is devoted to improving her writing skills and enriching her professional knowledge. Dany also enjoys reading detective novels in her spare time.
EaseUS Data Recovery Wizard is a powerful system recovery software, designed to enable you to recover files you've deleted accidentally, potentially lost to malware or an entire hard drive partition.

 Read More

EaseUS Data Recovery Wizard is the best we have seen. It's far from perfect, partly because today's advanced disk technology makes data-recovery more difficult than it was with the simpler technology of the past.

 Read More

EaseUS Data Recovery Wizard Pro has a reputation as one of the best data recovery software programs on the market. It comes with a selection of advanced features, including partition recovery, formatted drive restoration, and corrupted file repair.

 Read More