You may have a lot of important data on your computer, however, you cannot carry a PC or Mac in your pocket and take it to everywhere you go. You have to send those data by transferring files from computer to iPhone. But it is not that easy to send files to iPhone. iTunes is the commonest tool, but it has too many problems. You may have to get over the iTunes error like Error -54 or -69. What's more, we have found that lots of users are complaining about iTunes running slow. How to transfer files from computer to iPhone/iPad without iTunes?
Method 1. EaseUS MobiMover
If you still stuck with the iTunes limitation on importing files to the iOS device, you can find the easiest solution that is by using MobiMover Free, the iPhone transfer software, to move files from PC to iPhone/iPad. As long as you computer is running on the Windows 10/8.1/8/7, and your iOS device is after iOS 8, you can use this software to accomplish transferring target files easily. MobiMover not only supports iTunes function but also support file managing on iPhone.
1. Download and install EaseUS MobiMover Free on your Windows PC which is on Windows 7 or the system later. Then connect your iPhone/iPad to this computer. If your iPhone is asking for permission, please tap Trust on the screen.
2. Click the first button Transfer to this device on the user interface. You could choose to transfer data By folder or By file. This function will help you to transfer any kind of data to iPhone easily.
3. Find the data and files you want to transfer. If the files are not in the same folder, please click Add to select more files on the computer, you can send music to iPhone with contacts and photos at the same time, then transfer them together.
5. Click the Transfer button at the bottom of this window. The transferring process will be finished within a few seconds. Then, please check the files and data on your iPhone.
Method 2. Airdrop
Other methods would be working fine on the mission of transferring files from Windows PC to iPhone and iPad, but Airdrop is only for transferring files between Apple's devices. What's more, some files, like music songs, only can be transferred one per time.
Step 1. Open Airdrop and turn on the Wi-Fi and Bluetooth on both Mac and iPhone.
Step 2. For the device which is not in your contacts, please enable "Allow me to be discovered by".
Step 3. Drag the file in Airdrop window, or use the function "Share".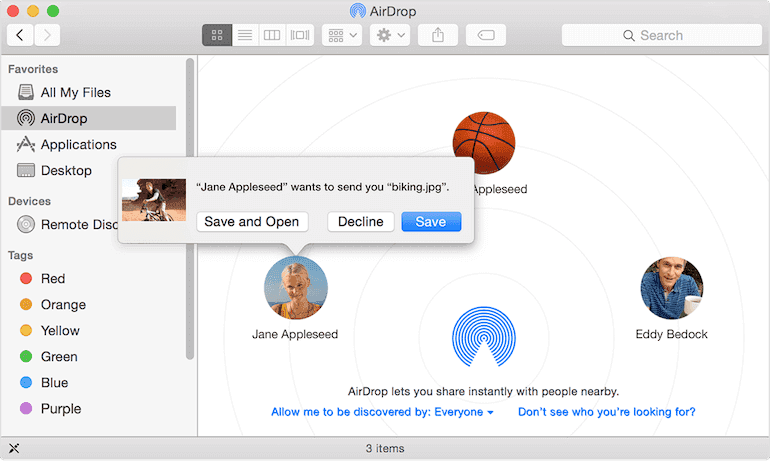 Method 3. E-mail
This is really the easiest way of transferring files to iPad or iPhone. Then send yourself an email, you don't even have to write a subject, just an address would be already enough. Now, take the files as attachments, next open the mail on iPhone or iPad, you will transfer the photos, songs and other stuff successfully.
But the problems of this method are quite obvious too, there are many limitations: the size of the files, the delay because of the network and other issues.
Method 4. iCloud Drive
The iCould drive is available for PC those have Win 7/8/10. If you want to use the iCould drive on Mac, it requires OS X later or OS X Yosemite.
Please notice that iCloud only has 5 GB free limitation.
Step 1. Download iCloud drive from Apple iCloud website.
Step 2. Sign in and finish the installation.
Step 3. Find your iCould Drive folder on your computer.
Step 4. Open the files with the app on iPad or iPhone.
There is something that you should notice: iCould drive does not technically transfer the files to the device, it's like open a gate on your computer and you can read or edit your file with certain apps on your devices. Most apps support this function.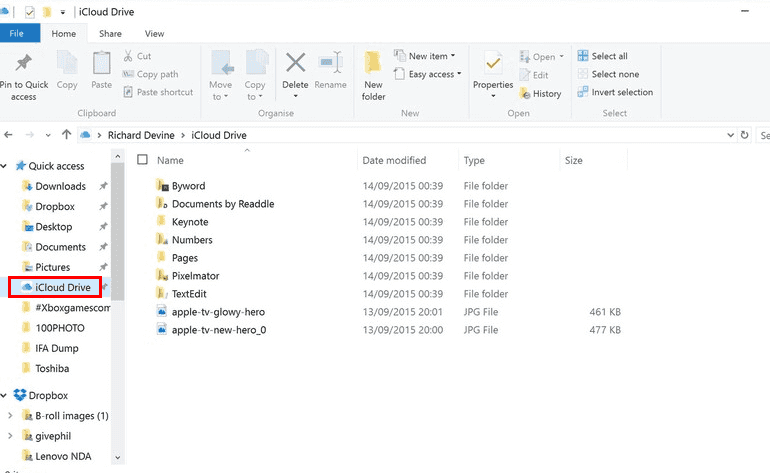 Method 5. Other online drives
There are many kinds of other cloud drives can be helpful, such as Google Drive and Dropbox. Most of these cloud drives have free trials or free spaces, and the limitations for free version are usually acceptable too. So, this could be another good choice for transferring files from computer to iPhone. But, it will be highly influenced by the network you are using.
Step 1. Upload your files to the cloud drive on the computer.
Step 2. Find the app of this cloud drive or open the site on iPad/iPhone directly.
Step 3. Download files with your mobile devices.