"I've got a new iPhone 8 recently, my biggest concern is about the photos stored on my old iPhone. I want to transfer all my precious photos to my new iPhone. Is there any way to make it?". If this kind of concern is bothering you, this blog post can help you out by providing three tips on how to import photos from one iPhone to another. One recommended choice is to use the professionally designed iPhone transfer software, MobiMover, with which you can transfer all your photos from your old iPhone to your new one without losing the existing data on your new device. While the other two choices are to use iCloud and iTunes. Read on to get the details.
Tip 1: Transfer photos from iPhone to iPhone for free with MobiMover
As an iPhone data transfer master, MobiMover Free can help you transfer files between two iOS devices (iPhone/iPad) or between iOS device and PC free of cost. The supported files are photos, videos, music, contacts, notes, books, Safari bookmark & history and more, depending which feature you'd like to use. If you import photos from iPhone to iPhone with MobiMover, you can choose to transfer the photos from Camera Roll, Photo Stream and Photo Library. What's more, the transferred photos won't replace the existing photos on the target device. Is it what you want? If your answer is "Yes", follow the steps below to have a try.
Step 1: Download and install MobiMover on your PC running Windows 10/8.1/8/7. For your devices to be identified, it's necessary for you to install iTunes on your PC, too.
Step 2: Connect your iOS devices to your PC and launch MobiMover. Remember to connect your source iPhone to PC first to avoid switching devices later. When a prompt appears on your source iPhone asking you whether to trust this computer or not. Tap on "Trust" to continue.
Step 3: Go to Custom > Photos from the main interface, choose the photo category, Camera Roll, Photo Stream or Photo Library and select the photos you'd like to transfer. After that, click the Transfer to Other Device icon and select the target device.
Step 4: After selecting the target device, the photo transfer will begin automatically. The time the process will take depends on the size of the files being transferred. Generally, it's quite fast if you don't have extra large files to transfer.
Step 5: When it's finished, you can go to the corresponding App on your target device to check whether the items are successfully imported.
It's really easy to use MobiMover even as a beginner, right? With MobiMover installed on your PC, there are more things you can try to manage your iOS content better. For example, you can transfer music from computer to iPad, import videos from iPhone to computer, back up text messages on iPhone to computer and more. If you want to know all the amazing features of MobiMover, read the complete guide of MobiMover Free to get more details.
Tip 2: Transfer photos from iPhone to iPhone with iCloud.
If you want to transfer photos with the built-in function on iPhone, using iCloud Photo Library is what you need. iCloud Photo Library enables you to sync photos among iDevices. Obviously, this method is suitable for syncing photos to your new iPhone but not to share photos with others. Before you apply this way, there are several things you need to pay attention to first.
The two iPhones should run in iOS 8.3 or later.
iCloud Photo Library on the two iPhones should be turned on.
Sign in the two devices with the same Apple ID.
Make sure the two iPhones are under Wi-Fi connection and your iCloud storage has capacity for the photos.
If all the preparations are correctly made, then follow the next steps.
Step 1: Open "Settings" App and hit on "iCloud".
Step 2: Choose "Photos" and turn on "iCloud Photo Library".
Step 3: Select "Optimize iPhone Storage" or "Download and Keep Originals". (The former means to upload your photos to iCloud while delete them on your original iPhone, the latter means to keep them on your iPhone. )
Step 4: Patiently wait for the photos to be uploaded.
Step 5: When the uploading process finished, you can view those photos by opening "Photos" App and choose "All Photos" on the target Phone.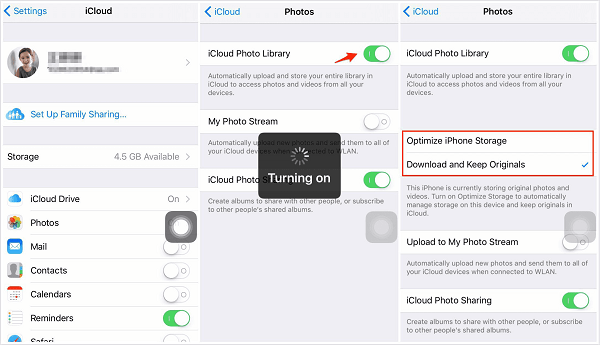 For users who prefer to use iCloud service, there is a recommended blog post introducing the tips on how to make iCloud backup faster. Hope it can be useful for its viewers.
Tip 3: Transfer photos from iPhone to iPhone with iTunes
The good news is that you can transfer photos via iTunes, but the bad new is that have to copy photos from one iPhone to computer first and the photos transferred will be limited to Camera Roll photos. Then transfer those photos from computer to another iPhone. If you think this relatively complex method is acceptable, try as follows. (If you have problems like "iPhone not showing up in iTunes" when you try this tip, fix it first according to the solutions first and then continue.)
Part 1: Transfer photos from iPhone to computer
If you are a windows user, you can copy photos to your computer with following steps:
Step 1: Connect your iPhone with your PC.
Step 2: When AutoPlay pops out, choose "Import Pictures and Videos".
Step 3: Locate a folder to store photos and tap on "Import".
If you are a Mac user, you can copy photos from your iPhone to computer with next steps:
Step 1: Connect your iPhone with your Mac.
Step 2: Make sure "iPhoto" runs on your Mac.
Step 3: Select the photos you intend to copy.
Step 4: Choose between "Import" or "Import Selected" to complete the photo transfer.
Part 2: Transfer photos from computer to another iPhone
Step 1: Connect the target iPhone with the Windows PC/ Mac.
Step 2: Make sure "iTunes" runs on the computer.
Step 3: Tap on the iPhone icon on the panel and choose "Photos".
Step 4: Choose where to sync photos from and click "Apply".
The photos will be transferred to another iPhone, but the original photos in the target iPhone will be replaced by the transferred photos.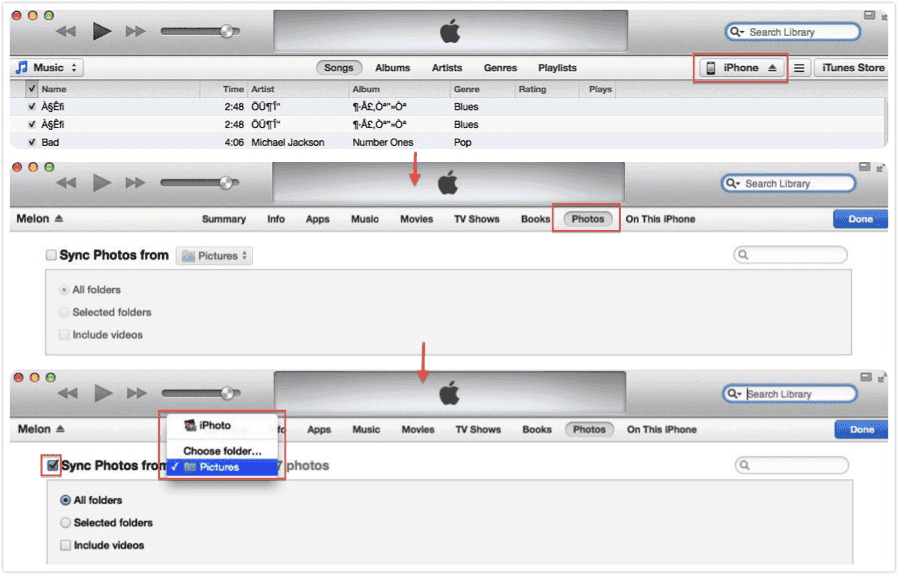 As you may notice, the last two ways to transfer photos from iPhone to iPhone are not perfect and each has some limitations. Please choose according to your needs.