As you may know, iCloud Drive enables you to keep all your files up to date on all your devices, which even becomes more convenient to use on iPhone/iPad in iOS 11 with the help of the Files App. In a word, if you have turned iCloud Drive on your Windows PC, Mac and iOS devices, you can keep all your documents and files on all these devices the same. However, the "iCloud Drive not syncing" issue are frequently reported by iPhone users. If you are reading this article, you must be one of them. If that's the case, no worry, here are the fixes you can try to cope with the problem effectively. Read on to get the details. (For solutions to other common iPhone problems, go to iOS & Mac Topics to find what you need.)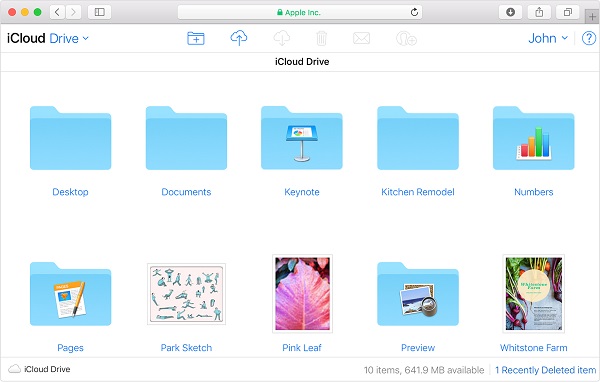 Notice

Looking for the free software to transfer photos from iPhone to computer or from computer to your iPhone? Read the article to get what you want.
Fixes to iCloud Drive Not Syncing on Windows 10/Mac/iPhone
Tip 1: Check your Apple ID and iCloud Drive Settings
No matter what your problematic device is, Windows PC, Mac or iPhone, you'd better make sure you have signed in to iCloud on these devices with the same Apple ID and you have set up iCloud Drive correctly. Follow the tips below to check your iCloud Drive settings.
On iPhone in iOS 11: Go to Settings > [your name] > iCloud and scroll down to turn on iCloud Drive.
On Windows PC: Open the desktop App, iCloud, to check your iCloud settings, check your Apple ID and make sure the checkbox next to iCloud Drive is selected. If not, click the checkbox and choose Apply.
On Mac: Go to Apple menu > System Preferences > iCloud and then select iCloud Drive.
Tip 2: Update to the latest version of iOS
iCloud Drive not syncing on your iPhone? Update your iOS operating system to the latest version and then check your iCloud Drive documents in the Files App. Go to Settings > General > Software Update and click Install Now if there is a new iOS update available.
Tip 3: Check the Internet connection on your Mac/Windows PC/iPhone
If you find the iCloud Drive does not sync or update, check the Internet connection on these devices. Good Internet connection is an essential part of iCloud Drive syncing. If there is something wrong with the network connection on your devices, fix the network related problem may solve the "iCloud Drive not syncing" issue. (WiFi not working in iOS 11? Learn how to fix it here.)
Tip 4: Check your iCloud storage
With iCloud Drive on, the documents saved in iCloud will be synced to iCloud Drive automatically. If your iCloud Drive not syncing is because the files don't update to iCloud, you'd better check your iCloud storage by going to Settings > [your name] > iCloud > iCloud Storage or Manage Storage. Or you can try to fix the "iPhone not syncing to iCloud" issue following the tips in the article about "iPhone contacts not syncing".
Tip 5: Hard Restart your Mac or iPhone
If iCloud Drive is not syncing on your Mac or iPhone, perform a hard reset on your device to have a try, which may fix the iCloud Syncing issue by restarting system process.
On Mac: Go to Apple Menu > Restart.
On iPhone X/8/8 Plus: Quickly press and release the Volume Up button, quickly press and release the Volume Down button and then press and hold the Sleep/Wake button (side button) until you see the Apple logo.