How can you sync your iPhone and iPad?
When it comes to syncing iPhone and iPad, there are generally other three methods you can choose in addition to using iTunes. If one of your iOS devices is new, it's a good option for you to restore the new device from the iCloud backup of the other device to achieve data syncing. If you want to sync some specific files, like contacts or photos, you can turn on the corresponding option under iCloud to get things done. The former two methods enable you to sync your you iPhone and iPad without computer, which is quite suitable if you don't have a computer/USB cable available. However, if you prefer to sync your iPhone with iPad all at once or selectively quickly and conveniently, you can use EaseUS MobiMover, the FREEWARE for iOS data transfer, file management, and video download to do it.
Carry out the method best suited to your needs.
Part 1: Sync iPhone and iPad without computer
Method 1: How to sync iPhone and iPad via iCloud backup (all content)
With this tip, you can copy almost all the data and settings between your iPhone and iPad, except:
Files that are already stored in iCloud, like Contacts, Notes, iCloud Photos, Messages
Touch ID settings
Apple Pay information and settings
iCloud Music Library and App Store content
Notice

Some files that you can't sync using iCloud backup, like contacts, can be successfully copied using EaseUS MobiMover introduced in Method 3.
Using this method is a preferred choice only when one of your iOS devices hasn't been set up yet. If both your iPhone and iPad have been set up, you will need to erase your iPhone/iPad to sync your iPhone and iPad via iCloud backup.
Connect your device to a Wi-Fi network and follow the tip below to clone an iPhone via iCloud:
First, back up your iPhone/iPad to iCloud.
Step 1: On the source device, go to Settings > [your name] > iCloud.
Step 2: Click iCloud Backup, choose Back Up Now and wait until the process ends.
Then, restore your iPhone/iPad from iCloud Backup.
Step 1: Turn on the target device to begin the setup process.
Step 2: Follow the onscreen instructions until you reach the Apps & Data Screen.
Step 3: Choose Restore from iCloud Backup and sign in to iCloud with your Apple ID.
Step 4: Select the correct backup to begin the syncing process. (The time it will take depends on the size of the backup and the speed of the network. Be patient and stay connected during the restore.)
Method 2: How to sync your iPhone with iPad via iCloud syncing (specific categories)
It's much easier if you just need to sync some file types, like Photos, Mail, Contacts, Calendars, and Reminders, between your iOS devices. All you need to do is to sync into your iPhone and iPad with the same Apple ID and switch on the options you need to sync. Here are the detailed steps:
Notice

Using this method is helpful in synchronizing all items in a category between two iOS devices. While if you want to selectively copy content in a category, Method 3 is the only way to do it.
Step 1: On your iPhone, go to Settings > [your name] > iCloud.
Step 2: Toggle on the button next to the category/categories you'd like to sync between your iPhone and iPad.
Step 3: Repeat the first two steps on your iPad.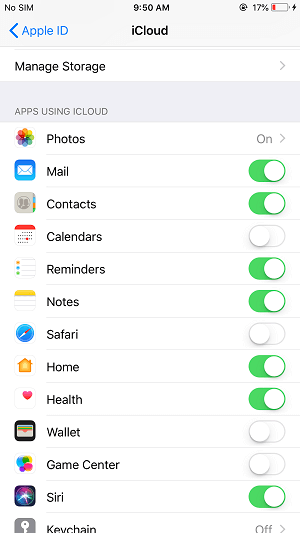 The two ways above is to use iCloud to help you sync your iPhone to iPad/iPad to iPhone in one way to another. As you may know, iCloud only provides the first 5GB of storage for free. In a word, you need to free up your iCloud space quite often or buy more storage to use iCloud smoothly. Besides, iCloud requires a stable Wi-Fi connection to work. When you are using cellular data on your iPhone/iPad, using iCloud is not the solution for you. That's why we cover a third choice for you here, with which you can sync all photos, videos, contacts, audio, and more between your iPhone and iPad according to your needs. Read on to get more details.
Part 2: Sync iPad and iPhone with computer
Method 3: How to sync iPhone with iPad with EaseUS MobiMover
With EaseUS MobiMover Free, which is equivalent to an iOS data transfer tool, a file manager, and a video downloader, installed on your computer running Windows or macOS, you can sync your iPhone to iPad or iPad to iPhone with just four steps.
► What can MobiMover do for you?
Transfer data between two iOS devices (iPhone/iPad in iOS 8 and later) or between an iOS device and a computer (Mac or PC). Whether you want to sync iPhone and iPad like in this case or transfer files from computer to iPhone/iPad, EaseUS MobiMover is always a good helper.
Manage content on your iOS device by deleting, editing, adding items from the computer.
Download videos from websites, like YouTube, Vimeo, Instagram, Facebook, Twitter, Metacafe, Dailymotion, BBC News, and more. You can choose to download videos from any site using the URL to your computer or iPhone/iPad.
► What are the file types MobiMover supports?
Audio: Music, Voice Memo, Ringtones, Audiobooks
Images: Camera Roll, Photo Library, Photo Video, and Photo Stream (all included in Photo)
Videos: Movies, TV Shows, Music Videos
Others: Contacts, Notes, Books, and Safari Bookmark
All the file types listed above can be synced from one iOS device to another. Other categories like messages and voicemails can only be transferred from iPhone/iPad to computer.
► How much do you need to pay for MobiMover?
Nothing. You can transfer files, manage device content, and download videos from websites without any cost or limitations.
Why not give it a try NOW?
Step 1: Connect your iPhone and iPad to your computer with compatible USB cables and tap on Trust This Computer on the devices to continue. Start EaseUS MobiMover Free and go to the main interface. For data syncing between iPhone and iPad, you need to choose the iDevice to iDevice transfer pattern.
Step 2: Once you click it, you'll enter the data loading interface. Here, MobiMover supports you to transfer all the supported iOS files at a time in one click. It's unnecessary for you to check the data types on your own.
Note: You can click the drop-down arrow next to the iPhone/iPad to set the source/target device correctly.
Step 3: Now, click Transfer to transfer data from iPhone to iPad at a fantastic speed. If the files are too large, you need to wait patiently as it may take a little longer time. After that, go to the related apps to view the synced files on your iPad.
The final words
All the three methods introduced in this article are for data syncing between iPhone and iPad. It's up to you to decide which way is the best for your situation. If one of your iOS devices is new, we highly recommend you to sync your iPhone and iPad using Method 1. If you prefer to copy specific items between your devices without computer, Method 2 is for you. While if both of your iOS devices have files on it and any data loss is unacceptable for you, don't hesitate to try Method 3. Hope one of the solutions is useful to you.