iTunes is the only official tool to put music on your iPhone and Apple users rely on it too much in spite of its complexity. If you don't want to be locked down by iTunes or by another third-party iPhone data transfer program that will cost you a certain number of dollars, then, how to put music to iPhone without iTunes with ease? In the guide below, we recommend a few free solutions to transfer music to iPhone without iTunes. Try them one by one to improve your iPhone data management skills.
How to Put music on iPhone without iTunes
Method 1: MobiMover - free iPhone data transfer tool
In order to easily and rapidly transfer music from PC to iPhone without iTunes, you can try EaseUS MobiMover, the all-in-one, and free iPhone transfer software. With the aid of MobiMover, you can add music to iPhone directly by folder or by files. All you need to do is prepare the music files on the computer and MobiMover will help you put them on iPhone with a single click. Now, let's get started with the simple installation of MobiMover.
1. Simply download and install EaseUS MobiMover on your computer with Windows 7, 8, 8.1 or 10 by clicking the download button below. Besides this, you will also need to install iTunes on your PC for reading iPhone data, which is inevitable for a third-party tool. MobiMover consists of four iPhone data transfer types: transfer files from PC to iPhone, copy data between two iOS devices, back up data from iPhone/iPad to PC and custom iOS data transfer.
2. Connect your iPhone to the computer with a supported USB cable. Find EaseUS MobiMover on your desktop and launch it. Click Transfer to This Device to put music to iPhone By folder or By file.
3. Next, navigate to your computer to find the music contents saved at the very beginning and click Open to add to MobiMover. You are able to transfer batches of music files at one time.
4. Before you start to transfer the selected files to your iPhone, you can add more music files in the transfer interface by clicking the Add button below the iPhone categories list.
5. Click the Transfer button to start to putting music to iPhone, and MobiMover will transfer the music at lightning speed. The data size will affect the transfer speed, so please patiently wait a few seconds.
For iPad users who want to put music from computer to iPad, EaseUS MobiMover is also a good helper and the above steps works too, you just need to change the iPhone to iPad in the second step. Apart from music, MobiMover still supports putting many other types of files to iOS devices, including importing photos from PC to iPhone, adding ringtones and PDFs to an iPhone or iPad.
Method 2: Google Play Music Cloud Service
Google Play Music is one of the free and big-name cloud service Apps that allows uploading up to 50,000 songs for free. Once you have uploaded your favorite music to the cloud, you can enjoy them on an iPhone when you are either online or offline.
Install web App > choose the target music > upload to cloud > you will have your music library.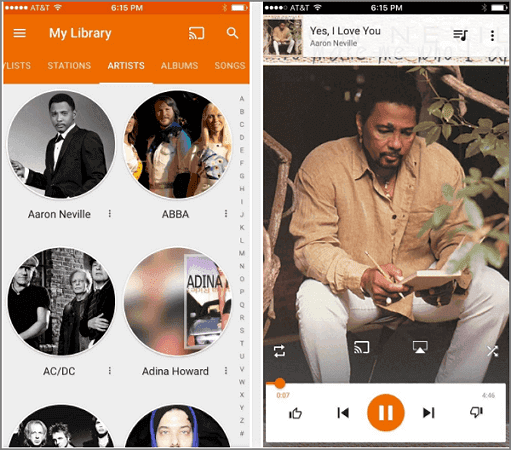 Method 3: Amazon Cloud Player
Amazon Could Player is another cloud player service that lets you put music to iPhone without iTunes. Each user can upload 250 songs to the cloud for free, but you need to pay for extra cloud space.
Download the App > go to their website > download or import the music of your own choice > play the playlist of your choice.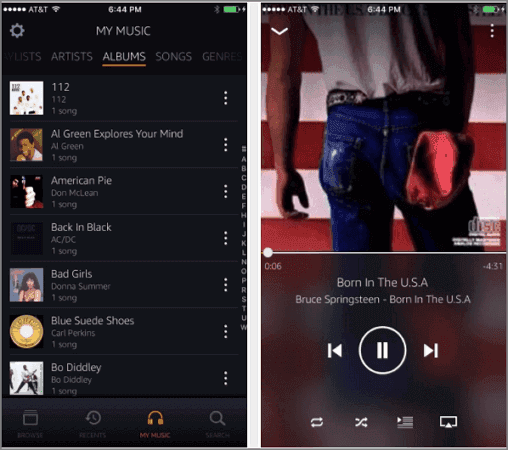 Method 4: Dropbox
Another tool for transferring music to iPhone without iTunes is Dropbox, which is a completely free way to transfer, manage and play music on your iDevice. This is especially true when your local music files are too large, it is quite quick and easy to upload.
Install Dropbox on your device > add music > enjoy your favorite songs. If you don't want to use your browser, you can download the free Dropbox App and play your music from there, too.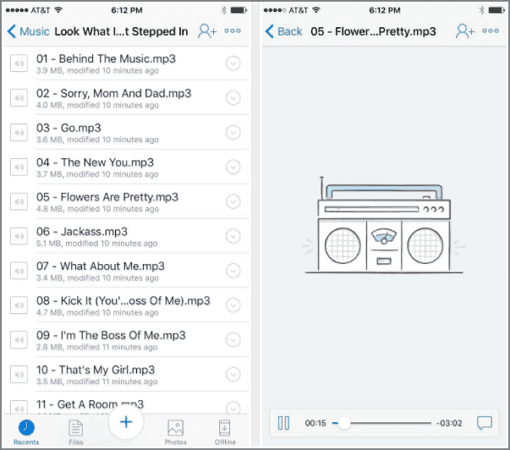 Method 5: File Master
One reason that you can't refuse using File Master to put music to iPhone is its Wi-Fi transfer function, which means you can put music from computer to iPhone wirelessly. Besides your uploading music, File Master offers rich media resources for playing music on your iPhone. Moreover, you are able to create new folders in the application that will surely help to manage random contents on your iPhone.