What Is Exactly RAID Levels
To get a deeper understanding of RAID levels, it is necessary to first know some information about the RAID technology. So what is RAID? RAID is short for the "redundant array of independent/inexpensive disks." This technology has been widely used to store the same data on various hard drive disks (HDDs) or solid-state drives (SSDs). By doing this, the data can be better protected when faced with disk failures or other related errors. Besides, RAID is designed to improve performance, capability, and fault tolerance by employing advanced techniques, such as mirroring, striping, and parity.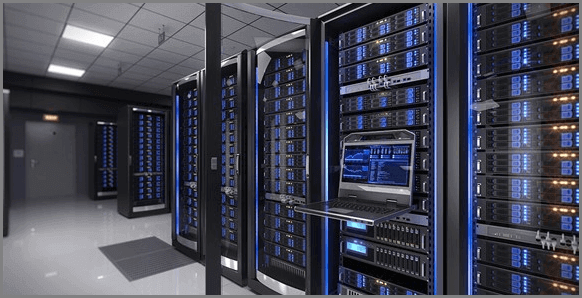 There are nearly 20 levels of RAID, and each of them suits different situations. The RAID levels consist of different RAID types that use or combine advanced techniques to ensure better data protection. Generally, RAID levels can be divided into 3 groups: Standard RAID Levels, Non-standard RAID Levels, and Hybrid or Nested RAID Levels. Among all the RAID levels, RAID 0, RAID 1, RAID 5, RAID 6, and RAID 10 are the most commonly used ones.
Comparisons Between the Three Types of RAID Levels
What's the difference between Standard RAID Levels, Non-standard RAID levels, and hybrid or nested RAID levels? Now let's get more details by comparing the three types of RAID levels mentioned above.
Standard RAID Levels
Standard RAID Levels is a group of different levels that use techniques, including striping, mirroring, and parity, to provide better performance and fault tolerance. The commonly used RAID levels of this type include basic RAID configurations like RAID 0, RAID 1, RAID 5, and RAID 6, all of which use a single technique.
Non-Standard RAID Levels
Non-standard RAID levels are usually variants of the standard RAID levels. Based on those standard levels, many non-standard RAID levels have been upgraded by some RAID technology companies to provide more services in computer storage. For example, variants of RAID 5 or 6: RAID 5E, RAID 5EE, and RAID 6E all belong to the non-standard RAID levels. There is an integrated RAID level in these RAID levels to enhance performance.
Nested/Hybrid RAID Levels
To gain performance, additional redundancy, or both, two or more Standard RAID levels are be combined to form a Nested RAID level or Hybrid RAID Level. The created Nested or Hybrid RAID Levels usually combine two or more RAID techniques and are named by the number of the original Standard RAID levels. Examples include RAID 01, RAID 10, RAID 100, RAID 50, and RAID 60, all of which have a striping feature and other techniques.
Features of Different RAID Levels
Among all the RAID levels, RAID 0, RAID 1, RAID 5, RAID 6, and RAID 10 are the most widely used ones. The following comparisons can help you know more about the features of different RAID levels.
RAID 0 - Disk Striping
RAID 0 technology uses disk striping to divide data between different disks to enhance the speed of reading and writing operations. It will split up the data you have saved on the disks into striped units to improve performance and additional storage.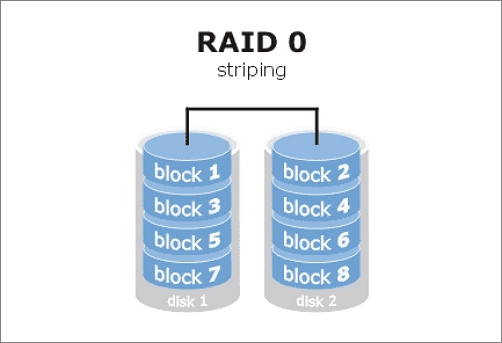 The number of disks required: at least 2 disks.
Pros of RAID 0:
Low costs
Easy and quick implementation
Faster speed in reading and writing operations
No overhead due to full utilization of storage capacity
Cons of RAID 0:
No fault-tolerance
Unsuitable for mission-critical systems
All data will be lost when one drive fails
When to use RAID 0:
If the data is not important and needs to be read or written at a high speed, then the RAID 0 technology may be a good choice.
RAID 1 - Disk Mirroring
The RAID 1 is featured with disk mirroring, which means the data can be copied across multiple disks and write data to different spaces simultaneously. As a result, read operations are quick since data may be read from both drives at the same time.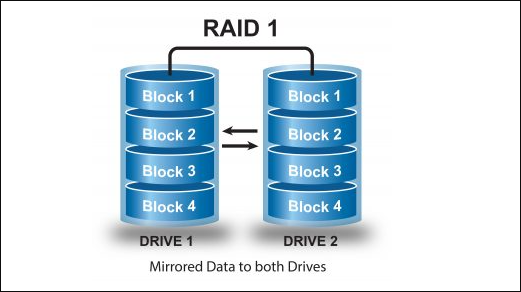 The number of disks required: at least 2 disks.
Pros of RAID 1:
Fault tolerance
High availability
Data redundancy
Better performance
Simple implementation
Cons of RAID 1:
Higher costs
No real-time swapping
Only half storage capacity
When to use:
RAID 1 can be used for mission-critical storage or small servers. If you require additional data redundancy and read speeds, you can also choose it.
RAID 5 - Striping + Distributed Parity
The most commonly used and secure RAID level is RAID 5, which uses striping to distribute data over different disks and parity to reconstruct missing data by using information from other disks.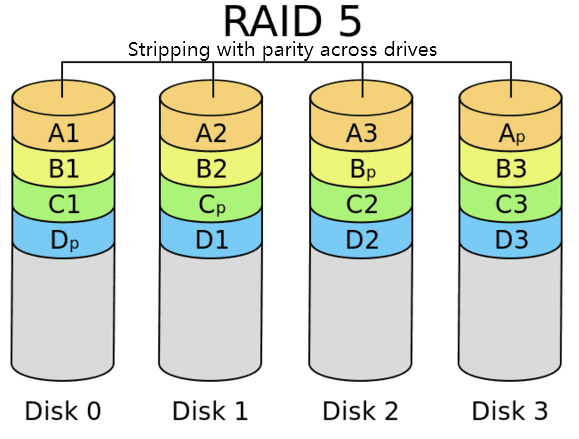 The number of disks required: at least 3 disks.
Pros of RAID 5:
The data read speed is fast.
Fully utilize the disk space.
Serve multiple users simultaneously.
Offer a high level of data redundancy.
Data is well protected even a drive fails.
Cons of RAID 5:
The data write speed is slow.
Recovery operations are slow.
The cost is high since it requires at least 3 disks.
When to use:
RAID 5 may be preferable when dealing with mission-critical data and fault tolerance is a prerequisite.
RAID 6 - Striping with Double Parity
RAID 6 and RAID 5 are pretty similar, the major difference between the two is that RAID 6 can provide double fault tolerance capacity to improve performance due to its double parity feature.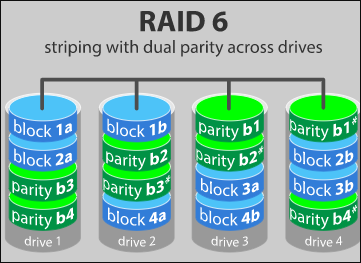 The number of disks required: at least 4 disks and no more than 32.
Pros of RAID 6:
Data is easily accessible.
Data is protected even two disks fail
Read processes are reasonably quick.
High fault tolerance and redundancy are ensured.
Cons of RAID 6:
Recovery time is long.
Implementation is complex.
The data write speed is slow.
The cost is high since it requires at least 3 disks.
When to use:
RAID 6 is preferred over RAID 5 in file and application servers that store data on multiple large disks. If you have Web servers, high read environments, or extremely large storage arrays, RAID 6 can be also a good option.
RAID 10 - Combining RAID 1 and RAID 0
As its name indicates, RAID 10 is a typical Nested or Hybrid RAID Level that combines RAID 1 and RAID 0. You can enjoy both the Mirroring (RAID 1) and Striping (RAID 0) functions after you have installed RAID 10 on your devices. The mirroring feature helps you protect your data, and striping allows the data to be divided into slices across multiple disks. Therefore, the data access speed and redundancy have been further enhanced.
The number of disks required: at least 4 disks.
Pros of RAID 10:
Fast rebuilding time
More fault-tolerant
Fast reading and writing speed
Excellent data reconstruction
Cons of RAID 10:
Higher costs
Complex implementation
Only half the storage capacity
When to use:
RAID 10 can be a very good choice when you are looking for better data redundancy and increased speed for both data read and write operations.
5 Essential Criteria to Choose RAID Levels
Are there any factors that you should take into account before choosing the most appropriate RAID level for yourself? The answer is yes. Here are five significant criteria that need to be considered before you select the most suitable RAID level.
Storage Capacity
Storage capacity is usually the first thing that most people consider when they decide to install a RAID level. Depending on the different functions of each RAID level, different amounts of usable space will be available. For example, RAID 0 allows you to fully utilize the storage capacity, while in RAID 1 or RAID 10, you only have half of the storage capacity to utilize.
Data Protection
Data protection is a rather important factor to consider when choosing the most suitable RAID level. It would take lots of effort to perform data recovery when the significant data stored on the devices is lost or deleted. But such an issue can be well solved by choosing a RAID level that has a more powerful data protection ability.
RAID Rebuild
A rebuild is pretty much necessary when the RAID fails or the server cannot function well. You have to consider when you come across RAID failures and server malfunctions, whether you have to shut down the whole system and replace the disks in their original place. The more difficult it is to rebuild the RAID, the more time you need to spend.
Performance
RAID technology is designed to improve performance, capacity, and fault tolerance. When you are choosing the RAID level for yourself, you have to consider the overall performance of the level, including the data, read and write speed, data construction ability, and fault tolerance.
Costs
Before you make any decision, there is a factor that you should always take into consideration: costs. The RAID level is also no exception. It is suggested that you compare the cost of implementing each RAID level and then choose the most cost-effective one according to your budget.
Recover Data from RAID Levels With Specified Recovery Tool
What can you do if you have found that the RAID failed and the important data stored on the RAID level is suddenly gone? Don't panic. You can recover permanently deleted files and documents easily by simply using the EaseUS Data Recovery Wizard.
This specified RAID data recovery can be very reliable and efficient in recovering the lost data from RAID levels. It is able to restore nearly a thousand file types and supports multiple devices and systems. You can use it to help restore lost files and documents whenever you have encountered a data loss problem since it requires no downtime.
Here is the step-by-step guide that may help you recover RAID data quickly by using EaseUS data recovery software.
Step 1. Scan the RAID drive
Choose the RAID drive from which you wish to recover data, and then click "Scan". Wait for the scanning process to finish, the deleted files will show up one by one.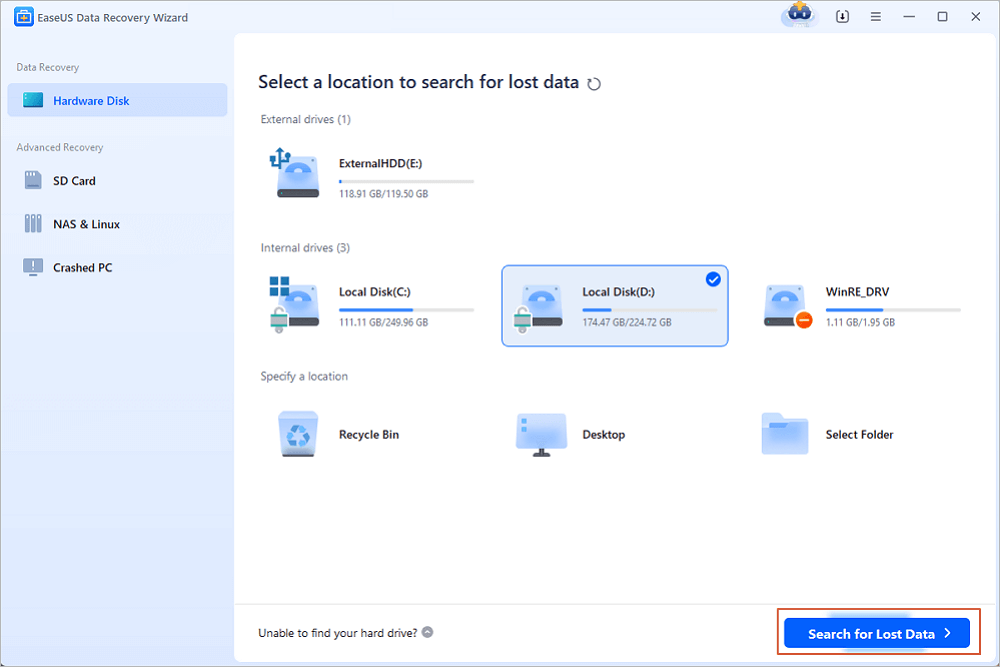 Step 2. Find and preview lost RAID files
You can use "Filter" as quick navigation to find deleted or lost files. Besides, you can also use Search to find your lost RAID drive files via its file name or file extension.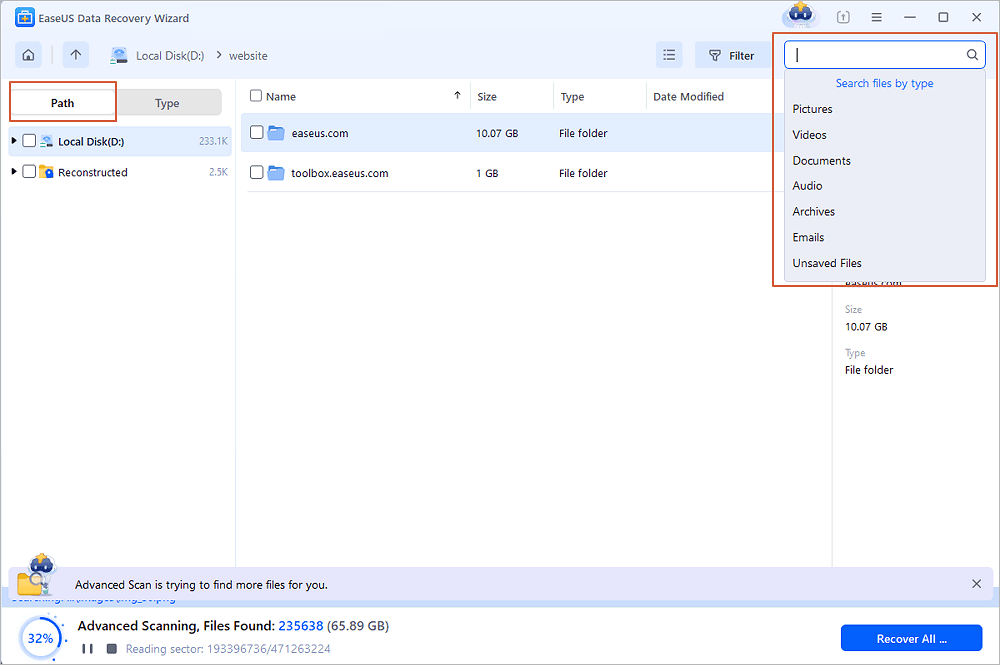 Step 3. Restore lost RAID drive files
Select the wanted files and click "Recover". Browse to save these files to another secure location.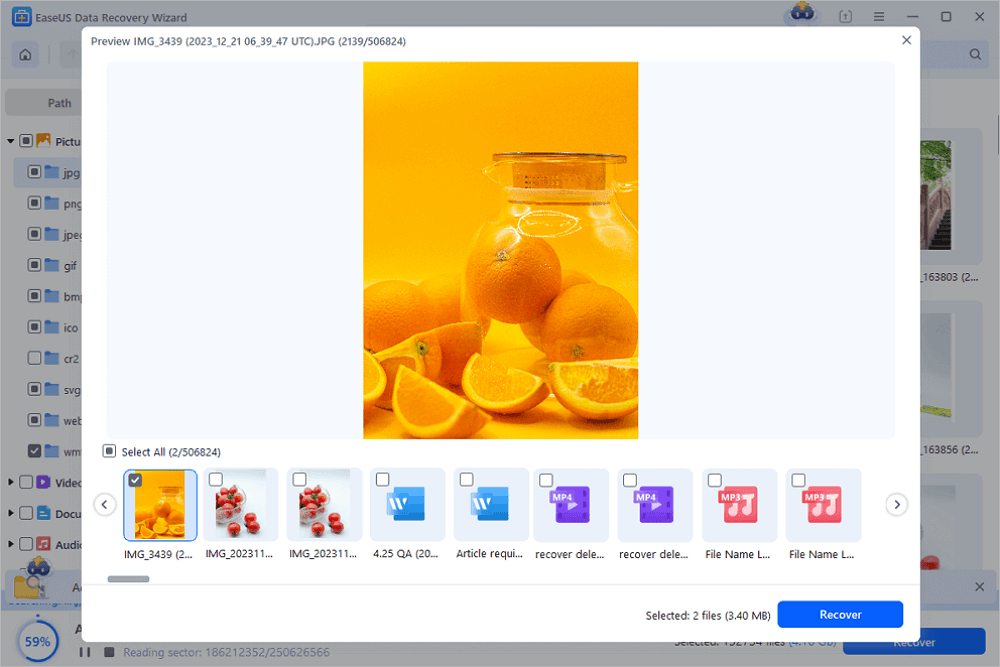 If you have made an attempt to recover lost RAID data by using the software and nothing has changed due to the complexity of the data and other related errors, it is highly recommended that you try EaseUS Manual Data Recovery Service.
EaseUS RAID Data Recovery Services
Click here to contact our experts for a free evaluation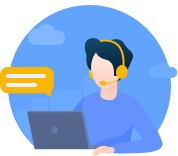 Consult with EaseUS data recovery experts for one-on-one manual recovery service. We could offer the following services after FREE diagnosis. Our decades-experienced engineers are knowledgeable and can repair the damaged RAID structure and restore data from all RAID levels.
Restore data from all RAID levels, including RAID 0, RAID 1, RAID 5, RAID 6, RAID 10, etc.
Recover data from enterprise RAIDs such as QNAP, Synology, WD, Buffalo, etc.
Retrieve lost RAID data caused by any issues
Fix disks that become GPT protected partitions
Recover data from RAID remotely, no need to ship
Conclusion
Now you may have a thorough understanding of what is RAID levels and how to choose an ideal RAID level for yourself. If the RAID installed on your devices fails, don't forget to use the EaseUS data recovery software or manual RAID recovery service according to the tutorial mentioned above.

Cedric Grantham is one of the senior editors of EaseUS who lives and works in Chengdu, China. He mainly writes articles about data recovery tutorials on PC and Mac and how-to tips for partition management. He always keeps an eye on new releases and loves various electronic products.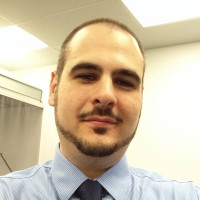 Approved by Evan Galasso 
Evan Galasso is a digital forensics and data recovery engineer with over 10 years of experience in the field. He presents opinions on the current state of storage media, reverse engineering of storage systems and firmware, and electro-mechanical systems of SSDs and HDDs.