Facecam Recorder | How to Record Facecam with High Quality

Vanessa Chiang updated on Mar 11, 2021 to Screen Recording Utility | How-to Articles
Facecam video means recording your face and screen at the same time and creating a fun video. Facecam video about gameplay or online courses has become a new idea on YouTube. If you want to record a facecam video, you may need a powerful facecam recorder. On this page, I will show you the best screen recorders on Windows 10/Mac/iPhone/Android and tell you how to record facecam using them.
How to Record Facecam on Windows 10 
If you want to find the best facecam recorder on Windows10, EaseUS RecExperts for Windows may be the best choice for you. It is an amazing screen recording software, and you can use this software to record video, audio, webcam, and gameplay video.
For people who want to know how to add facecam to videos, the most efficient way is to record the facecam for PC. The "Record Webcam" mode in EaseUS RecExperts is exactly what you need. In addition to that, the built-in video editing tool can help you trim the video clips and remove the unwanted part. After the primary processing, you can directly upload the edited recording video to YouTube, Vimeo, and so on.
With this function, you can easily make some interesting videos. For instance, you are able to make a reaction video using those recorded videos as materials, or you can make picture in picture video without much effort.
Key Features:
Recording facecam video
Recording video and audio simultaneously
Record part of screen or full of screen freely
Add text, lines, and arrows in real-time
Edit record videos with built-in tools
All those features make this recorder a compelling facecam recording software on Windows 10/8/7. If you want to have a try, download it by clicking the button below.
Here is more information you may concern about:
System requirement:
Windows 7/Windows 8.1/Windows 10
Supported video/audio formats:
Video - MP4, WMV, AVI, FLV, MPEG, VOB, and more
Audio - WAV, MP3, AAC, and a lot more
Supported image formats:
BMP, JPG, PNG, GIF, TIFF, and more
The Steps to Use Facecam Recording Software:
Step 1. Download and install EaseUS RecExperts on your computer, then launch it.

Step 2. In the main screen, choose the "Record Screen". Before you start recording, you need to make sure your camera is driving, and then click "Webcam" to select "USB Video Device".

Step 3. You will see the recording area appear in your webcam window. And you also can select the recording area on your screen. Click the REC" button to start recording, and your face will show up in the corner of the screen.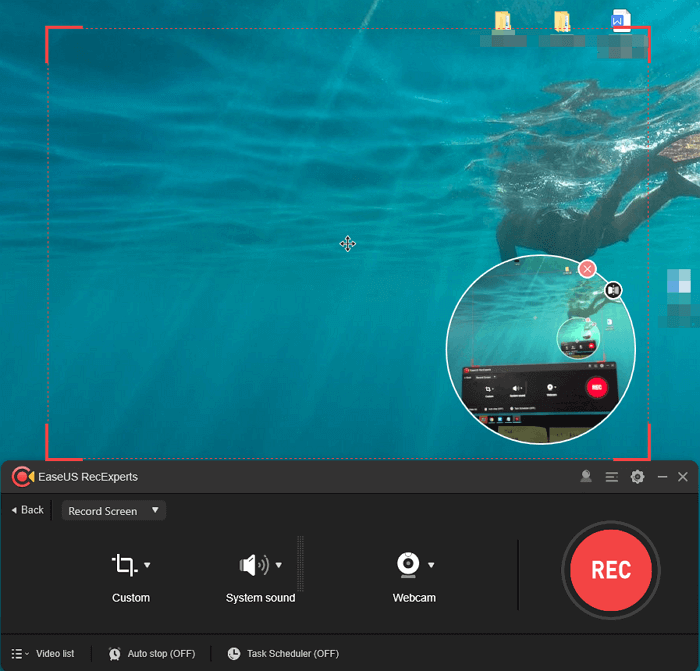 Step 4. If you finish recording, click the stop button, the recording video file will save on your device. You can also right-click the video recorded that you can preview, compress, edit, share the video, and do more.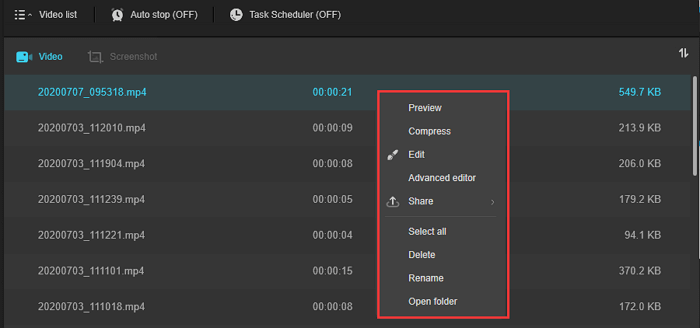 How to Do Facecam on Mac 
When it comes to useful facecam recording software on Mac, there are two of the best choices: EaseUS RecExperts for Mac and QuickTime Player. If you want to know more features of those two programs, keep reading this part. And we will also offer you the detailed steps to record a facecam video. 
This is a lightweight screen recording software that is especially suitable for beginners who have never used screen recording tools before. The simple but elegant interface enables users to recognize the options they need to choose at the first glimpse. Users can record their screens as videos in GIF or MP4 formats while using the system sound, microphone audio, or both of them as the background sound.
Moreover, you can freely use this screen recorder with facecam to record the clips you want as it provides you a specialized "Camera Recording" mode. As long as you have a built-in or external camera connected to your Mac, there will be only one step away from recording an excellent facecam video.
Key Features:
A full-featured facecam recorder on Mac
Record iOS screens on Mac via Airplay
No watermark
If you are finding the best facecam App on Mac, this recording tool may be the best choice for you. Click the button below for the facecam recorder download.
How to Add Facecam to Videos on Mac:
Step 1. Launch EaseUS RecExperts on your Mac computer, and choose "Camera" on the main screen.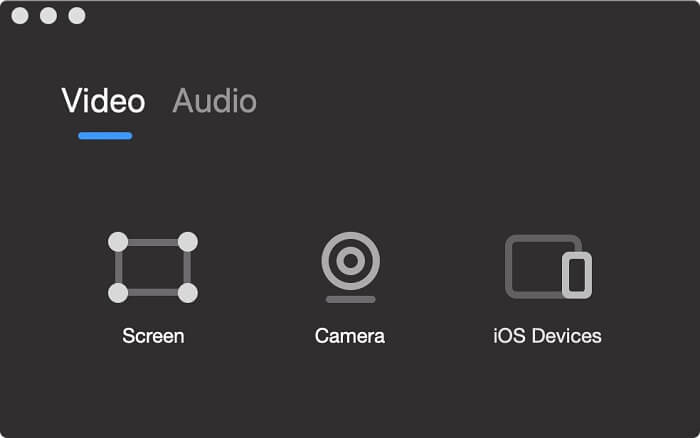 Step 2. Before recording, you can click on the Setting button to select the video/audio sources and even the video quality. Once the setting is done, you can click the big red circle button to begin your recording.
Step 3. While recording, you can choose to stop/resume/end the recording according to your needs.
Step 4. When you finish the recording, you can export the recorded video in MP4 format. Here you can set the file name, tags, location, and quality of your recorded video with ease.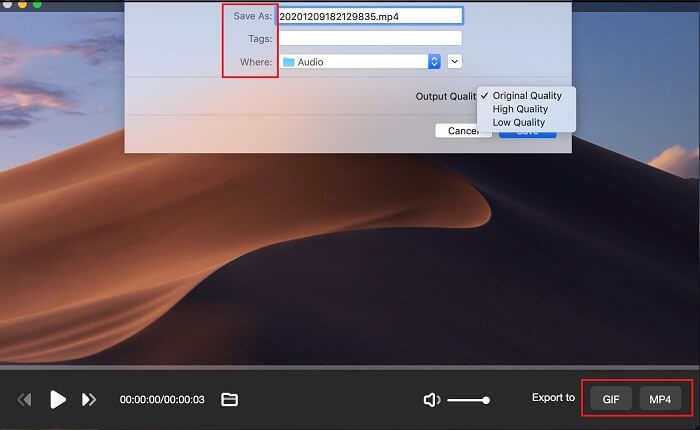 If you are a Mac user, you must know QuickTime Player. This is a powerful multimedia program which is developed by Apple Inc. This software can be used to hand in various digital video formats, pictures, sounds, and more. Using Quick Time, you also can play your video or audio files. And this software also can use to record facecam videos.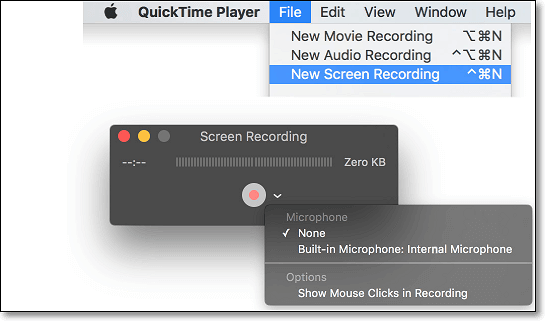 Features:
Free to use
Easy to use
Support recording facecam video
How to Facecam Using QuickTime Player:
Step 1. Launch Quick Time, select the "File" > "New Movie Recording".
Step 2. At the top of the main screen, select the "View" > "Float on the top", to make sure your camera window will appear on your screen. And then, you can adjust the camera window to fit your needs.

Step 3. Setting the "File" > "New Movie Recording" again, you will see the screen recording windows. On this screen, you can change some recording settings to fit your needs.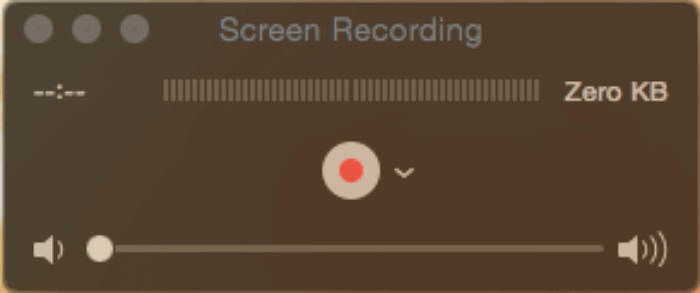 Step 4. And then click the red button to start recording. If you finish the operation, you can click the "Command-Control-Esc" button to stop recording your screen.
How to Record Facecam for YouTube Videos on iPhone 
Loom Mobile is a wonderful facecam app that you can utilize on iOS devices. With its help, you can quickly record your face, voice, and screen. After that, you are able to create a video using those contents and share it with your families and friends. It's worth mention that your recordings will be uploaded to the cloud so that it can be instantly ready to share with an auto-generated link. That means you can save the storage space of your iPhone as much as possible. After you get the satisfying work, it's convenient to upload it to YouTube.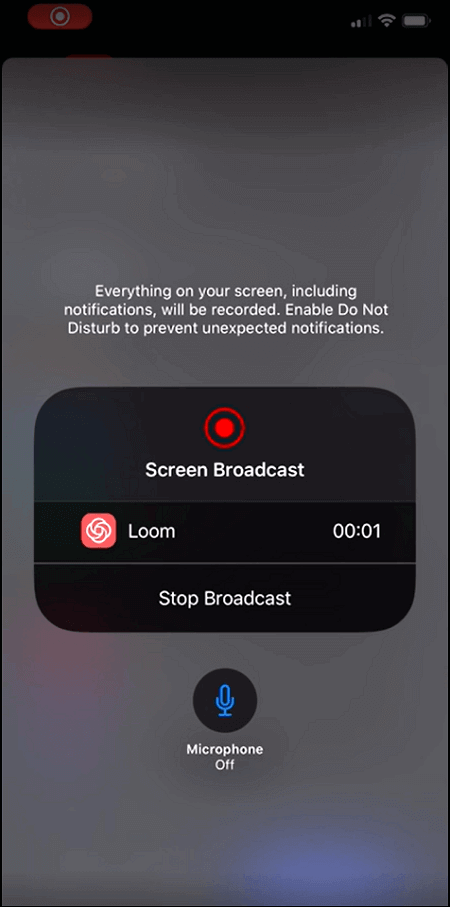 Features:
Start recording in a few taps
Add voice narration during the recording
free to use
How to Put a Facecam on a Video on iPhone:
Step 1. Launch Loom for iOS, and tap the Record button. Then you can choose the record your front or rear-facing camera. Because of the iOS limitation, you cannot record the screen and facecam at the same time.
Step 2. Now, you can tap the red round button to get started. After you recorded all the contents you need, tap the same button to stop recording.
Step 3. Give the recording a title, and you can choose to delete it, send it via a link, or share it through the communication app you like.
How to Facecam for Gaming Videos on Android 
Now, many phone games are popular on the Internet—for example, PUBG MOBILE, Clash Royale, Candy Crush, and more. The facecam game videos are more popular on YouTube, which attracted plenty of people to watch them. So, it is necessary to have a powerful app that can record facecam for gaming videos, such as Screen Recorder.
It is a powerful screen recorder software. Using this app, you can record the screen of your phone, and you also can turn on the camera and microphone to record your face and voice at the same time. And this program even doesn't have a recording time limit that you can free to use. If you want to find a strong facecam app on Android, try it now.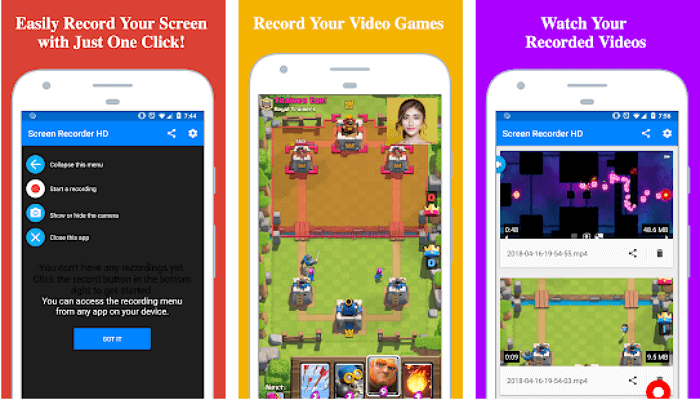 Features:
Record audio with your built-in microphone
Support recording the game screen and your face
How to Get Facecam Recording Recording on Android: 
Step 1. Download and install this software on your phone.
Step 2. On the main screen, click the "Start a recording" button to start recording your phone screen.
Step 3. When you finish recording your game, click the stop button, the recording facecam video will save on your phone. And you also can directly share your video on YouTube or other platforms.
Download: https://play.google.com/store/apps/details?id=com.rec.screen&hl=en%20target=
Conclusion
To sum up, on this page, we are talking about the best three facecam screen recorders. You can choose the one according to your needs. But, here we still suggest you choose EaseUS RecExperts. Because this software has plenty of screen recording tools and supports your recording the screen and face simultaneously. Trust me, and this software is a worthy choice. You do not miss it!