
Table of Contents

About the Author

Related Posts
Best 14 Webcam Recording Software - Windows & Mac
Nowadays, the need for recording online classes, lessons, and YouTube videos is growing. And if you want to share your opinions by taking a video of yourself but don't have an available digital camera, how can you solve it? Don't worry. You can create your videos using the Webcam on your computer or laptop.
On this occasion, Webcam recording software is essential. Now Let's find out the top 14 free Webcam video recording software available for Windows, Mac, and online in this post.
| Top 4 Webcam Video Captures on Windows | Top 5 Camera Capture Software on Mac | Top 5 Webcam Capture Software Online |
| --- | --- | --- |
| | | |
Top 4 Webcam Video Captures on Windows
What is the best recorder for Webcam capturing on Windows? In this part, we will introduce 4 popular and easy-to-use tools on Windows PC to you, and let's take a look now!
This is a multi-functional Webcam capture software that supports recordings through Webcam and screencasting, video trimming, and many more. Using this software, you can choose to record screen and Webcam simultaneously or capture the Webcam with audio in a few simple clicks. It allows you to record through the microphone or any other recording devices added to the system.
This Webcam recording function can be used in many situations. For instance, you make a tutorial video for your students by recording the Webcam. For people who need to make a video resume, the Webcam capturing function will also help. If you want to take a photo using the webcam, this recorder is exactly the suitable tool for you.
Key Features:
A highly secured screen and Webcam recording tool
It acts as a screen recorder and trimmer
Allow you to capture images in PNG format
Record a Skype call or Zoom meeting easily
Although this tool is rich-featured, everyone can use it effortlessly as its elegant and user-friendly interface helps a lot. Download this great recorder and try to create your own masterpiece now!
How to Use Webcam Video Captures Software on Windows:
Step 1. Launch EaseUS RecExperts on your computer, and you will see two "Webcam" icons on the main interface. Click on the "Webcam" button next to the "Audio" button to continue.

Step 2. Now, in this webcam recording mode, click on the lower-left button to select the audio source. The options allow you to capture system sound, microphone, or both two.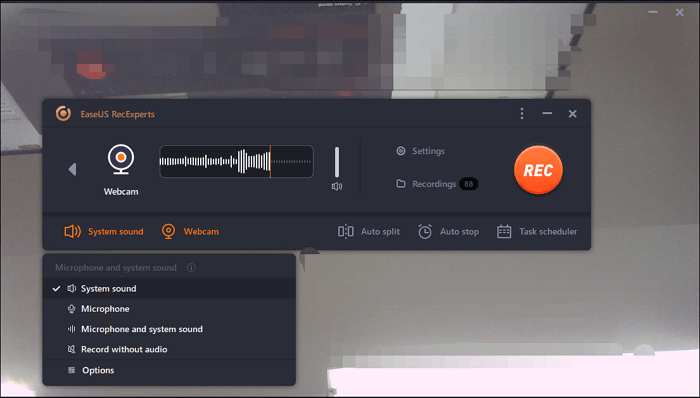 Step 3. Click on the other "Webcam" button and select the camera that you want to use in the recording. Then, tap on the "REC" button to start recording.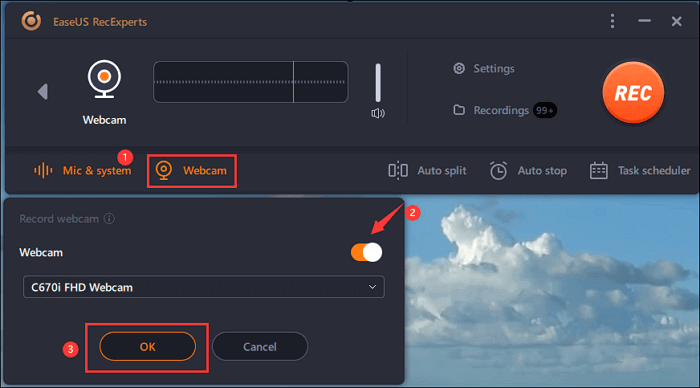 Step 4. During the recording process of the webcam, you will see the following interface. Click on the two buttons on the right side if you want to pause or stop the recording. Finally, the recorded video will be saved to your computer.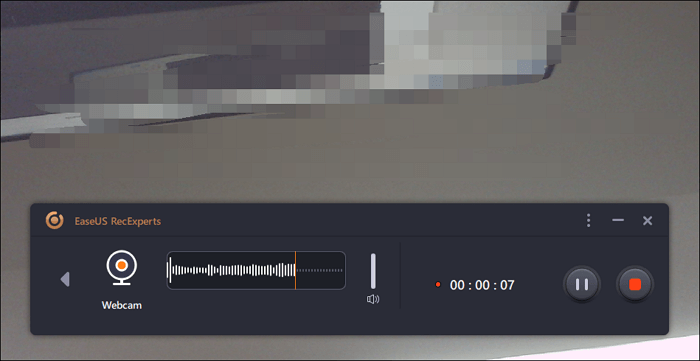 2. Bandicam 
Bandicam is a compelling Webcam video captures software for Windows, which offers screencasting, smartphone casting, capturing PlayStation gameplays, Casting IPTV, Apple TV, and HDTV screens directly on your PC.
It supports H.264 codecs that accelerate the recording to very high speed and compress the videos while providing high-quality output. Directly uploading to YouTube is also possible.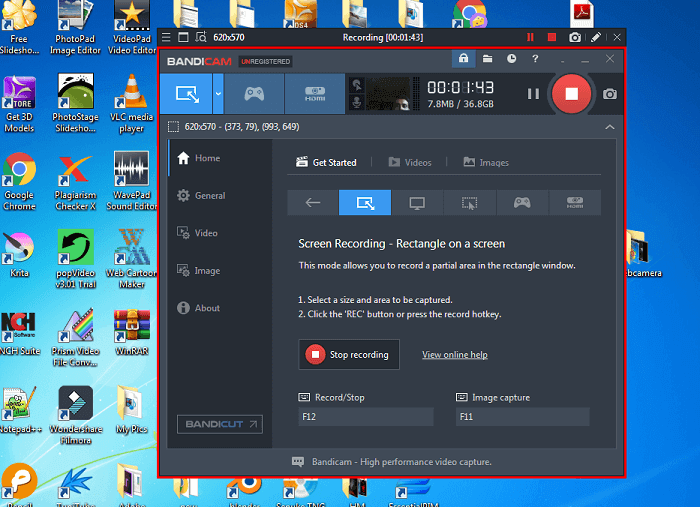 Pros:
It is available for free
easy user interface
Powerful video editing tools are available
Secured cam recording software
Cons:
The free version of the software has limited features
While editing, you can add logos, but only in PNG formats
It doesn't support macOS
Download: www.bandicam.com/Webcam-recorder/
3. Logitech Capture 
It's a high-tech Webcam recording freeware that not only records your files but also edits and shares them through online platforms of your choice. It allows immediate recording through multiple recording devices of different sources and live-streaming.
The software also supports high-quality video recordings that are perfectly suitable for mobile phone views.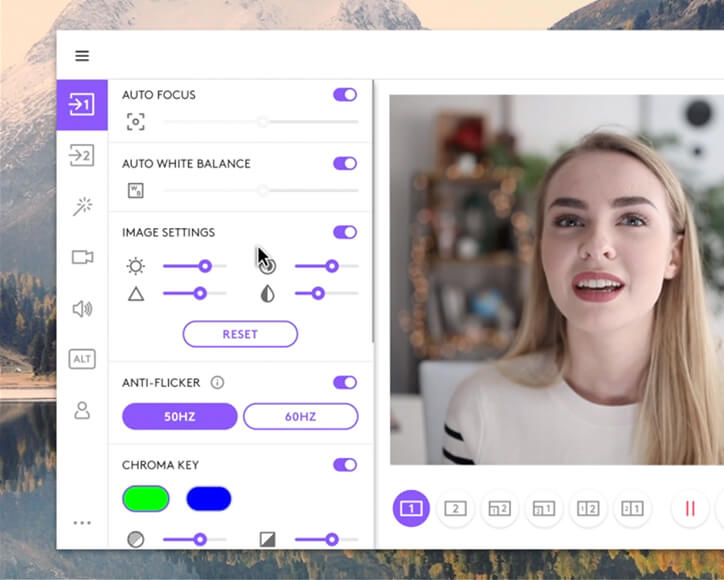 Pros:
It provides lightning-fast recording facilities
High-resolution video output files are available
Directly sharing your content to any social media platform
record from multiple sources at the same time
Cons:
Download: www.logitech.com/en-in/product/capture
4. CamStudio 
It's an elementary and free camera capture software that can be downloaded completely free, and it has many features like simple editing, screencasting, screen annotations, and much more options.
While recording your Webcam, the software allows you to set and alter the size, file type, and bitrate of the output video depending upon the requirements.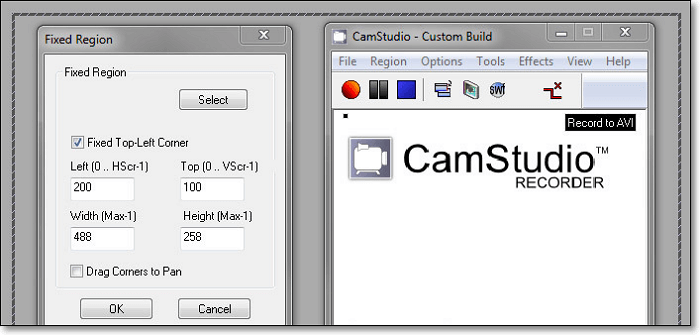 Pros:
It is 100% free software available to download for Windows users
Continuous improvements are happening with the software
Straightforward interface and easy-to-understand functionalities
Cons:
You can't watch SWF videos on Netscape or Mozilla Firefox
There are a few bugs in the current version of the software
Download: camstudio.org/
Top 5 Camera Capture Software on Mac
Apart from Windows Webcam recorders, there are also many Webcam video recording software designed for Mac users. In this section, you can find the most suitable one from those options.
For Mac users, capturing Webcam is straightforward since there is a useful built-in camera. But how can you activate it can record what you need? First of all, make sure that you got competent camera capture software such as EaseUS design.
As to the video quality of your recordings, this recorder gives you two choices. If you want to record Webcam in high quality, 1080P is the best option for you, while you can also choose to record in 720P if you want to save the storage space.
If you want to record the Webcam at a certain time, you can schedule recording by setting the start time and duration. Then, this recording tool can start automatically. It's worth noting that your recordings are totally free from an annoying watermark, even you are using the free version.
Key Features:
Capture Webcam video easily and safely
Export recordings in M4A format
No watermark
Lightweight and easy-to-use
If you want to try user-friendly Webcam video recording software on your Mac, don't hesitate to click on the button below to download it. To help you know the steps to capture Webcam, we will also offer you a detailed tutorial. You can follow it to record and save what you want.
How to Use the Webcam Capturing Software on Mac:
Step 1. Launch EaseUS RecExperts on your Mac computer, and choose "Camera" on the main screen.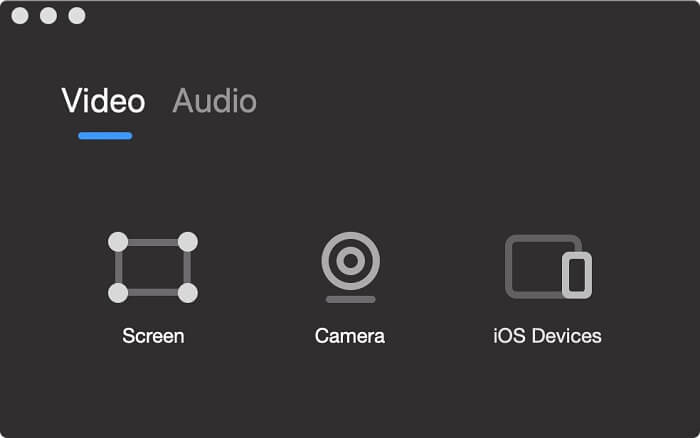 Step 2. Before recording, you can click on the Setting button to select the video/audio sources and even the video quality. Once the setting is done, you can click the big red circle button to begin your recording.
Step 3. While recording, you can choose to stop/resume/end the recording according to your needs.
Step 4. When you finish the recording, you can export the recorded video in MP4 format. Here you can set the file name, tags, location, and quality of your recorded video with ease.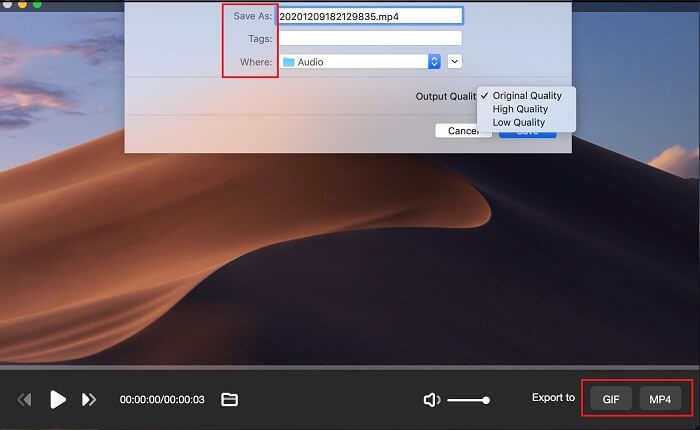 If your built-in camera on Mac cannot work normally, an external camera is indispensable for you to record the Webcam. And this post will tell you how to record with an external camera. Click o it to know more.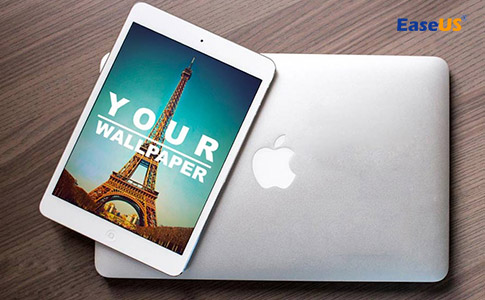 2. ManyCam 
ManyCam, simple yet powerful screencasting and Webcam capture software, allows you to record high-quality videos in no time. An attractive interface with helpful features makes ManyCam one of the favorites where one can directly go for live streaming and share their videos.
Looking for a professional background while recording a live training session or a webinar or meeting your clients online? Just try out Manycam.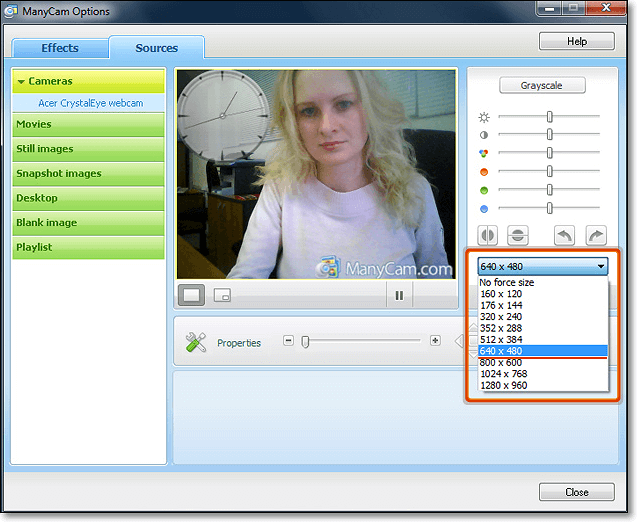 Pros:
Multi-screencasting and multi-recordings are possible
You can do live streaming to Facebook and YouTube
Add 3D effects while recording the videos
Cons:
The free version of this software has minimal features
There are no in-built editing tools present
Download: manycam.com/
3. Debut Video Capture 
Debut is a simple and basic recorder having facilities to add external recording devices and allows screencasting. The software is available to download for free and has a simple user interface to create awesome video recordings.
It is widely renowned and recommended to beginner video makers who don't want to get involved with technical stuff.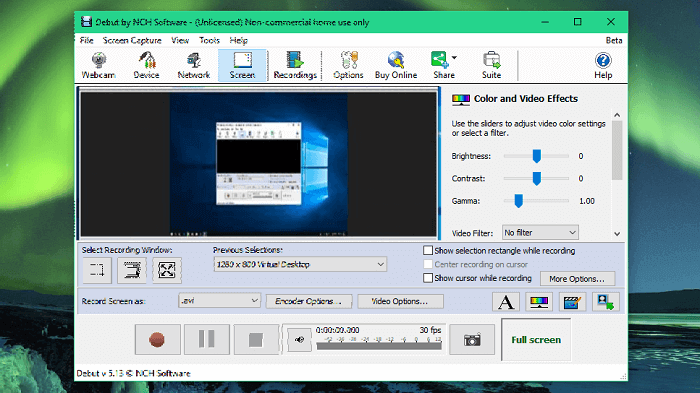 Pros:
Very simple to use
Powerful editing features available
Record with external recording devices
Cons:
The free version of this software offers limited features
Sometimes the audio option doesn't work
Download: debut-video-capture.en.softonic.com/
4. Camwiz Webcam Recorder 
It's a one-stop Webcam capturing software for Mac users to change the video settings, color, brightness, and output format of their own preferences. It has a modular outlook giving users the advantage of having control over the recording-play, pause, autoplay, and recording; the options are available at one click.
Let's find out more about the software and its functionalities.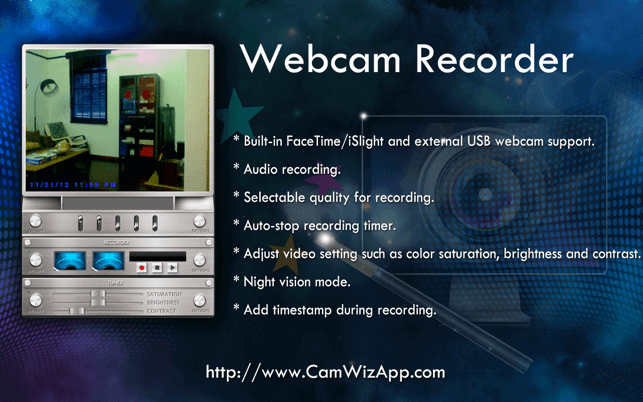 Pros:
Powerful editing options are available
Remote Webcam monitoring facilities are available
It also supports USB Webcams
Auto-stop recording timer is available
Cons:
The user interface is not so simple
It doesn't support Windows
Download: www.camwizapp.com/
5. Camtasia 
It's a well-adorned powerful free camera recording software and editor popular among millions worldwide. The software supports both Windows and macOS and provides high-quality videos and recording through any source.
Camtasia software is straightforward to learn and master as there are options available for both beginner-level video makers and professional video makers. Depending upon the skills level, you may choose to use the free version and the premium subscription.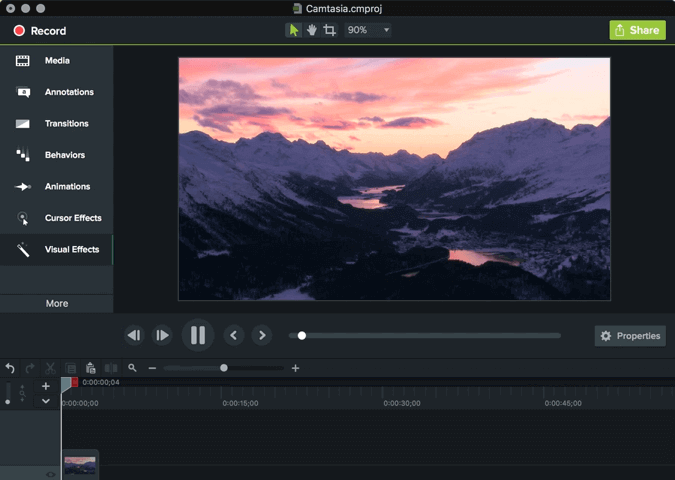 Pros:
Easy user interface
Available for free
Powerful editing features are available
Cons:
The free version is available with limited features
Download: www.techsmith.com/video-editor.html
Top 5 Webcam Capture Software Online
If you record Webcam occasionally, the online camera recording software is the best choice for you. Here we will share the 5 best online camera recording software to help you capture your Webcam in high quality for free.
1. Web camera 
It's a free online Webcam capturing software that you can use while having your PC with an internet connection. This powerful software comes with an io cutter, video cutter, audio joiner, audio/video converter, voice recorder, and important PDF tools.
But as you visit the official link, you'll find annoying promotional adverts covering the tool's interface, which is much disturbing to any user.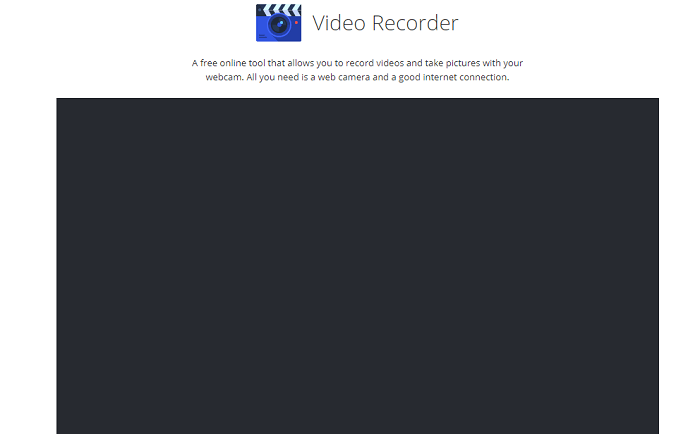 Pros:
You can make long recordings
High-quality output formats
Save your recordings directly on cloud platforms
Cons:
The interface is not user-friendly
It doesn't work with low-speed internet connections 
Try: Webcamera.io/
2. Clipchamp 
The powerful online recording tool allows you to record videos directly via the web browser and share the same through various social media platforms such as YouTube, Story Blocks, Giphy, etc.
Editing the existing videos and adding test blocks are great features of this tool, making video editing a simple task to perform. 
Pros:
It has plenty of powerful features
Record unlimited audio/video files
Directly share your recordings on social media
Do screencasting and take screenshots at the same time
Cons:
The free version of this software has limited features
Need to sign-up and create an account
Try: clipchamp.com/en/Webcam-recorder/
3. Fotofriend 
Fotofriend is a user-friendly free online recorder. You can record short Webcam videos, create awesome short videos with more than 50 in-built effects, upload videos directly to YouTube, and much more.
It's a free web recording tool that supports multiple platforms and a quick recording setup. An easy interface with powerful in-built features is why this tool comes in our list of best Webcam recording tools.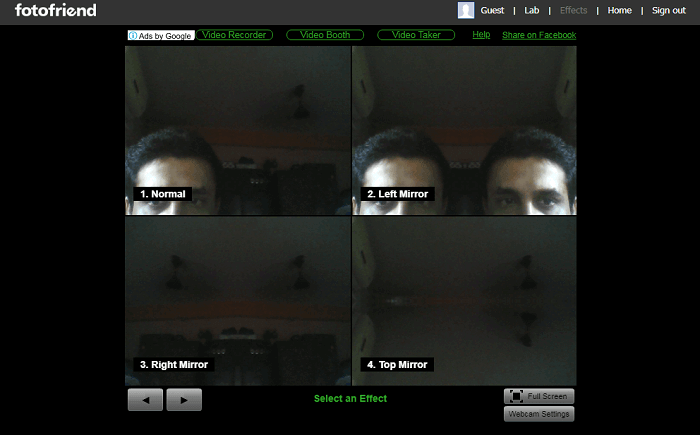 Pros:
Available for free
Record with special effects
Direct social media sharing of the files is possible
Edit the recorded files using the in-built editing tools
Cons:
limited editing options
Frequent upgrades take place
Try: www.fotofriend.com/record-video
4. Webcam Test 
It's a powerful camera recording software available for free, giving you options to record any audio/video through the web browser. All you need is a device with a camera or a wireless camera to record any videos of any length.
It can be a laptop with a Webcam installed in it, and it can be a mobile phone with a camera or any other device.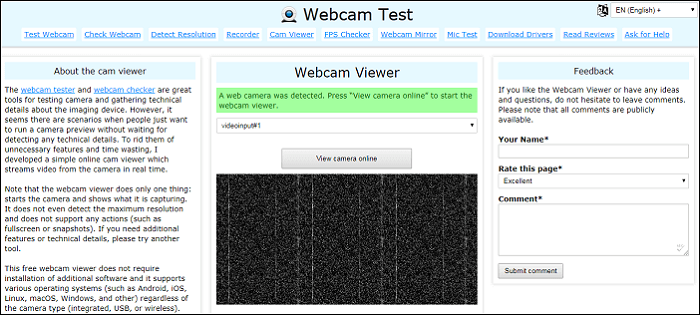 Pros:
It is available for free
Support all sorts of cameras connected to the device
It supports all types of file formats and codecs
Change the bitrate of the recording and control the quality, size, etc. 
Cons:
Some of the browsers don't support all types of file formats and codecs
Try: Webcamtests.com/recorder
5. Webcam Toy 
This powerful and free Webcam recording tool is popular among most youngsters who spend most of their time on social media platforms. Selfies are the current trend-if you are a selfie expert, add some more flavors to your selfies with the help of this amazing Webcam selfie specialist tool.
Adding emojis, special effects, and whatnot, surprise your friends with your creatives.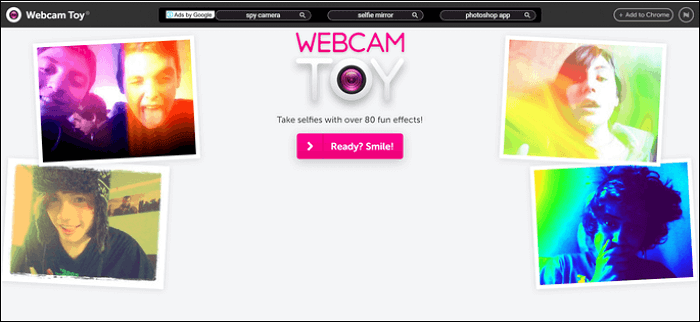 Pros:
High-resolution output  
Powerful video and photo editing tools are available
Intuitive user interface
Cons:
The free version of the software has limited features
Not perfectly suitable for novice editors
Try: Webcamtoy.com/
Conclusion
Recording a video through a Webcam is not a very difficult job, and anyone can do that. But the mechanism behind this process is way too complex. Thanks to technological advancement, we have many recorders to justify our dreams and make the videos get recorded quickly without any data losses or any background distortions.
You don't need to be a professional video creator to use that Webcam recording software, especially the camcorder that tops our list, EaseUS RecExperts. Download and install the best Webcam recording freeware on your Windows PC, laptop, and MacBook now!
About the Author

Jane is an experienced editor for EaseUS focused on tech blog writing. Familiar with all kinds of video editing and screen recording software on the market, she specializes in composing posts about recording and editing videos. All the topics she chooses are aimed at providing more instructive information to users.