
Table of Contents

About the Author

Related Posts
How to Record Screen and Camera at The Same Time Free
When creating teaching materials in the form of video lessons, or making a quick explanation video for your colleagues, you may need screen capture software to record screen and camera at the same time.
If you want to learn how to do screen and webcam recording simultaneously on your Windows or Mac computer, you have come to the right place. On this page, we will show you 5 different yet detailed tutorials in which you can complete the task effortlessly.
How to Record Screen and Webcam Simultaneously on Windows 10
To capture screen and webcam on Windows 10 at the same time, you can try the following three easy methods we offered. Let's get started!
EaseUS RecExperts for Windows is definitely the best choice for recording screen and webcam at the same time. This Windows screen and webcam capture software enable you to add a facecam overlay to the screen recording with simple clicks. Besides, it allows you to record audio (from a microphone or computer) while doing screen recording activities. 
Except for those basic recording options, the best free screen recorder provides you with a built-in tool to trim the recorded video clips effortlessly. You can get this excellent screen and webcam recording software by clicking the below button.
How to record screen and webcam at the same time on Windows 10 PC:
Step 1. Download and launch this program on your computer, then click on "Full Screen" or "Region" to select the recording area. Here you also can choose your desired audio source by hitting the Speaker icon on the lower left.

Step 2. Once the recorded area is selected, click the camera icon at the bottom to enable the webcam. Next, click the "REC" button to begin your recording.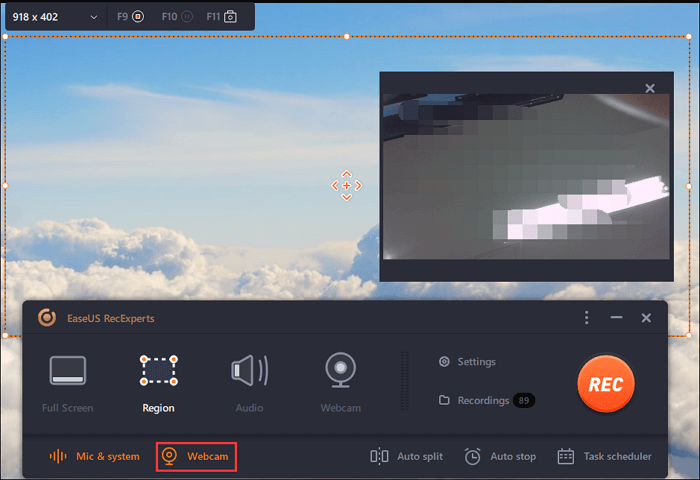 Step 3. In the recording process, you can adjust the position of the webcam window. If you want to pause, resume, or stop the recording, click the corresponding options on the toolbar.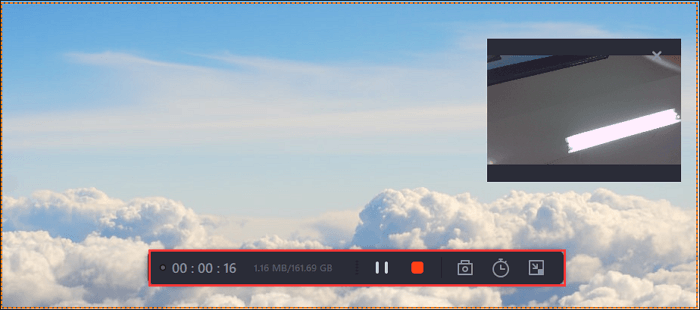 Step 4. When you finish the recording, you can preview the recorded videos in "Recording".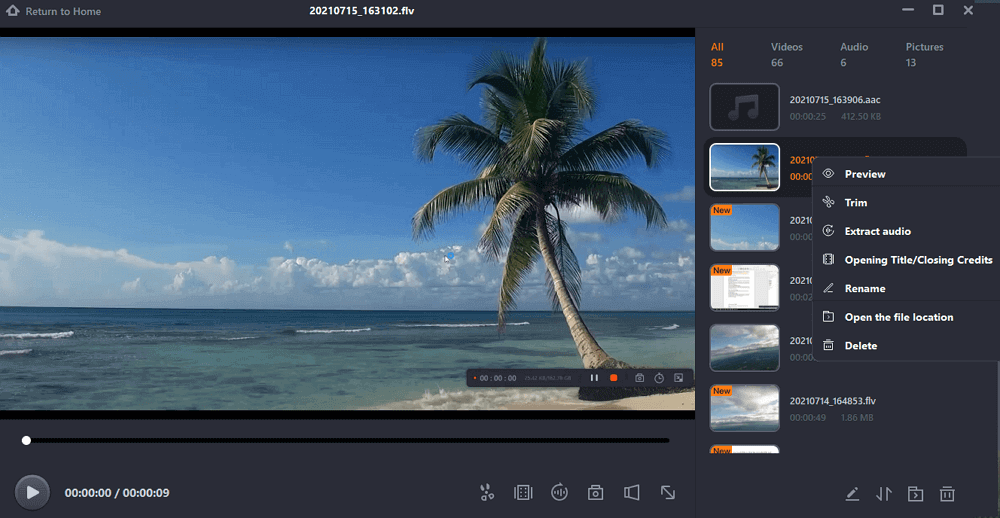 2. OBS Studio
OBS Studio is a free screen recording software for video recording and live-streaming without a watermark and time limitation. Using OBS Studio, you can capture not only the entire display or a window but also from webcam and microphone. Although OBS Studio is a versatile tool for screen recording, it integrates no video editor. You need to employ another tool if you want to edit your recorded video. Follow the steps below to record a video yourself.
Step by step to capture screen and facecam on Windows 10 PC:
Step 1. Install the program. You need to launch the application you want to record and connect the web-camera beforehand.
Step 2. Click the "Start Recording" button to start. To make a live stream, you need to click "Start Streaming" instead.
Step 3. Save the recorded video to your computer after the recording is completed.
3. CloudApp
CloudApp's mission is to make workplace communication easier. With most of us attend social activities online, it's easy for you to lose the personal touch of a real conversation. CloudApp now enables you to record your screen together with audio and a front-facing camera from your desktop. You can use your built-in microphone and webcam, or choose to use an external device to transmit information and affection. This screen and webcam recorder is worth trying.
How to add webcam overlay to screen while recording:
Step 1. Click on the "TV" icon in your menu bar.
Step 2. Click and drag to select the recorded area on your screen.
Step 3. Click on the "Camera" icon to start your webcam recording or click on the "Microphone" icon to start your audio recording.

Step 4. If you started your webcam, place the window in any corner that you'd like.
Step 5. Click "Start" to start recording. When you click "Finish", the program will immediately upload your video to the cloud and add a short link to your clipboard so that you can share it.
How to Record Screen with Camera at The Same Time on Mac
We offer you two solutions to solve the problem of recording screen and webcam on a Mac. The two applications mentioned are both capable. You may choose one of them to use.
1. QuickTime Player
QuickTime is a free multimedia software compatible with all Mac computers that allow you to record your face, screen, audio, or all three at the same time. You can record your face and screen at the same time so that you can create engaging and funny videos with the Mac screen capture. This tutorial shows you how to record with the built-in Mac apps and hardware. So that you will not need to use any other third-party apps. Follow the steps below to record the screen and webcam at the same time.
Here's how to record screen and webcam at the same time on Mac:
Step 1. Launch QuickTime Player. Select "File" > "New Movie Recording".

Step 2. Select "View" > "Float on top" so that your camera window will be on top of any other application anywhere on your screen.

Step 3. Again, in QuickTime Player, select "File" > "New Screen Recording". When you are ready to start recording, click the red "Record" button.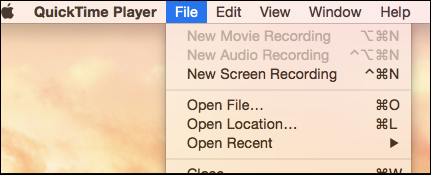 Step 4. When you are done recording, you may press the "Command-Control-Esc" keys. You may also edit your video using QuickTime. For instance, you may go to QuickTime > Edit > Trim to remove the unwanted parts of your video.
2. VidGrid
VidGrid specializes in recording, hosting, in-video questions, interactive captions, integrations, and custom video API. It can quickly capture your own videos or empower others to record for you. You can record the screen and webcam connected to your computer in the meantime. You will learn how to use it by following the steps below.

Steps to capture your facecam and screen:
Step 1. Launch VidGrid and click "Record".
Step 2. Choose the area you want to record on your screen.
Step 3. Click "Choose a webcam" to toggles the webcam on.
Step 4. Whatever the application you want to record on the screen, open and run it.
Step 5. Click the red "Start recording" button to start recording the screen and webcam simultaneously.
Conclusion
All in all, if you want to record screen and webcam simultaneously, there are many tools that can help you with that. Among them, EaseUS RecExperts is undoubtedly the best choice for Windows users since it is full-featured and user-friendly at the same time. If you are interested in this software, download it by clicking the below button.
About the Author

Jane is an experienced editor for EaseUS focused on tech blog writing. Familiar with all kinds of video editing and screen recording software on the market, she specializes in composing posts about recording and editing videos. All the topics she chooses are aimed at providing more instructive information to users.