
Table of Contents

About the Author

Related Posts
6 Ways | How to Record Internal Audio on Mac/Macbook
When you look for an internal audio recorder for your Mac, you will come across dozens of audio recording software that let you record sound on Mac. However, the issue is that most of those apps do not let you record system sound from your Mac. If this is what you want to achieve and you want to record internal audio on Mac, you can check and follow the methods given in this post
How to Record Internal Audio on Mac Without Soundflower
If you have ever used a normal audio recorder like QuickTime Player on your Mac, you would find that it only offers the option to record audio from your microphone. If you have connected a device to your Mac, then you will get an option for that. However, for capturing the system sound on Mac using QuickTime Player, you have to install software like Soundflower. That seems too complex. So here we will share with you one powerful Mac computer audio recorder - EaseUS RecExperts,
This screen capture program can help you record the system sound from your Mac without Soundflower. Using it, you can easily and quickly record system sound, microphone, or sound from other external audio devices. Additionally, you can record screen with audio on Mac simultaneously by using EaseUS RecExperts.
Highlights:
Extremely easy and best for beginners
Support different recording models to capture your screen
A versatile GIF recorder to help you create GIFs from your screen
Export the recordings in various formats like GIF, MP4, M4A, etc.
Enable to add a webcam overlay to the recordings
Auto split or stop your recording
Don't hesitate to download this Mac internal audio recorder! It will make your work easier.
Step by step to record system sound on Mac using EaseUS RecExperts:
Step 1. Install and launch EaseUS RecExperts. Click on the "Audio" option on the main screen.

Step 2. Click the Sound icon from the bottom left corner of the interface. Here you can enable the "System sound" option to record your Mac's audio.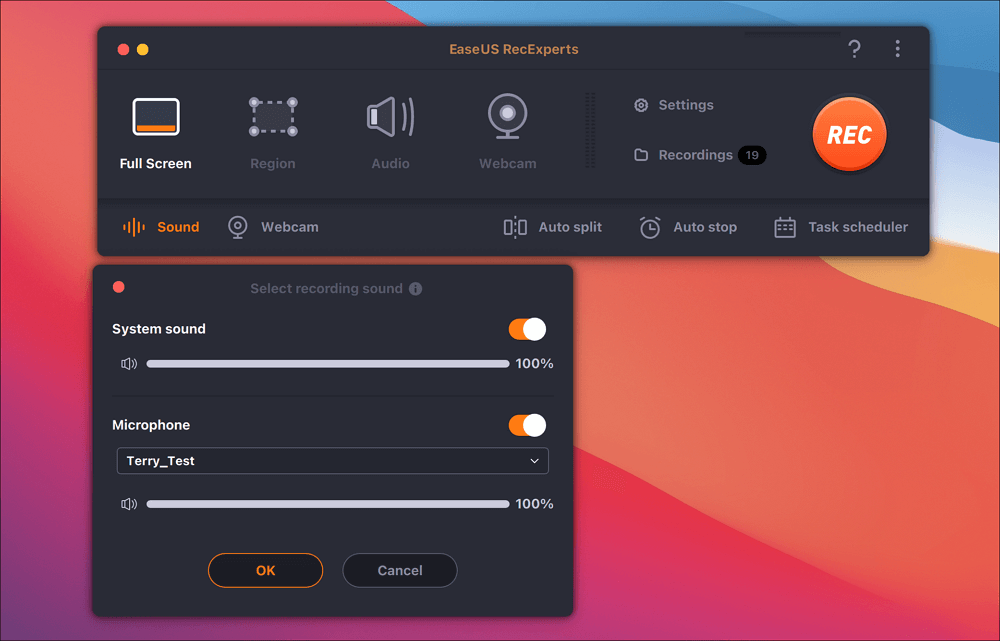 Step 3. To apply more options on Audio, click "Settings" from the main interface. Here you can set the output format, bitrate, sampling rate, etc.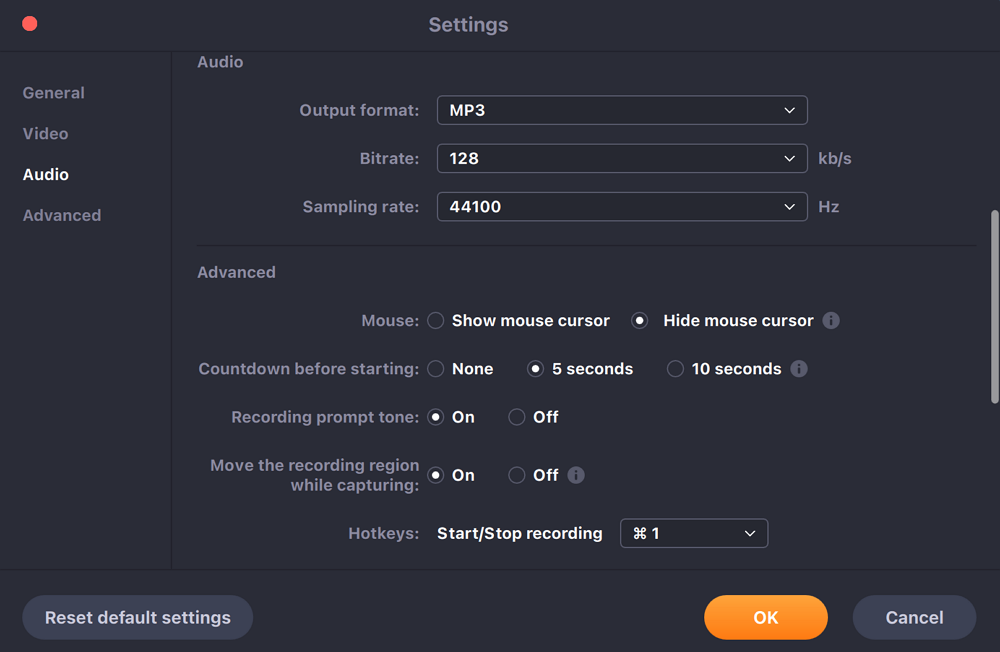 Step 4. Once done, the audio file is saved on its "Recordings". The recent audio file is listed first.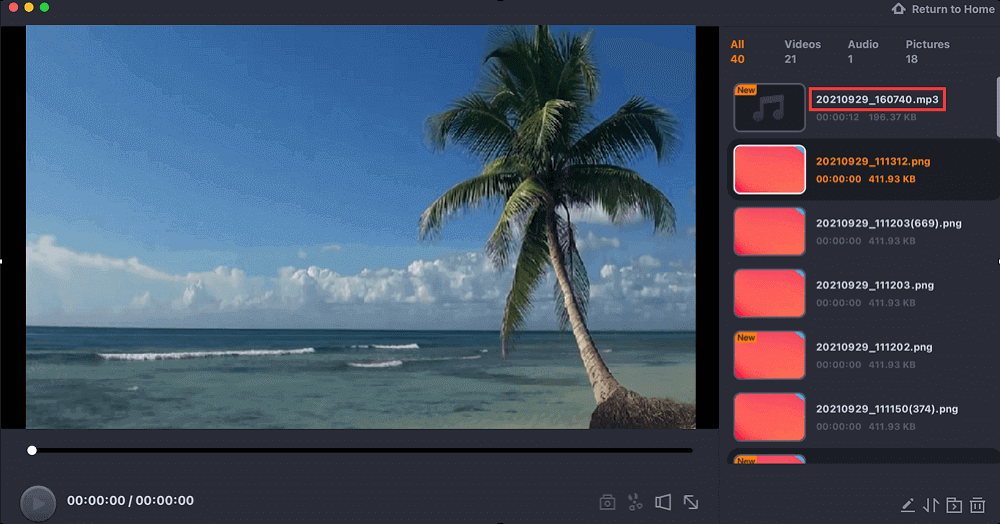 Other 5 Internal Audio Recorder Mac
Apart from EaseUS audio recorder, there are lots of other Mac internal audio recording software you can count on. In this section, we are going to share the other 5 system audio recorder for Mac.
1. Record System Audio on Mac with QuickTime Player
To record the internal audio on your Mac, for example, you have an app called QuickTime Player. Many of you might recognize this app as a media player, however, it can do much more than just letting you play your audio and video files. 
With the QuickTime Player, you can make recordings of your Mac screen. You have the option to record audio as well, and this audio can be from either your microphone or the internal sound if you have configured Soundflower.
Step 1. Click the "Launchpad" in your "Dock", search for "QuickTime Player", and open the app. Then, click on the option that says "File" at the top menu bar and select "New Audio Recording".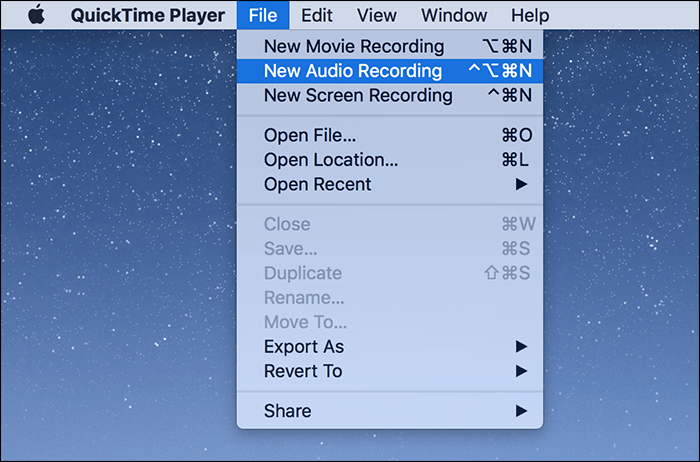 Step 2. Click the down-arrow icon next to the record button and choose an appropriate source.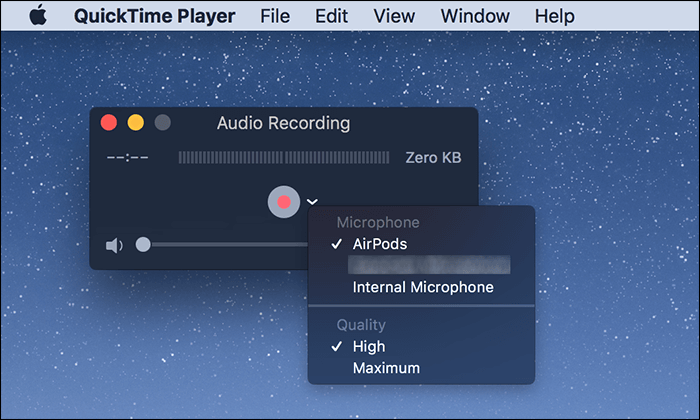 Step 3. After you have chosen a source for your audio recording, hit that large record button to start recording the internal audio on your Mac. When you are done, click the stop recording button to stop your internal sound recording.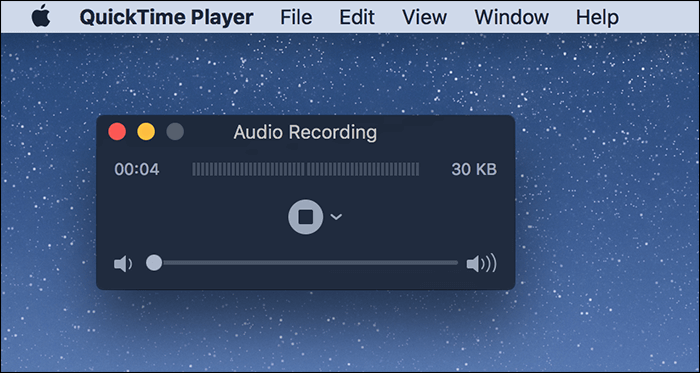 Step 4. You can play the audio after it has been recorded by clicking the play icon. If you think it is good to go ahead with, click the "File" menu at the top and choose "Save".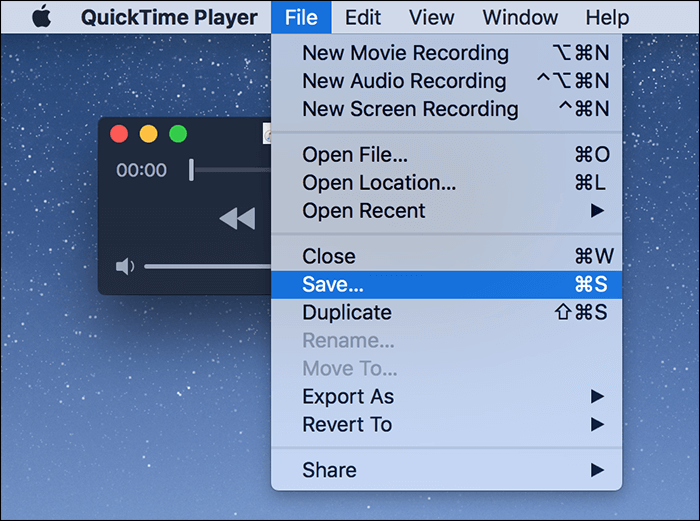 2. Record Computer Audio from Mac Using Audacity
Audacity is a popular audio recorder for Mac computers. It can record live audio through a microphone or mixer, or digitize recordings from other media, after recording, you can edit your recorded sound by cutting, copying, pasting, etc. Moreover, it allows you to export your recordings with high quality in many different file formats, including multiple files at once.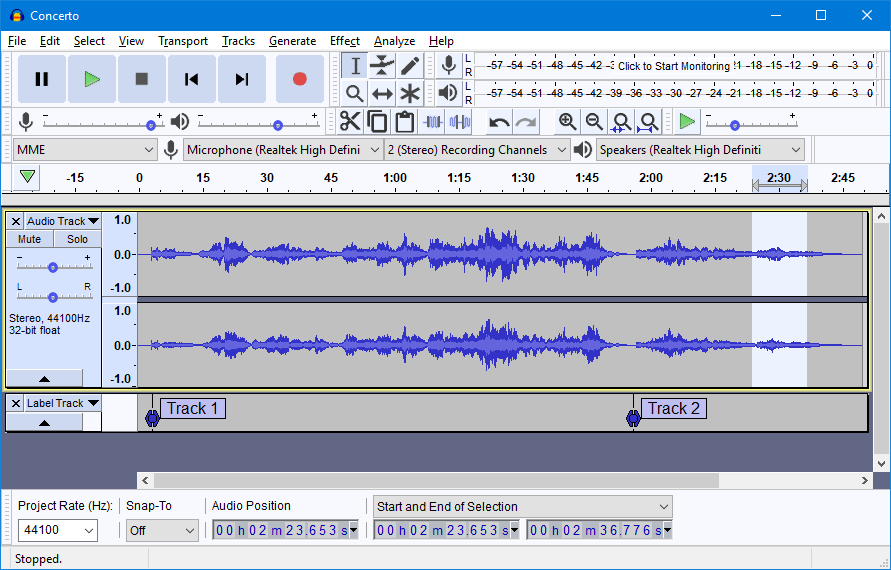 Step 1. Click the Apple menu to open System Preferences, and click "Sound" > "Output" to set Soundflower (2ch) as the audio source. Then go to Audacity Preferences and choose the Soundflower (2ch) as the recording device.
Step 2. Once done, you can play the audio inside any app on your Mac, then open Audacity and click the Record button to capture the system sound from Mac.
Step 3. If you are going to end the recording, hit the button to stop it. After that, you can export the audio as an MP3 file and save it on your computer.
3. Record Desktop Audio on Mac with Simple Recorder
Simple Recorder is one of the simplest voice recorder apps that you will ever come across for your Mac machine. With this tiny little yet very effective Mac computer audio recorder app, you can record your voice and system audio with just a single click. 
There are not many options that you need to configure to get started with this app. All that you basically need to do is just install the app, select a source for the audio, and you can start your audio recordings. 
Step 1. Once the app is installed, you will see a little icon in your menu bar. Click this icon to view the app options. You need to specify a source for your internal audio and select the source that Soundflower has created on your Mac.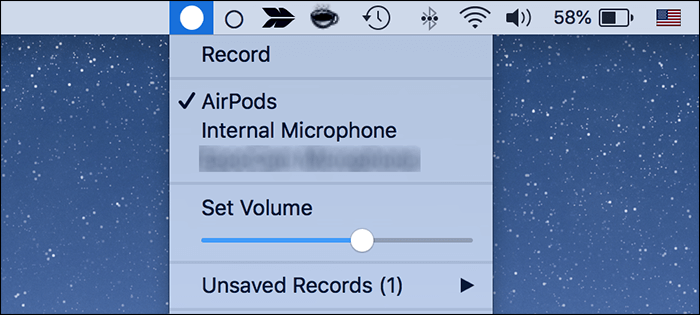 Step 2. Select a location to save your recordings. Click "Preferences" > "Set Default Folder" to choose the default folder to save your audio recordings.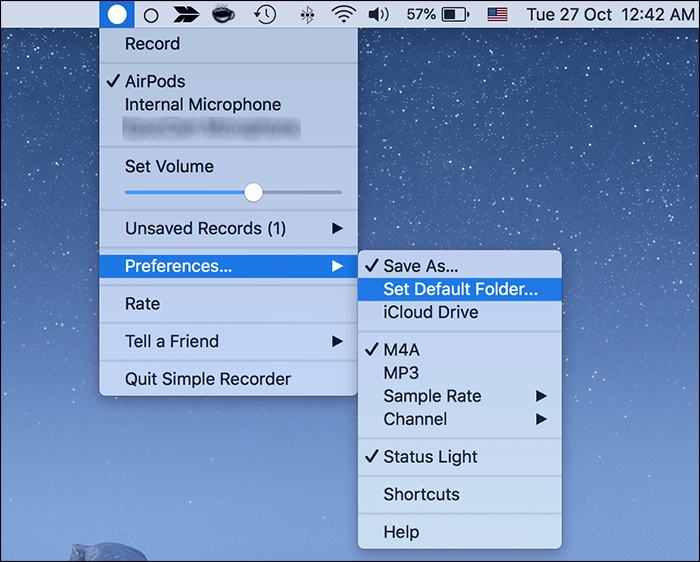 Step 3. Click the app icon in the menu bar and hover over "Preferences" to customize the audio recording options set like the sample rate and file format.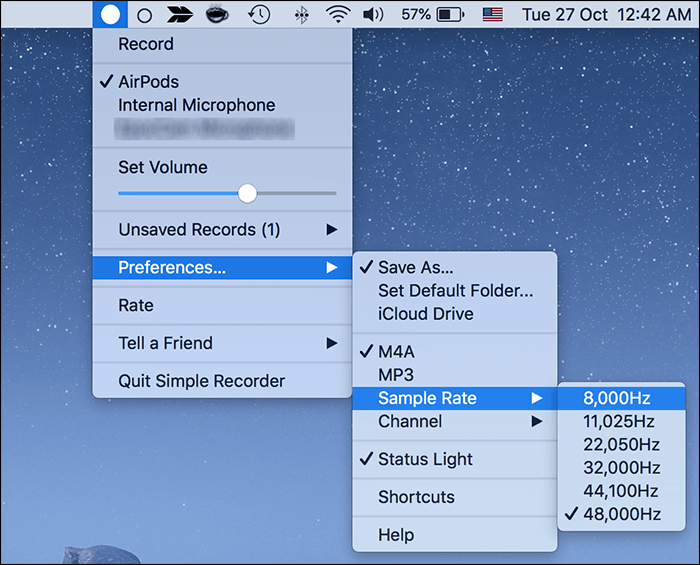 Step 4. Finally, click the "Record" button at the top and the app will start recording the internal audio on your Mac machine. When you want to stop the recording, click the app icon again in the menu bar and choose the "Stop" option.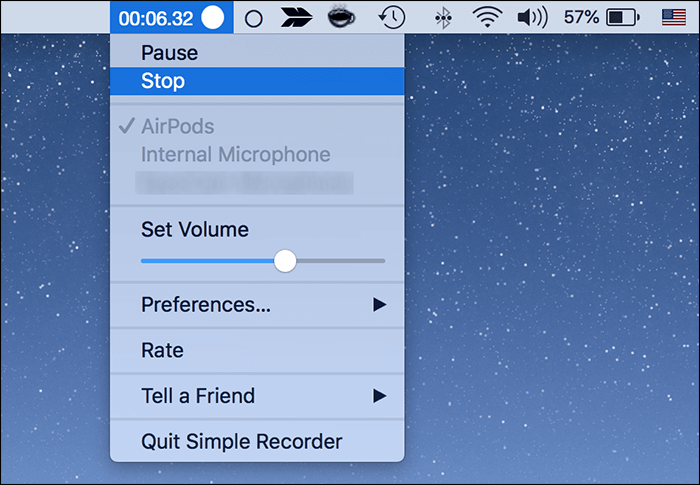 Easy Audio Recorder Lite, as the name implies, is a system audio recording app for Mac machines. No matter the kind of audio you want to record on your machine, this app has all the features that you would ever need for any kind of recording. If you want to know how to record audio on Mac with this app, the following should teach you how to do that.
Step 1. Click the cog icon at the top, which will open the settings menu for you. From this newly opened menu, click the "Input Device" dropdown menu and choose the device created by the Soundflower app.
Step 2. On the same screen that you chose an audio source, you can specify the file format for your audio recording. Click the option next to "Format" and choose a file format for your internal audio recordings. Then, click "Ok" at the bottom to save your changes.
Step 3. To start your recording, click the red record button. When you are done, click the stop button to stop your recording.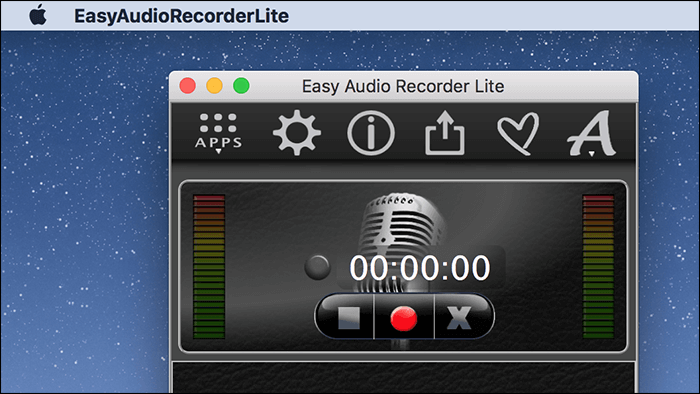 Step 4. To access all of the recordings that you have made with this app, go to the settings menu and click on "Go to files location".
5. Capture System Audio from Mac with MP3 Audio Recorder
Those of you who prefer to customize quite many options for their recordings are going to like the MP3 Audio Recorder to make internal audio recordings on your Mac. Not only does this app let you quickly and easily make new recordings but you can use the app to specify a plethora of options for your custom recording. This way, you can customize basically each aspect of your file ensuring you get what you expect.
Step 1. Fire-up the app after it is installed and you will be on the main interface. Click the dropdown menu next to "Audio Device" and choose the audio device that outputs your Mac's internal sound. 
Step 2. After specifying an audio source, click the settings icon to open the settings menu. On this screen, you have many options to modify for your audio recording.
Step 3. You are now back to the main screen of the app. Click the red recording button to start recording the internal audio on your Mac. When you are done, click the stop button to stop the recording.
Step 4. The app will automatically open the folder where your recording is saved. You can then double-click on your recorded file to play it in your default media player app.
Conclusion
Recording the internal audio on a Mac is pretty easy provided you set up things the right way. If you do not know what that means, the above guide will walk you through each stage of the procedure one by one. This way, you will learn how to record the internal audio using various methods on your Mac machine.
About the Author

Jane is an experienced editor for EaseUS focused on tech blog writing. Familiar with all kinds of video editing and screen recording software on the market, she specializes in composing posts about recording and editing videos. All the topics she chooses are aimed at providing more instructive information to users.