Sometimes the text messages on the iPhone may be very valuable and important to you. So you are looking for ways to back up them. In addition to creating iCloud/iTunes backups to save iPhone messages, some iPhone users may be thinking about printing out text messages on paper to back up, to provide more powerful and convincing evidence to defend them in court or to collect important information related to business. However, iPhone message app does not support AirPrint, which means that you cannot use AirPrint to print out the message directly, just like printing some photos.
In the following, we will introduce you three ways with which you can print out text messages from iPhone. You can print out iPhone text message via Email, screenshot, and third-party tool.
Part 1 Print out Text Messages from iPhone via Email
To print messages via Email, you need to manually copy, paste and send each message conversation via Email. In this way, you can only copy one message conversation each time. If you have multiple messages that need to be printed, this method will take you much time and energy. Moreover, you will lose all the date/time information. Anyway, follow these instructions to learn how to print messages from the iPhone via Email.
Step 1: Go to the Message app on your iPhone, and open the conversation that you want to print.
Step 2: Tap and hold the message you want to print to get various options (copy, forward, speak, and more). Select the "Copy" option to copy the contents of the text to the clipboard. You can also select multiple messages.
Step 3: Now open the Mail app on your iOS device and draft a new email. Tap and hold the message body to get various options. Select the "Paste" button to paste the text message you just copied.
Step 4: Access your Email account from computer to print out the email text, which contains your text messages.
Part 2 Print Text Messages from iPhone by Taking Screenshots
We can take a screenshot of everything on the iPhone screen, including chat, maps, and text messages. Simply after you take screenshots of your messages, you can print them without any hassle. Yes, it sounds really easy. Using this technique, you can capture text messages and then print according to your convenience. Now let's see how to do it step by step.
Step 1: Open the text message that you want to print.
Step 2: Press the Power and Home button at the same time to take a screenshot. Make sure that you press both the buttons simultaneously.
Step 3: Go to the "Photos" app on your iPhone to view your screenshots. You can simply select these images and send them directly to a printer.
Printing the screenshot of text messages from iPhone is quite an easy solution. However, you can only take the screenshot for one message each time. If you need to print out multiple messages, it could be a little bit time-consuming. What's more, if it's a long conversation, you have to take multiple shots to capture the whole conversation. With the third method, you can print iPhone text messages easily and quickly.
Part 3 Print Text Messages from iPhone with EaseUS MobiMover
Works on: iPhone 11 Pro Max/11 Pro/11/X/8/7/6 plus/6/5 with latest iOS 13.1/13 and older iOS systems.
EaseUS MobiMover, the first iPhone transfer software in the market, works perfectly to back up text messages on iPhone in text format, and then print them out from the computer. What's more, MobiMover is able to transfer various contents from iPhone to computer, from iPhone to iPhone/iPad and from computer to iPhone in a simple way. Now let's take a look at how to back up iPhone messages to the computer with EaseUS MobiMover and then print out text messages from iPhone. If you need to back up the whole iPhone data to computer or transfer files from PC to iPhone to add content without iTunes, check the online tutorials.
Step 1: Connect your iPhone to your computer (Mac/PC) and click Trust in the prompt on your iPhone to trust this computer. Launch EaseUS MobiMover and choose iDevice to Mac/PC.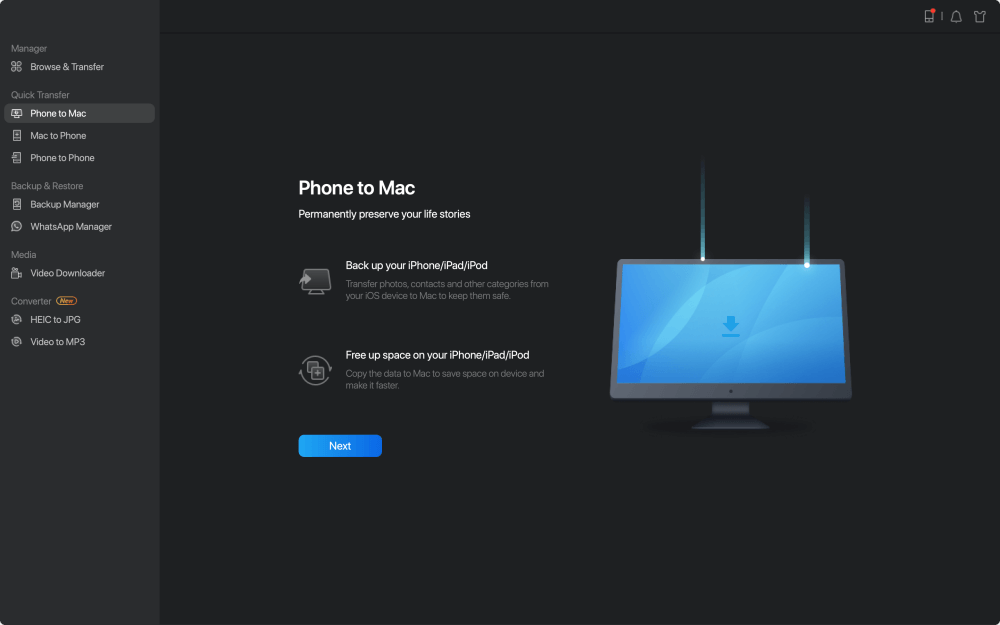 Step 2: Go to More and select Messages. If you need to, you can transfer other file types along with messages from your iPhone to the computer all at once.
Step 3: Tick the folder icon to set a storage path for your iPhone messages to be transferred.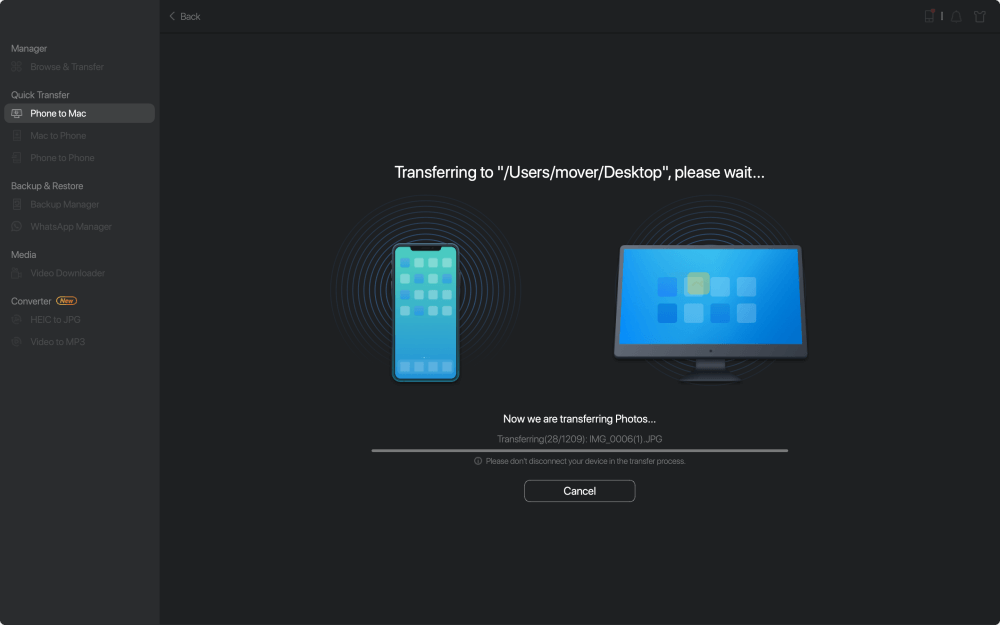 Step 4: Now tap Transfer to begin transferring messages from your iPhone to your computer. The messages copied from your iPhone will be saved as an HTML file on your computer. Thus, you can view the details whenever you want with a browser.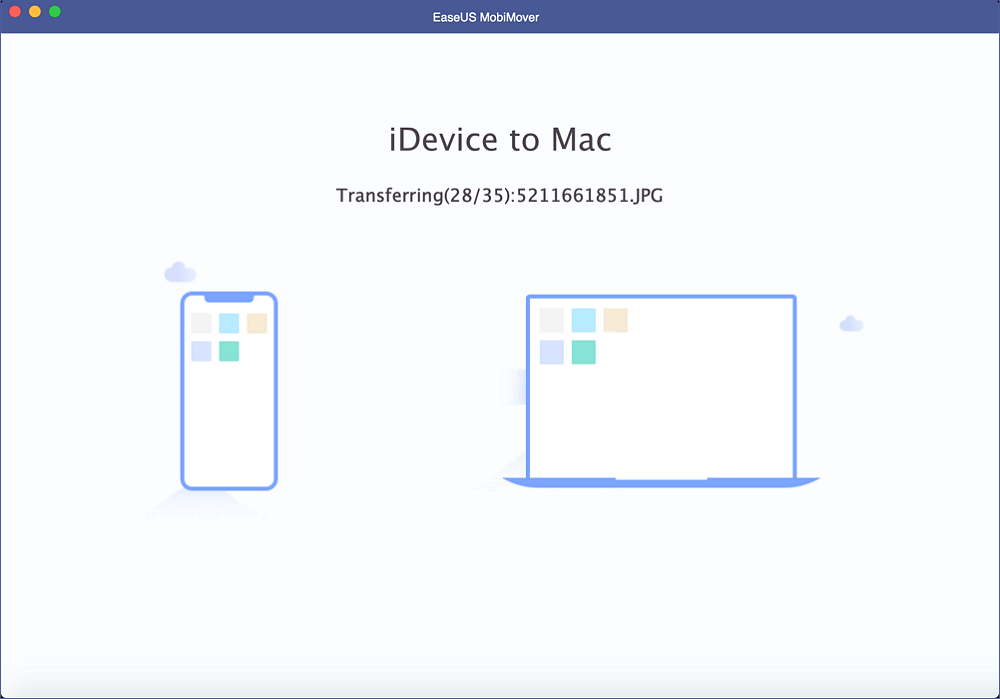 In this way, you can export all text messages from iPhone to the computer, and then print out those message text files.
With EaseUS MobiMover, you can easily export all/multiple contents from iPhone to the computer. In addition, you can also sync data between iOS devices, such as to sync movies from iPhone to iPhone/iPad.