Overview of Microsoft Access file
Access file is a file with extension name as .mdb (Microsoft Office Access 2003 and earlier) and .accdb(Microsoft Office Access 2007), which is created by Microsoft Office Access.
Microsoft Office Access, previously known as Microsoft Access, is a pseudo-relational database management system from Microsoft that combines the relational Microsoft Jet Database Engine with a graphical user interface and software-development tools. It is a member of the Microsoft Office suite of applications, included in the Professional and higher editions or sold separately. In mid-May 2010, the current version Microsoft Office Access 2010 was released by Microsoft in Office 2010; Microsoft Access 2007 was the prior version. Access stores data in its own format based on the Access Jet Database Engine.
If you lost important access file on your hard disk, you will have a chance to get them back unless it is damaged or overwritten. You can use data recovery software to recover access files.
Free download Access recovery freeware to recover access file
EaseUS Data Recovery Wizard Free Edition is a FREE, fast, safe and easy recovery solution to help you recover lost access file from storage devices. This software also supports you to restore lost important office files such as office file recovery.
This free data recovery software provides easy and quick data recovery solutions to recover your lost data. Generally, if the lost access file is not damaged or overwritten, EaseUS free data recovery software - Data Recovery Wizard Free Edition will help you to recover it.
Access database recovery with EaseUS Access file recovery freeware
STEP 1. Launch EaseUS Office file recovery software on your computer.
STEP 2. Your hard drives, as well as external hard drives, will be detected and displayed on the disk map. Choose the exact location where you lost the Office files and click the Scan button.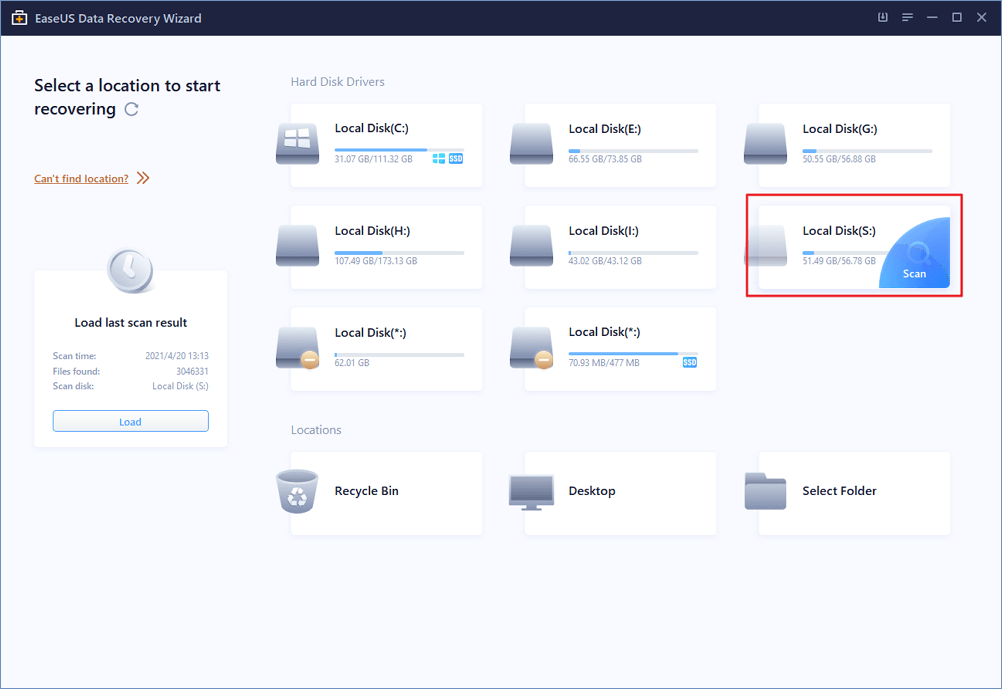 STEP 3. The software will start a quick scan after you click the Scan button, and very soon the deleted files will show up.
Note: if your Office files were lost due to deletion, you can check the "Deleted files" result right now even the scan has not finished yet.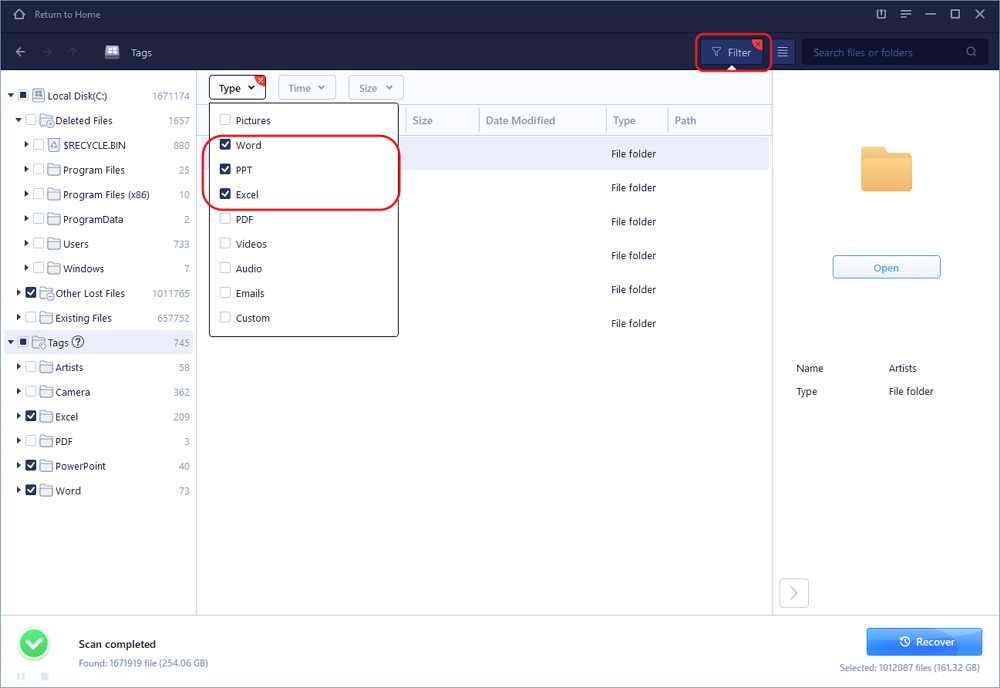 STEP 4. If you can't find the targeted files during the scan, try to find it in the results in each section after the scan is complete.
Note: The "Extra Files" result is especially helpful if the Office files were deleted a long time ago, which might have lost the file names and file paths.
STEP 5. Select the Office files (e.g. Word, Excel, and PowerPoint) and click the Recover button.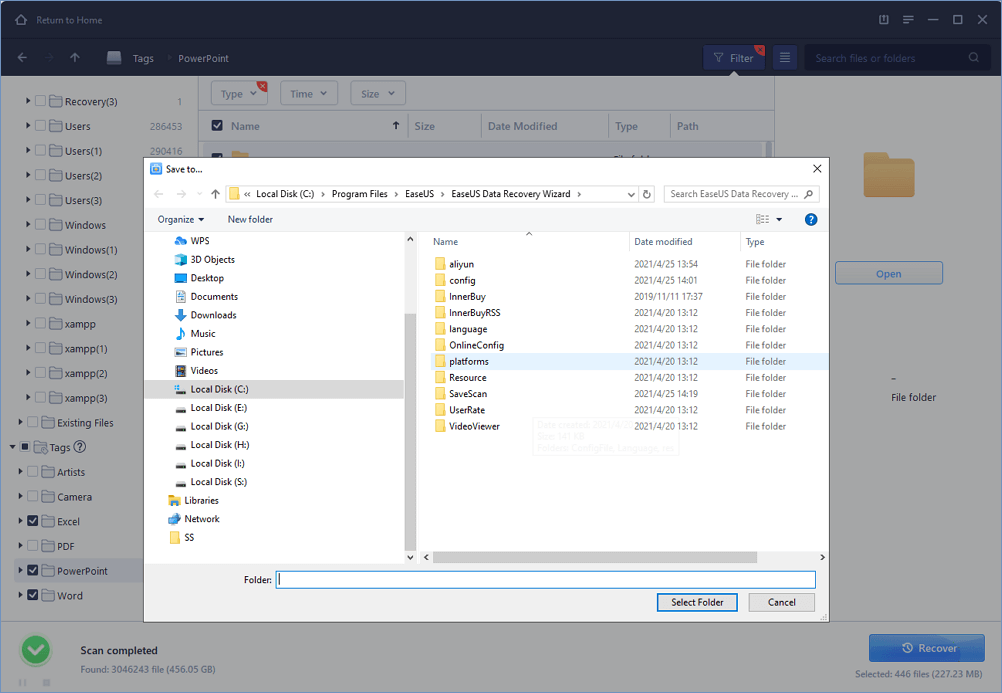 Extra Tip: Manually repair Access database and restore Access files
1. Restore the database from a backup file;
2. Delete the .ldb file that is auto-created by the Jet database engine when the database is opened;
3. Use the Jet Compact Utility that has been specifically designed to rectify minor corruptions in Access database.
4. Remove all compiled VBA code from the database. This can be done using this command line switch from Microsoft:
C:\Program Files\Microsoft Office\Office\MsAccess.exe /decompile C:\DatabasePath\FileName.mdb
Note: You may need to change the path shown above for MsAccess.exe if you installed it to a different location.
5. Use the built-in Access 2010 'Compact & Repair' feature. Here are the steps to fix Access database corruption using this feature:
Open MS Access (not the database file) and go to Database Tools > Compact & Repair Database.
Locate the corrupted database file and click on OK.
The selected database file will be rectified on completion of the process
6. Import the corrupt database into a new Access 2010 database file by using the following steps:
Open MS Access and create a new database file.
Click on Access to Import Access database under the External Data tab.
7. In the next window that pops-up, click on Browse and locate the database file while is to be imported.
Specify the place and technique to store data in the new database and click on OK.
From the next window select all database objects that you want to import and click on OK.
8. If even after all the above techniques, the database corruption persists, the recommended solution would be to buy a premium quality third-party Access database repair software or else send the database to an Access repair company.
Tips: 1. If you want to recover deleted access file due to empty from Recycle Bin, EaseUS Data Recovery Wizard is a perfect solution for deleted file recovery:
2. To unformat partition or recover data lost due to virus attack, software crash, hard drive becomes RAW, etc is no longer a complex case by using EaseUS Data Recovery Wizard.