Summary
When your HP laptop screen turns into black after or before sign in Windows password, stay calm. This page includes reliable solutions to assist you resolving the black screen issue after sign in or during OS startup. Don't worry if you lost files. EaseUS data recovery software will be available to help.
Hot Tags:
Black Screen, Windows 10 BSOD, Laptop Black Screen, iPhone Black Screen, Blue Screen
PAGE CONTENT:
Fix HP Laptop Black Screen After Sign In With Password

Fix HP Laptop Black Screen after Startup, With No Access to Sign In

Recover Lost Files After Fix HP Laptop Black Screen
Help! HP Laptop Shows Black Screen
"I encountered a black screen of death after upgrading my HP laptop to Windows 10. When I tried to sign in my Windows 10 laptop with my password, it turns to a black screen. Only the mouse is what I can see. What should I do?"
Read the following methods to solve HP laptop with black screen issue during or after startup and restore lost data from HP laptop!
Fix HP Laptop Black Screen After Sign In With Password
Many reasons may cause black screen on laptop and computers, so it is to the solutions. Follow provided solutions here one by one to resolve the black screen issue on your HP laptop:
Quick Fix: Restart HP Laptop (3 minutes)
Step 1: Shut down the HP Laptop which displays with a black screen after login.
Step 2: Remove all power suppliers - the power cable, the batter, and external storage devices.
Shut down the laptop and wait for 1-2 minutes.
Step 3: Reconnect the laptop with powers with batter, power cable and restart the laptop.
Step 4: Sign in with your password to see if the black screen issue resolved.
If the problem continues, move on and try the following fixes for help.
Method 1. Restart the explorer.exe Process (2 minutes)
When the explorer.exe process is not working properly or being closed, the HP laptop will display with a black screen. By ending and restarting it in Task Manager, the problem can be resolved:
Step 1: Press Ctrl+Alt+Del so as to open the Task Manager.
Step 2: Go to Detail tab, scroll down and locate 'explorer.exe'.
Step 3: Select it and click "End Task".
Restart the laptop to see if the black screen issue is resolved.
If you can't see the explorer.exe in Task Manager, continue the process:
Step 4: Click on File in Task Manager and select "Run new task".
Step 5: Type explorer.exe and hit Enter.
Check if the process will run and restart the laptop to see if the black screen issue has gone.
Method 2. Update the Graphics Driver (4 minutes)
When the Graphics card or chipset drivers are up to date, you can manually update these drivers to resolve the graphics drivers.
Step 1: Press Windows + X keys, select "Device Manager".
Step 2: Go to Display adapters, right-click on the Graphics of your PC and select "Properties".
Step 3: On the properties screen, select "Update Driver".
Step 4: Select "Search automatically for updated driver software".
Wait for the process to complete and restart the HP laptop. Then check if the problem has been resolved. If not, don't worry. Continue with the next method.
Method 3. Undo Recent Changes, Perform System Restore (5 minutes)
If your HP laptop turns into black screen due to Windows OS update, you can undo the recent changes by performing system restore, bringing the laptop to a healthy state and fixing the black screen issue.
Step 1: Press Windows + R keys, type: control panel. Go to Control Panel and click on System and Security.
Click on System and then select System Protection.
Step 2: Click on System Restore... button under System Restore.
Click Next and select the Restore Point that you want to use and click Next to continue.
Step 3: Click Finish to confirm that you want to use the Restore Point that you've created to bring the OS to a previous state.
After this, restart your computer, the black screen error will be removed.
Fix HP Laptop Black Screen after Startup, With No Access to Sign In
If the HP laptop screen goes black after startup, promoting no access for you to sign in, follow solutions here to fix this issue.
Method 1. Recover from BIOS (3 minutes)
Make sure the laptop is plugged into a wall outlet before you start the process.
Step 1: Turn off the HP laptop by pressing the Power button.
Step 2: Press Windows + B keys, and hold the power button for one second. And then release all three.
Step 3: The power LED light remains on, and the screen remains black for about 40 seconds.
If the HP BIOS Update screen displays, wait for the process to finish.
After this, restart the computer and the black screen error will be resolved.
Method 2. Reseat the Memory Modules (5-10 minutes)
Step 1: Remove the power adapter and the power source.
Shut down the laptop by pressing the Power button.
Step 2: Remove the access panel and set it aside.
Step 3: Push out the two securing latches to release the module.
Step 4: Slide the module out and remove it from the computer.
Don't touch the metal contact while handling the modules.
Step 5: Reseat the module in the bottom slot and slide it into the right place.
Push down on the module to lock it. Repeat the process to install two modules back to the right place.
Step 6: Reinstall the access panel. Reconnect the power adapter to the laptop and a wall outlet.
Step 7: Press the Power button to turn on the laptop.
If the screen displays, the issue is resolved.
Method 3. Boot HP Laptop into the Safe Mode
In this case, you will need Windows 10 installation media. On a working computer, download and burn the Installation media to USB or DVD.
Step 1: Connect the media to problem HP laptop, turn it off and boot from the installation media.
When asked, select Repair This Computer.
You will get a Select an options screen with options to continue to Windows 10, shut down the computer and Troubleshoot computer.
Step 2: Troubleshoot computer > Advanced Options > Startup Settings > Restart.
Step 3: Press F5 or scroll to Safe Mode with Networking and press Enter to enter Safe Mode.
After which, you may choose to check the Default Display, uninstall the device driver for Display and Auto-install or isolate device causing problem.
Recover Lost Files After Fix HP Laptop Black Screen
If you lost data after fixing the black screen of death error on your PC, don't worry. Professional data recovery software - EaseUS Data Recovery Wizard allows you to deep scan, and restore all lost data from PC which had a black screen of death error or other problems.
Step 1. Select a drive to scan.
After the selection of a drive, the scanning process begins as long as you click the "Scan" button.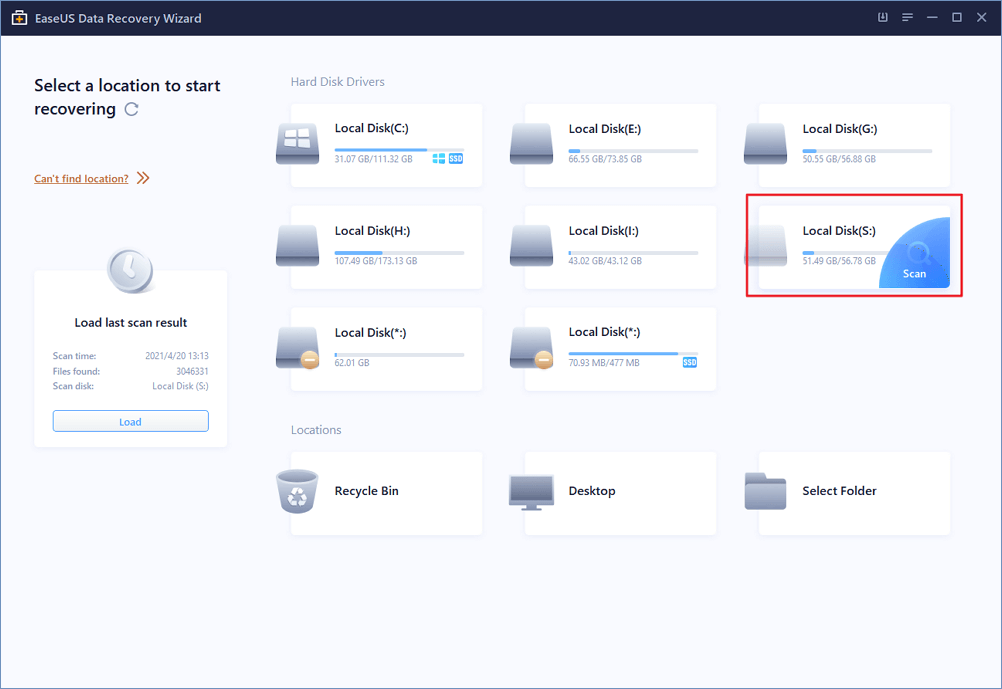 Step 2. Choose the wanted files.
You can find your lost laptop files from the tree view on the left. Or, you can click "Filter" to help you quickly find wanted files.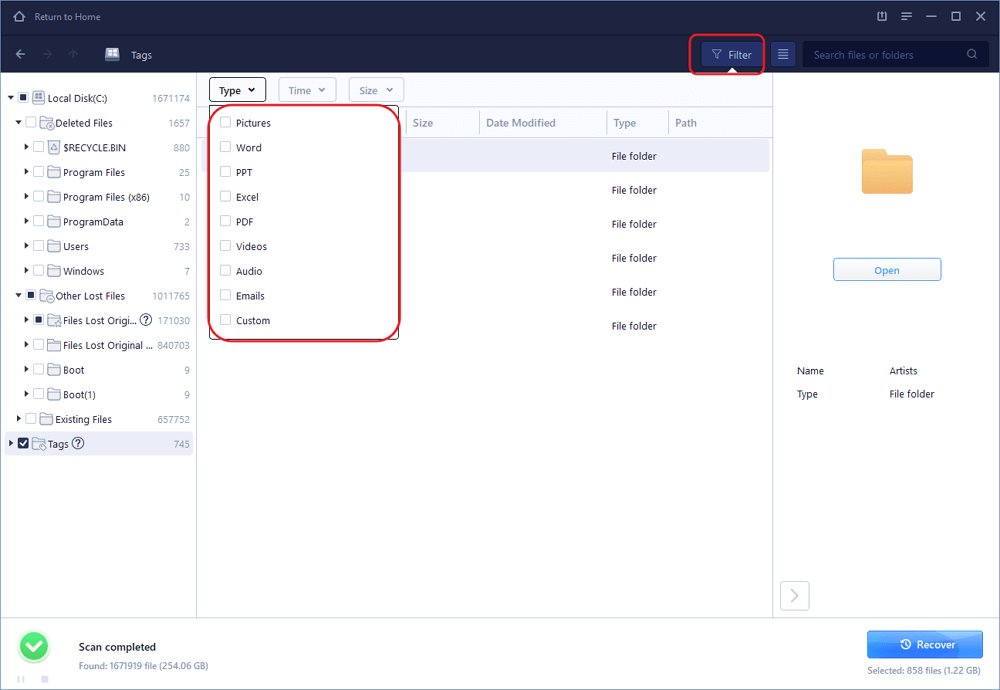 Step 3. Preview and recover laptop hard drive files.
Select the files and preview them by double-clicking. Then, click the "Recover" button to get them back.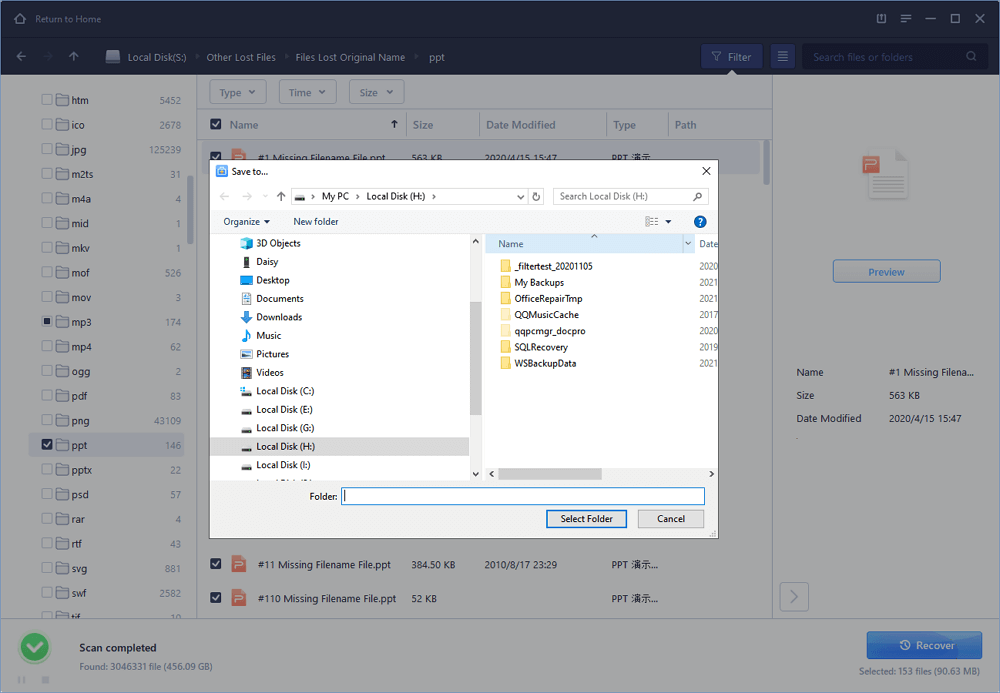 100% of people found this article helpful.
Frequently Asked Questions
1. Why choose EaseUS Data Recovery Wizard?

"EaseUS Data Recovery Wizard is the best we've seen. It's far from perfect, partly because today's advanced disk technology makes data-recovery more difficult than it was with the simpler technology of the past, but it's fast and efficient..." —PCMag

"The first thing you'll notice about EaseUS Data Recovery Wizard Pro is that its interface is very clear and uncluttered, with only a small collection of self-explanatory controls. You won't find lots of extra options hidden in a system of hidden menus, either; what you see really is what you get." —techradar

"Recover lost files, even after deleting a partition or formatting your drive." —Macworld
2. Why cannot I recover 2GB data for free?

It is recommended to check the version installed is Free or Trial because they are different versions.

Trial has data preview function but cannot save any files, while the Free version enables to recover 2 GB files. The default free space is 500 MB and you may share the product on social media to get another 1.5 GB.
3. Why cannot the recovered files be opened?

A file is saved as 2 parts on the storage device: directory info (which is comprised by file name, time stamp and size info, etc.) and data content.

If the files with original file names and folder structures cannot be opened, one possible reason is the corrupted directory info. There is still a chance to recover the data content with the RAW Recovery method in our software.
4. Why isn't it suggested to recover the files back to the original drive?

The storage structure of the lost files would be altered or damaged by any changes on the drive. If you save the recovered files back to the same drive, the original data structures and data content would be corrupted or overwritten, which causes permanent data loss. So you should prepare another disk to save the files.
5. How can I check whether my data is recoverable or not before purchase?

The Free version helps you save 2GB files to better verify the recovery quality of our product before purchase.
6. How long does it take to scan the drive?

It strongly depends on the capacity of your hard drive and the performance of your computer. As reference,most drive recoveries can be completed in around 10 to 12 hours for a 1-TB healthy hard drive in general conditions.
About Data Recovery Wizard
It's super easy to recover 250+ types of files after deletion, disk formatting and virus infection. Click the links and compare the difference of each version.