
Table of Contents

About the Author

Related Posts
8 Easy Ways | How to Screen Record on HP Laptop
To screen record on HP laptop, a competent HP screen recorder can give you a helping hand. However, for people who are not familiar with recording software, finding a good laptop recorder is not a simple task. Moreover, they may also be unacquainted with the operating steps of using the laptop recorder.
If you want to know how to screen record on HP laptop, keep reading this post to find the answers.
Screen Record on HP Laptop Windows 10 Using EaseUS RecExperts
EaseUS RecExperts is an all-in-one program that is compatible with Windows 10/8.1/8/7. Since this recording tool is supposed to be used by both professionals and beginners, it is full-featured and easy-to-use at the same time. Whether you are an experienced user or not, you can master this software in no time.
This program can record your HP laptop screen of flexible sizes, capture a webcam, and even record gameplay on your HP laptop with ease. You can even use it to record reaction videos, commentary videos, and make a tutorial video.
Key Features:
Support schedule recording and automatic recording
Support many frequently-used formats of video and audio
Support trimming recorded videos easily
Support record videos in high quality (1080P/4K)
You can't miss the best HP laptop screen recorder on Windows 10/8.1/7. Download it right now.
How to screen record HP laptop with sound on Windows 10:
Step 1. Configure the Screen Recording Options
Open EaseUS RecExperts on your computer and click "Full Screen" or "Region" to choose the area on your screen that you want to capture. Then select an audio source by clicking the Sound icon at the bottom left of the panel. If needed, click the "Webcam" icon at the bottom to add an overlay of your webcam footage to your screencast.

If you want to split the recorded file after recording, click "Auto split", and then your recording files will be split automatically according to file size or recording time that you have set. 
Step 2. Specify Recording Settings
Once you have configured the basic recording options, you might want to configure the advanced settings. 
Click "Settings" to open the menu. On the following menu, select a format for your screencast and specify other options as you feel appropriate. Then click "OK" at the bottom to save your settings.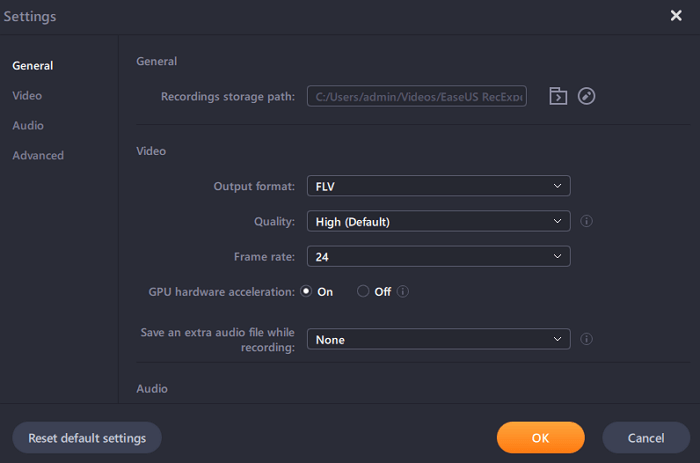 Step 3. Start and Stop Making a Recording
You should now be back to the main interface. Open up the screen that you want to capture, and then click "REC" in the software. Then it will start recording everything that is displayed on your screen.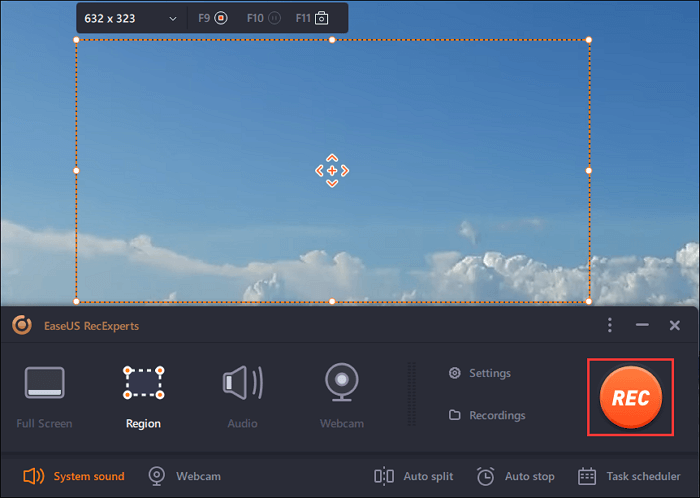 Then you will see the toolbar where you can pause or stop the recording, take screenshots while recording, or set a specific time to stop the recording.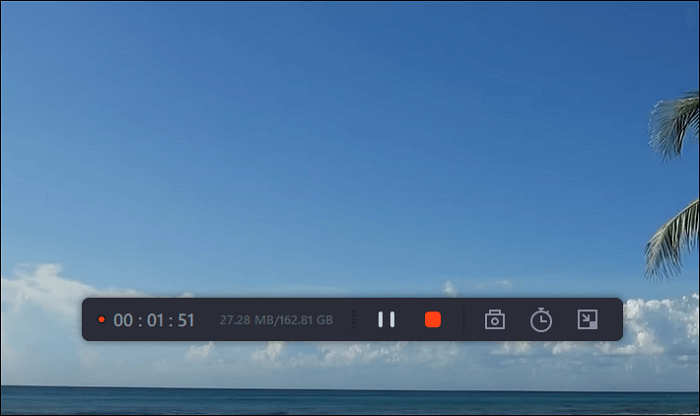 Step 4. View All Your Recordings
Once the recording is done, this software keeps all your recordings at a single location for you to view. You can preview and edit the recorded file here.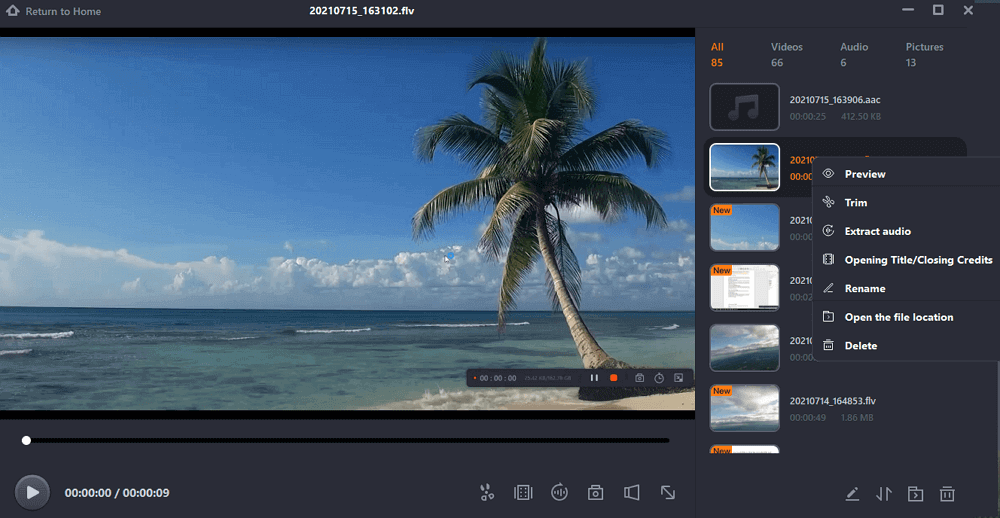 Related Article: How to Screen Record on Dell Laptop
Best 7 Screen Recorder for HP Laptop 
There are some amazing alternatives to EaseUS RecExperts. Although they are not as easy-to-use as EaseUS RecExperts, they can still satisfy your needs to screen record HP laptop screen. Let's take a look at them.
OBS Studio is one of the top screen recorders for general purposes, including everything from casually capturing video to professional live streaming. It also offers some of the best compatibility we've seen, working well with Windows, Mac, and Linux.
It has the ability to create scenes from multiple different sources like window captures, images, text, browser window captures, and webcams, and combine them all into one video for later publishing (yes, Twitch and YouTube support are included). See the steps below, and you will learn how to use it properly.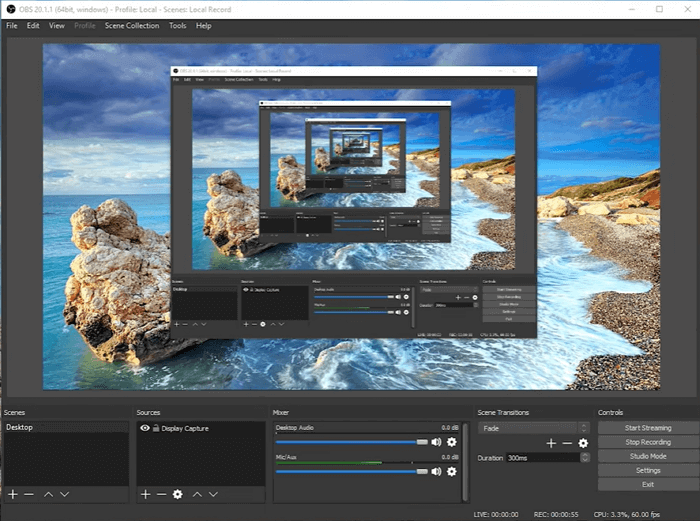 Step 1. Launch OBS Studio, click the "+" sign. Note that the default setting is recording the screen with audio.
Step 2. Click "Display capture," name the new recording under "Create new."
Step 3. Customize the aspect ratio of the video to be recorded on the next page.
Step 4. Let the program record the screen for you. When the process is completed, you can find the video by clicking "File".
ShareX is an open-source tool that boasts almost as many custom features as some paid software screen recorders. It mostly targets developers and power users so that an average customer might get lost in the many advanced tools and editors.
It is a full-featured recorder. It can record the full screen, window, monitor, region, freehand, or scrolling. Besides that, ShareX records audio and save it in very high quality. And the hotkeys make it easier for users to operate. It also supports many URL sharing services. Follow the steps below, and you will know how to use it.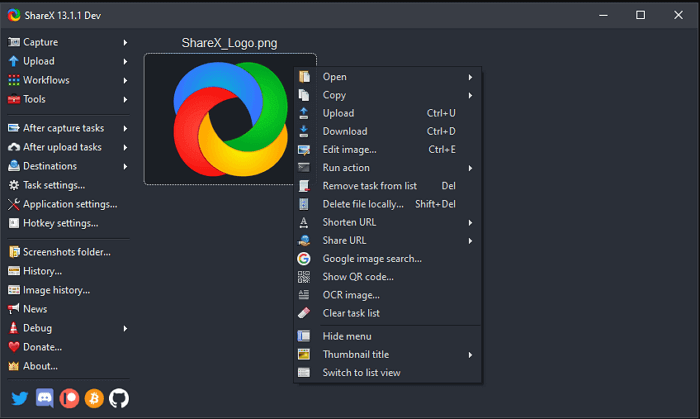 Step 1. Download and launch ShareX.
Step 2. Click "After capture tasks" > "Upload image to host" to disable this function.
Step 3. Click "Task settings" > "Screen recorder" > "Screen recording options" > "Audio source" > choose "Microphone" or "None."
Step 4. Download ffmpeg.exe by clicking "Task settings" > "Screen recorder" > "Screen recording options" > "Download."
Step 5. Press Shift+PrtSc to start or stop screen recording. The video will be saved to your computer automatically. You can find it in the file folder the software shows you.
With Flashback Express, you can record anywhere on the PC screen with whatever sized recording window you want (including sound) and even create a scheduled recording to capture something while you are away. After recording, you can add notes to the recording and immediately publish it to YouTube, all from the app. There are no watermarks and no complicated tools to learn – you can literally get started in minutes after you download it. See the tutorial we prepared for you below.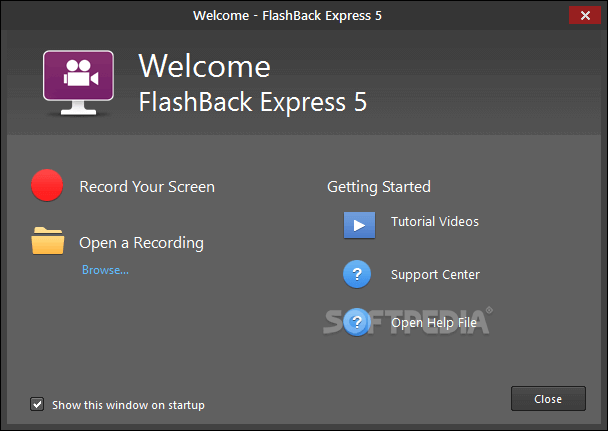 Step 1. Launch Flashback Express and choose "Record Your Screen."
Step 2. Choose to record "Region," "Fullscreen," or "Window" in the next window. You may also choose to record the microphone or not.
Step 3. Click the "Record" button to start recording. Click Shift+Ctrl+S to stop recording.
Step 4. When you finish recording, click "Save" in the popped-up window to save the video file.
TinyTake is a small, friendly screen recorder that excels in capturing short clips, as the name suggests. You can only take 120 minutes of video at a time. You can adjust the screen capture window to the size you need, annotate the captured video with text, drawings, or objects, and share the content in whatever way you need. Follow the tutorial below to use this program.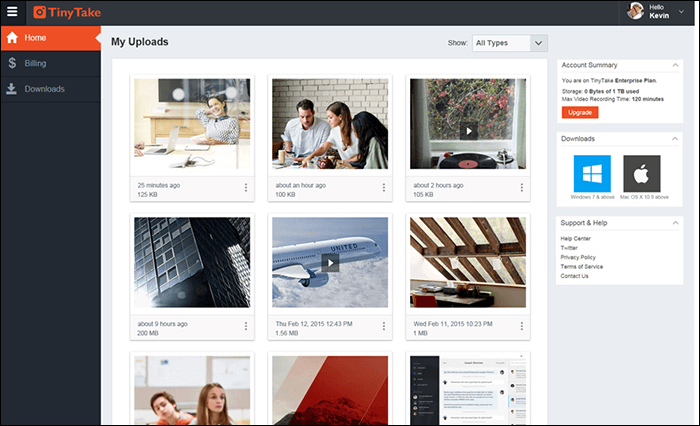 Step 1. Launch TinyTake and then click on "Capture," you will be presented with the options to capture. You may choose to capture a window, capture the full screen, etc.
Step 2. After recording, save the video file to your computer.
Apart from recording the screen, Snagit has many additional capabilities, like extracting text from screen capture, or sharing via Screencast, making Snagit more useful. It is particularly well-suited to crafting tutorials and explanations. You may need to follow the steps below to use the Snagit record video easily.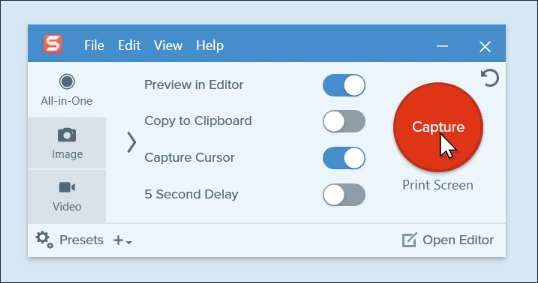 Step 1. Click the "Capture" button and then select your entire screen, a particular window, or a custom region.
Step 2. The video toolbar allows you to choose audio and webcam settings. After adjusting settings, click the red "Record" button to begin.
Step 3. While recording, pause, and resume at any time. When you're done recording, click the "Stop" button.
Step 4. When you have your video ready to share, use the "Share" menu to save the video or send it to the web.
Free Cam is a straightforward free screen recorder with a built-in audio/video editor. It allows you to create screencasts with the ease of a professional. Although this software is free, it doesn't place any watermark on the recorded video.
You can make a recording of your entire screen, a selected area of the screen, or a single window. Moreover, you can record your programs and applications' sounds or add background music to your video. To emphasize important details and steps, you can highlight your mouse cursor and turn on mouse click sounds. Follow the steps below to use this software.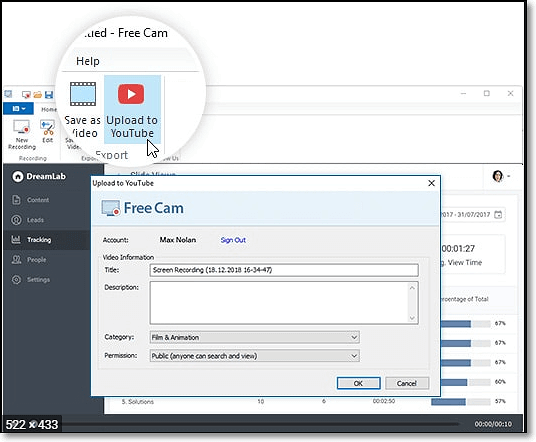 Step 1. Launch Free Cam, click "New Recording," and select the area you want to record on your screen.
Step 2. Click "Settings," you may choose to record microphone or record system sounds under "Audio recording."
Step 3. Click the red button to start a new screen recording. When the recording is done, you may click "Esc" on your keyboard to exit the recording.
Step 4. Click the "Save as Video" button to save the recorded video to your computer.
Ezvid screen recorder is known as HP laptop screen recorder for its fast speed. Specifically designed to save users' time, it will help you produce and upload videos directly to social media in minutes. That is why the tool enjoys fame among gamers and movie fans interested in frequently making video clips in the quickest manner possible. After recording, you can edit your video, save it for later use, or upload it directly to YouTube. Let's have a look at the operation steps.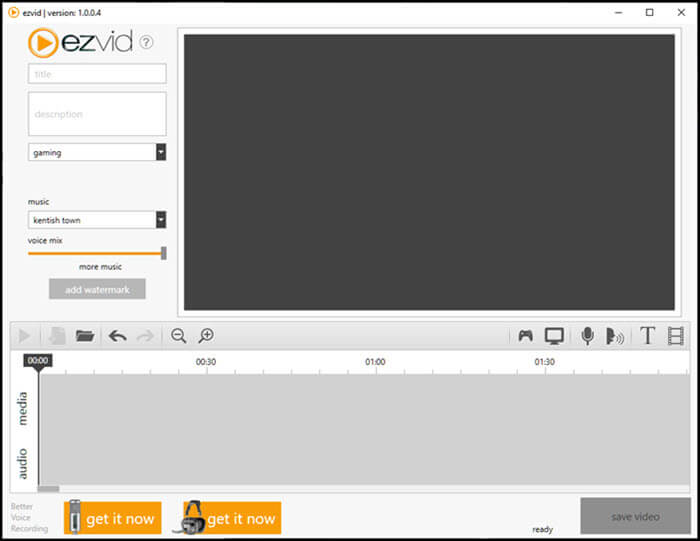 Step 1. Launch Ezvid and click "capture screen," and hit "start capture now" in the popped-up window.
Step 2. You can pause, stop the recording by clicking the accordant button. You can also click the "Drew" button to make marks on the screen.
Step 3. After recording, you may edit the video recorded. If it meets your satisfaction, save it to your video.
Conclusion
In a word, you may record your screen on an HP computer easily with the programs we recommended. Among them, EaseUS RecExperts is definitely the best choice for you. It can record everything on your screen, and it is quite easy to use. Download it from the button below.
FAQs About Screen Record on HP Laptop
Those questions may help you get more information about the recording screen on HP laptop.
1. How do you screen record on HP laptop?
To record your computer screen, you need useful screen recording software. There are many screen capture software on the market, and we take EaseUS RecExperts as an example.
Step 1. Download and launch EaseUS RecExperts. Click on Record Screen to choose the recording area.
Step 2. Click Microphone to select the audio recording source, including system sound, microphone, or both at the same time.
Step 3. Once done, click the red circle button to begin your recording.
2. Can you screen record on HP laptop?
Yes. You can screen record on HP laptop with some best screen recording software. 
Top 8 HP Screen Recorder on Windows:
EaseUS RecExperts
ShareX
Ezvid
OBS Studio
TinyTake
Snagit
Flashback Express
Free Cam
3. How to screenshot on HP laptop windows 10/Windows 7?
How to print screen on HP? How to screenshot on laptop HP? How to screenshot on HP envy or screenshot on HP pavilion?
New users of HP laptops may want to find the answers to those questions. Actually, there is a simple way to take a screenshot on an HP laptop using a simple keyboard click. In general, this button is located at the top right of your keyboard, and this Print Screen key may be abbreviated as PrtScn or Prt SC. With its help, you can easily capture the entire desktop screen.
However, it's not saved to your computer. You need to open an image editing program and use CTRL + V to paste the clipboard screenshot. Then, you can right-click the image to save it.
About the Author

Jane is an experienced editor for EaseUS focused on tech blog writing. Familiar with all kinds of video editing and screen recording software on the market, she specializes in composing posts about recording and editing videos. All the topics she chooses are aimed at providing more instructive information to users.